Presented at Cannes Yachting Festival the new Magazzù MX 16 Coupé, the latest creation in the luxury R.I.B. range of Cantieri Magazzù, a pure sport coupé that, with its refined discreet elegance, confirms the sporty spirit which characterizes all the production of the Sicilian brand without never being showy.
A line designed for efficiency
With an overall length of 16 meters,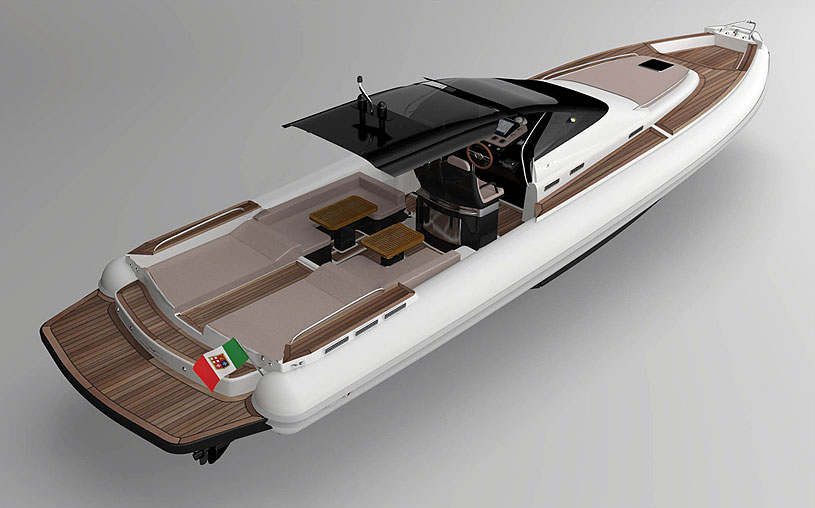 the new mega RIB features a completely renovated hull that reproduces the very efficient hulls of the other products of the shipyard, with particular focus on the bigger MX-18 Coupé and distinctive steps that guarantee unparalleled speed and stability at sea.
A more sheltered cockpit and a flush bathing platform make this highly performing boat a very relaxing means at sea thanks to the protection offered by the carbon fiber T-Top that has become so required that it has evolved from a simple accessory to a real "must".
Compared to other coupé models, the driving console has been moved back in order to enhance interior spaces and livability while creating a long streamlined bow worthy of an offshore motorboat.
Furthermore, the new size of this sport coupé offers more comfortable exteriors and wider interiors, that can be customized according to the owner's needs.

The boat is offered in two versions: with two double cabins, efficiently separated to guarantee more privacy, or with a master cabin, with one or two bathrooms.
The dinette can be transformed into a galley, whose brightness is guaranteed by ample side windows and some light sources on the deck.
Spaces and speed in one solution
In order to improve (and not sacrifice)

performances, balance in terms of trim and weights is guaranteed by the relative position of engines as well as low barycenters that allow this Magazzù MX-16 to travel at very high cruising speeds and touch a top speed of 55 knots.
The boat is, indeed, offered in both inboard and outboard engine options of up to 1,600 horsepower.
Safety is ensured by a very high waterline area and the choice of the most durable fabric currently available on the market – Pennel 1800 dtex – for the air-inflated tubes ( standard equipment includes an inflator that reinflates tubes within a few seconds, making transportation significantly easier).
When can we see her in water? It will take some months to develop the prototype: Cantieri Magazzù trust they may present her in water the next season and we can certainly see her at Cannes Yachting Festival 2019.
Magazzù MX 16 Coupè – Technical Specs
L.O.A:
16.00 m
Max Beam:
4.80 m
Water:
360 lt
Fuel:
2 x 700 lt
N° Pax:
27
Engines:
max 1.600 hp
Propulsion:
surface propellers or sterndrive
Speed:
up to 55 Kts
Homologation:
CE – B cat.
Construction: composite material with carbon fiber and epoxy resin reinforcements