The new Magazzù website features an even more elegant layout and super interactive content

Appealing, refined, elegant. In full Magazzù style. The website of the well-known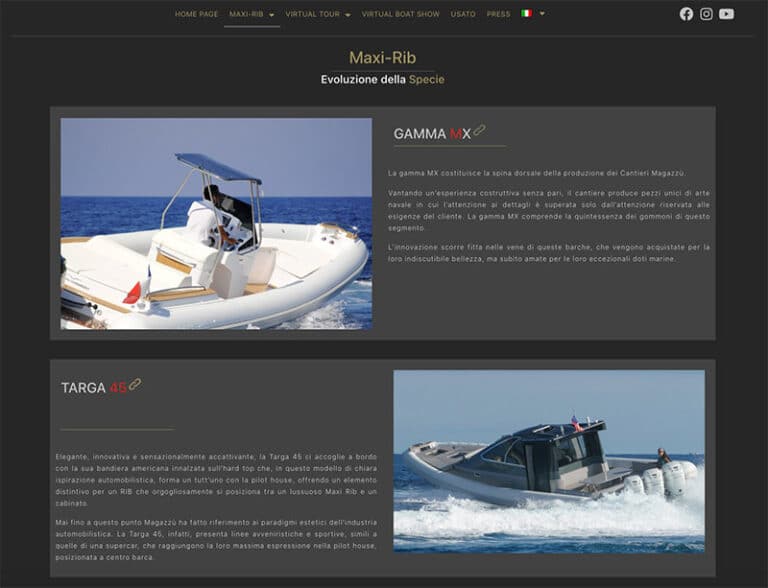 Italian shipyard renews its graphic design, making it even more intriguing thanks to a gray smoke background which adds a touch of luxury and elegance, as well as more interactive thanks to the multiple sections, they too with updated graphic.
While the homepage, through a few presentation paragraphs, tells about the 60-year history of an Italian nautical excellence in a fluent and exhaustive way, the various main menu items let the user enter, with just a click, the world of the Maxi Ribs of the Sicilian brand, from the sporty models of the MX range to the latest addition – the Targa 45 – the new masterpiece by the Magazzù brothers and forerunner of the new Targa collection.
Not surprisingly, the pictures of each boat are spectacular, as are all Magazzù creations and, in particular, the MX-11 Gran Coupé, the MX-12 Gran Sport and the MX-13 Gran Coupé that the user can discover by visiting the respective Virtual Tours (already present in the previous version of the website and not implemented in the their functions), in a 3D environment that, absolutely close to reality, allows to extensively explore the entire boat, from the inside to the outside, with a simple directional cursor.
As a demonstration of the great multimedia character of the portal, in addition to the link to our ultra-successful The International Yachting Media Virtual Boat Show, also the Digital Book (without denying the value of paper) can be browsed digitally and downloaded in PDF. Furthermore, an interactive index allows the reader to interact with the Magazzù Maxi Rib collection, illustrated in very detail with photos, videos and technical files.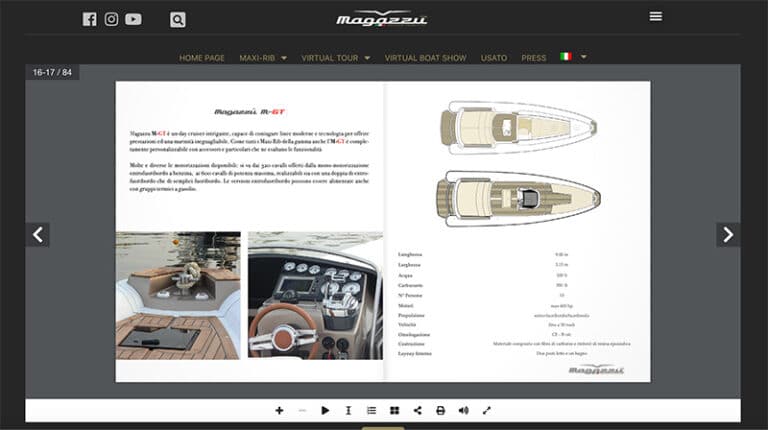 " The restyling of our website – states Renato Magazzù – is striking for its readability, made even more agile: what is often a constraint or a limit here becomes an added value since the user can browse freely within the portal and easily find all the information on the Maxi Rib which he in interested to".
" The new website has many access options since the user can decide whether to go get information on his favorite boat by clicking on the dedicated page or by taking a Virtual Tour or, again, by browsing the Digital Book if he prefers a more glossy reading – explains Tina Magazzù – It is the customer who chooses to have a different approach to the same boat. The new website is therefore complementary, because you can enter from one door rather than another, so there are also many 'shades' of communication and use of individual information ".
" Our background is based on a seafaring culture handed down over time, on a long tradition that we jealously guard but which goes hand in hand with the engineering and technological evolution – underlines Claudio Magazzù – The new portal expresses this double concept, which is the philosophy of our shipyard: our naval craftsmanship never stops progressing because we want to create maxi-ribs that are increasingly cutting-edge and proudly made in Italy".