The new Mercury Racing 450R have come
Just four months after the commercial release of the Verado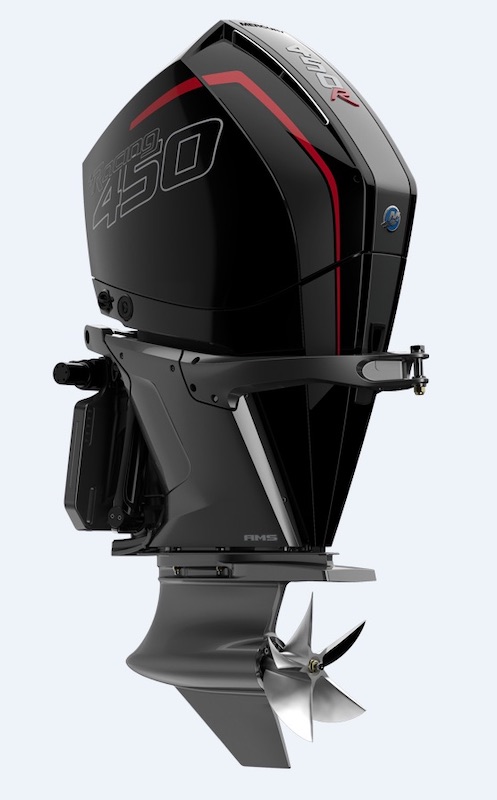 400, which we tested in world premiere at the Miami Boat Show, Mercury introduces its new power leader: the Mercury Racing 450R.
Based on a 8-cylinder 64-degree block equipping  what is maybe the best outboard on the market in the range from 250 to 300HP, the Mercury Racing 450R uses the historic proven volumetric compressor of top-end Verado engines to deliver extraordinary power and torque.
The engine produces 450 peak propshaft horsepower that, with a 40% higher torque and a weight of 320 kilograms, offers the opportunity to fit your boat with the best weight/power ratio of the market: 1.4 HP/kg.
An equation that translates into new configurations to equip boat sterns with much more power and, above all, lower weight. A great opportunity both to improve boat trim and reduce overall fuel consumption.
The overall "encumbrance" of the new outboards is unchanged since they are based on the same "body" than the Verado 300 ( which is another important advantage) despite the presence of a volumetric compressor and a double intercooler that ensures the correct cooling of the powerful thermal group, whose engine speed ranges from 5,800 to 6,400 rpm/min.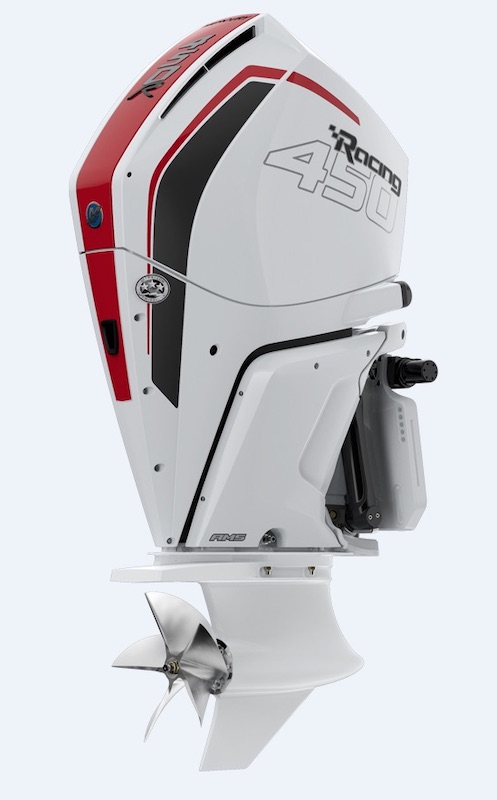 The new outboard is available in two versions, both with a 1.6:1 reduction ratio: the first is dedicated to yachting while the second is designed for more extreme applications and speed of over 70 knots!
Of course, like all Mercury Racing outboards, the new 450R, too, are perfectly compatible with all the electronic technology currently available, including Joystick Piloting System, Active trim and electronic throttles.
With a price slightly higher than the Verado 400, the Mercury Racing 450R will be available in Europe from next autumn with a base price of about $ 54,000.
Considering the weight/power ratio offered by the new engines, price, however, risks to take second place because, after all, it is easy to think how three Mercury Racing 450 can successfully supplant four less powerful models from all points of view.
Now, all we can do is to wait an invitation to test them because, beyond what we have said since now, these grilles are terribly sexy and, when it comes to outboards, aesthetics has its importance.