Franchini Yachts has announced that it will start production of the Mia 63 T-Top all around, an evolution of the exciting Mia 63 that has conquered the market so much that the builder has decided to further refine its masterpiece. "Mia 63 T-Top all around, which will be ready next September, was born as a confirmation of the idea of a "liveable open"," explains Massimo Franchini, "capable of combining an en-plein-air deck with the interiors of a real motoryacht".
Much appreciated by the public and clients, Mia 63 has a highly modular interior layout, offering up to three cabins in addition to the crew cabin with head and independent entrance from the deck, which can be furnished in different configurations, for a total area of 55 square metres below deck. The interiors and furnishings can be adapted to a wide range of needs and the design has been studied to encourage countless customizations, following the semi-custom concept normally used for superyachts. The construction technique is also very interesting: nanotechnology is used in the formulation of the resins through a patented process that makes it possible to obtain a sturdier and lighter structure, while reducing vibrations and sound propagation.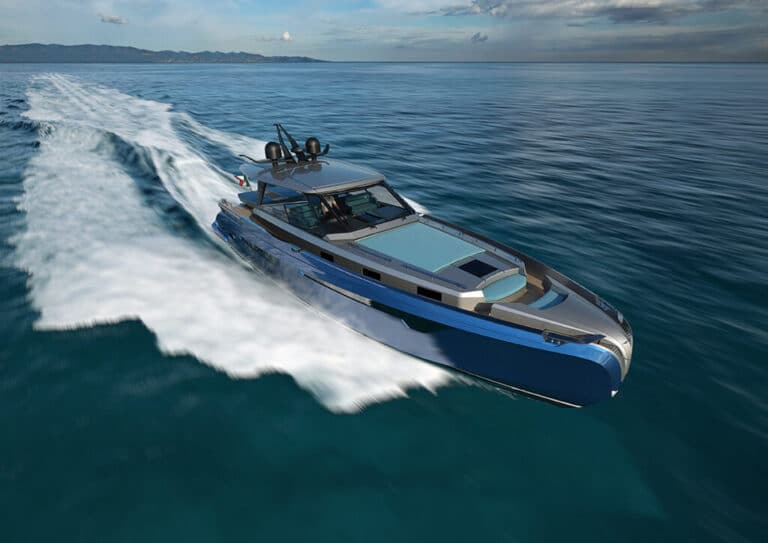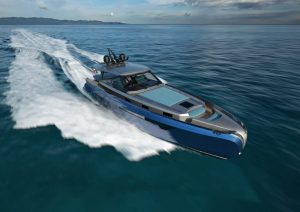 For all these reasons, Mia 63 has won over yachting enthusiasts, so much so that Franchini Yachts has decided to postpone development of the range in the hard-top and sport-fly versions to give this first line all the upgrades needed to make the boat even more functional and enjoyable: this is how Mia 63 T-Top all around was born, offering a wrap-around windscreen that protects from wind and sea even when cruising on the high seas in all conditions, giving the same protection and safety as an enclosed boat but without taking away from the feeling of freedom typical of Mediterranean open crafts; the deck is even more airy and clean, emphasizing the bow-to-stern passageways to reach every point on the boat without obstacles; the bow cockpit is larger and more sheltered, the hard top is extended aft and the galley and helm station areas are even more functional and ergonomic. "At the same time," Mr. Franchini points out, "the storage spaces and technical compartments below deck have been further increased to allow families or groups of friends to spend long periods of time on board at sea, in port or at anchor, while increasing range and performance thanks to the new Volvo IPS 1350 engines, which can deliver up to 40 knots in total safety and comfort".
The boat, which was born almost as a "provocation" for Cantiere Navale Franchini, famous worldwide for its classic, low-profile style, is becoming an all-around yacht that will mark the future of the historic Italian shipyard.