Monte Carlo Yachts arrives at the Monaco Yacht Show with its two biggest boats. From September25th to 28th, in fact, visitors can admire both the MCY 96 and the flagship of the fleet, the MCY 105, at Port Hercules.
The booth of the prestigious shipyard will be located at Quay Jarlan – QJ5 while the superyachts will be exhibited in water at dock J03-J04. For those wishing to visit these amazing boats, a booking service is available at the following link: ON BOARD VISITS
Monte Carlo Yachts MCY 96
The MCY 96 is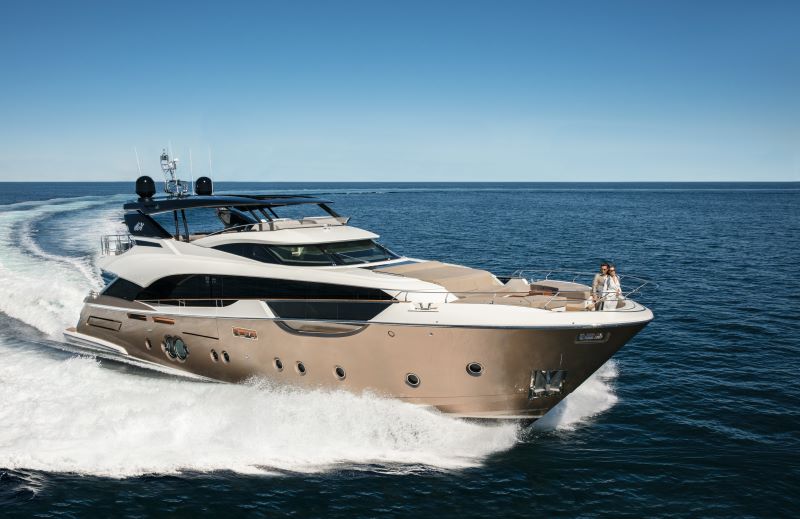 one of the most famous models of the shipyard (you can read our review in this article). With a width of 6.94 meters and an overall length of 29.26 meters, she is part of the Monte Carlo Yachts line ranging from 76 to 105 feet. The interior and the exterior design is the result of a joint collaboration between Monte Carlo Yachts and the Nuvolari&Lenard design studio.
The MCY 96 features high bulwarks and slender lines. The black Hard Top rises above the bridge and makes the silhouette of this boat even more imposing. The deck houses a large saloon: a glass room that floods the interior with a huge amount of natural light, making it particularly bright. Even the master cabin, spacious and full-beam, enjoys the direct light coming from the large windows.
Power comes from twin MTU 16V 2000 M86 2,200HP engines. Alternatively, the boat can fitted with two MAN V12 1,900HP engines.
Monte Carlo Yachts  MCY 105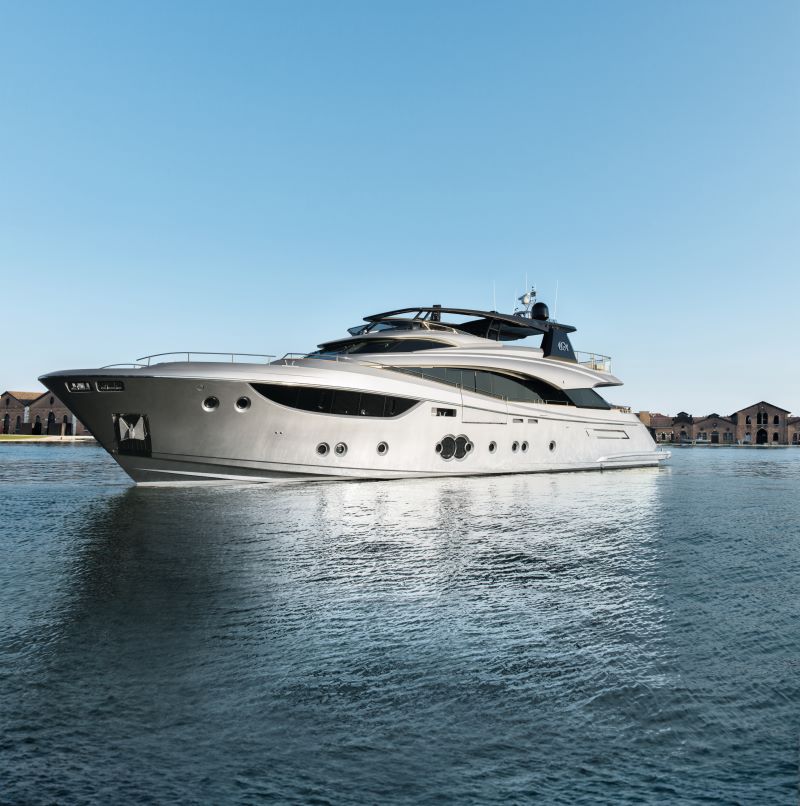 The MCY 105 is the flagship of the  MCY Classic range. Featuring a width of 7,15 meters and an overall length of 32.26 meters, this boat is distinguished by a unique design with aerodynamic soft lines and a very high bow profile. The interior spaces onboard the MCY 105 are incredibly bright. Positioned on the main deck, the large master suite is voluminous and enjoys a panoramic view thanks to its enveloping windows.
The suite includes a sleeping and a living area. The first is furnished with a large double bed while the second one houses a walk-in closet and two bathrooms. The guest cabins – a double and a twin-bedded one – and the crew cabins are located on the lower deck.
The dining area is equipped with folding terraces where passengers can enjoy their open-air moments as well as a visual contact with the sea and the landscape.
Power comes from two MTU 2000 M86 16V 2,200HP engines. Alternatively, the boat can be fitted with two MTU 16V M96 2,400HP engines.
The MCY 105 has won several international prizes, including the " Most Innovative Yacht Award" at the Cannes Yachting Festival, establishing herself as one of the most iconic models built by Monte Carlo Yachts.
MONTE CARLO YACHTS S.p.A.
Via Consiglio d'Europa 90
Monfalcone (GO), Italy
www.montecarloyachts.it