An unstoppable and global growth has allowed Naval Tecno Sud to conquer shipyards all over the world thanks to the excellent quality of its products and a widespread presence at local, national and international boat shows. Naval Tecno Sud is an example of dedication and commitment that has enabled the Apulian company, which specializes in the design, production and marketing of cradles and structures for shipyards, to have its products appreciated by the entire supply chain for their unparalleled high construction standards. A success that, as owner Roberto Spadavecchia points out, "is mainly due to CE certification, which we are one of the few companies in the world to boast on all our products".
Naval Tecno Sud's cradles and other products for shipyards are CE certified with a special plate on each item: " This is a guarantee of quality and safety," explains Mr. Spadavecchia, "which is also highly appreciated outside of Europe. It is well known throughout the world that CE certification issued in Italy is by far the strictest, and this is why in countries such as Saudi Arabia, Australia and the USA, although there is no obligation for this mark, its presence is preferred as it demonstrates compliance with adequate construction standards. This factor, together with an excellent quality-price ratio, is what makes us stand out in customers' preferences".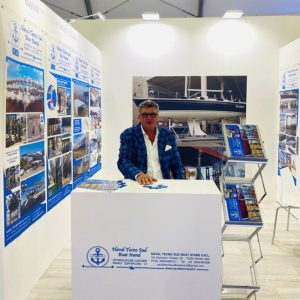 In addition to CE certification, Naval Tecno Sud's cradles and structures are also admired for their construction quality: "During the design and construction phases, we leave nothing to chance in terms of practicality, speed of use and above all safety," confirms Mr. Spadavecchia, "and we try to satisfy all the practical requirements of shipyards". In addition to production, there is also the promotion and marketing of products, which for Naval Tecno Sud, explains Mr. Spadavecchia, "means taking part in practically all the boat shows around the world. This is because once a shipyard buys our cradles to meet its needs, it won't need them again for fifteen or twenty years, precisely because they have extraordinary quality and durability. So we always need new customers to find at boat shows, otherwise we would be doomed to have nothing left to sell in a few years".
The perseverance of Roberto Spadavecchia and his Naval Tecno Sud have been rewarded with some important awards, including the Marina Industry Awards received in 2018 in Amsterdam for the rack dry storage and a plaque for valour awarded at the last Dubai Boat Show by the Chamber of Commerce. A constant investment of time and resources that has allowed the company to expand the range of products offered to shipyards: "We were born in 2013 producing cradles and today we also offer cabins, bar spreaders beams, trailers and shipyard ladders – concludes Mr.Spadavecchia – and we have no intention of stopping in our constant quest to further improve our products and implement even more our presence in boat shows: our next appointments are at the Sardinia Boat Show from April 22-26 in Olbia and at the Internautica in Portroz, from May 5-8 in Slovenia".