It is difficult to think of Neo Yachts without immediately recognizing the imprint of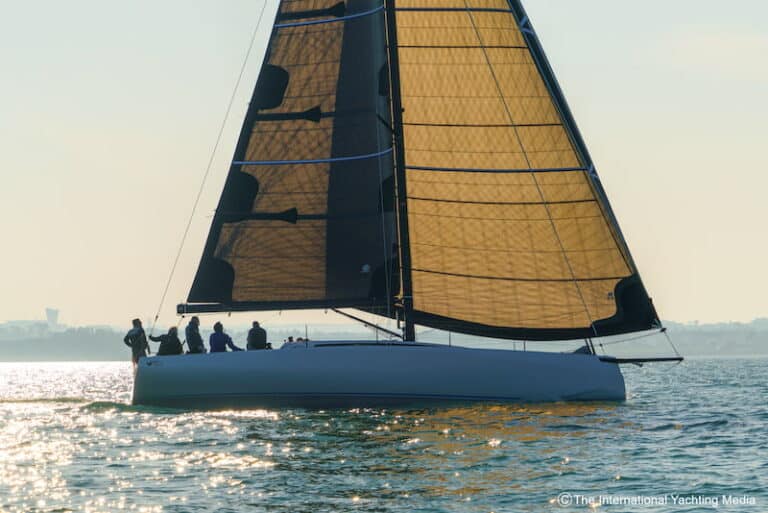 Paolo Semeraro. As a long-standing professional sailor, he has an outstanding race winning experience, full of memorable victories, such as the one in class 2 during the Rolex Middle Sea Race 2014 on board his Neo 400.
As with his sails, his boats have redefined the very concept of "racer-cruiser", enabling a larger number of boaters to performances which were once an exclusive prerogative of pure racers.
Maybe for this reason, while I'm chewing up the miles on my way to the Neo 430 Roma – the evolution of the legendary 400 –  I cannot help but unconsciously raise the bar of my expectations. 
Neo 430 Roma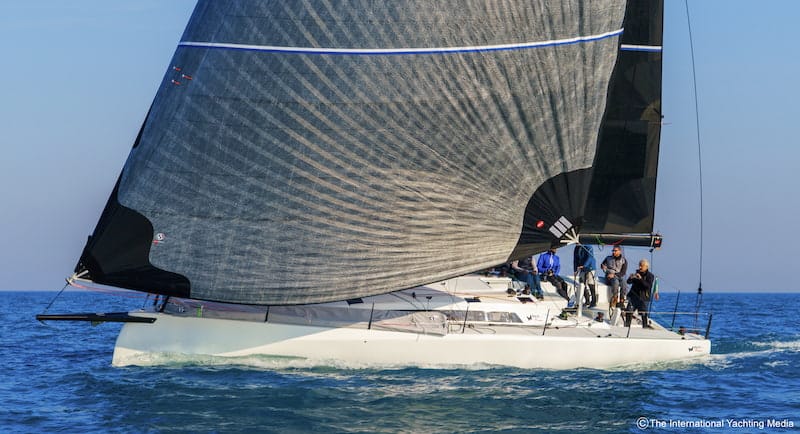 Like all the other Neo yachts, the 430 Roma features a full-carbon construction, as required by her owner, an Australian sailor who likes racing but who perhaps (and fortunately) no longer likes the design (if it can be called so) of Kiwi's "war machines".
The Neo 430 Roma, instead, wins me over at first glance. And not only because of her scimitar-shaped bow for the bowsprit of which the attribute "aggressive" would be an understatement, but because of her overall design, which inexplicably manages to be sporty and elegant at the same time, undoubtedly unusual for a sailboat of this category.
The cockpit is a masterpiece of ergonomics and rationalization, in terms of both spaces and rigging. Everything is in the right place, exactly where it should be. The deck plan is designed for both a crew, which benefits from uncluttered circulation when racing, and the owner who, when cruising, can easily reach all the essential rigging without moving from the wheel.
However, these considerations can be only related to the model under test because, due to the "tailor-made" approach used by Neo Yachts, every boat is different from the others. The predecessor of the Neo 430 Roma, in fact, was very different, equipped with two rudder blades, a retractable keel, a solo cruising-oriented deck plan and more cruising-oriented interiors.
While I am absorbed by these thoughts, Paolo and his crew come. We're ready to set sail.
Neo 430 Roma Sea Trial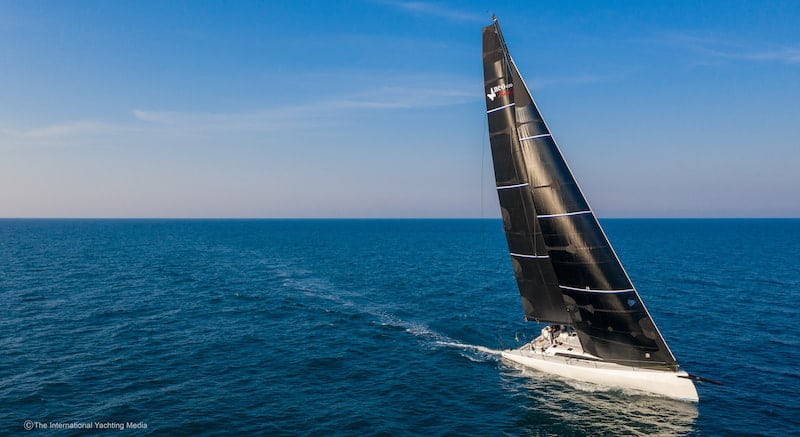 Testing a sailboat like this is always a particular event. People would do anything to climb on board and, indeed, once boarding operations are completed, we are seven passengers on board. A considerable number of sailors that, however, as soon as we cast off and hoist the mainsail, simply "disappear" in this boundless cockpit. The Neo 430 Roma can, in fact, accommodate an even larger crew that, like a Harry Potter undetectable extension charm, finds its place on board without problems, as if we were on a 60-footer.
Out of the port, the true wind is blowing at 6-7 knots and, with just the (60m2) mainsail hoisted, the boat slides on the water almost at wind speed.
We unroll the Code O and, needless to say,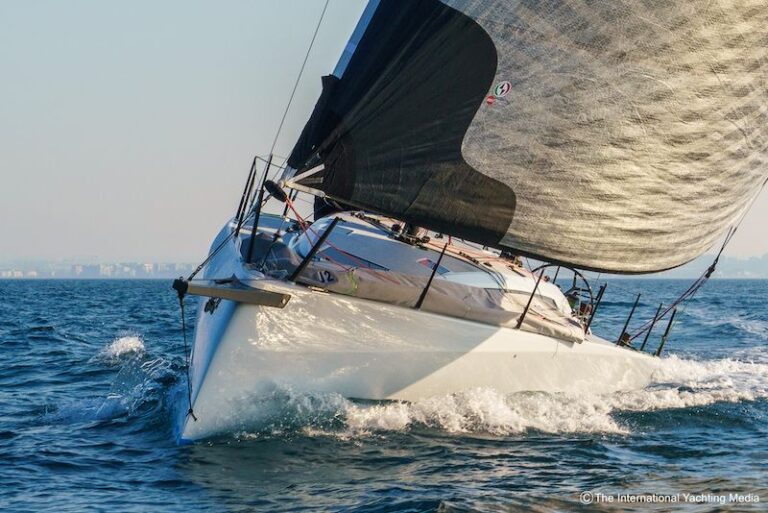 with Paolo Semeraro on board, sails are perfectly trimmed in no time. The boat takes off like a rocket and instantly exceeds 9 knots. I turn around to see if the true wind has picked up in the meantime but the total absence of signs on the water surface confirms the miracle: this boat simply flies on the water.
In a 50-degree AWA, the boat repeatedly reaches 10 knots, a remarkable speed even if what is most striking is its ability to never slow down. The average speed is aways constant, around 9.4/9.6 knots.
Giovanni Ceccarelli and Paolo Semeraro did a good job with this hull that, inexplicabily, manages to escape from the hydrodynamic laws that would otherwise subject it to a watertile length that it could be reductive to call it dynamic. The boat goes further beyond its design speed without showing the slightest hint of lowering the stern; vice versa, it always remains horizontal on the water, thus minimizing the wet surface and, consequently, the hull drag.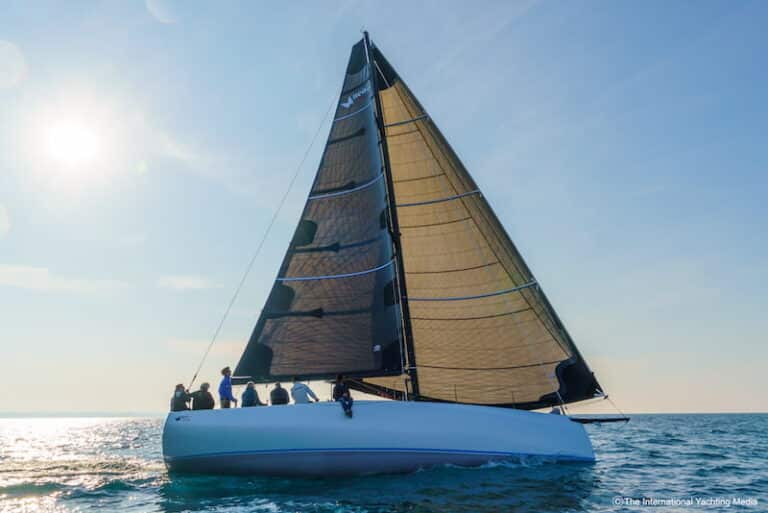 In poor wind conditions (like today), the Neo 430 Roma always creates an apparent wind with disarmining semplicity. There are two possibilities: you can follow your course, trimming and hauling sails as the speed increases; alternatively, you can follow the wind angle, favouring this crazy speed increase with the sails trimmed. That's why, while the Code 0 gives us a speed of almost 10 knots under a 35/40-degree wind apparent angle, we are currently running on a beam wind in a 7-knot true wind.
These performance are undoubtdly made possibile by the special design of waterlines but there's more. Sailing on a full-carbon boat, in fact, also means benefiting from an overall weight of 5,700 kg, 2,800 of which are positioned 3 meters under the waterline. This weight/straightening thrust ratio not only delivers excellent racing performance but also translates in important cruising benefits, such as speed, low heeling angles and absence of rolling when at anchor.
Once the 125-square-meter Code 0 is hauled down, we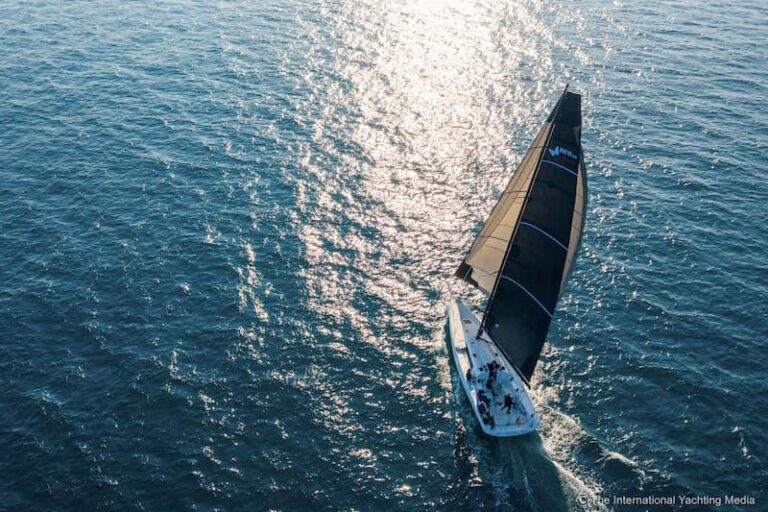 haul the jib which, with a surface of 45 square meters and in such wind conditions, could worry most but….instead, nothing because the Neo 430 Roma still amazes us. The boat sails at around 9 knots, under a 30-degree apparent wind angle.
I try to sail close-hauled while Paolo turns to look at the sails. I see a hauler closing the jib groove and the mainsail traveler moving upwind. Heeling grows while the windex indicator takes on a position never seen before. In a 28-29-degree TWA, we'are sailing at 8.8-9 knots while the windex head indicates an incredible angle, so irreal that I find it hard to write down … an absurd VMG for a boat that is not a racing prototype.
I see the sea surface darken in front of me. The first gust of the day is coming. I face it without hesitation while Paolo eases out the mainsail travel and, needless to say, the boat accelerates again. The speed reaches 9.4 knots and I could stay here forever…
The rudder is another small masterpiece, placed in a more advanced position than the average and capable of instant responsivess, while keeping always direct and sincere. Every slightest variation impressed on the wheel is transformed into an immediate reaction of the bow: a pleasure for the fingertips of the most demanding sailors.
But the time goes by and the sun is close to the horizon. It's time to return to port. I try a tacking that the Neo 430 Roma performs without slowing down and I continue with the new tack. Speed instantly decreases to 8 knots but, in no time, reaches around 9 knots again while, all around, the surface of the freshly chopped sea reflects the orange light of the setting sun.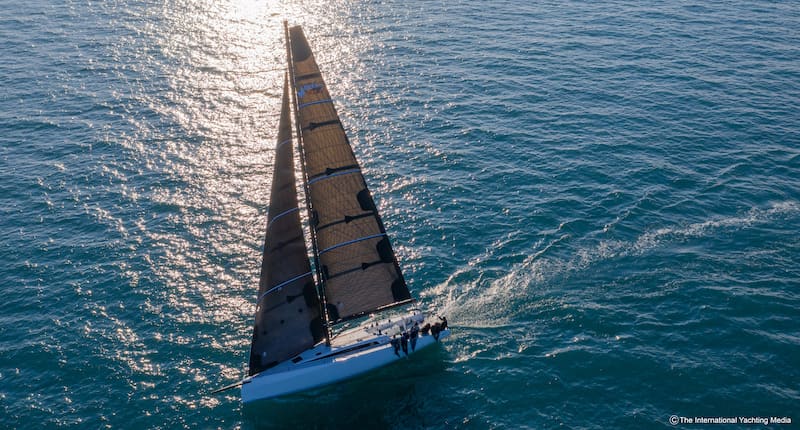 To return to port, we have to bear away. We have no time to set the Code O. The boat is back to reality and speed decreases. We are running on the quarter with the small jib hoisted, with a speed of 5 knots in a 7-knot true wind. What a boat, guys….
Once in the port, we start the engine, a small 30HP outboard that is more than eough for such a hull and weight. At cruising speed and upwind we reach more than 7 knots, a performance that allows easy movement in total absence of wind because – but you have already understood -with the Neo 430 Roma, you will never need to start the engine. 
Inside the Neo 430 Roma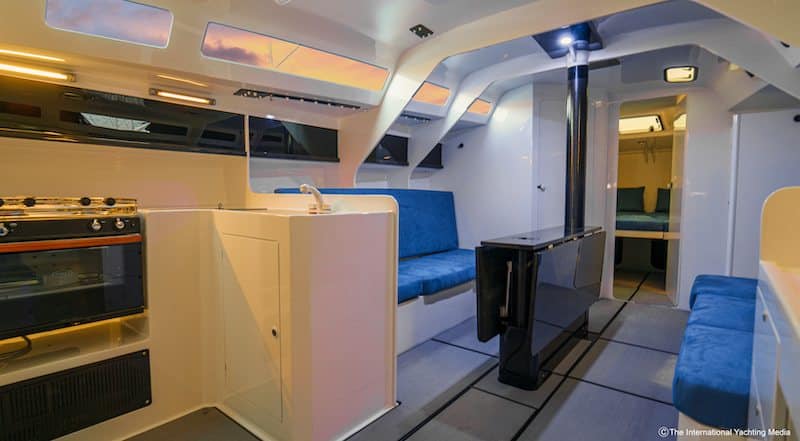 The interiors of the Neo 430 are structural and full-custom. The owner can choose from three possible versions: Loft, with a large open space in the bow; Cruise, with three cabins and two heads; Comfort (my favourite one), with a huge master cabin with separate shower, a spacious VIP cabin and a technical room/walk-in closet of inestimable value both when cruising and racing.
The model under test has three cabins, a head and an oversized chart table. Both aft cabins, as well as the seating in the dinette, are arranged with three beds of adequate size and anti-roll covers, which are perfect for sleeping upwind when racing.
Going below deck, the contrast of the white with the exposed carbon finishes is immediately striking. It is of great effect and gives the interiors a refined, minimal and gritty look.
Equally noteworthy are the storage compartments. Everything in this boat is exploited to store both small and bulky objects that find perfect placement in the side nets which, much better than "heavy lightened furniture", perform their function leaving the cabins in order . A special mention goes to the cockpit refrigerator which, equipped with an inspectable engine, carbon bottom and closing, is huge and beautiful.
Furthermore, the structural interiors provide extra space, comparable in size to those commonly found on bigger boats. They are also easy to clean and, of course, do not get old over the years.
Conclusions
Neo 430 Roma represents a leap forward in the evolution of the cruiser-racer concept. Performances you thought an exclusive prerogative of pure races until yesterday are not accessible to all the passionate sailors who want to successfully engage in races or who simply prefer sailing to power boating.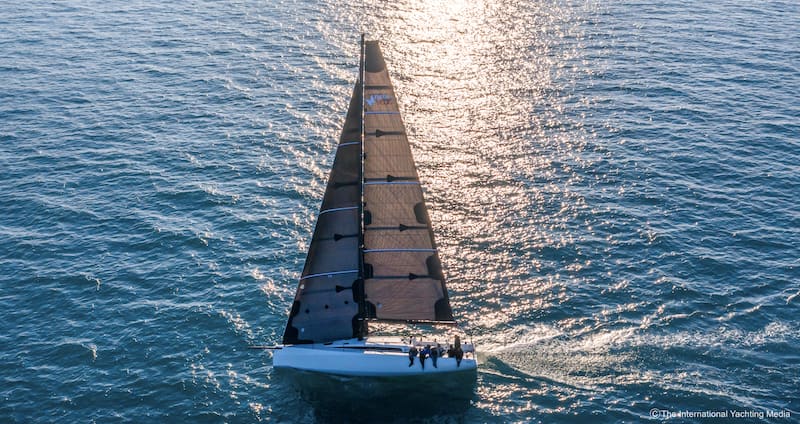 This boat stands out for its ability to express the performance of a pure racer (with many competitors left behind) while always remaining simple, controllable and safe. A one-of-a-kind feature for this boat segment.
Technical Specs
| | |
| --- | --- |
| Sail area upwind | 105 m2 |
| Sail area downwind with gennaker | 230 m2 |
| Main sail | 60 m2 |
| Jib | 45 m2 |
| Code 0 | 125 m2 |
| Gennaker | 170 m2 |
| | |
| Concept | Neo Yachts & Composites |
| Builder | Neo Yachts & Composites |
| Designer | Ceccarelli Yachts Design |
| | |
| Length (LOA ): 13,06 mt | 13.06 m |
| Length (LWL) | 11.80 m |
| Beam (Bmax) | 4.06 m |
| Draft | 3 m (1.6 m with lifting keel) |
| Displacement | 5,700 kg |
| Keel weight | 2,800 kg |
| Water | 200 l |
| Fuel | 100 l |
| Engine | Saildrive 30 hp |
| Category | CE A – Ocean |
| Creew | 10 max |