Let's start with a fact: Nerea's new jewel, the NY40, is a real spectacle. She made her debut at the Cannes Yachting Festival this year and was also presented shortly afterwards at the Genoa International Boat Show, and I was very curious to test her at sea.
The quintessence of elegance and sportiness, this boat stands out for its beauty. Its colours reflect on the water and invites you to climb aboard and enjoy the sea in any way you can think of: because basically everything is there in this 40-footer, but at a higher level. A custom suit embroidered to the owner's taste.
The Nerea NY40 in detail
The lines are aggressive, very sporty, and begin at the bow where a welcoming sundeck is the first distinguishing feature compared to the NY24, from which it has increased volumes and space, and so the sundeck is much more liveable and spacious. The teck is also very special, herringbone, a distinctive choice but one that achieves its purpose, which is to be noticed.
The eye then glides over the hull, made by Maurizio Zuccheri, which, as mentioned above, gives it a very sporty and sleek look, while allowing it to deliver high-level performance.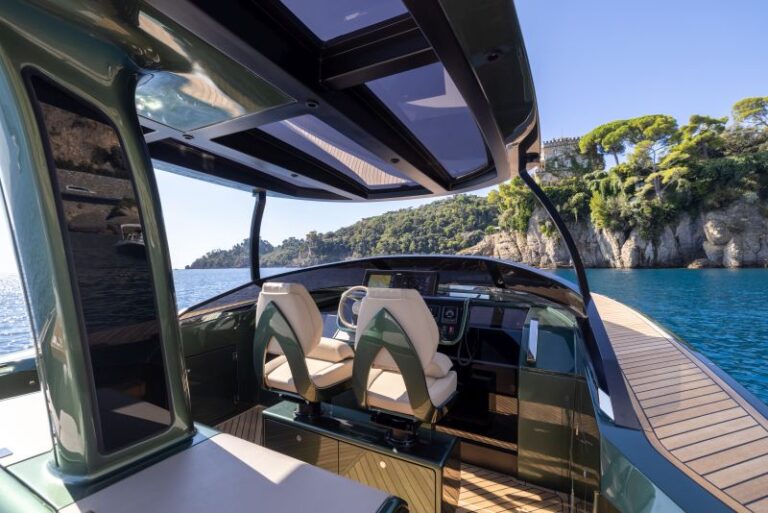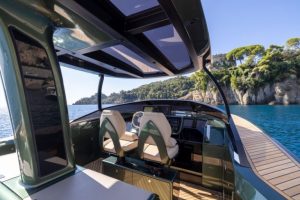 There is plenty of space, and as soon as you get on board you realize this immediately by looking at the large three-seater sofa that is perfect for relaxing, in the headboard of which there are three seats facing two small tables, at the other end of which we find an aft seat for three people: all this creates a convivial and sharing environment that can be dedicated to relaxation, but also to an elegant lunch in company.
Another element that certainly does not go unnoticed is the aft platform. Made in collaboration with Besenzoni, it consists of a first part that remains fixed and three steps that can be moved downwards or upwards, with the functions of swim platform, tender lift, gangway and swim ladder. Whether it's leisure, sport, diving or the simple convenience of getting back into the boat without any fatigue, this modular solution is not only extremely flexible but also a remarkable touch of class.
Speaking of class, another element that seduced me, I admit, is the T-top. Made of infusion carbon, it creates a large area of shade as well as being extremely sporty, but the ingenious aspect is the solutions found at its base, as it integrates perfectly with the galley cabinet, facing forward and not aft, another innovative solution, and customisable with a fridge, ice machine, sink and cooking plate.
Then, of course, there is the helm station, which is exactly what you would expect from a yacht of this level: highly technological, ergonomic and also very comfortable to drive thanks to two leather seats that accommodate the helmsman and a second passenger.
On the NY40, the spaces are large and shareable, but at the same time they are also clearly separated by design lines that mark out distinct areas; the rest is done by its modularity and the taste of the owner, who of course can choose different configurations, creating the configuration most suited to his or her taste, just like a tailor-made suit.
Nerea NY40, luxury interior with a green soul
Below deck, the
Nerea NY40 accommodates two modular and decidedly spacious rooms, much larger than one might expect from a 40-footer, designed by Alessio Battistini and Davide Bernardini of studio ideaeITALIA.
The rooms are bright and naturally very well cared for, immediately giving the idea of spaces designed for several days' sailing in total comfort.
Here too, of course, customization returns, and once again the owner can choose the solution that best meets his or her needs, being able to choose between two versions: the first, the one I saw, has a double bed in the forward berth, while the second has a small lounge with a C-shaped sofa and a central living area. The toilet is separate in a dedicated space where there is a toilet, shower and washbasin.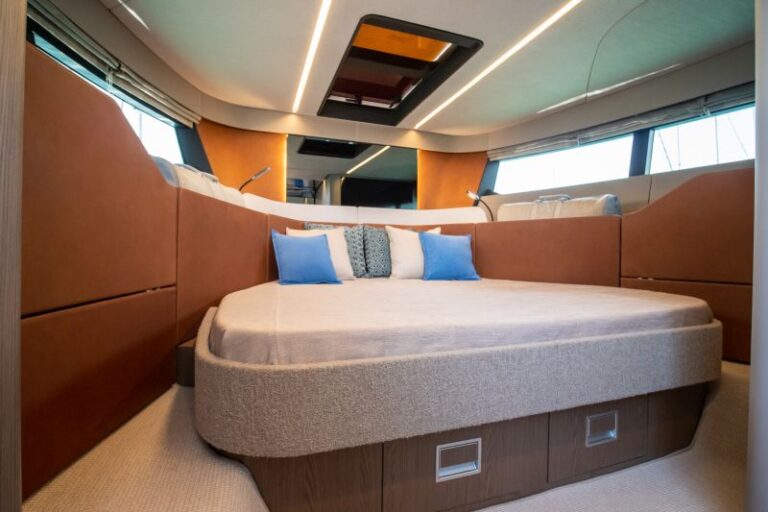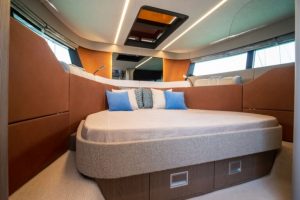 A detail that is not to be underestimated is the furniture and the multiple concealed solutions that leave all the space needed, but without clutter, for storing clothes and objects, without forgetting the set of duffel bags supplied that give yet another touch of class and sophistication to the whole context.
Elegance apart, there is also respect for the environment. In fact, you should know that in addition to the fibreglass that makes up the hull, Nerea Yacht has chosen to use, in some parts of the entire structure, the so-called Oltremateria, a mortar oil that is absolutely natural but also very resistant. What's more, the weave of the sofas is made from recycled bottles, all details that denote great attention to the environment, but above all the desire to follow this type of road that is as high-performing as it is sustainable. Chapeau.
Nerea NY40 Sea Trial
Finally it is time to get on the bridge. It's a beautiful day and we set off from Porto Lotti in La Spezia, it's a bit windy but the sea is calm, so the conditions are ideal.
Nerea NY40 comes with different engines, which I detail in the table below, I test it with a pair of 370 hp Yanmar Dual Trop. Her top speed I already know is 42 knots, but it was achieved with two Volvo Penta D6 440 DPH Diesels, so I am very curious to see her performance levels now that she is finally in my hands.
We leave the harbour at minimum engine revs, 700, at 5 knots and with consumption of 1.3 l/h per engine – remember that the data I give on consumption are always to be multiplied by two – and immediately afterwards we accelerate to see how fast the boat gets up on plane: 17 knots, a speed that we reach from a standstill with gear engaged in 16.86 seconds.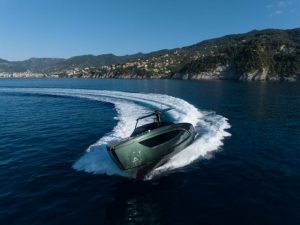 I'll tell you straightaway, the Nerea NY40 has a really important steering angle that also responds very quickly, and this allows you at high speed to make very exciting turns and counter-turns because the boat bends a lot, and at the same time to be extremely agile when manoeuvring in harbour for example: a nice feature when you think about a boat like this that weighs 8 tonnes.
We go up in revs and reach 3000 where we touch 22.5 knots and 50 l/h consumption, and then even higher until we reach cruising speed, which is 31.5 knots at about 66 l/h per engine: this means that with a full tank at this speed we can cover just over 200 nautical miles with a small deficit in surplus, not bad I would say, especially hearing how linear and fast it travels on the water.
What top speed will I be able to reach? Let's find out! I put the throttles down, I use the sea to my advantage and also the wind and, at 3878 rpm, I touch 35.8 knots, the maximum for the day: a little less than its peak speed tested with the two Volvo Penta D6 440s, but nevertheless an excellent result that achieves the desired effect, which is to give us emotions and joy of cruising.
I stop and approach the last test, the test of acceleration from a standstill: I touch 20 knots after 20.5 seconds, and reach 30 knots in 47.82 seconds.
The tests are over, the data have been taken and the sun is starting to go down, so it's time to head back, but not before playing a bit in front of the beautiful Ligurian coastline with that feeling of being privileged to enjoy a Saturday afternoon on a boat like this.
Beautiful, classy, green, fast, comfortable, sporty… What more do you need? Nothing, I tell you!
Technical Specs
| | |
| --- | --- |
| Engineering | Zuccheri Yacht Design |
| Design | IDEAEITALIA |
| LOA | 12,19 m |
| LH | 9,60 m |
| Width | 4,00 m |
| Weight | 8 t |
| Fuel Capacity | 2 x 470 L |
| Water Capacity | 330 L |
| Design category | B – C |
| No. passengers | B 10 – C 14 |
| Standard sterndrive engines | N. 2 Volvo Penta V6 280 DPS Gasoline |
| Option sterndrive engines | N. 2 Volvo Penta D4 300 DPH Diesel |
|   | N. 2 Volvo Penta D6 380 DPH Diesel |
|   | N. 2 Volvo Penta D6 440 DPH Diesel* |
| Standard Outboards | N. 3 Mercury V300 V8 |
| Option Outboards | N. 2 Mercury V600 V12 |
|   | N. 3 Mercury 450R |
| LWL | 2,53 m |
| Draft | 1.10 m |
Test Data
| | | |
| --- | --- | --- |
| RPM | kn | l/h |
|  (Min) 700 | 5 | 1.3 |
| 1000 | 5.5 | 3.6 |
| 1600 | 8.7 | 12.8 |
| 2000 | 10.2 | 26 |
| 2500 | 13.8 | 36.1 |
| 3000 | 22.5 | 50 |
| 3200 | 25.6 | 56.5 |
| 3400 | 29 | 63 |
| 3600 | 32.8 | 70 |
| 3800 | 35.6 | 80 |
            Data for a single engine
This article is also available in:

German