Nimbus Aquador 250 HT world premiere. 
If you are new to the world of NIMBUS, understand it is not a new flying broom for Harry Potter and his friends at Hogwarts. They are one of the top Swedish motorboat manufacturers making day boats long before it became a thing, and others copied their ideas and changed designs to what we understand and see today.
Nimbus have an extensive range of day boats and cruisers that they have been building passionately since 1968. They have made boats for kings, to world tennis legend Bjorn Borg.
Launching the new series of boats from Aquador marks the most comprehensive product renewal for the Aquador brand in 20 years. The first launch in the new series was 300HT, showcased at UIVA in Helsinki in August last year and now made its international debut in Düsseldorf. The world premiere for its little sister, the Nimbus Aquador 250 HT, was also at Boot Düsseldorf. The new series of boats from Aquador comprises three new models, with the 380 HT to be launched later. Aquador-brand boats are manufactured by Finnish Bella Boats, which joined Nimbus Group in 2018. We also have the exclusive first view for the NIMBUS W11 and the NIMBUS 465Coupe; the articles will be released soon.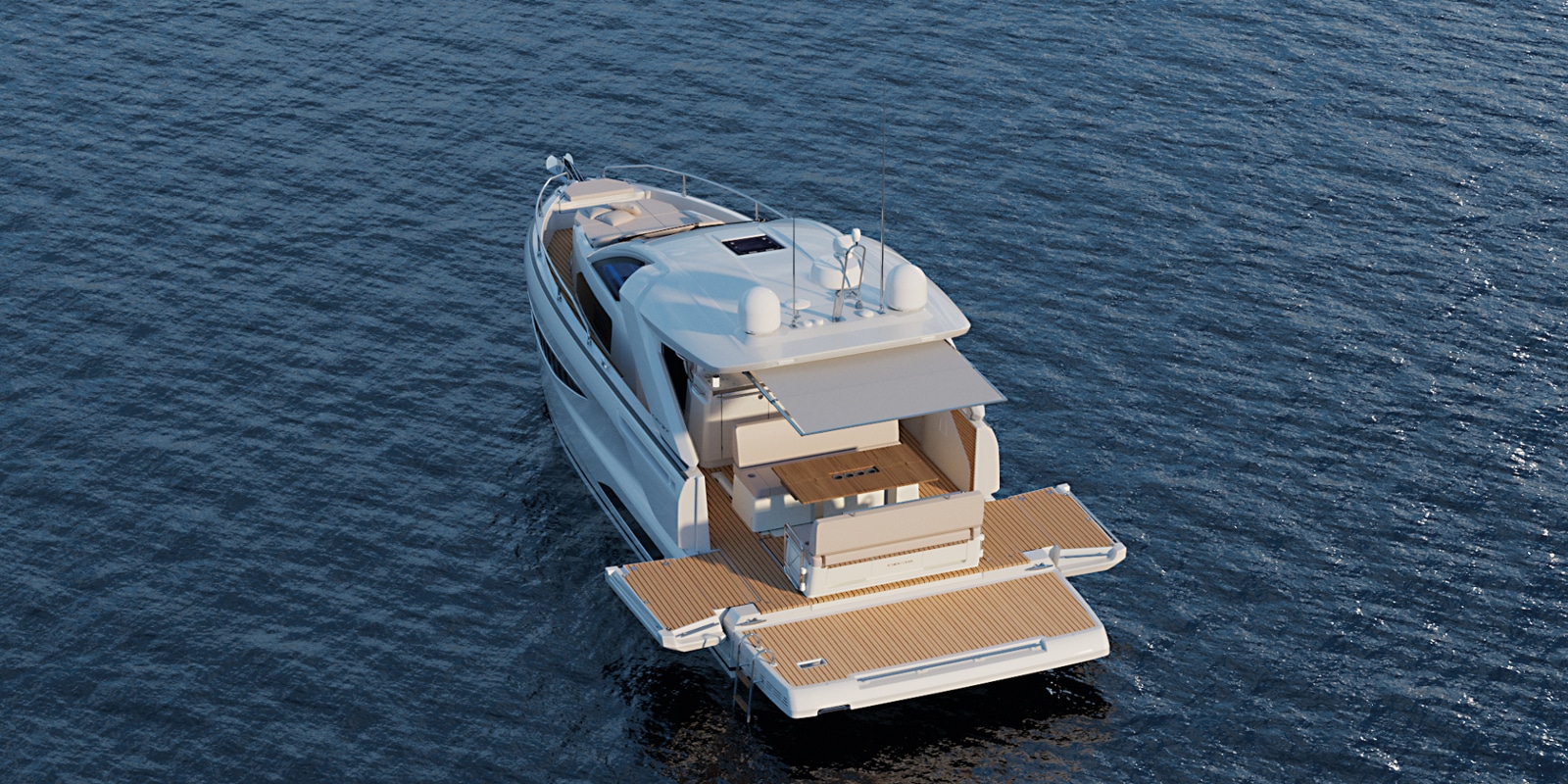 Sensationally unique is a term often used but rarely deserved. Yet Nimbus have managed this with the Aquador 250ht. It has many stand-alone features that no other boat in its class can claim, and there are many boats with biminis and fully enclosed cabins or open cockpits but nothing that matches the unique hard top design that is quintessentially Aquador.
Having good protection from the elements is a must,  with a large cabin and an open rear cockpit that can be fully enclosed using the canopy will keep you warm and dry in the worst of weather. With a well-proportioned aft cockpit.
For those sunny days with the added benefit of shade under the cleverly designed hard-top roof, Let the air flow and sunshine through the large open skylights and flood the spacious social cockpit area of the Aquador 250HT.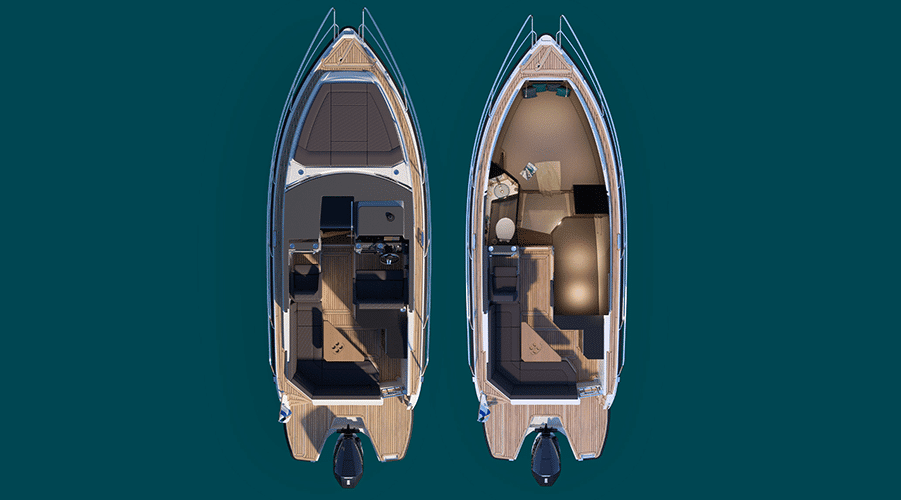 From the swim platform, we find a clever solution in the outboard-powered variant, the recess in which it houses the engine keeps it further inboard without sacrificing space, instead extending it to its sides. Talking about engines, you can choose 225hp or more power with a 250hp beast to power you on your way.
Aquador 250 HT – Stern Section
The functional and spacious cockpit is ergonomically designed and shows Nimbus have a great understanding of boat owners' needs. With cleverly hidden storage lookers throughout the deck, generous solid handrails run from the cockpit to the pulpit giving a good sense of security when moving from the stern to bow, which, if you have kids like me, will provide you with an incredible feeling of relief knowing they are safe. When the evening comes, the sun pad forward is an inviting place for the all-important sundowners, and mine is a Gin and tonic if you are buying.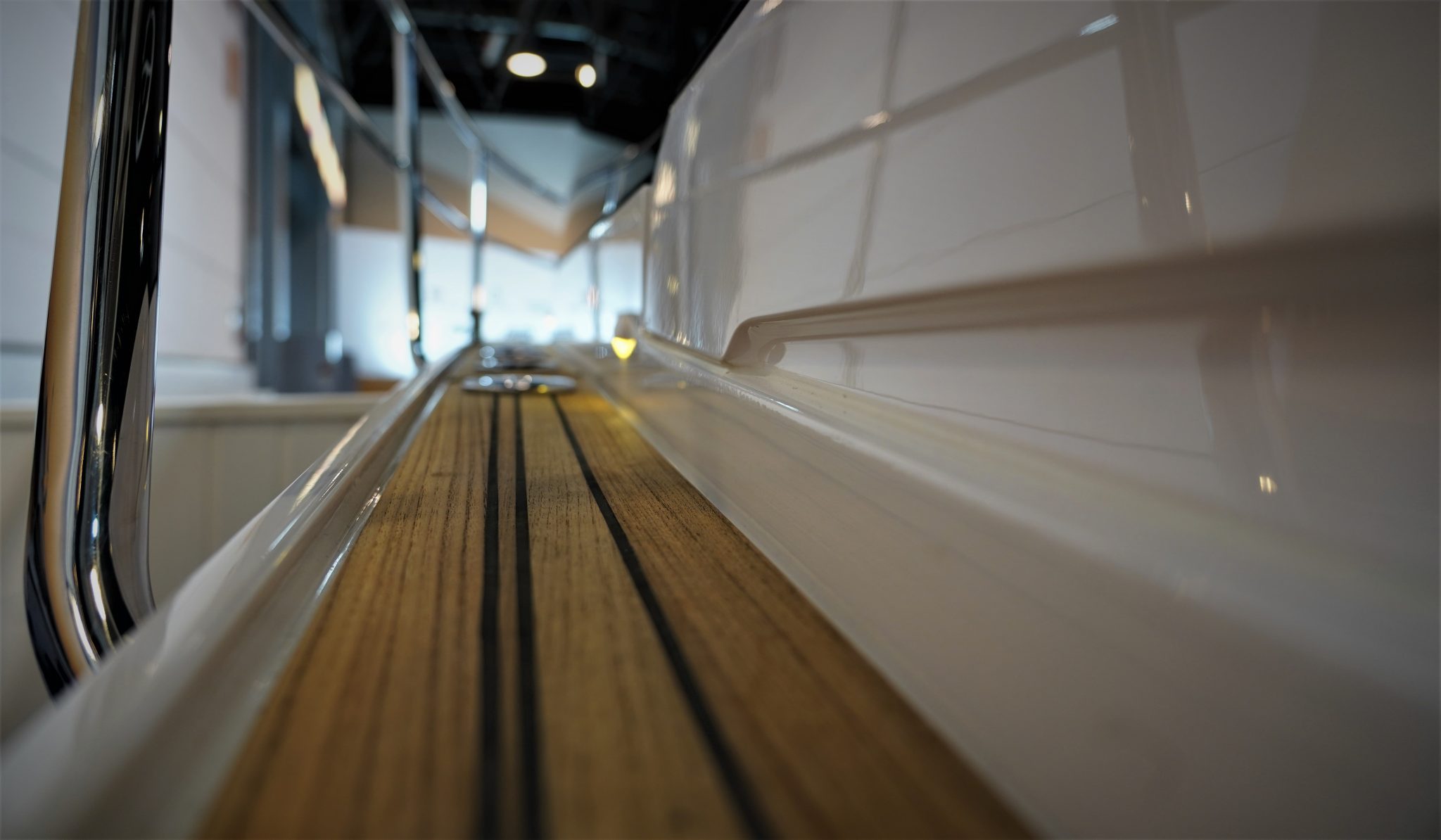 With one level of entertaining, you can flow through this boat moving from a small but functional galley and dining area to the spacious swim platform; The gally is well equipt for a small boat, and I can imagine rustling up some excellent food for my friends and family on a weekend jaunt to the ile de ré here in France.
The Aquador offers a two-cabin layout, a full beam double forward and a narrow double aft, which will be great for the kids or your chosen friends. Before entering the forward cabin, you can find the heads on the port side, while the central passageway gives access to all living spaces. I am having difficulty believing that the Aquador 250ht is only an 8-meter boat. I can move around with ease especially moving below deck.
Performance and Motorization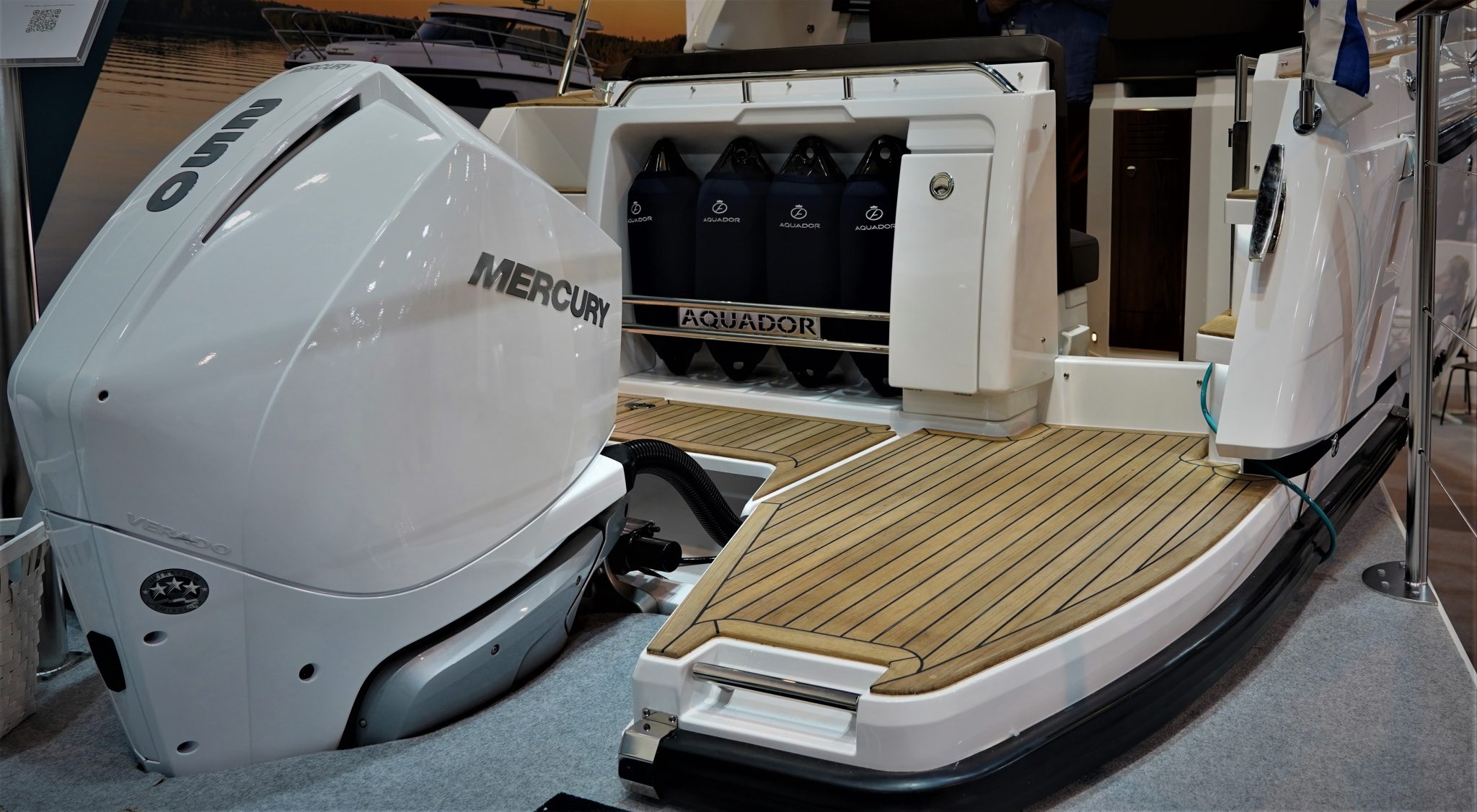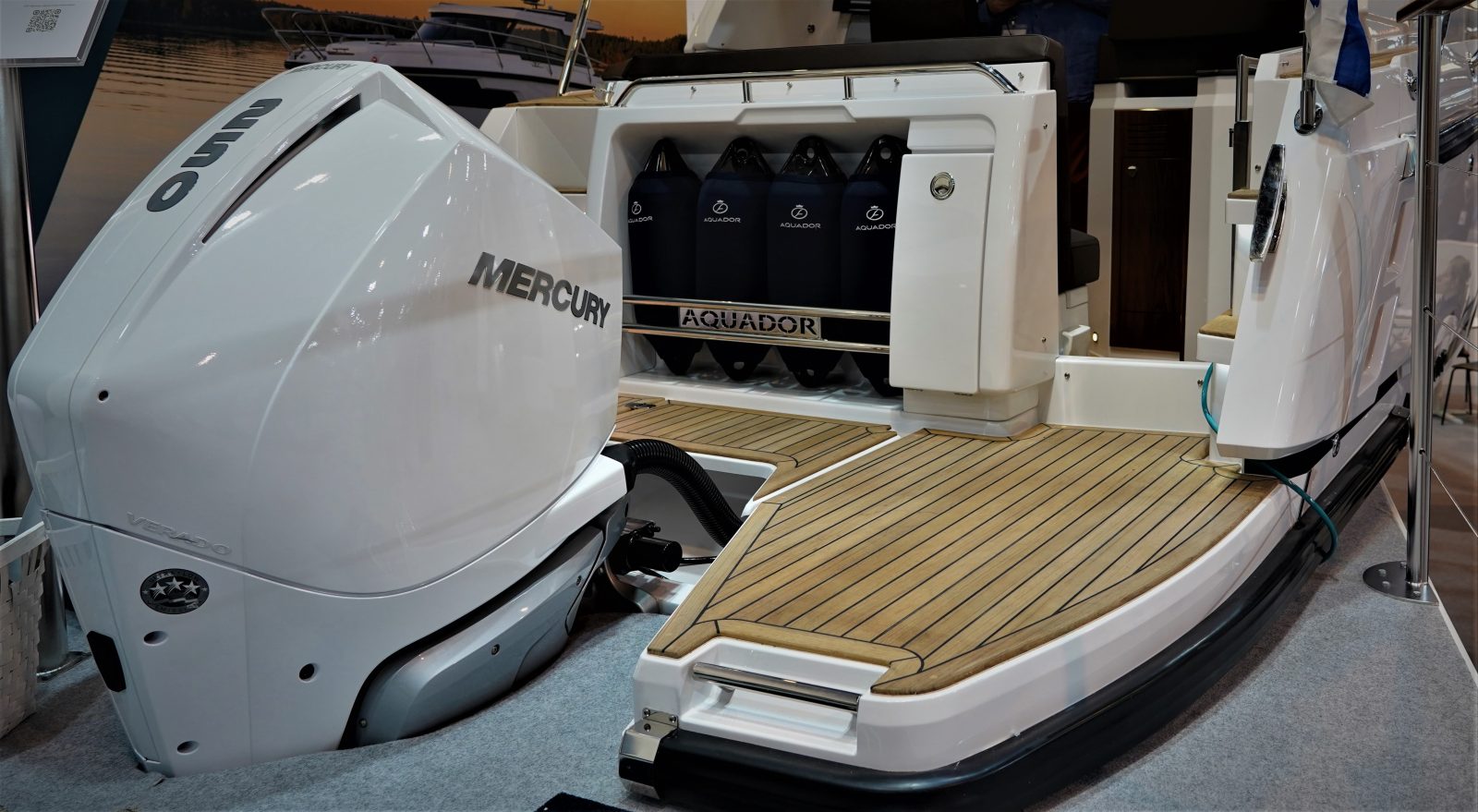 Let's talk about performance. We are waiting to do a sea trial later this year, and Nimbus offered these Figures for the NIMBUS AQUADOR 250 HT.
The hull is made, as in the case of the 300 HT, with the new AquaDynamic Hull process, a system developed to have optimal properties in terms of structure, offering a hull that allows it to glide even at low speeds, a solution that implies savings in terms of fuel consumption and a lower environmental impact.
The entire new Aquador segment, of which the 250 HT is a part, is made by vacuum injection, a construction method that optimizes material distribution while further reducing impacts on the environment.
The boat is offered primarily with inboard motorization but is available with the option for outboard motors. In terms of choice, one can opt for a 225-horsepower V6 or choose a 250-horsepower V8. Currently, speed and performance related to the behaviour of the hull in water are yet to be released.NI
Length

7.83 m

Beam

2.56 m

Draft

0.85m

Hull material

GRP

Engine(s) outboard option

225HP or 250HP

Number of cabins

2

Number of berths

4