Osculati Catalogue 2020: 22,ooo accessories, 1,104 pages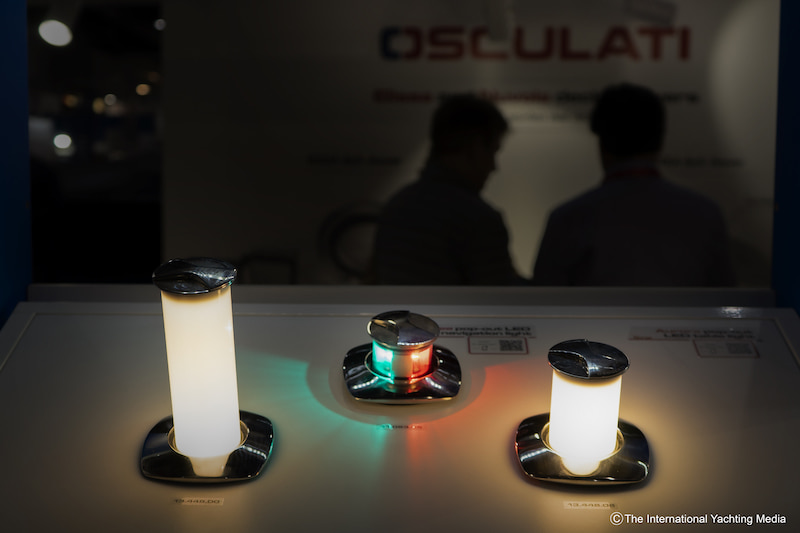 Osculati, the Italian leader of marine accessories, presents its new 2020 catalogue at Boot Dusseldorf. Figures are impressive, with 1,000 new products in the first year of the new decade.
The catalogue includes a multitude of accessories, from cleats to paints, from cleaning products to electronic devices up to deck equipment and lighting systems. In short, there is something for all tastes.
Visiting the Osculati's booth at Boot Dusseldorf, we focused on some of the novelties that Alberto Osculati showed us. We'll tell you some which, interesting, could be very useful on board.
Rocky: the telescopic shower rail
Rocky is a telescopic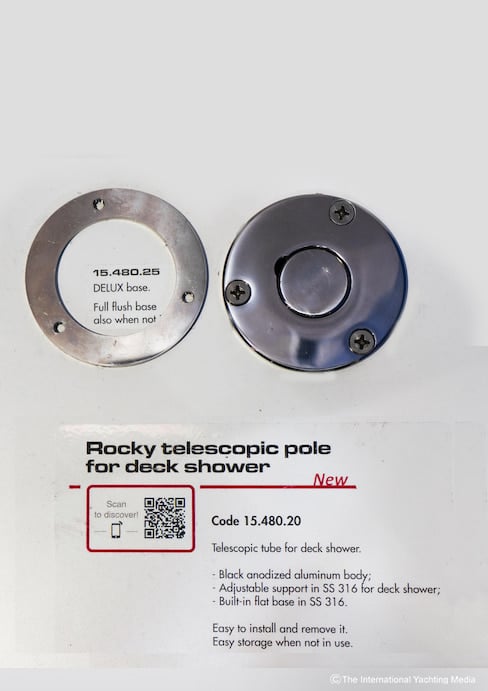 rail designed to house the shower head outside. This way, the latter will no longer have to be held in the hand, as typically happens when having a shower on the stern platform.
The telescopic rail is made of black anodised aluminium and makes it possible for the shower head be adjusted in any position. We saw the Rocky version combined with a Delux base, the one with a snap-on snap that allows you to have a smooth base surface even when the rail is not inserted.
Rocky's shower connection joint is universal. We tried with the Adriana deck shower.

Neon Light: the flexible LED strip
Neon Light is a flexible LED strip which, available in a white-and-blue tone, delivers uniform light, useful for illuminating the exterior and interior of the boat. The innovation, however, lies in the "dimensions", which allow to always occupy the right space without processing waste, making the strip adaptable to any use.
The standard size of Neon Light is 2 meters but strips can be cut according to your needs. Every 50 cm, on the back of the LED strip, the position of a "master" contact is marked, from which it is possible to cut easily. From here the strip can always be connected to a power source or to another strip through a joint to be inserted inside it.
Tube: a
quick-release ladder for dinghies
Tube is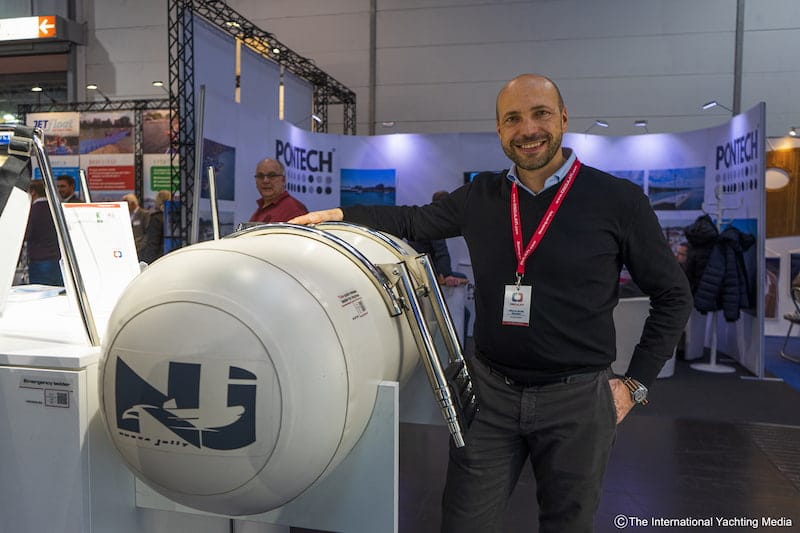 a quick-release ladder which can be applied directly on the tubulars in order to get on and off from dinghy tubulars.
Equipped with climb handle, the ladder is made of polished stainless steel and the steps are with anti-slid plastic footboard. Tube can be fixed to the floor with 2 stainless steel plates (included in the kit) by means of an adjustable tape with self-locking stainless steel buckle.
The ladder is suitable for dinghy tubulars up to 500-mm.
With its new catalogue, Osculati strives for

a more sustainable development



Osculati paper catalogue consists of more than 1,000 pages, which, multiplied every year by a large number of printed editions, is equivalent to a huge use of paper. Osculati has therefore decided to turn to a supplier who undertakes, for each tree cut down for the production of paper, to replant one.
This is just one of the steps, as Alberto Osculati told us, that the Segrate-based company has decided to to undertake as part of the Agenda 2030, a program promoted by the United Nations that aims at sustainable global development. The program, summarized in 17 objectives, was endorsed by all UN member countries and involves corporate issues that Osculati has decided to embrace.
Osculati S.R.L
Via Pacinotti, 12
20090 Segrate (MI)
Phone: 02 2699 111 – Fax: 02 2699 1120