Ossh Multifunctional Handle, the multifunction handle by F.lli Razeto & Casareto, has won the prestigious Silver A' Design Award 
It has to be said: the doors of success are wide open to the Ossh
Multifunctional Handle. The light-signalling multifunctional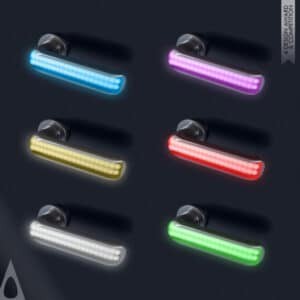 handle developed by F.lli Razeto & Casareto has been awarded the Silver A' Design Award in the Furniture Accessories, Hardware and Materials category by the International Design Academy, a grand jury panel which consists of internationally influential press members, established designers, leading academics and prominent entrepreneurs.
Ossh handles can be used for direct and intuitive communication in case of criticality on board, being able to provide indications of possible emergency.
They fit perfectly with fire doors and are the most immediate solution to blackouts and evacuation or intrusion plans. They are also manufactured using antimicrobial technology, which makes it extremely effective against Covid-19.
Designed by Giangi Razeto, Ossh, as well as indicating escape routes in critical conditions (e.g. green for escape route and red to prohibit access), communicates management information and performs a 24/7 disinfection action.
The disinfection process takes place through the emission of silver and other metal ions. Sanitation services are guaranteed by the Esi antimicrobial system, a sophiticated technology capacle of annihilating the Coronavirus, rigorously tested and certified by the virology laboratory of the University of Modena and Reggio.
Ossh multifunctional handle
Ossh is available in three kits which can be installed in differerent environments: Stand Alone, designed for privacy; Wired, suitable for fire doors; Wi-Fi, for integration into home automation systems.
It is therefore an extremely high-tech product that could not fail to win the Silver A' Design Award & Competition, considered as the most important and prestigious award in the world. The Design Award Winner logo, in fact, is synonymous with excellence and is awarded once a year in Italy to manufacturers of functional and innovative accessories.
"It's a great honour for us to receive this prestigious award and we would like to thank all our friends and partners for their continuous support and help along the way – comments the Ligurian company – The A' Design Award recognizes design excellence on the international stage". The doors of success are wide open to F.lli Razeto & Casareto.