The story of the Pardo 38 for Luna Rossa Prada Pirelli: the video

Sometimes, chance encounters generate great ideas. This is what might have happened last year when Gigi Servidati and Max Serena met at the Genoa International Boat Show and gave life to a truly intriguing project.
From that encounter, in fact, came out the idea to create a particular Pardo 38 which was capable of reaching and overcoming 50 knots, without however sacrificing the comfort and space features needed to be used as the official chase boat of the new Luna Rossa (not a simple task….).
The International Yachting Media pays tribute to the great design and building commitment that led Cantiere del Pardo to create this boat with a short documentary which reproduces the journey of this boat, from the construction site to the first exclusive shots in the waters of Cagliari where, with great general satisfaction, it can be seen chasing a really fast Luna Rossa!

Having completed such an important and ambitious project, for a leading company like Cantiere del Pardo, is nothing more than the crowing achievement of a 50-year journey, where the shipyard has built many authentic sailing masterpieces that, still today, continue to sail in all the seas of the world.
It is therefore no surprise if the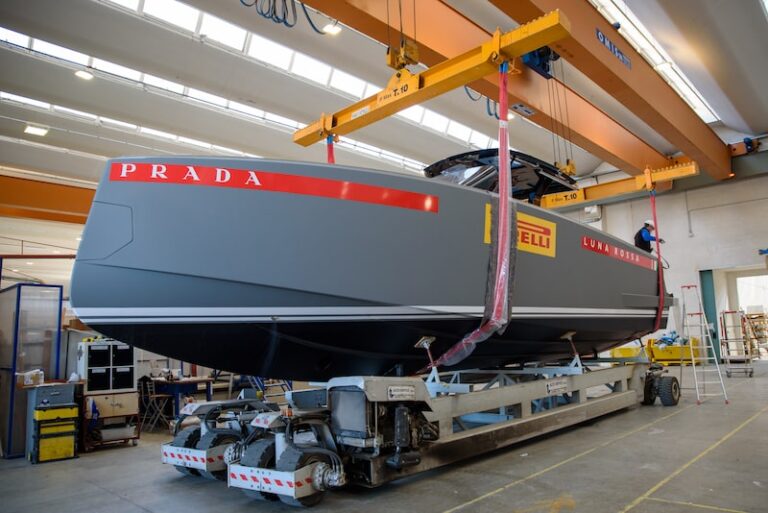 very first motor boat ever built by the Italian shipyard is an extraordinarily beautiful boat inspired by the elegance and performance of its sailing predecessors.
The Pardo 38 is now ready to follow the Luna Rossa Prada Pirelli team in Auckland where, from next December, both boats will defend the Italian flag during races, competing with the other teams in the case of Luna Rossa, rivalling in beauty and performance with the other cahse boats in the case of the Pardo 38.
But if sleepless nights, spells and fearful cheering are a must in the case of Luna Rossa, perhaps in the case of the Pardo 38 the game has already been won, as unequivocally demonstrated by the global success of this range of boats which, in just three years, has already conquered the whole world.