Nuova Jolly Marine unveils its new flagship in world premiere: the Prince 50

Her length of over 15 meters makes her the largest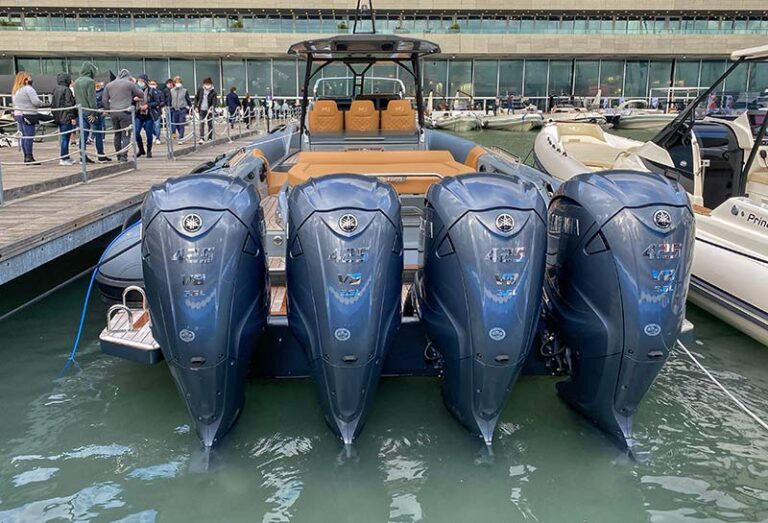 Maxi-Rib ever built by Nuova Jolly Marine. That's why she could not go unnoticed at the 60th Genoa Boat Show, where she inevitably stole the spotlight of the section dedicated to inflatable boats.
Although we could not test her due to bad weather (but the Italian shipyard's team promised us that we will have this opportunity very soon), seeing her stationary, fitted with four Yamaha V8 XTO Offshore 425HP outboards, eager to go wild in the open sea, made us feel really excited.
The young Italian designer Luca Macchi has outdone himself, designing, with the experience of a veteran, an inflatable boat that is attractive, imposing, performing, aggressive and extremely hospitable to those who decide to spend a day or a night on board at the same time. Yes, because the new flagship by Nuova Jolly is a full-fledged day-cruiser.
Below deck, in fact, a world opens up. The sleeping zone consists of two cabins: a twin-bedded VIP cabin in the stern and a master cabin in the bow, equipped with a double bed and windows overlooking the sea. The layout is completed by a large hallway, with double access from the bow and the stern for greater air circulation, a galley and a toilet.
In short, there is plenty of comfort everywhere. The same applies to the exteriors, where the flagship model of Nuova Jolly doubles the spaces: two dinettes, both aft and forward, and two sundecks, one in the stern and the other in the bow, obtained from an electric folding table. The deck layout is therefore divided into two distinct areas, joined by very large side walkways (in fine solid teak) that best express the boat's walkaround philosophy. The powerful tubulars, divided into nine compartments, are in hypalon-neoprene.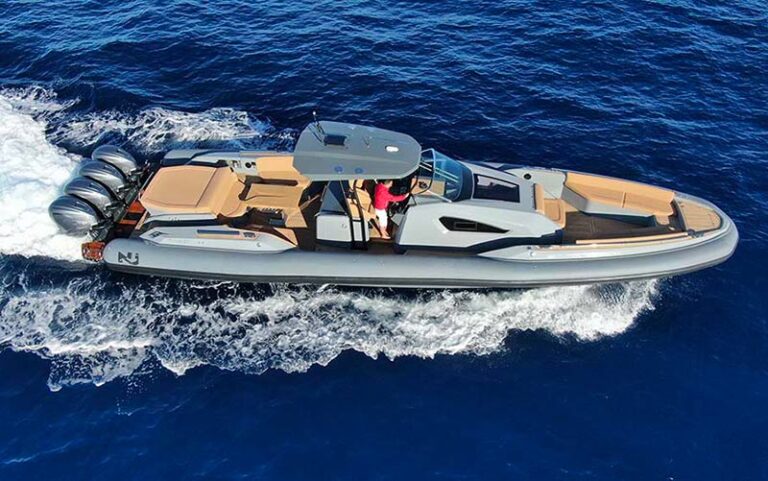 The cockpit is equally large, equipped with a dashboard capable of accommodating two displays of at least 12 inches, double-layer tempered glass windshield, three ergonomic pikot seats and an elegant rigid fiberglass hard-top.
World premiered in Genoa, the Prince 50 can reach a top speed of 54 knots. According to what Nuova Jolly Marine General Manager Teo Ajello says, she is capable of keeping an average of 35 miles without problems, with a consumption-distance traveled ratio which reaches the top at 34 knots.
We are looking forward to testing her.
Click here to visit the page dedicated to Nuova Jolly Marine on our Virtual Boat Show.