Boasting a design that is finally different from a multitude of widely resembling inflatables, the new Rio Inagua S immediately caught the attention of a target audience that is increasingly looking for very distinctive Maxi-Ribs. After all, it is since 1961 that Rio Yachts has been manufacturing successful boats, as witnessed by the more than 100,000 units launched in these 62 years, a true record.
A historic shipyard that, clearly, is not afraid to be put to the test as it has granted us, exclusively, the opportunity to test the Rio Inagua S with one of our famous "100 miles on board" sea trial, our toughest test format.
100 miles aboard the Rio Inagua S
It is eight in the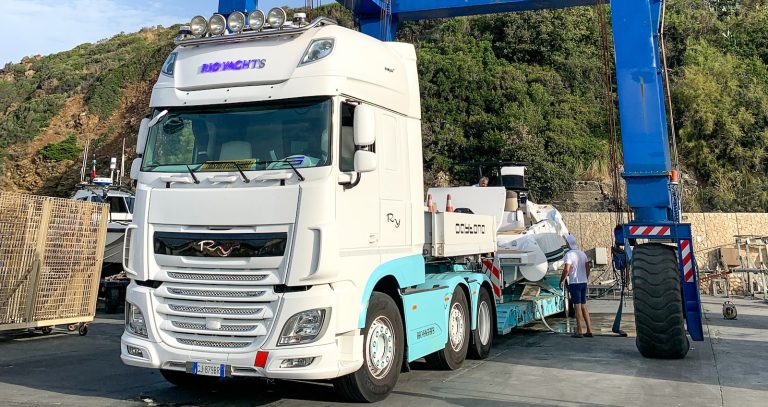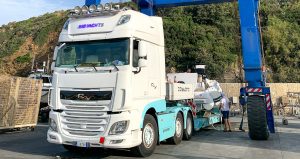 morning when we reach our Rio Inagua S. We are at the Marina di Salivoli, near Piombino, Italy, and our Maxi-Rib is still on the truck, ready to be launched. This operation is carried out quickly, as is the inflation of the tubulars and the refuelling. At 09.00 we release the moorings and slowly leave the marina.
We reset the litre-counter of each of the two engines, so that once we arrive at our destination we will be able to have certain data on the actual consumption. Our destination is the Marina of Porto Cervo, Sardinia.
We have 120 miles to cover in one of the most fascinating seas in the world, the Tyrrhenian Sea, with a route that takes in some of its wonders: the island of Elba, Montecristo, Corsica and the Maddalena Archipelago.
As soon as we get out of the marina we start to accelerate and, for my pleasant surprise, I realize that the boat gets up on plane already at 10 knots, with almost no change in trim. The stern accommodates two Mercury 300HP V8s and this combination creates an almost perfect balance, where the Maxi-Rib is definitely at ease.
Off Punta Falcone we find a metre or so of long wave from the north which, crossing with the short steep one from the typical local breeze, creates conditions that would be uncomfortable for most boats. Fortunately, this is not the case for our Rio Inagua S which, equipped with an evidently superlative hull, allows us to cruise in first class at over 35 knots.
In fact, the hull lines smoothly absorb both changes in sea level and the roughness of the swells, even allowing us to take the appropriate measurements. There are three of us on board and Rio Inagua S is fully loaded and yet we easily exceed 45 knots in these conditions. Sure, we jump off the crests of the highest waves, but the landings are always smooth, totally impact-free.

We slow down and follow the course, around 35/36 knots. At this speed, our Maxi-Rib consumes just over 3 litres per mile, which is less than 60 litres per hour per engine – unbelievable!
In less than an hour we are already across the Montecristo Island which, respecting the navigation rules, we admire from afar while to our left the Scoglio d'Africa, famous for its submerged mud volcano, rushes by.
It's really amazing to navigate like this, aboard the Rio Inagua S the miles pass quickly and comfort is utmost, whether sitting in the pilot seats or, literally, "sprawled" on the U-shaped sofa in the aft dinette. Noteworthy is the new air deflector that, while allowing the classic windscreen to be dispensed with, also gives the cockpit a sophisticated look: a solution that is a small miracle of aerodynamic engineering.
Around twelve noon, less than three hours after our departure, we are already in the vicinity of the Maddalena archipelago and, since we are so early, we enter Caprera to enjoy a refreshing swim in the wonderful waters of Cala Portese. Two very kind park employees show us an area where we can stop without destroying the poseidonia, we anchor in just over two metres of seabed, switch off the engines and, at last, we are in paradise.
The Rio Inagua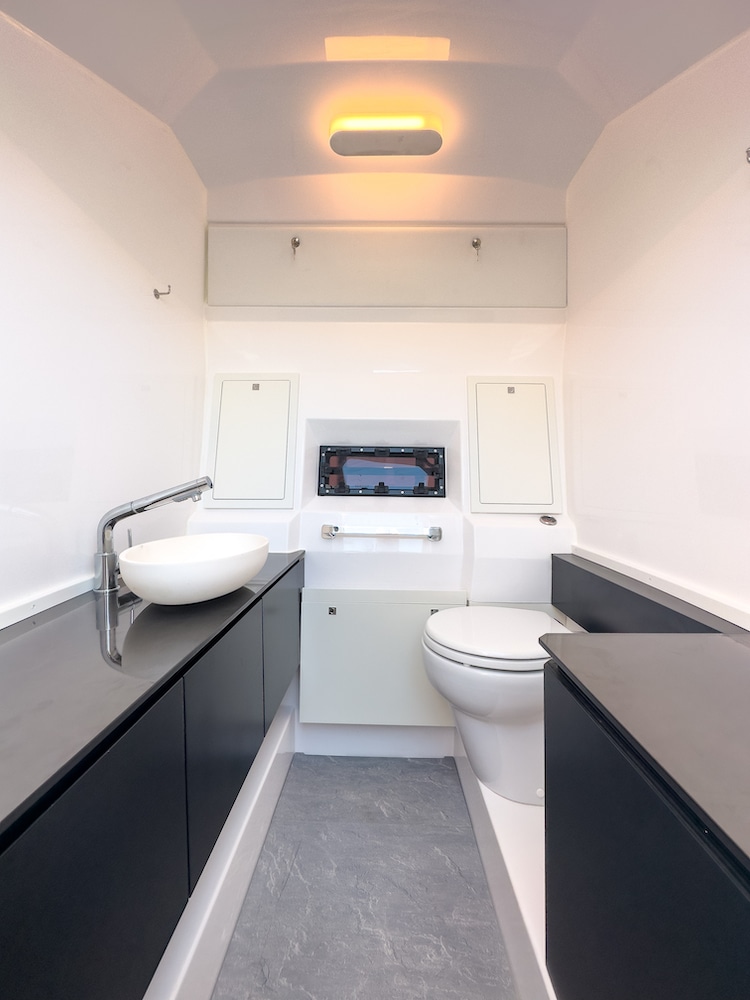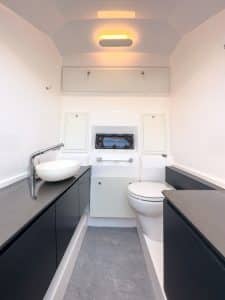 S's changing room is located under the cockpit, it is huge and allows guests to slip into their swimming trunks while standing up. In short, it is a large room that, in addition to the toilet, also houses a washbasin and a fair number of cupboards/cabinets where many things can be stowed.
The stern platform is large and clever, built in the shape of a 'dovetail', allowing you to enter and exit the water comfortably and safely. The ascent is also facilitated by the special handrail, which engages flush and is positioned just where you need it.
After a refreshing swim, we weigh anchor and, in just over 15 minutes, reach Cannigione, where we stop for lunch. The afternoon is dedicated to shooting, for which we choose to remain in the archipelago, sailing among its beauties, then, around 5.30 p.m., again navigating briskly, we tackle the last 10 miles that separate us from Porto Cervo.
This stretch of sea is always very rough, and the incessant traffic of yachts makes it decidedly difficult but, as we had already seen, our trusty Rio Inagua S tackles it with ease, once again giving us five-star navigation.
We have navigated all day, always at a high speed, and now, after a crossing and having been wandering around all day, our fuel gauge still shows 25% fuel level, which the electronic litre counter confirms, totalling just over 430 litres. A very good performance, even for "tweakers" like us…
For those who want to take it easy, however, just travel like ordinary mortals and, at around 25 knots, only 30 litres per hour are consumed per engine, a figure that is almost unbelievable for an 11-metre maxi-rib.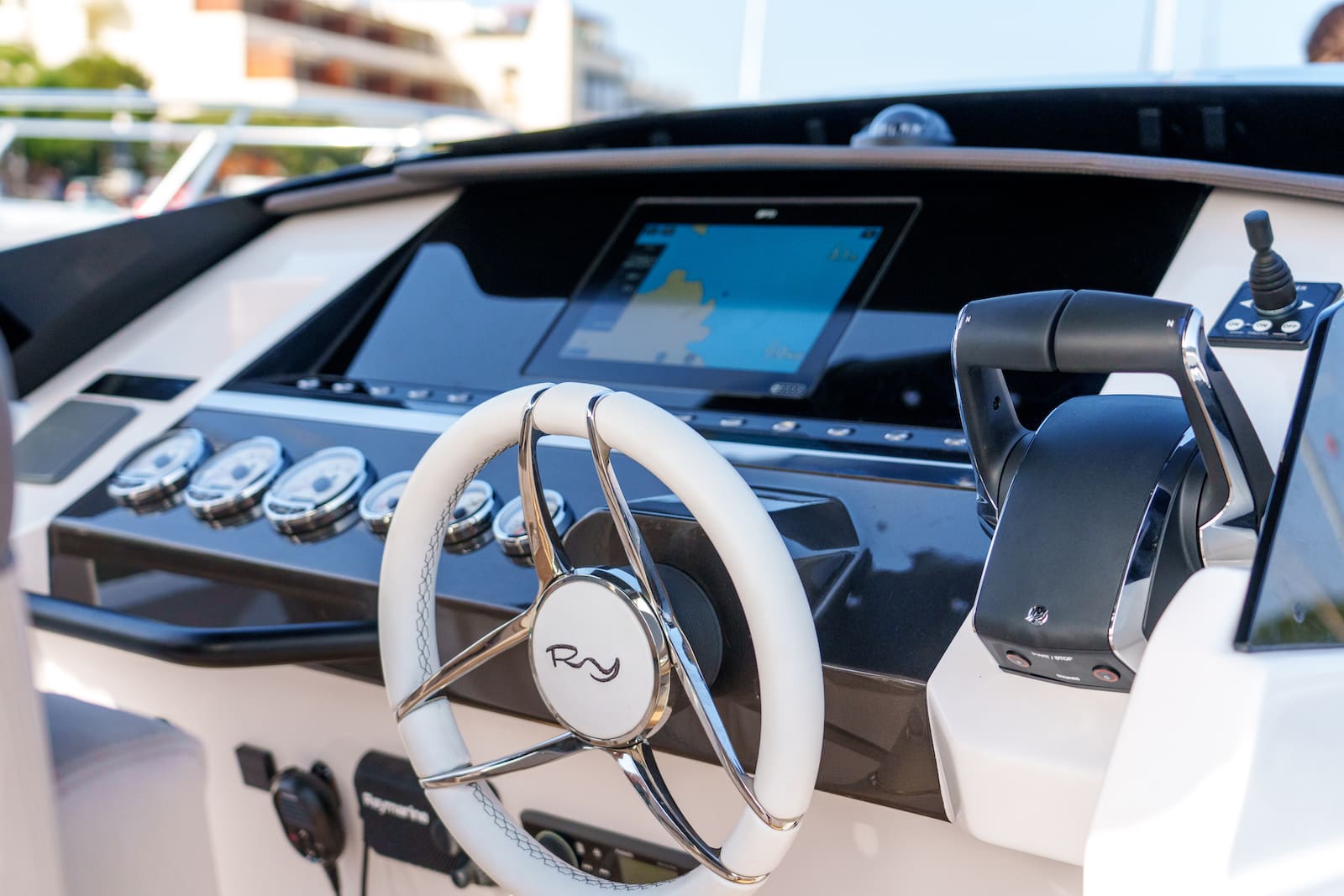 Rio Inagua S: Test Data
| | | | | |
| --- | --- | --- | --- | --- |
| RPM | Speed | L/h tot | l/nm | Range |
|              600 | 3.1 | 6.0 | 1.94 | 320.3 |
|           1,000 | 4.1 | 9.0 | 2.20 | 282.4 |
|           1,500 | 6.9 | 16.6 | 2.41 | 257.7 |
|           2,000 | 9.81 | 17.8 | 1.81 | 341.7 |
|           2,500 | 10.5 | 28.4 | 2.70 | 229.2 |
|           3,000 | 15.1 | 41.2 | 2.73 | 227.2 |
|           3,500 | 21.7 | 62.6 | 2.88 | 214.9 |
|           4,000 | 27.2 | 84.2 | 3.10 | 200.3 |
|           4,500 | 35.4 | 113.8 | 3.21 | 192.9 |
|           5,000 | 43.4 | 152.0 | 3.50 | 177.0 |
|           5,500 | 45.6 | 177.0 | 3.90 | 158.8 |
Technical Specs
| | |
| --- | --- |
| LOA | 11 m |
| Max Beam (inflated) | 3.70 m |
| Max Beam (deflated) | 3.10 m |
| Height above water | 2.14 m |
| Draft(keel) | 0.58 m |
| Draft | 0.86 m |
| Dry Weight | 3700 Kg |
| Total Crew Capacity | 16 |
| Fuel Tank | 620 L |
| Water Tank | 95 L |
| Toilets | 1 |
| Tubulars Diameter | 0.68 m |
| Compartments | 6 |
| Electric System | 12 V |
| CE Category | B |
| Engines | 2×300 HP |
| Aft sundeck | 1.74 m x 1.24 m |
| Bow sundeck | 1.74 m x 1.60 m |
This article is also available in:

German

Portuguese (Brazil)