Sailing Squad, the miniseries following the events of the Bol d'Or Mirabaud regatta, is finally back. The first season was a great success and now the initiative has more sponsors, including Hublot, Forward Wip and the Société Nautique de Genève.
This new edition will see a Persico 69F, a monohull foiler based on the America's Cup flying boats, with an unusual but very welcome all-female crew made up of four young international skippers from the world rankings: Francesca Bergamo, Amanda Björk-Anastassov, Daniela Moroz, Odile Van Aanholt. The boat has racks instead of trapezes, a V-shaped foil and a T-shaped rudder blade. It is a boat capable of "flying" on the water's surface and reaching speeds of up to 30 knots, but it requires great precision at the helm and perfectly coordinated manoeuvres.
Nicolas Mirabaud,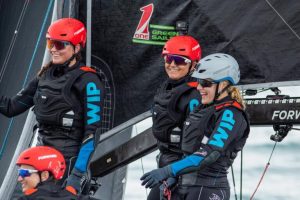 Managing Partner of the Mirabaud & Cie Group explains: "In creating this format, we wanted to offer talented young sailors the chance to take part in an original sailing challenge and to count on exceptional coaching, with a view to participating in the Bol d'Or Mirabaud, a race that we have sponsored for over 15 years. It is a human and sporting adventure, based on values such as passion, entrepreneurship and team spirit. For this second edition of the Sailing Squad, we are delighted to have brought together four young women and to see them competing on a foil boat. The first images of the training sessions on this high-tech boat are quite promising".
Once again, this year' s Sailing Squad will be coached by Shirley Robertson, the first British woman to win two consecutive Olympic gold medals in 2000 and 2004 in the Europe and Yngling classes.
"Each edition is a challenge because these young sailors have proven themselves in their discipline and have to learn how to sail in a tight crew in a short time. It is an exciting challenge both in human and nautical terms. This team-building experience, which is truly enriching for the whole crew, is based on the exchange of knowledge and navigation techniques, on the search for common solutions, as well as on moments of joy, shared passion, laughter and a strong motivation to succeed together", Shirley Robertson says "I have confidence in my teammates, who have multiple talents and complementary skills that they will be able to use to the benefit of the common energy".
The objectives of this miniseries, conceived by the Mirabaud Group in 2021, are essentially twofold: to raise awareness of the world's largest closed-dock race and to allow promising young sailors to participate, with the help of a world-renowned coach.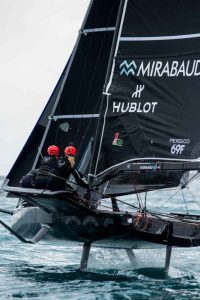 The new season of Sailing Squad will consist of four episodes in which a television team will follow the participants and their coach during the events related to the regatta. The episodes, preceded by a teaser, will be broadcast on the various digital channels in June 2022 with the following schedule:
Teaser : 30th May

1st episode: 2nd June

2nd episode: 6th June

3rd episode: 10th June

4th episode: 15th June
Ricardo Guadalupe, CEO of Hublot, says – "Hublot and sailing is a story that goes back to the very creation of Hublot in 1980: just think of the emblematic design depicting the porthole of a boat that features the bezel topped with screws. Since 2012, Hublot has sponsored the Bol d'Or Mirabaud regatta. By bringing together experienced sailors who compete against each other, against the winds, but also against themselves, this race perfectly reflects Hublot's philosophy. And this year, one boat in particular will be at the centre of contention, the Sailing Squad: codes are reinterpreted and give way to innovation on board the new Persico 69F with an international crew of four women sailors. Hublot is once again taking to the water and showing its penchant for human adventure".