The SAIM Group will be present at all three of September's most important boat shows, in chronological order: Cannes (booth PAN 201) Monaco and Genoa (booth YC06). The group, with a 40 million turnover and headquarters in Buccinasco, boasts, in addition to the automotive sector, a strong presence in the industrial marine sector through the SAIM Marine division with which it imports and distributes, also on a global scale, at least 14 brands, including: KOHLER, Sea Recovery, Glendinning and Maxwell. As far as recreational and professional boats are concerned, SAIM Marine assists shipyards physically through a direct network also in Italy, Slovenia and Croatia. This year, among other things, the Group celebrates its 70th anniversary. SAIM has recently signed an agreement – we talked about it here – for the distribution of an ultra-compact "Waveless" nautical stabilizer system, made by CMC Marine. The agreement will be operational from the opening date of the Genoa Boat Show, September 16th, and will focus on the markets of the Republic of San Marino and six different Arab countries: Saudi Arabia, Bahrain, United Arab Emirates, Kuwait, Oman and Qatar. Another feather in the SAIM Group's cap is undoubtedly its highly efficient pre- and post-sales service.
The SEA DRIVE pod distributed by SAIM Marine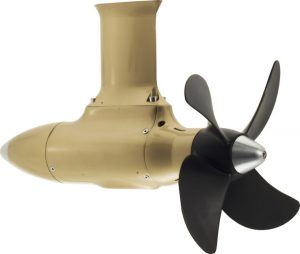 Among the products available in its ample catalogue, SAIM introduces this year Sea Drive, a versatile and easy-to-maintain electric pod with modular construction, which adapts to all types of boat, including day cruisers, cruisers, sailing yachts, house boats and steamers.
The range includes three different models from 7.5 to 30 kW. The pod can also be charged at the mooring columns or by "connecting the batteries to a charging station".
An environmentally conscious Norwegian product because it runs on electric propulsion, Sea Drive: "is assembled in a modular way: the body is made of bronze and is common to all models, while the mast, keel and fastening brackets are fitted according to the desired use for the different versions: push and pull version, lifting version, variable speed, azimuth version, fixed or folding propeller, generator version, control system with tablet or PC".
QS Seamaster thrusters
100% made in Italy, the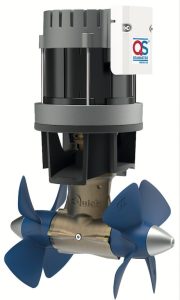 QS SEAMASTER thruster is the result of the combined experience of SAIM Marine and Quick Spa, which takes care of its industrial production and finishing. The result includes SAIM high technology with the use of the best materials tested so far. The QS SEAMASTER thrusters are suitable for boats from 22 to meters in length, they have a 15 kW motor, two symmetrical propellers, a 30 cm diameter inner tunnel and a weight of 64 kg. Easy to maintain, they are also equipped with a control sensor system that is activated in the event of engine overheating so as not to suddenly interrupt the thruster's operation.
Waveless STAB 25 stabilizers
As mentioned above, thanks to the recent agreement with CMC Marine, SAIM's catalogue now includes CMC Marine Waveless STAB 25 stabilizers. These ultra-compact electric stabilizing fins for yachts between 12 and 24 meters represent the new generation and are an advanced solution for stabilising the boat and preventing it from rolling when mooring and sailing. Waveless STAB 25s are equipped with motors capable of turning the fin 90 degrees per second.