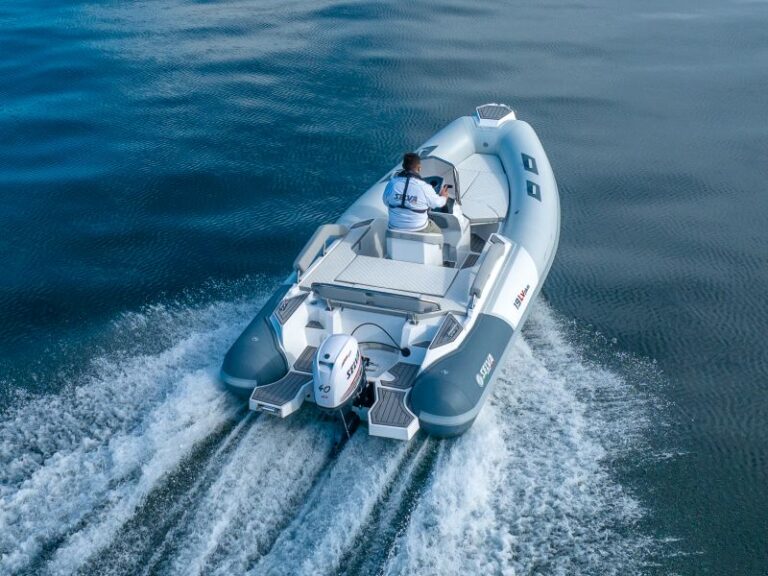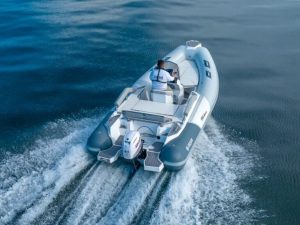 On a beautiful sunny day on Lake Maggiore, I tested the Selva 19 LV Plus, and I can tell you that it fully met my expectations.
In fact, as well as pushing it to its limits throughout the day – which was dedicated to Selva Marine and therefore with several boats to be tested and people to move – I saw it behave excellently as a 'service boat', so to speak.
Pure handling, always ready to start and be moored in no time. Smooth, very agile but at the same time capacious: it carried people and petrol, was the support vessel for the drone flight, and I even saw it tow a vehicle that had run out of fuel to shore with a line.
Throughout the day, it sailed across Lake Maggiore with the Selva team taking it everywhere, and it always replied: "Present!". What can I say? It was a truly nice surprise.
The Selva 19 LV Plus in detail
At 6 metres long and 2.5 metres wide, the Selva 19 LV Plus is available in two design categories: C with a 9-person capacity and D, up to 12.
Just like the Selva L 21 Plus, of which it is the younger brother, it has a V-shaped bow, at the tip of which a bowplate is applied directly to the tubular, leaving space for a comfortable relaxation area.
The stern, on the other hand, is modular, depending on requirements, with a small table that can be fitted when needed, or disappear when more space is needed, freeing up three comfortable seats, two on the sides and one at the rear, all with stylized backrests which, as well as making the stay decidedly more comfortable, are also very aesthetically pleasing and give the whole an elegant design touch: I would call them the trademark of this line.
The console
unit is basic, but absolutely practical. The V-shaped windscreen is designed to provide greater aerodynamics and I really like the touch of style it gives to the whole, as does the Gussi steering wheel that closes this little circle in which, however, is summed up all the pleasure of driving that I will tell you about in a moment.
But the pleasure also lies in simply being on board and relaxing in the shade of the awning, which can be extended as far as the bow and is, in my opinion, essential on summer days at sea, as are the other accessories that come as standard in this Plus version, namely the shower, ladder and dashboard.
One last aspect that deserves to be emphasized is that the Selva 19 LV Plus can be trolled without needing to be deflated, which is no small thing considering its proportions and the space on board, and which makes it always ready for use and therefore perfect for those who want to be always ready to set sail.
Selva 19 LV Plus Sea Trial
As I mentioned above, after watching it 'work' all day at his assigned tasks, I was very curious to test and see it at work. The bow is powered by a Selva Dorado XSR 40 engine, which performs very well. In fact, as soon as I climb aboard I am already in the middle of the lake. It's a splendid day: zero waves, zero wind, and a great desire to make it run.
In my acceleration test, the boat gets up on plane at 3500 revs and around 14 knots. I let it travel, and at around 4500 rpm I find my cruising speed at 22 knots with a consumption of 13.8 l/h, which is an excellent compromise.
Of course I want more, so I put the throttle down. At 5000 rpm I travel at 23.8 knots consuming 16.2 l/h which becomes 20 at 5500 rpm, but the speed also increases to 27.1 knots. I arrive at 6000 rpm and close my test at 29.1 knots with a consumption of 21 l/h, and I will keep this speed for a while because with such a flat lake it is right to test it by pushing as hard as possible.
When underway, the boat is absolutely linear and stable, I can really feel it flying on the water despite the continuous turns and counter-turns I subject it to. I look for the wakes and waves of some other boats, specifically ferries, but there are no substantial effects: like a small war machine, the boat goes untamed and slices them in half without giving me any jolts.
I think I've done everything by now, I wouldn't know how else to stress it further, and we are also at the end of the day so it's time to go back with two other colleagues who are bringing back the boats they tested at the Pallanza Marina. We look at each other and all together we give the last acceleration, because after so much work a bit of play is welcome, to loosen up. When we look at each other as we push to the maximum we all have big, satisfied smiles on our faces.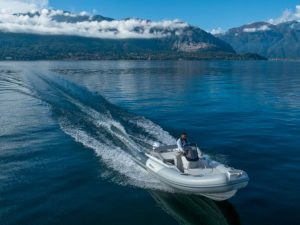 The sun sets, in the air only the sweet sound of our horsepower pushing us towards the sunset, a bit like when in the mountains, the lifts are about to close and you have the last run with the slope all to yourself.
What more is there to add? The test of the Selva 19 LV Plus left me really satisfied. It' s a beautiful, exciting, ready for anything and absolutely versatile boat… everything I look for in an inflatable boat.
Test Data
| | | |
| --- | --- | --- |
| RPM | KN | L/H |
| (Min) 700 | 1.7 | 1.4 |
| 1000 | 2.7 | 1.7 |
| 1500 | 4.3 | 2.6 |
| 2000 | 5.2 | 4 |
| 2500 | 6.5 | 5.2 |
| 3000 | 8.5 | 7.1 |
| 3500 | 13.5 | 7.9 |
| 4000 | 17.3 | 9.8 |
| 4500 | 21.9 | 13.4 |
| 5000 | 23.8 | 16.2 |
| 5500 | 27.1 | 20 |
| 6000 | 29.1 | 21 |
| | |
| --- | --- |
| Technical Specs |   |
| DESIGN & PROJECT | Selva |
| DESIGN CATEGORY | C |
| MAX PASSENGERS CAPACITY | 9 |
| DESIGN CATEGORY | D |
| MAX PASSENGERS CAPACITY | 12 |
| ENGINE SHAFT | L |
| COMPARTMENTS | 5 |
| LOA | 6 m |
| MAX BEAM |  2,50 m |
| MAX POWER | 40 HP |
| FUEL |  86 l |
| WATER |  35 l |