Selva D.600 Special and Murena 40 XSR E.F.I.
Horizons are broadened without a license

Fitted with a 40HP outboard, she can exceed 30 knots! Presented in world premiere at the Genoa International Boat Show, the new Selva D.600 Special measures 6 meters but is powerful, spacious and performing.
We tested her with a Murena 40XSR E.F.I outboard and it was a real surprise.
The Selva D.600 Special in detail
After casting the mooring lines off and leaving the port, what is surprising about the Selva D.600 Special is undoubtedly the arrangement of the spaces available that one can fully realize only after climbing on board. This RIB is a well-designed boat which ensures a good circulation on board, although the 6 meters of length might suggest the opposite. The walkways are wide and, as the homologation suggests, the seats really give the impression of being able to accommodate up to a dozen passengers if necessary. Once climbed on board, we have no difficulty in stowing two big bags and our sailing jackets under the pilot seat, in what, at first sight, looks like a small locker but which, at a later stage, has proved to be a really large and deep compartment with excellent storage capacity.
On board,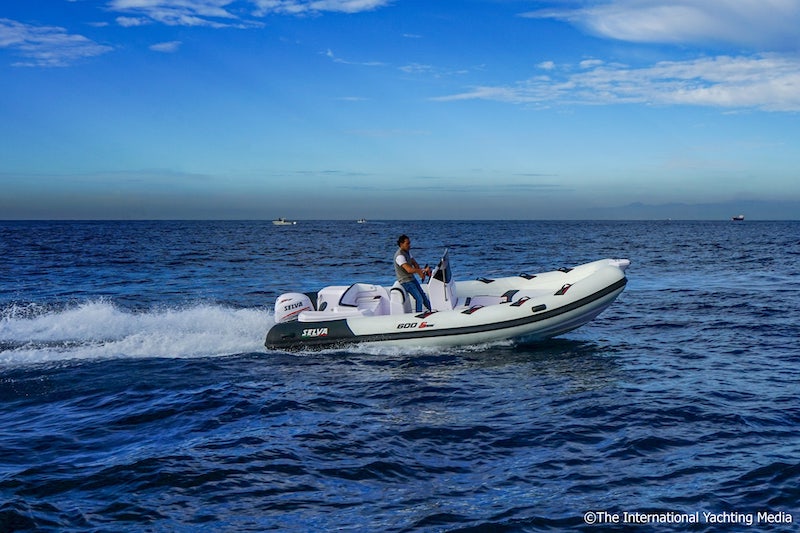 we notice that the tubulars guarantee total safety, protecting passengers from water and sprays. Moreover, the same tubulars are equipped with several handrails which play an important role within the boat since they offer safe handholds while making the design even more aggressive and attractive.
In this 6-meter boat, the spaces are larger than expected and the contrast between the doubts about the dimensions and the reality of the boat is the leitmotiv of our sea trial.
The bow can even accommodate a large sun pad thanks to a removable cushion which, when necessary, can be placed in one of the lockers available. There is also a small bow-facing seat positioned just in front of the steering console. The stern, instead, houses two platforms thanks to which passengers can easily get on and off the boat also though a bathing ladder positioned on the left side.
Finally in the water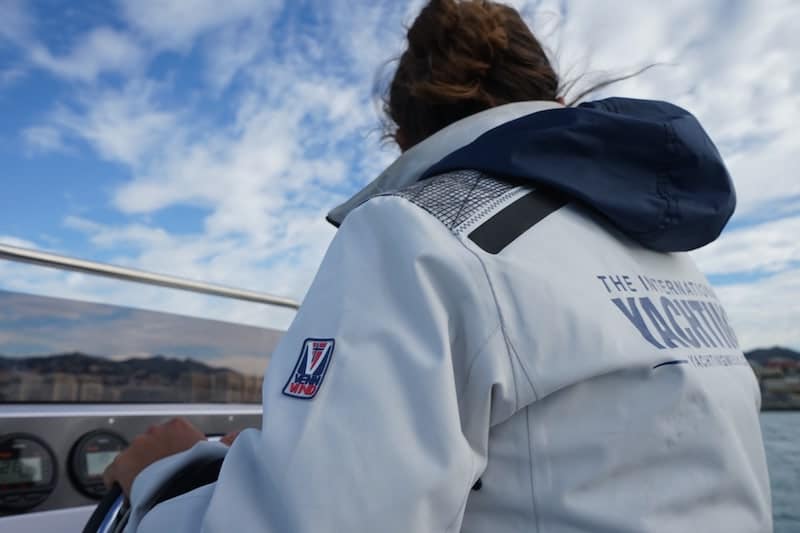 Once we have inspected the boat, we are ready to start our test. With a notebook in our hand, we approach the steering console and begin to study the rpm/speed ratio.
On board, we are three and, with us, there is also Carlo Selva who quickly leaves us take the helm. With a maximum load capacity of 1,150 kg, the boat is carrying the average weight of three people (around 220 kg) in addition to the 119 kg of the engine and 30 liters of fuel.
Once the cruising speed is reached, we enjoy the sea which is not very rough today. Continuing our navigation, we get the boat on plane at 3,100 rpm and 13 knots; then, we go on accelerating until we reach 4,000 rpm and 18.3 knots.
It is interesting how, despite the increasing speed, none of us feel the need to cling to the console or use handrails, as proof of the great stability offered by the boat. Precisely at this point, it's not enough for us to certify the good average speed of the boat and, by holding the notebook tightly, we put the gas throttle all down.
At 5,000 rpm, we are running at a speed of 24 knots but we decide to speed up a little more to see how the new Selva Marine's RIB will react, fitted with this 40HP outboard. We put away our notebooks, this time fearing they may be kidnapped by the wind, and we reach 6,200 rpm. In a few seconds, to our great astonishment, we reach the surprising speed of 31.8 knots.
The Selva D.600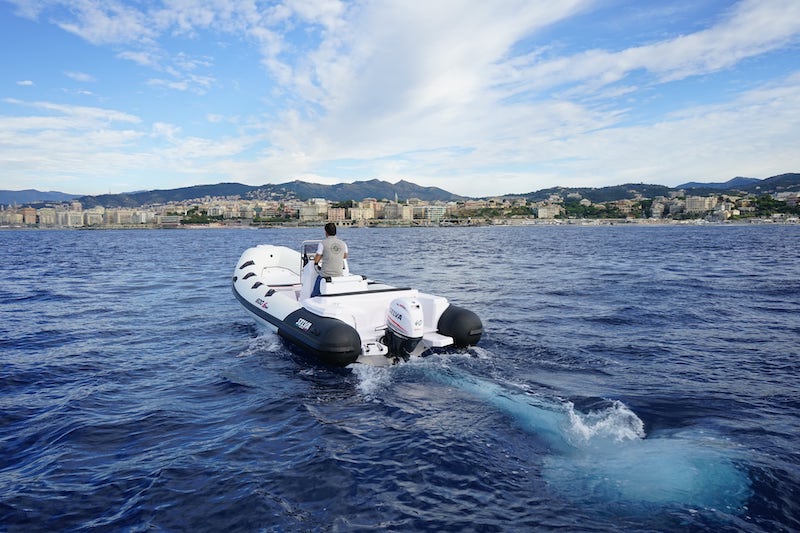 Special is a highly performing boat. The model we are testing is equipped with an aluminium 13-inch propeller and a deep V-hull with support skids. This fiberglass structure makes the boat sturdier and extraordinarily agile. The boat gives a sense of great stability under all sailing conditions and no shocks or heel is perceived. In addition to guarantee excellent acceleration – it takes 5.85 seconds to plane at 4,600 rpm –  the 40HP engine is also lightweight. Its dry weight, indeed, does not exceed 119 kg, which enables the boat to be always well-balanced, without being unbalanced astern as can often happen with other engines.
The D.600 Special is a fast boat. The performance she offers when fitted with a 40HP engine are stunning. It would be interesting to see how the il D.600 Special would act if she was fitted with a more powerful outboard, since she can be powered by engines of up to 171HP.
Murena 40XSR E.F.I.
The Murena 40XSR E.F.I. is a 40HP outboard which seems to be even more powerful. In order to best evaluate this engine we must therefore talk about its couple which is its main characteristic. In fact, there is a control unit, made by Selva Marine, which allows for greater torque at lower rpm. As a result, you can get the boat on plane more quickly while reducing consumption.
The Murena 40XSR E.F.I. is a 4-cylinder 16-valve engine designed to deliver unexpected performance at sea.
Conclusions
The Selva D.600 Special is an inflatable boat for everyone, designed and developed to offer, within just 6 meters, great comfort and excellent performance. When coupled with the Murena 40XSR E.F.I. engine, she can be driven with no license.
This boat is therefore the ideal companion to enjoy wonderful days at sea with your family and friends as well as great freedom of movement on board. When fitted with more powerful engines, it is destined to deliver really exciting performance.
| | |
| --- | --- |
| RPM | KNOTS |
| 700 | 2.4 |
| 1,000 | 3.4 |
| 1,500 | 4.5 |
| 2,000 | 5.9 |
| 2,500 | 7.2 |
| 3,000 | 10.8 |
| 3,500 | 13.3 |
| 4,000 | 18.3 |
| 4,500 | 21.4 |
| 5,000 | 24 |
| 5,500 | 28.6 |
| 6,200 | 31.8 |
| Min. planing speed | 13 |
| | |
| --- | --- |
| TECHNICAL SPECS | |
| Max Length (cm) | 599 |
| Interior Length (cm) | 550 |
| Max Width (cm) | 263 |
| Interior Width (cm) | 143 |
| Passengers Capacity | 10 |
| Mow Power in Kw (HP) | 126 (171) |
| Recommended Power (Min/Max) | 80/115 |
| Fabric | NEOPRENE – HYPALON, 1300 g/m2 |
| CE Design Category | C |
SELVA MARINE
Viale dell'industria, 13 – Tirano (SO)
Contacts: 39.0342.705361, selvamarine@selvamarine.com