Sergio Davì 's latest extraordinary adventure has come to an end, namely the solo voyage on board a RIB from Palermo to Los Angeles, dubbed the 'Ocean to Ocean Rib Adventure'. After having crossed the Atlantic Ocean, Davì passed through the Panama Canal, sailed up the Pacific and after five months of travelling, he reached the capital of California last Monday, 23th May, landing in the port of San Pedro at 1pm local time. Waiting for him were Suzuki Motor of America president Masahiro Yamamoto (pictured below) along with vice presidents Blakely and Wahira, Los Angeles Consul General of Italy Silvia Chiave along with vice consul Pietro Bellinghieri, as well as a large community of Italians and Italo-Americans, including some fishermen from Terrasini, a small fishing village a few kilometres from Palermo, the city from which all of Davì's missions have departed.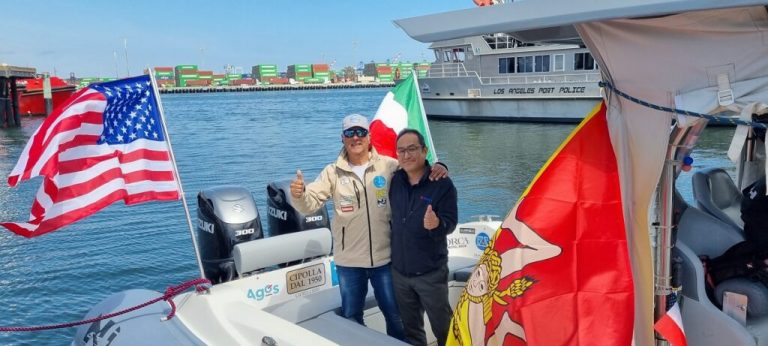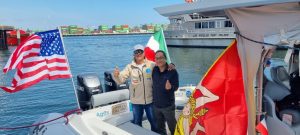 The voyage of Davì, an expert in extreme ocean navigation and already the creator and commander of no less than five world-class ventures that have indelibly marked the boating world, took place aboard his faithful and powerful Aretusa Explorer, a Nuova Jolly Marine Prince 38cc equipped with two high-performance Suzuki DF300B dual prop outboard engines and Simrad's top-of-the-range on-board electronics, including a sophisticated AP™ 48 automatic pilot, a HALO24 radar and a NSS evo3S multifunction display, equipped with C-MAP mapping.
Sergio Davì 's latest adventure in numbers
The numbers of Sergio Davì's exciting challenge are truly impressive: 9. 201.80 nautical miles covered along a route that spanned no less than three continents (Europe, Africa, the Americas) and 12 countries, stopping in Spain (Balearic and Canary Islands), Gibraltar, Cape Verde, French Guyana, Trinidad and Tobago, Curaçao, Colombia, Panama, Guatemala, Mexico and the United States; a total of 519 hours and 32 minutes of single-handed navigation, of which 152 hours non-stop during the record Atlantic crossing from Cape Verde to French Guyana, with average fuel consumption around 3.5 l/h.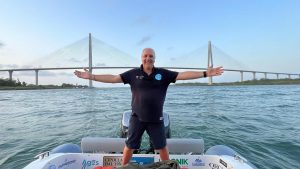 Throughout the entire adventure, which also involved Sergio Davì crossing the Panama Canal to reach the Pacific Ocean, there was no shortage of unforeseen events and difficulties, from the forced stop in the Canary Islands due to Covid, to the often adverse weather conditions, and the diversion of course in the Caribbean Sea to escape a boarding by a group of pirates.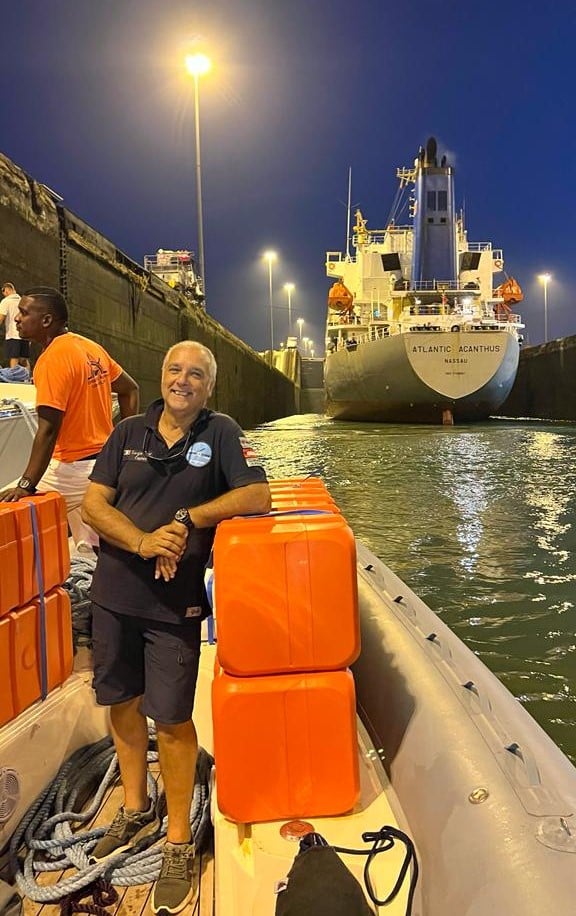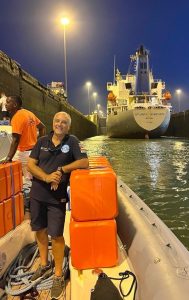 Only three months ago, Sergio Davì had doubled his Atlantic record with a maxi-crossing from Cape Verde to French Guyana, completed in just six days of non-stop navigation, and soon afterwards the man plunged into the exceptional venture of conquering the Pacific via the Panama Canal. After two short Caribbean stopovers in Port of Spain and Curaçao, Davì stopped in the wonderful Colombian city of Cartagena for a thorough check-up of his Arethusa Explorer, and then transited through the Panama Canal: a rather long and delicate operation, not only because of the eight-and-a-half-hour navigation to cover just 49 nautical miles (which Davì did at night), during which the instructions provided by the canal authority had to be followed very carefully, but above all because of the stages prior to authorisation, for which it was necessary to wait a good eight days.
In Colombia, Sergio Davì was joined by Stefano Germani, financial manager of I-Tronik, who offered him support during the Panamanian crossing. In fact, the transit instructions include the requirement to have an aid on board to manage radio instructions and ropes in case of transit in convoy. During the difficult Atlantic crossing, however, the navigator was accompanied by Teo Aiello, co-owner of Nuova Jolly Marine, who comments on the venture: "We are very happy that Sergio made it across the Pacific and conquered Los Angeles. Our shipyard is delighted with Sergio's adventure aboard the Prince 38, which proved to be a reliable and safe boat even for such an extreme journey".
The journey of the 'Ocean to Ocean Rib Adventure' was tracked day by day by the online GPS tracker, where it was possible to follow Captain Davì's route.