Teo Aiello crossed the Atlantic with the Aretusa Explorer and Sergio Davì: we interviewed him as soon as he arrived in Kourou, French Guyana, after 6 days and 8 hours of non-stop sailing.
Teo Aiello crossed the Atlantic with the Aretusa Explorer and Sergio Davì: we interviewed him as soon as he arrived in Kourou, French Guyana, after 6 days and 8 hours of non-stop sailing.
"I would do it again tomorrow morning. If they told me to go home by dinghy, I'd do it right away, even though I've just arrived. – Teo Aiello, co-owner of Nuova Jolly, doesn't hesitate. – This experience with Sergio was wonderful, I can't find the right words to describe it".
They have just disembarked in Kourou, French Guyana, after 6 days and 8 hours of non-stop sailing. 1,770 miles covered in the middle of the Atlantic Ocean after setting off from Mindelo (Cape Verde), for one leg of the Sergio Davì's Ocean To Ocean Rib Adventure.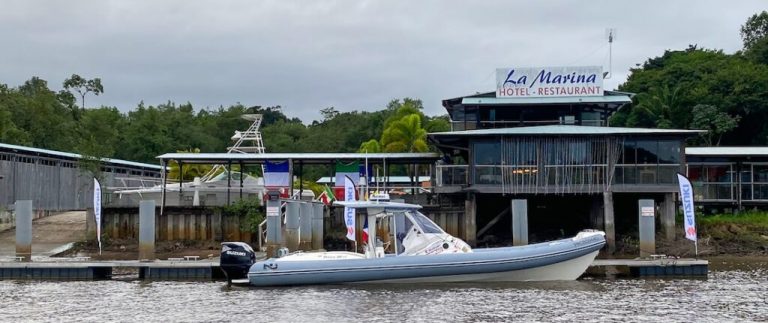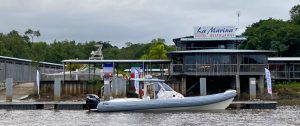 Sergio Davì is sailing to Los Angeles from Palermo, where he left last December. On the leg from Gran Canaria to Mindelo he was accompanied by Antonio Aiello, Teo's brother and co-owner of the Nuova Jolly Marine boatyard, manufacturer of the Prince 38 Aretusa Explorer, the Rib with which Sergio is tackling the challenge.
This leg of the journey has earned Sergio Davì a double Atlantic record and he thanked Teo Aiello "I thank Teo Aiello of Nuova Jolly Marine for sharing with me the indescribable emotion of crossing the immensity of the Atlantic". The Prince 38 Aretusa Explorer has therefore once again confirmed the power and performance that had already amazed Antonio Aiello.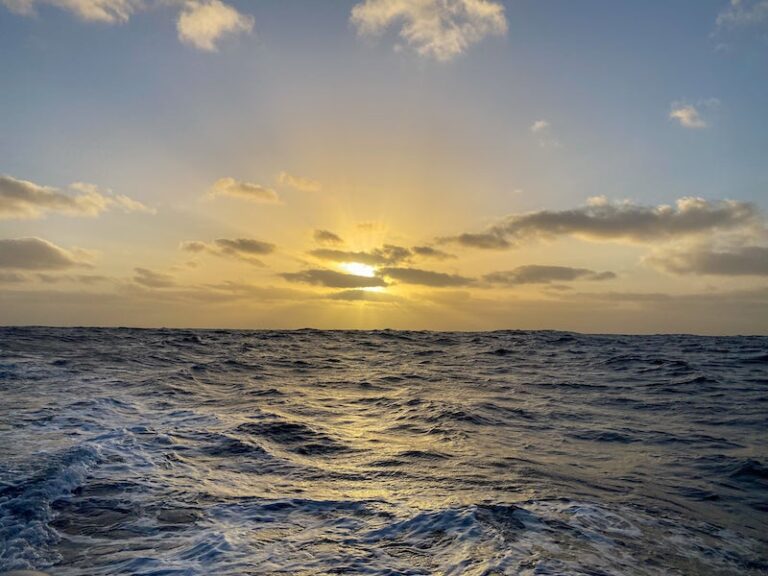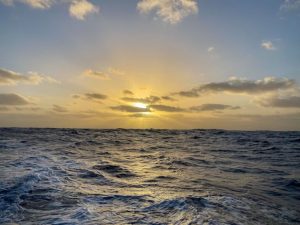 "I am very proud of the Prince 38," says Teo. "There were two particularly exciting moments during the voyage, one was seeing the fluorescent plankton trail on the rib's tail at night, an indescribable spectacle. The other was undoubtedly watching the Prince 38 hold the sea and the weight in an extraordinary way. The boat braved the ocean with 7,500 liters of fuel, 150 liters of water, two people, plus its own weight. It is as if it had transported 80 people weighing 90 kg each. And it did it in three-metre waves".
Three days in displacement and 3 and a half days in planing. "The first three days we were still carrying too much weight, we still had to go in displacement, but at 5570 litres we wanted to try planing at 23/24 knots and Aretusa was planing even in those conditions. We waited another 12 hours to start the real planing, but we got a lot of satisfaction out of it, confirming the excellent qualities of this Prince 38. The 6603 liters of fuel consumed, 3.7 liters per mile on average, compared to the 7,500 embarked, the two Suzuki DF300B dual props worked very well, as did the Simrad electronics".
Inevitably there were critical moments and difficulties that, although foreseen, proved to be challenging. "The most delicate manoeuvre was certainly refuelling. The first three times we refuelled before dusk, when we had to face 12 hours of darkness. At 8 knots we were still consuming very little fuel. Transferring about 400 litres took about 45/50 minutes and we felt like astronauts on a moonwalk. Before leaving the transparent cabin where the steering console is located, we had to put on our sailing jacket, life jacket, gloves and mask for the fumes, then we had to walk on tanks that were placed practically flush with the tubular, the highest tanks were soft expandable tanks, the flexible tanks of Orca Pennel & Flipo. So we were walking on these huge soft and unstable cushions, in the midst of 2/3 metre waves and with the wind that inevitably made us lose our balance. We rigged a life line along the T-Top, to which we hooked ourselves with hooks, and set up lines of such length that even if we had fallen overboard we would never have reached the water near the engines. All this was done by carrying the filling equipment from stern to bow. It was a very delicate and complex operation but, fortunately, everything always went well".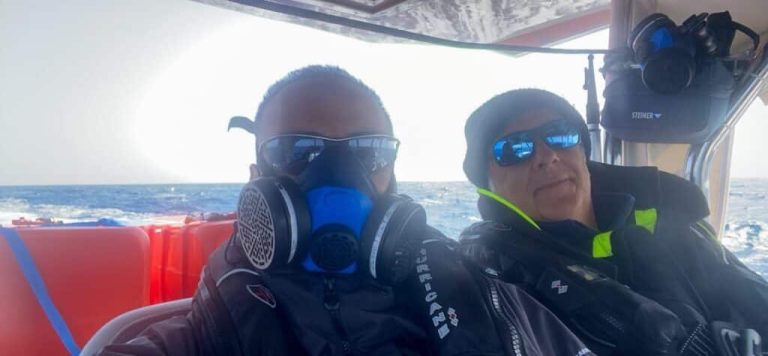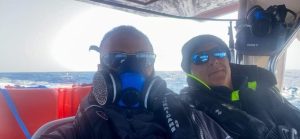 On an adventurous trip like this, courage and the thirst for discovery are essential, but power is nothing without control. An obsessive attention to consumption meant that these were always calculated to the gallon. "We did and re-did fuel counts every quarter of an hour if for any reason we found ourselves doing unplanned operations, manoeuvres and accelerating or slowing down. We recounted the remaining fuel and consumption forecasts hundreds of times. We knew we'd taken on 7,500 liters, but we were always counting at 7,200, and yet we arrived with almost 900 litres left over."
Teo Aiello then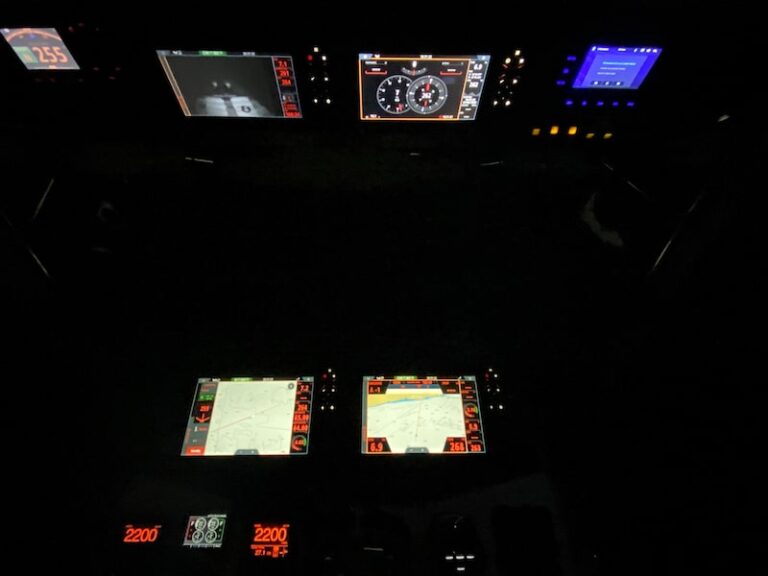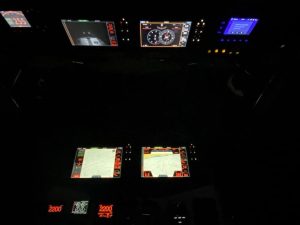 offers us a different point of view on this adventure than his brother Antonio, who had found the most critical moments overnight. " The night was beautiful," Teo tells us, "all we could see was darkness and the lights of the instruments. The sea looked at us, and that was it. Before leaving, I thought we would encounter several ships, maybe one every 50 miles, but instead we encountered only two: a fishing boat 500 miles off the coast of French Guyana and a Dutch tanker 700 miles off the coast. The tanker reached us via VHF channel, the captain was a fan of the Arethusa Explorer and Sergio and was following the feat via social channels. We approached them 6 miles away to greet them and they reassured us by telling us they were keeping an eye on us. The thought of not being completely alone in the boundless ocean comforted and excited us".
But Ocean To Ocean Rib Adventure is also research: during navigation, in fact, ocean water samples are taken to check for the presence of microplastics. The research carried out by the Aretusa is on behalf of the Experimental Zooprophylactic Institute of Piedmont, Liguria and Valle d'Aosta and the Experimental Zooprophylactic Institute of Sicily. "We did four samplings along this stretch, it was particularly interesting because with the dinghy at different speeds we were able to collect different water."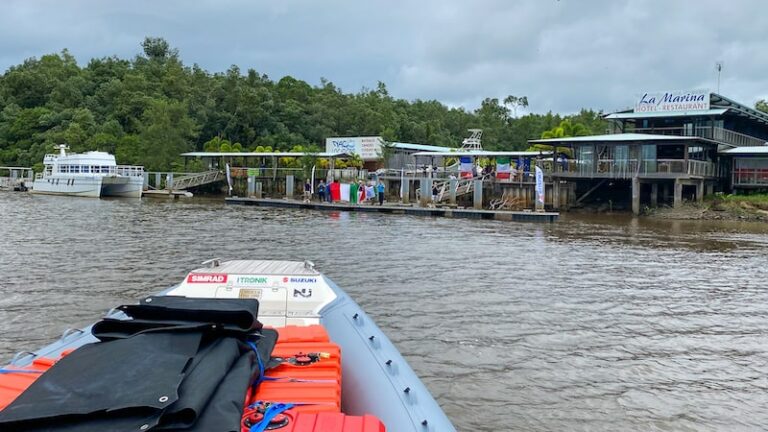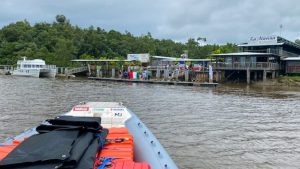 Talking about microplastics, plastics and pollution, we asked Teo if they had found any traces of them during the crossing: "I must say that we found the ocean particularly clean, no floating plastic islands, no dirt, and we had close encounters with various marine animals. We happened to be accompanied for several minutes by a pod of dolphins swimming in front of the bow, which until a short time before were on the opposite course to us. We have also had to remove numerous flying fish from the boat every morning, which would have been useful if we had a lemon and a minimally equipped galley," he jokes.
But apart from the flying fish, nothing else entered the Arethusa, not even a drop of water. "Leaving Mindelo, we found ourselves with a crosswind, long ocean swell and rippling waves produced by the trade winds. Not a drop of water on board, the displacement RIB was accompanied by the waves and totally dry. We turned on the bilge pumps several times, but found nothing. Once again, the Prince 38 proved to be a great boat".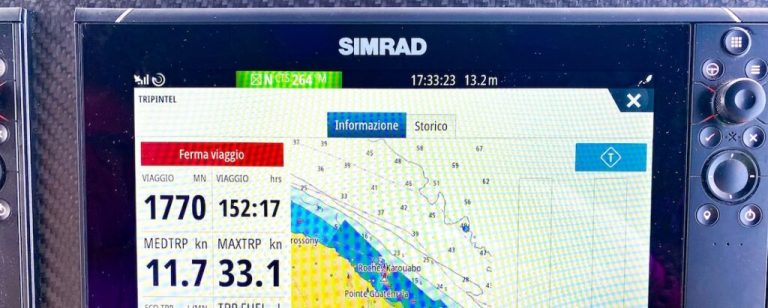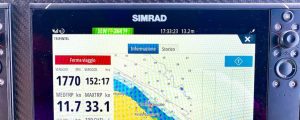 The next appointment for the Prince range will be for the 21-footer, which will be sailing up the inland waters towards the European capitals, while Sergio Davì's Aretusa will continue its journey with scheduled legs in the Caribbean.
" I'd still like to stay," confesses Teo Aiello, "but I've got a lot of commitments at Nuova Jolly Marine ahead of me, and the nautical season is just around the corner".