Two weeks to go until the ribbon-cutting ceremony of the Venice Boat Show, the yachting event scheduled from May 28th to June 5th in the fascinating location of the Arsenale. Now in its third edition, the Venice Boat Show has grown a great deal in terms of exhibitors and this year, thanks to the easing of anti-covid restrictions, it is set to be a huge success and to definitively confirm itself as a reference point for the boating market in the eastern Mediterranean area.
At the Venetian event it will be possible to admire no less than two and a half kilometres of boats on display in the 50,000 square metre water basin, 1,000 linear metres of jetties, 30,000 square metres of outdoor exhibition space, and 5,000 square metres of covered pavilions. The International Yachting Media will be present at the Venice Boat Show with its entire staff of journalists and photographers, who will report on the event in real time and give the shipyards the opportunity to use all the group's web channels to give international coverage to their novelties.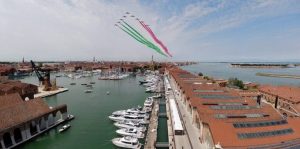 Among the major exhibitors will be Absolute Yachts, Azimut Benetti, Beneteau, Ferretti Group, Frauscher, Pardo Yachts, Sanlorenzo, Sessa Marine and Sunseeker. Sailing enthusiasts will be welcomed by Italia Yachts, Mylius, More and Pegasus. At the heart of the event will be the theme of eco-sustainability and low environmental impact technologies for boats: visitors will therefore be able to discover the best of the green developments of the main boatyards and the latest innovations in the field of electric propulsion, batteries, recharging systems, foil technologies, and photovoltaics. Eco-sustainability will also be the key theme of the numerous conferences and sports initiatives scheduled during the nine days of the boat show.
Scheduled sporting events include the second edition of the E-Regatta from June 1-3 (a series of races and parades dedicated to electric mobility) and the Pavia-Venice raid on June 5th (organised by the Venice Motorboat Association). "The Boat Show is always ready to cooperate with nautical sports events," declared Venice's Mayor Luigi Brugnaro, "because they help to keep the spotlight on a sector that is increasingly strategic for the re-launch of the city of Venice. A theme, that of sustainability, which represents a real challenge for the years to come and which the Venice Boat Show has embraced as its main theme for in-depth study and research. It only remains for me to wish 'fair wind' to all participants".