The 58th edition of the Genoa International Boat Show is coming and has many extraordinary novelties in store this year. The endless series of surprises that, day after days, are making the kermesse one among the most anticipated events of the season seems never to end. Indeed, from 20th to 25th September, Genoa will turn into one among the main focal points of the international yachting industry and it is no coincidence that Zar Formenti has decided to unveil, in worldwide premiere, the new models of the Sport Luxury line: the Zar 95 SL and the limited edition of the Zar 59 SL, fitted with a Suzuki 1,500 hp engine. In addition to them, the Motta Visconti-based shipyard will exhibit some among its most successful boats, all equipped with Suzuki engines, as well as some models of the ZARmini range, including the famous Italo, the Zarmini RIB 16 that sailed the Genoa-Gibraltar-Genoa route last spring.
In addition to the Sport Luxury line, which already includes the Zar 49 SL, Zar 59 SL, Zar 79 SL and 85 SL, there is also the new flagship of the shipyard, the ZAR 95 Sport Luxury. A new concept that, while maintaining all the hallmarks that have made these RIBs famous all around the world, looks at the future and innovates the Sport Luxury line with a model characterized by unique design and futuristic lines.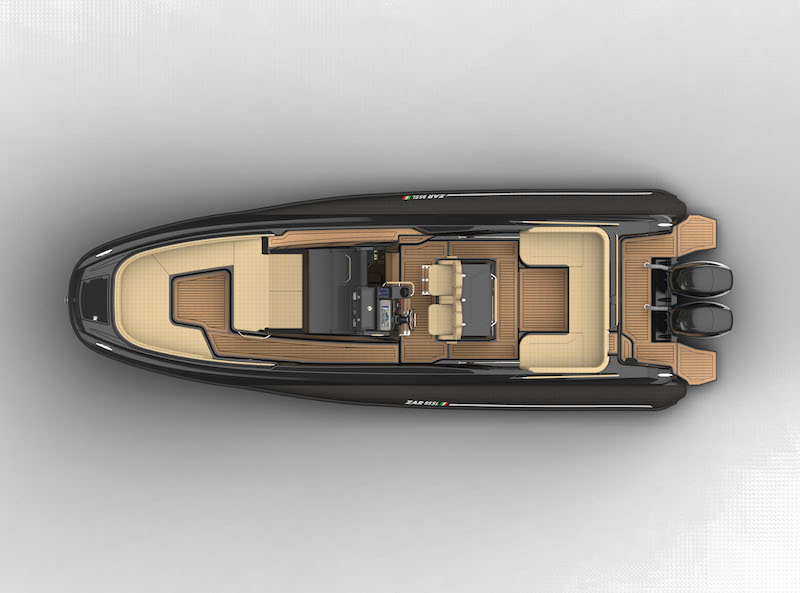 What should we expect from this boat? An innovative deck layout with unparalleled elegance but not only… If we had to identify some key words that could describe the new flagship, these would certainly be: comfort and high performance. Two large sunbathing platforms, for example, can turn into a dinette and accommodate a small number of passengers. Despite its sporty lines, the driving console is functional and ergonomic. Finally, the interior layout is completed by a cabin equipped with a double bed and a separate bathroom with marine WC, washbasin and shower.
A boat perfect for short-range cruising but also a good option for fast and safe excursions. Power comes from twin Suzuki 350 hp DUO PROP engines combined with the unmistakable V-hull and side tunnels for more stability and comfort on board. The Zar 95 SL is not only a RIB which combines sporty lines and luxury but also a competitive high-profile product in the international market.
Technical Specs
| | |
| --- | --- |
| LOA | 9.60 m |
| Width | 3.30 m |
| Tube Diameter | 0.60 m |
| Compartments | 6 |
| Number of Passengers | n. 14/16 |
| Minimum Power | 350 hp/kW 257 |
| Recommended Power | 500/600 hp/ kW 367/441 |
| Maximum Power | 700 hp/ kW 515 |
| Shaft length | XL (two-engine)- XXL (single-engine) |
| Certification Category | C (B on demand) |