Zar Formenti will join the Genoa Boat Show in grand style

From October 1-6, Zar Formenti will be present at the Genoa International Boat Show with many models of its range. In the Ligurian city, in fact, Zar Formenti will exhibit 22 boats: 7 Ribs in water and 15 inflatable boats at the out-of-water booth in pavilion B.
Direct link to Zar Formenti boats in our Virtual Boat Show.
List of boats exhibited in the water
Zar 53 Classic Grey; Zar 95 SL; Zar 85; Zar 79 SL; Zar 61 Classic Luxury; Zar 59 SL; Zar 65 Classic Luxury
List of boats exhibited at pavilion B
Zar 85 SL; Zar 79 SL Plus; Zar 49 SL; Zar 57 W.D. Classic Luxury; Zar 95 SL in black livery, red cushions and black Hard Top; Zar 65 Suite Classic Luxury; Zar Tender ZF-0 Bollicine (black livery with champagne cushions); Zar 47 Classic; Zar 59 SL Limited; Zar Tender ZF-2; Zar Mini Lux 13; Zar Mini Rib 12 DL; Zar Mini Rib 10 DL; Zar Mini Rib 8 Lite; Zar Mini Air 9
Zar 95 Sport Luxury
The Italian boat manufacturer has always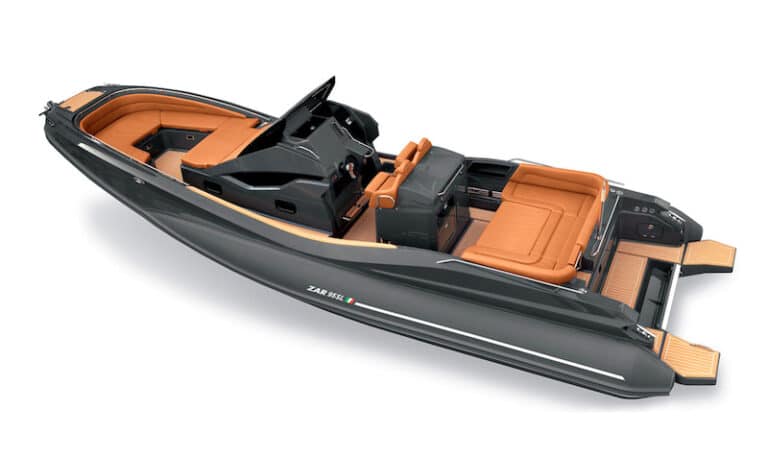 combined building quality and aesthetic beauty and the Zar 95 Sport Luxury is a perfect example of this union, so much so that we could say that it is a new type of boat.
Particularly noteworthy is the steering console that, positioned on the starboard side, creates a large side-deck on the left that allow passengers to reach the bow deck in total safety and comfort.
The absence of any tube in the bow section – a typical feature of all Zar models – results into a more spacious dinette that can accommodate a large sun pad.
In addition to the steering console, the central section of the boat houses a galley equipped with burners, fridge and sink.
The full-beam lounge in the stern is welcoming and can accommodate a table in the middle while, just underneath the sofa cushions, a retractable bimini top appears when necessary.
The stern also houses a beach area, where cables and engine fixings are specially designed not to interfere.
Below deck, the sleeping area consists of a double berth with separate bathroom.
Not only RIBs: Zar Formenti will join the Genoa Boat Show with a wide range of tenders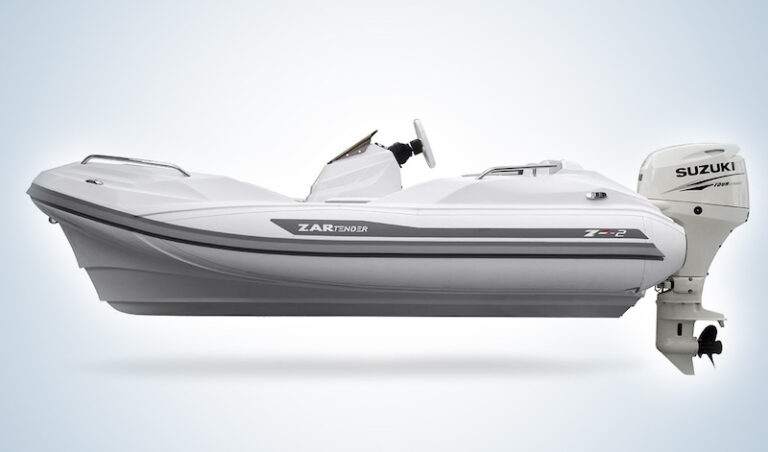 Globally known for the unique lines of its inflatable boats, Zar Formenti is also an important manufacturer of luxury tenders.
Clean and sporty lines, combined with a multitude of handrails and non-slip surfaces, outline the shipyard's strong ability to interpret the needs of seafarers without leaving anything to chance.
A clear example of this is the Zar Tender ZF-2, with a carefully designed hull, engraved with two inverted skids that  deflect the wave that rises along the hull, thus ensuring greater stability even in rough seas, all while preventing water splashes from wetting the passengers.
Agile, exciting and extremely safe, Zar Formenti tenders have been highly successful these years and will be certainly on display in Genoa.