Navetta 48 sea trial. Absolute Yachts ' latest creation is large and surprising.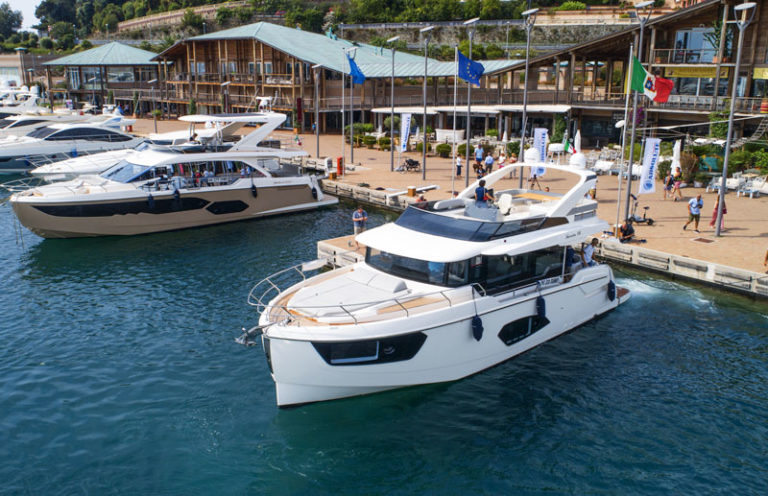 When a boatyard is proud and sure of its own products, it doesn't hide them; vice versa, it shows them and let people try them, under any weather condition.
When, despite a rough sea and the total absence of yachtsmen out of the port, it's Patrizia Gobbi herself to take the helm and take you out for sea trials, that means that you're about to test a particular boat, one of those that even experienced sailors can like.
Sea Trial
From the dock,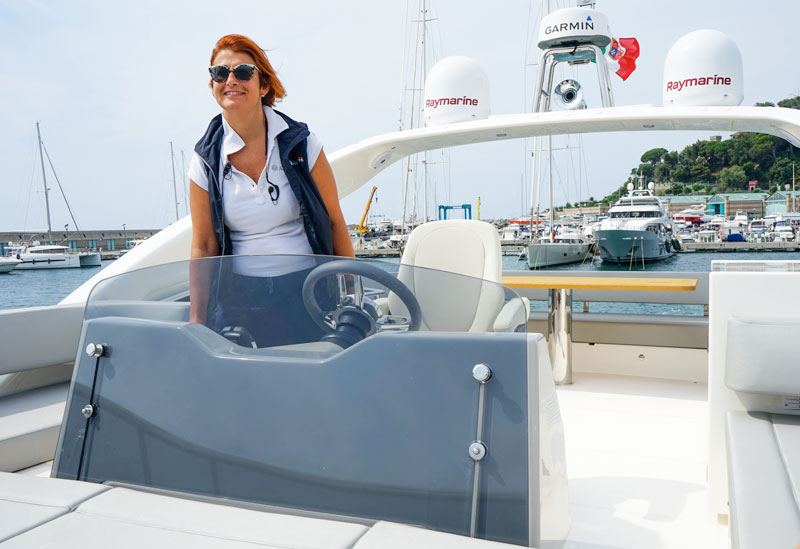 it is already clear that sea is rough and, indeed, gusts of fresh breeze make the water rippled while we're going out of our berth. We're on the flybridge and Patrizia Gobbi is steering the boat with the joystick while one single person, unhurriedly, lets go the relieving and mooring lines that secured the boat to the quay.
Observing the scene, we immediately realize that this Navetta  48 is designed to be steered by a family crew easily, which is an essential element for a boat of this size. From the pilot station on the flybridge, view is 360° and good and, very importantly, you can see the starboard angle of the stern platform perfectly.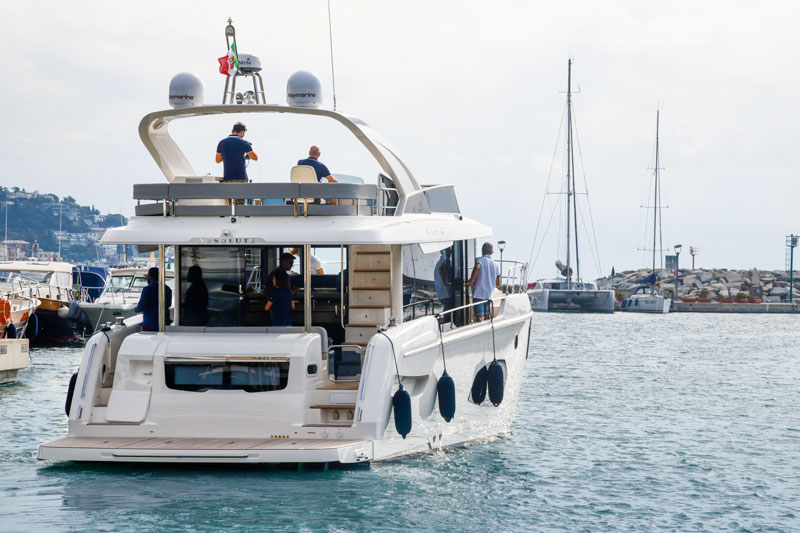 We're very loaded, between photographers and journalists there are 10 passengers on board, water tank is at 100% and the fuel one at 70%. Under these conditions, the test gives an ample simulation of the cruising trim of a loaded boat, ready to face summer holidays, which is another plus for Absolute Yachts.
Going out of the port, we're welcomed by waves that, with a height of about one meter and half and white tops, lead us to activate the Seakeeper 6 available on board. Navetta 48 was already stable but, with the device on and despite sea conditions, comfort level becomes very high even at low speed ( we're sailing at 3/4 knots!).
I relieve Patrizia Gobbi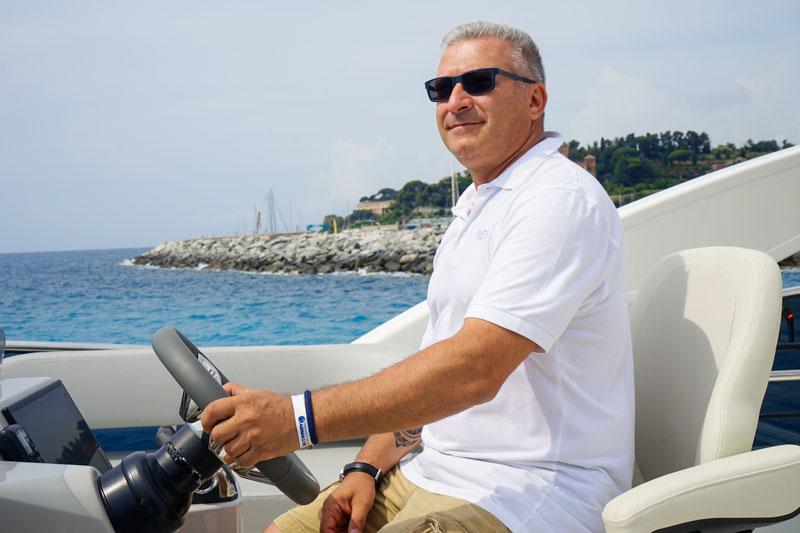 at the helm and I sit down; the pilot station on the flybridge is simply perfect, centrally-located and highly comfortable, without the annoying "low seat" effect that, unfortunately, can be commonly found on many boats. The windscreen is adjustable in height and, when raised to the highest level, it offers a total protection from the wind.
I sail on the port bow at displacement speed and therefore at about 8 knots. Navetta 48 cuts through the waves softly, the hull doesn't fight the sea but simply sails it, without never slowing down before big waves. At this speed, we can go to the end of the world, with a range of about 1,000 nautical miles and absolute comfort. I'm really starting to like this yacht.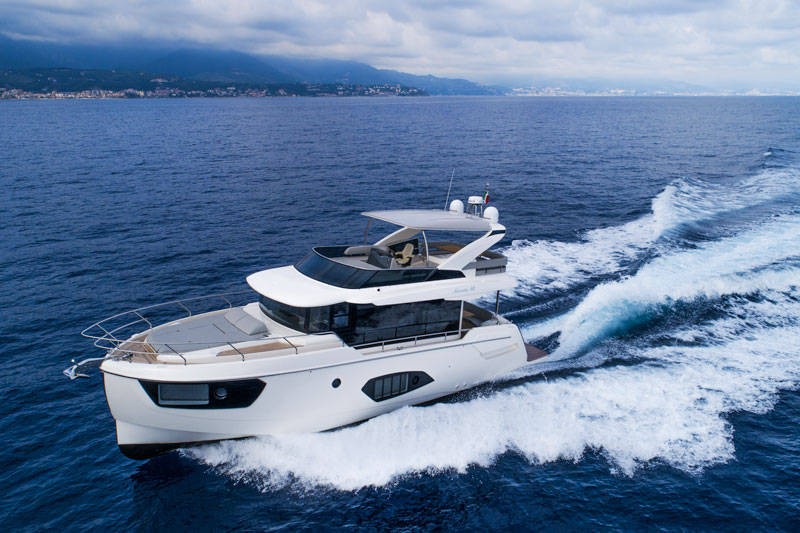 I accelerate and the trawler reacts to electronic throttles promptly; I would like to find the maximum displacement speed but it is not easy because this hull is really progressive and, from the flybridge, you hardly notice speed variations.
At 11 knots, the hull is still totally submerged; then, slowly, I start to notice a light change in the wake, Navetta 48 slightly lowers itself and gets ready for planing. At 13-14 knots, we're out of the water. The yacht changes its trim and starts to unveil its second identity, that of a modern yacht, studied and engineered to take us fast from one spot to another during our summer cruises.
While surfing, we sail with no problems.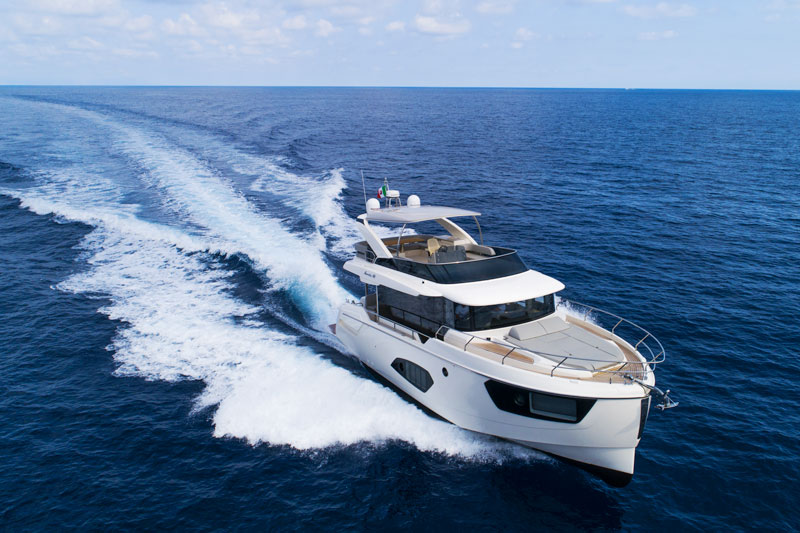 This yacht is not afraid of the sea and can surf the waves, at 20 knots, with no shocks. I go on accelerating, forgetting that I'm on a trawler for a while; at full throttle, I reach little less than 28 knots while, all around, sea is in turmoil.
The seaworthiness of this hull is amazing; there are hulls that could only jump from one top to another under these conditions; we, instead, we're sailing in total comfort and safety.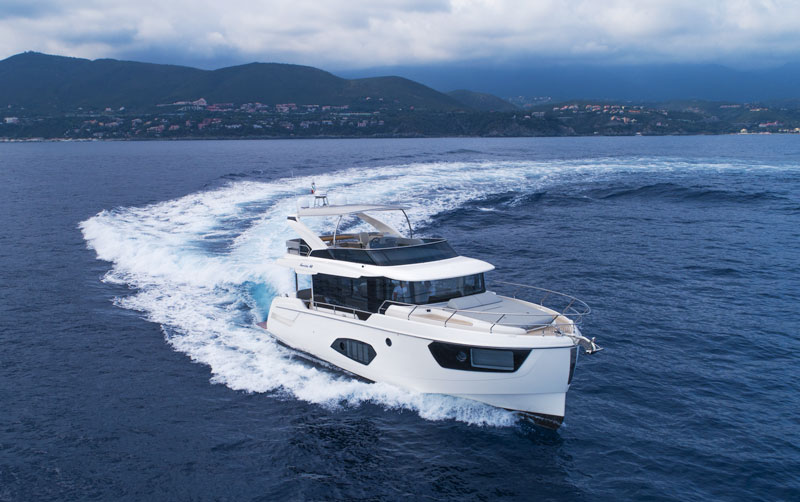 I would like to test some tight runs but, fortunately, I immediately abandon my crazy idea. I'm not on a powerboat, so I slow down at 21/22 knots and I turn normally. Navetta 48 slightly lists and, without slowing down, changes direction.
Running on the quarter, I slow down to 7-8 knots; now, waves are faster than us and it is time to carry out a very important test that I can perform only with the best displacing hulls currently available on the market.
The wave comes from the stern, hits the quarter and…. nothing happens. Navetta 48 remains stable on her course, she doesn't even think to let the strength of the sea move her; instead, she accelerates a little while the wave goes under us before crashing against the bow just a few meters ahead, as if it wanted to bow to this extraordinary hull.
I give the helm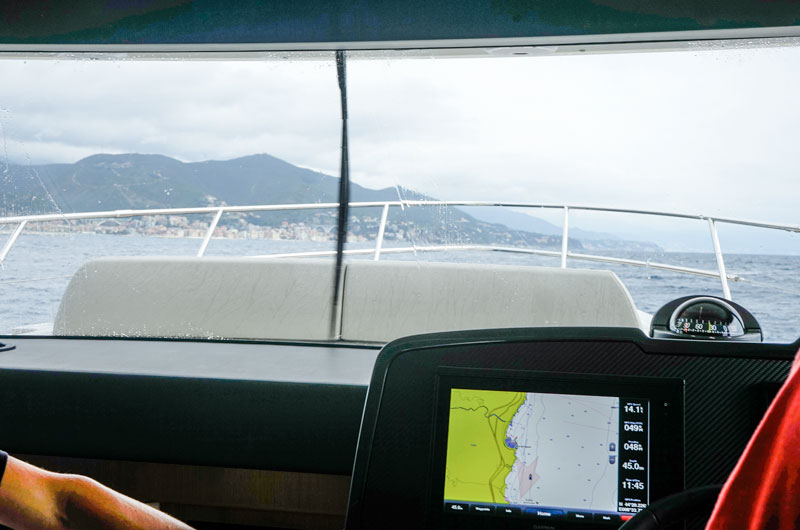 to my colleague, I climb down the main deck and close the glass door. In a second, everything is silent, noise is muffled and, if it weren't for the motion of windscreen wipers removing water sprays, we would not realize how rough the sea is in this moment.
Another impressive aspect that significantly contributes to create the sense of safety that this boat instills in us is the total absence of creaking. This confirms the extraordinary building quality and the attention to details of this yacht.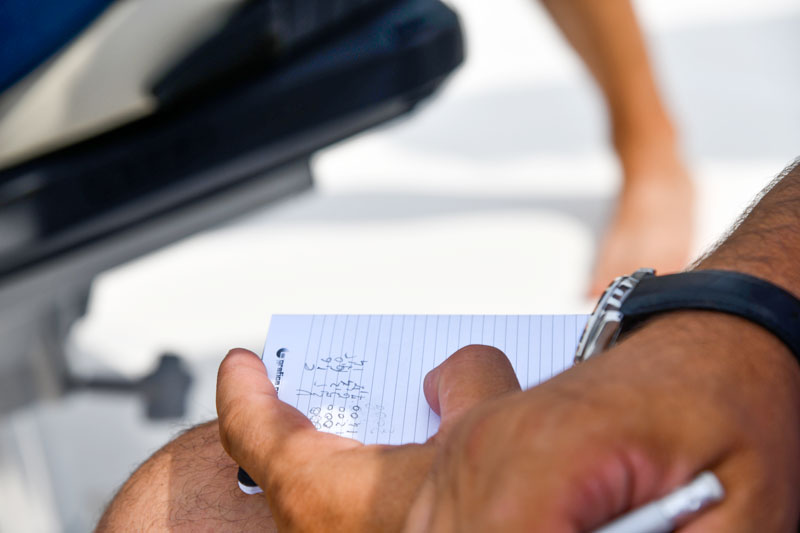 I take my notebook to write down this annotation and, immediately, I see the difference in my handwriting between what I wrote at the dock and what I wrote while sailing. I smile, thinking about the effort I will be obliged to do to decode my handwriting and I take note mentally of what I will write later in the "seaworthiness" field: "simply perfect".
I close my notebook and I put it in my bag while I feel the wave motion decrease under my feet, we're coming back to the port. On board, there's a team of journalists from all around the world, with one single thing in common: the satisfied smile of someone who has just tested an extraordinary boat.
Navetta 48 – Performances
| | | | | | |
| --- | --- | --- | --- | --- | --- |
| | rpm | Speed | Fuel consumption (l/h) | Fuel consumption (l/nm) | Range |
| | 600 | 2.5 | 1.6 | 0.6 | 2.813 |
| | 1,000 | 5.2 | 6.0 | 1.2 | 1.560 |
| | 1,200 | 6.4 | 7.5 | 1.2 | 1.536 |
| Economical displacement speed | 1,400 | 7.7 | 12 | 1.6 | 1.155 |
| | 1,500 | 7.9 | 17 | 2.2 | 836 |
| | 1,600 | 8.2 | 20 | 2.4 | 738 |
| | 1,800 | 9.2 | 27 | 2.9 | 613 |
| | 2,000 | 10.4 | 33 | 3.2 | 567 |
| Maximum displacement speed | 2,200 | 11.5 | 38 | 3.3 | 545 |
| | 2,400 | 12.8 | 67 | 5.2 | 344 |
| Minimum planing speed | 2,500 | 1.,0 | 77 | 5.9 | 304 |
| | 2,600 | 14.0 | 84 | 6.0 | 300 |
| | 2,800 | 16.2 | 94 | 5.8 | 310 |
| Cruising speed (on plane) | 3,000 | 19.2 | 108 | 5.6 | 320 |
| | 3,200 | 21.6 | 122 | 5.6 | 319 |
| | 3,400 | 24.0 | 140 | 5.8 | 309 |
| | 3,500 | 26.0 | 153 | 5.9 | 306 |
| Top speed | 3,600 | 27.6 | 167 | 6.1 | 294 |
Test Conditions: very rough sea, 20/22-knot wind,  10 passengers, water tank at 100%, fuel tank at 70%
Absolute Yachts Navetta 48 Interiors : Adduco Maxima
"Undetectable Extension Charm":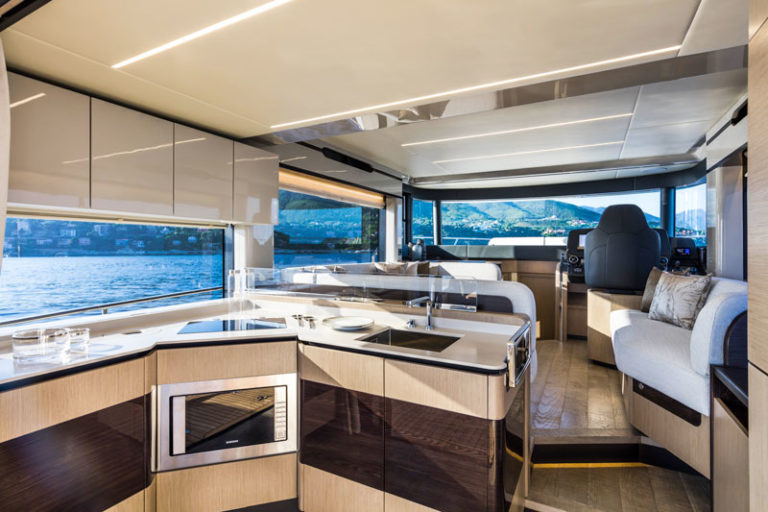 this was the charm that allowed Harry Potter characters to amplify the space of objects at will without changing their external dimensions.
The formula of this charm was named Adduco Maxima and this must be held by Absolute Yachts' engineers because this is the only explanation of how, within just 15 meters, they have designed the same interiors than a 18-meter yacht.
You can perceive that as soon as you climb on board and enter the cockpit: from here, with the doors of the main deck open, the depth and largeness effect is astonishing for a 48-footer.
The quality of details, the elegance of wood essences are tangible and enhanced by refined combinations of colours that deliver a high-class overview, a feature that permeates all the other environments of the yacht.
The main deck has been clearly studied in every detail, in line with its end use, and is ideally divided into two zones: the "cockpit-galley" area and the "salon/ pilot station" one.
The first is devoted to outdoor moments: from the large cockpit table (equipped with a privacy blind) both the vertical refrigerator and the large L-shape galley serve the continuous needs that life at sea implies. Noteworthy is the position of the galley that, situated just next to the exit, allows to prepare meals while preventing smells from penetrating inside.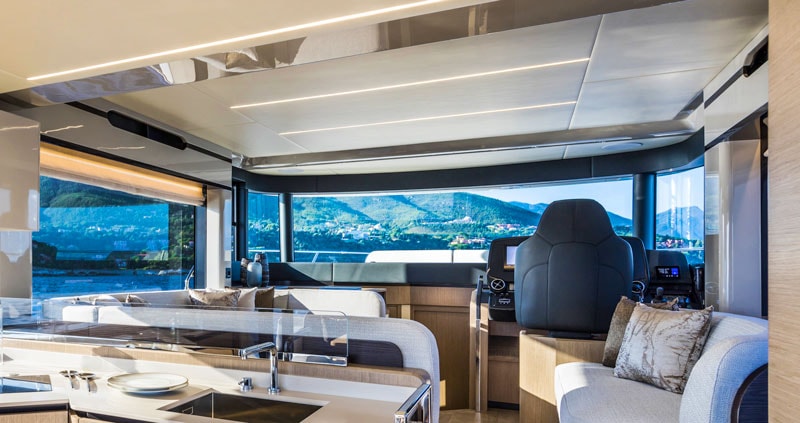 The second is the saloon area that, slightly raised and surrounded by large lazed surfaces, is a real terrace on the sea. This area is dedicated to privacy and luxury family relaxation times. From the starboard sofa raises a pop-up screen that transforms the salon into a small projection room. The sofa on the port side is served by a table whose folding wings contribute to create an encumbered space where to enjoy sailing in total comfort.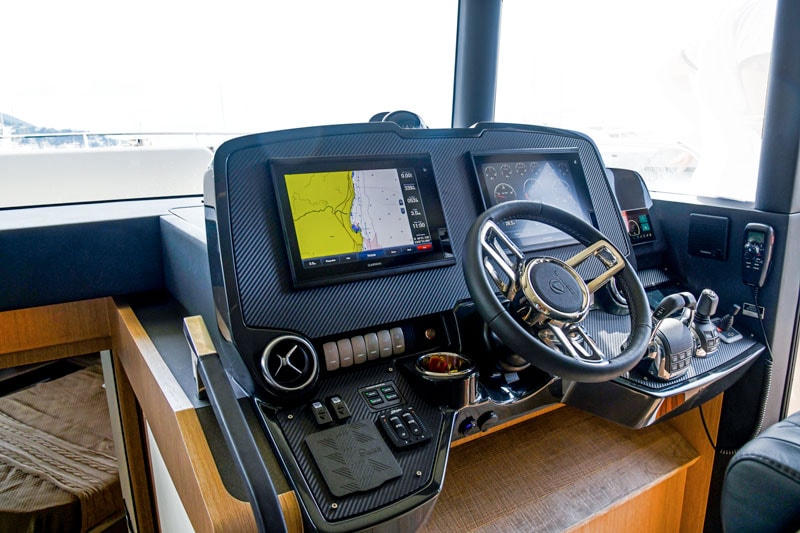 The interior pilot station is large, with two maxi displays and highly complete equipment. Electronic throttles and the piloting joystick are positioned on the starboard side, near the inevitable access hatch that Absolute Yachts includes in all its boats and that really makes the difference during mooring maneuvers.
Going down the steps located on the left of the pilot station, we reach the lower deck of the Absolute Yachts Navetta 48. Here, Absolute's interior designers have created a real masterpiece, succeeding in creating three cabins (two of which are huge) on a boat of this size.
Now, we are in the passageway from which, thanks to the presence of sliding doors, circulation on board requires no contortionism. From here, we can reach the three cabins and one of the two bathrooms which also functions as a day toilet.
We open the first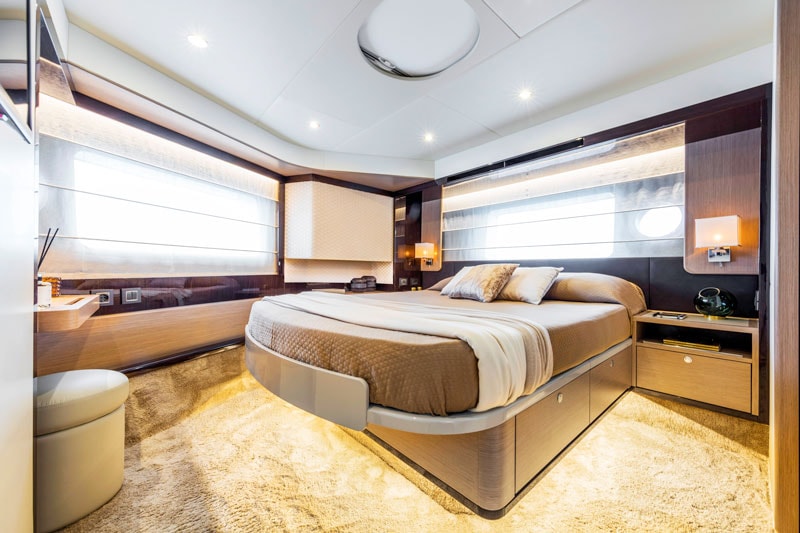 door and enter the master cabin that, raised and placed transversally to the bow, is one of the largest and most refined environments I have never seen on a boat of this size. The bed is King Size and surrounded by side passages that measure more than 50 cm!
Natural light floods interiors from the large windows and the round porthole positioned on the ceiling that, very high, gives this cabin an impressive volume. A large wardrobe, a wainscoting with seat and writing desk and a direct access to the bathroom equipped with a separate shower compartment complete a cabin that fully deserves the definition of Master Suite.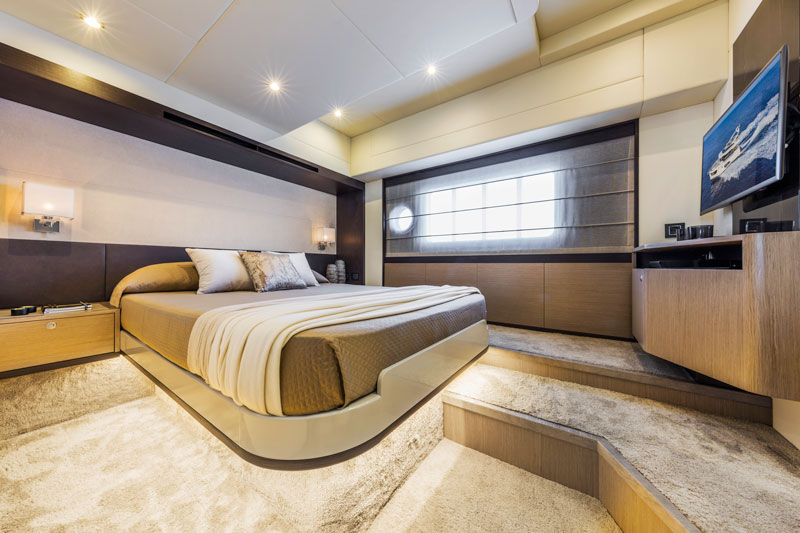 The second cabin we visit is the VIP one, reserved for guests, and, if we hadn't just went out from the master cabin, we could think to be there. Situated on the same level than the double cabin, it covers more than half of the beam and contains a queen-sized bed, side passages and a walk-in closet that, for its size, is the envy of many master cabins.
The double cabin features standard twin beds ( about 90 x 200 cm) and a central passage. The fourth cabin is a crew cabin but, thanks to the elegance of furniture and the presence of a separate entrance, can very easily become the favourite cabin of owner's children that can enjoy their privacy and come back later without waking up anyone.
Accessible from the cockpit, the engine room covers an extension of almost 15 square meters and accommodates two IPS engines, a stabilizer, a generator and all kind of equipment you can imagine.
Navetta 48 – Exteriors
Looking at the Navetta 48 from the dock, you can immediately realize that space is not the only element that attract Absolute Yachts' clients. Despite volumes, overall design is always beautiful and pleasant.
I climb on board and I start my "inspection tour". I walk on the side-decks that, high and protected by the handrails, lead to the bow in total safety and make it reachable under any sea condition.
Here, thanks to a genial mechanism that moves forward pillows, a huge sun pad can be converted into a comfortable forward sofa that, both on the open sea and at the anchorage, will be certainly the point of contention of the whole crew.
We come back to the cockpit and climb on the flybridge where the latest Absolute's innovation becomes clear. The central pilot station creates a large encumbered surface all around. Thanks to a rigid hard top, this area becomes a real additional space that, equipped with lighting systems, is certainly the most beautiful place where to have dinner while the boat is still at anchor.
In the stern, a U-shaped sofa surrounds a table which can seat up to 8 adults. The wet bar is equipped with an additional fridge and is easily accessible from the convivial area.
Forward and on each side of the pilot station develops the second huge sun pad of the Navetta 48 that, with no problem, can accommodate 3-4 guests, even while sailing and in total safety.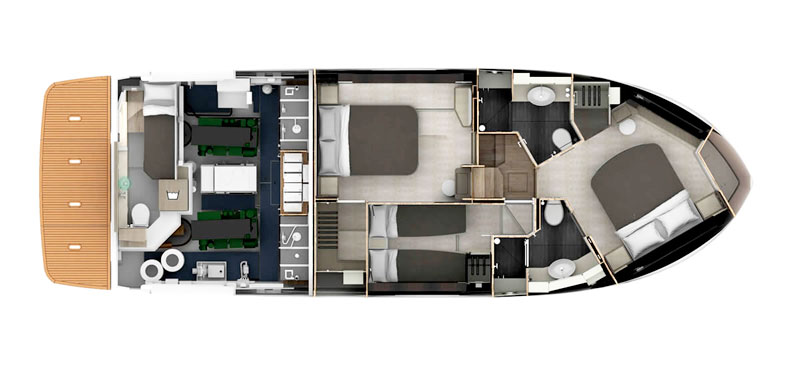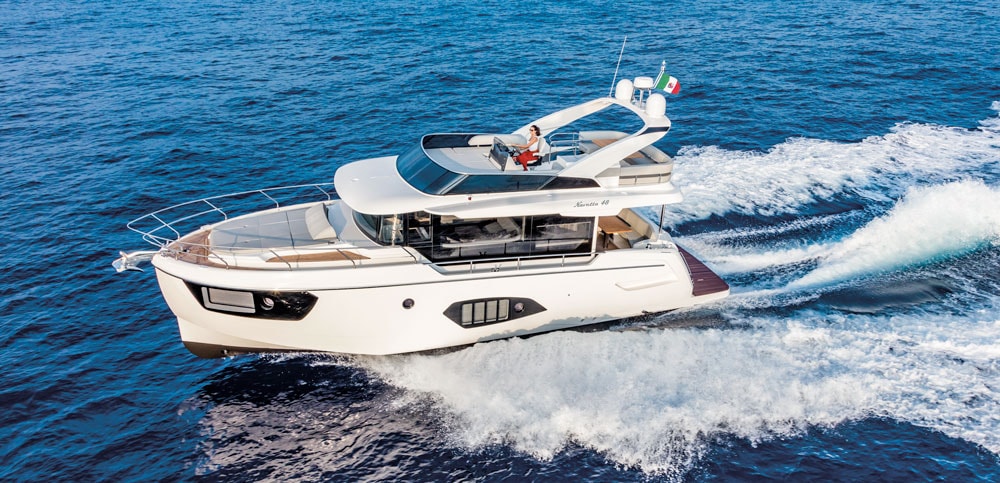 We thank  Antonio and Michele Spina of Ligur Nautica for  their proverbial patience and the kindness they have shown in meeting all our demands.