For over 50 years, the Boero Group's Yachting Division has been an international benchmark in the production of paint solutions for the yachting and superyacht markets. With its brand Boero Yacht Coatings, the Group offers an extremely articulated range of products for boat painting, repair and maintenance, able to preserve the aesthetics and functionality of the hulls and meet the demands of both yachtsmen and the most demanding yacht and superyacht builders.
The Yachting division stems from the company's more than one hundred years of experience in the seventies, with a complete range of paint products for the yachting segment, from which the Yacht Line was born, which quickly evolved into Boero Yacht Paint, followed by the birth of the Supernavi brand, the range of products for the superyacht market. In 2010, the two lines, Yacht Paint and SuperNavi, were united, giving birth to Boero YachtCoatings, with an increasingly high-performance offer adapted to the needs of both small yachting enthusiasts and large yacht and superyacht builders.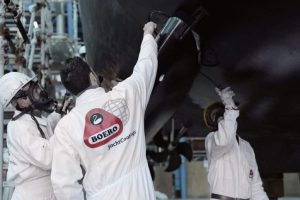 Today, Boero YachtCoatings is a brand that multiplies its competences and develops its value in all business processes: research, innovation, production, distribution, service and care for the environment. From its own plant, considered one of the largest production facilities for the paint industry in Europe, Boero YachtCoatings ships over 250,000 packages of more than 1000 different references every year to all foreign countries that play a significant role in the international yachting scene: an expansion strategy made possible thanks to a global network of local distributors and the presence of technical and sales staff.
The scientific research, methodical refinement and continuous effort in technological adaptation of Boero YachtCoatings' researchers find concrete expression in the wide range of products on offer, which are the result of selected raw materials, formulas in line with the most recent regulations, and production processes that guarantee constant quality combined with continuous attention to the environment.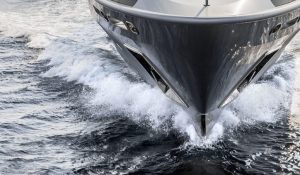 To the know-how of a company with 50 years of history as a leader in the production of painting solutions and to the competence chosen by the largest shipyards, Boero YachtCoatings also adds the all-Italian pleasure of sharing its expertise in constant customer support. With this in mind, the group has created the BYC Academy, a new structure with a complete training programme and a selected team of specialists able to deal with real problems, share ideas, best practices and implement action learning courses on all boat-related issues, supporting customers and users in achieving their production goals.
The passion for the sea and the desire to believe in new challenges, in change and in the daily commitment to overcome limits have always distinguished Boero YachtCoatings. This is why the brand has been a technical partner of Giovanni Soldini and his Maserati Multi 70 boat for years and sponsors non-profit associations and increasingly sustainable projects linked to the yachting world.
For more information: www.boeroyachtcoatings.com