If we wanted to define the characteristics of the ideal RIB, the features of the Ranieri International Cayman 27 Sport Touring would help us to represent them at best.
Beautiful, spacious and fast, the new Cayman 27 Sport Touring has come and astonishes with a brand-new hull which, after having tested it, we can only define as extraordinary.
The following is the report of a sea trial that, as you can see, has definitely convinced us.
Ranieri International Cayman 27 Sport Touring Sea Trial
As mentioned above, the hull is brand-new. Featuring three support strakes on each side and, above all, two steps, it is designed to fulfill a far from easy task: to offer minimum rolling resistance while providing maximum comfort at sea.
Indeed,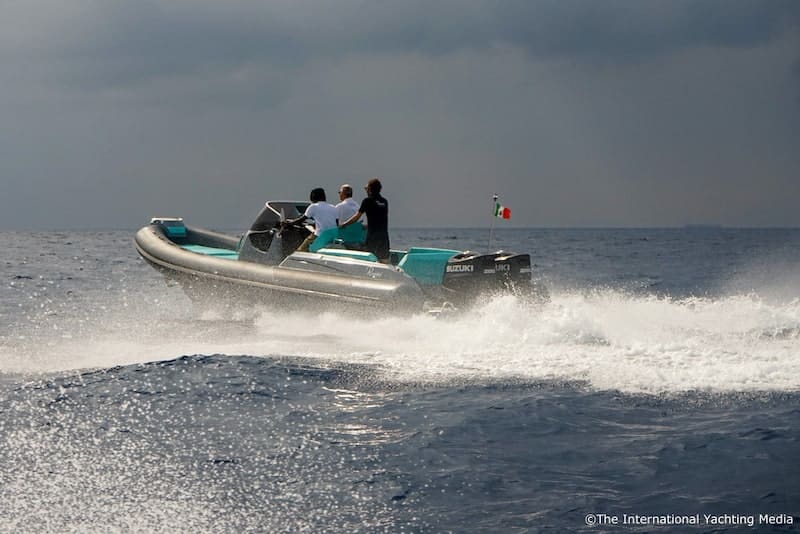 we only have to push the gas throttle all down to realize that, as the boat gets on plane at around 13.5 knots, the step goes into action and "frees" the hull from friction while creating an air cushion that literally results into a noticeable increase in comfort and speed on board.
Just to give the idea of the effect, the boat goes from 9/10 to 23 knots with an increase of just 1,000 rpm. At this speed, passengers can feel like being on their sofa at home, with a fuel consumption of just 47 l/h (2.06 l/nm). In other words, you can enjoy your weekends at sea without worrying about fuel.
But it is when we accelerate that this boat really astonishes us. I push the throttles all down and the Cayman jumps forward while the log quickly displays more and more important numbers, making us sail at a top speed of 43.3 knots.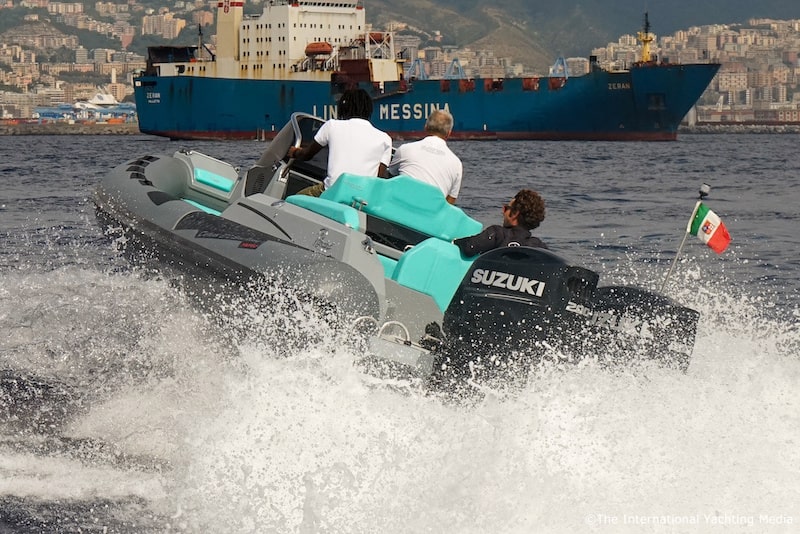 Not bad for a boat at full fuel capacity and with 100HP less than the maximum power applicable.
Now, it's time to get it on. Just the time to slow down and warn the other passengers to keep firm and I start to perform a series of increasingly tighter turns.

At 30 knots, I quickly turn, putting the two Suzuki at their maximum steering angle.
The Cayman 27 Sport Touring sails if she were on the tracks, so much so that I can loosen the grip of my hands from the rudder without the inflatable boat changing its circular course.
I counter-turn quickly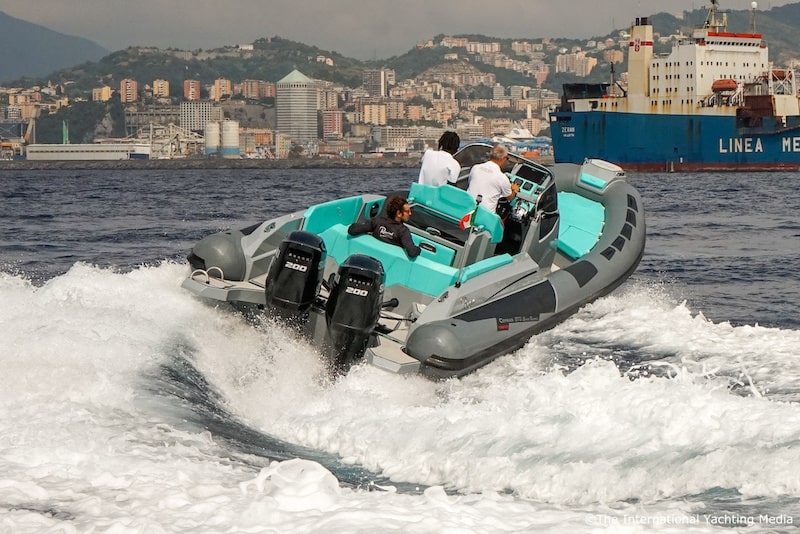 and, again, the miracle is repeated, I accelerate deeply and slow down repeatedly but nothing, the boat does not want neither to get off the glide nor to leave its course. Impeccable behavior.
I encounter a wavy train and I cross it at 35 knots. Even in this case, the Cayman remains tempered and crosses the waves without noise, without impacts.
The Cayman 27 Sport Touring has proved to have an extraordinary, very seaworthy hull.
The only regret? Not having tried her with two Suzuki 250, it would have been definitely more exciting…
Our sea trial in numbers
| | | | | |
| --- | --- | --- | --- | --- |
| Rpm | Speed | lt/h under power | L/h | L/nm |
| 600 | 2.8 | 1.2 | 2.4 | 0.86 |
| 1,000 | 3.6 | 2.9 | 5.8 | 1.61 |
| 1,500 | 5.6 | 6 | 12 | 2.14 |
| 2,000 | 7.3 | 9 | 18 | 2.47 |
| 2,500 | 8.9 | 12 | 24 | 2.70 |
| 3,000 | 13.5 | 15 | 30 | 2.22 |
| 3,500 | 22.9 | 23.6 | 47.2 | 2.06 |
| 4,000 | 26.7 | 28.3 | 56.6 | 2.12 |
| 4,500 | 30.4 | 33.4 | 66.8 | 2.20 |
| 5,000 | 36.9 | 47.4 | 94.8 | 2.57 |
| 5,500 | 43.3 | 67 | 134 | 3.09 |
Test Conditions: slightly rough sea; 3 passengers on board; fuel tank at 100%; water tank at 100%; engines: 2xSuzuki 200
Cayman 27 Sport Touring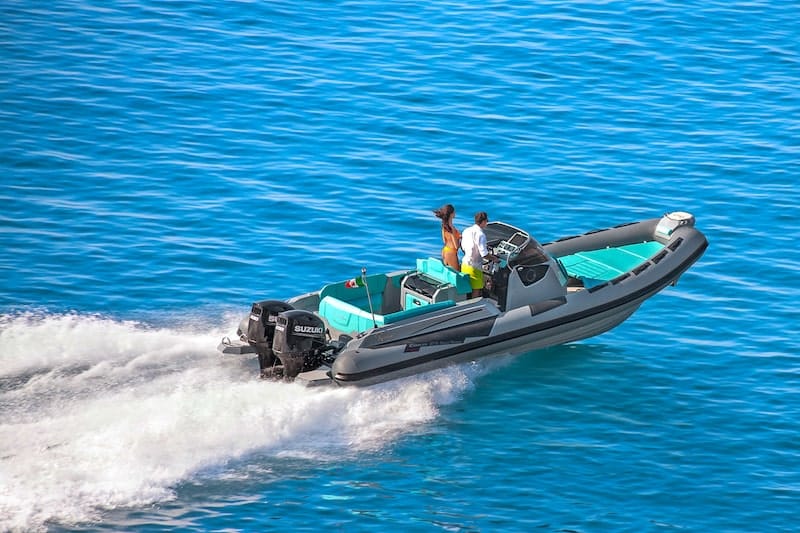 Looking at the Cayman 27 Sport Touring from the dock, we are immediately impressed by her design. The new models of the Cayman series all share the presence of raised sides which, if on the one hand effectively protect the cockpit from water sprays, on the other give the Cayman 27 Sport Touring a dynamic and captivating look.
Furthermore, the new family feeling of the Cayman range has the undeniable advantage of distinguishing itself from the mass of inflatable boats which, unfortunately, end up being similar to each other.
The space arrangement of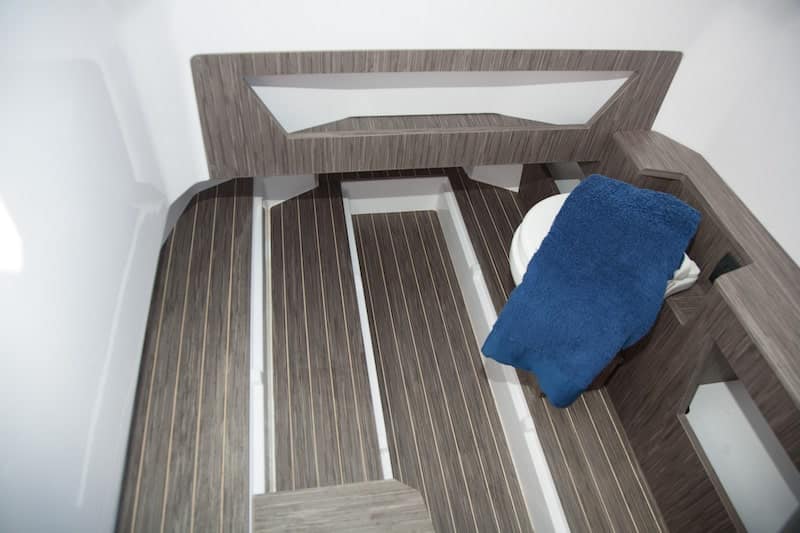 this RIB is noteworthy. The hull, in fact, offers two convertible areas, forward and aft, which can transform from two huge sun pads to two distinc area where it is possible to have linch or dinner around a table. In the bow, thanks to the seat obtained from the console; in the stern, thanks to the genious quilt that comes out of the bar cabinet.
But it is below deck that we find another surprise. In addition to a small locker room and an electric WC, this area can accommodate a double berth to spend a night on board.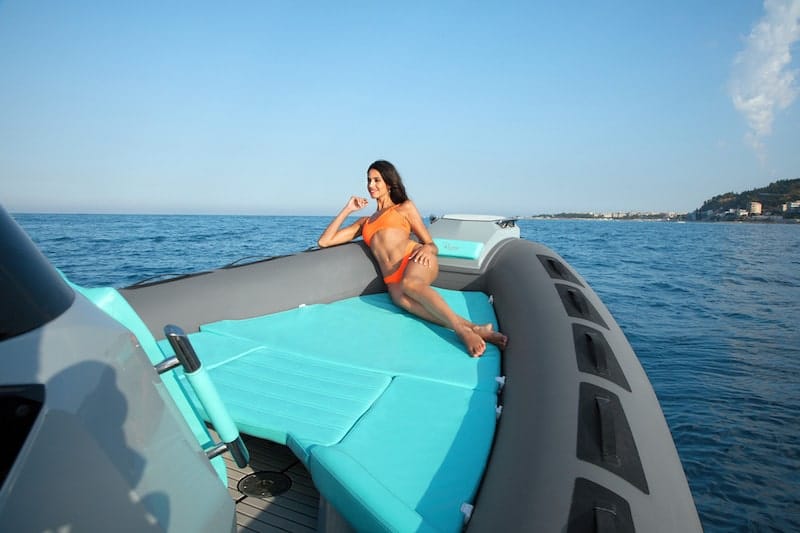 Ranieri International Cayman 27 Sport Touring – Technical Specs
| | |
| --- | --- |
| LOA | 8,6 |
| Max Beam | 3,2 |
| Tubular Diameter | 0,65 |
| Compartment | 6 |
| Passengers Capacity | 20 |
| Weight | 1.800 |
| Water Tank Capacity | 80 |
| Fuel Tank Capacity | 420 |
| Max Power | 500 |
| CE Category | B |