Chris Craft Catalina 30 : Sea Trial
For many years, the historic US shipyard Chris Craft has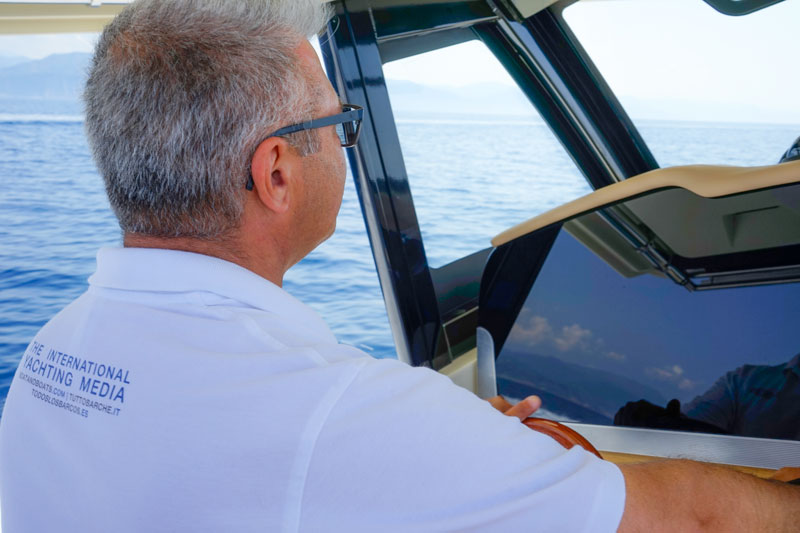 coupled the construction of beautiful classic runabouts with new ranges of products that, as usual, this boat manufacturer interprets without boats losing their own identity or those distinguishing features that make a Chris Craft creation recognizable from miles away.
This is why we've decided to test the latest novelty from this shipyard, the Catalina 30 which, despite its outboard propulsion system and center console arrangement, does not need to show the Chris Craft brand to be immediately recognized as one among the jewels of the famous star-spangled shipyard.
Chris Craft Catalina 30 – Sea trial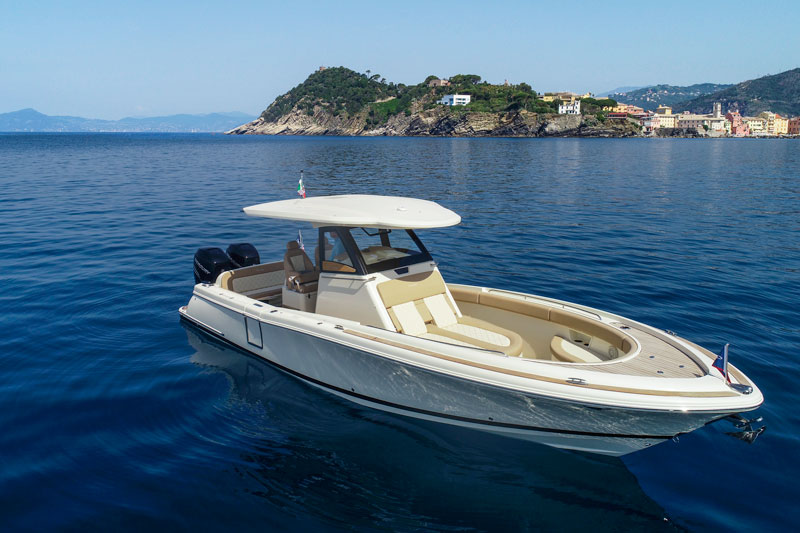 It's a nice sunny Saturday when, early in the morning, we climb on board the Catalina 30. We're going out to test 3 other boats ( which we will deal with later) and the Catalina is our chase boat. The choice is not random, considering the deck layout of this boat and the possibility to enjoy easy movement and an unobstructed surface around the console.
This feature offers us the opportunity to take photographs and videos very easily but it is not hard to imagine that this layout is equally convenient and functional to the fun and comfort of a family outing or a fishing trip.
Then, I open a large hatch to place my equipment and … I am stunned, since, just in front of me, a real fully-equipped cabin opens up, furnished with a double bed of unexpected size. This center console also houses a real pilot house, which elevates this boat to the status of a vessel perfect for short- or medium-range navigation.
I'll deal with details later; now, it's time to retract moorings and leave the port. The other boats sail fast and we have to sail around them all morning because this is the best way to test a boat like this.
On board, we have the best of Mercury electronics: a joystick, an Active Trim system  and electronic throttles. The stern is home to twin Verado 350hp outboards; displays haven't been installed yet and will be chosen by the lucky owner of this beautiful creature that is tested in the Italian waters for the first time.
To go out of the narrow berth is a piece of cake and, as soon as we are out of the port, we sail at displacement speed while benefiting from an uncommon stability for a boat of just 30 feet. I reach the center console, equipped with two pilot chairs ( to call them "seats" would be an understatement") which can be used both in a seated and a standing position thanks to a convenient lumbar support.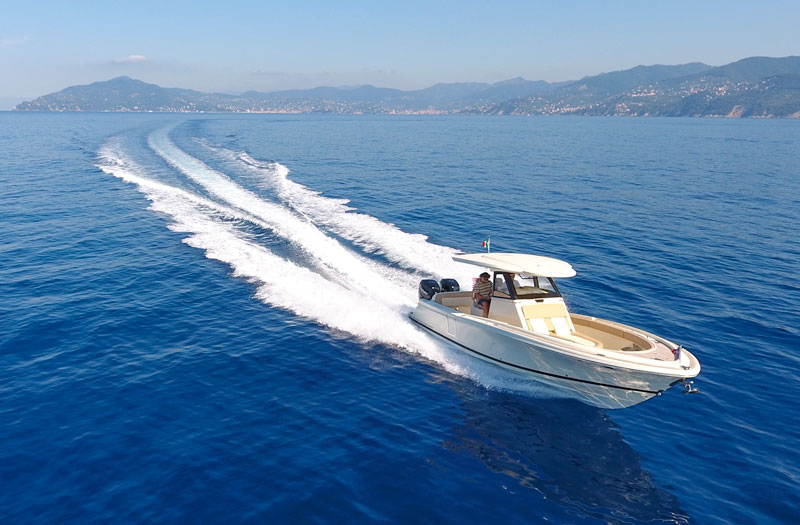 Out of the port, I start to speed up, I'm really excited and I put throttles down immediately. The Catalina 30 takes off, she goes out of the water in a second and, shortly after, she already sails at 30 knots.
I slow down and I try it again with a chronometer in my hand; the boat goes from 0 to 30 knots within just 10 seconds.  I wasn't wrong, this 5-ton center console boat flies like a missile.
I speed up again and, at 5,000 rpm and 40 knots, the boat is so stable that it feels like we're driving on the road. With throttles all down, we reach 46 knots, I trim at best and top speed rises to 48.3 knots.
Then, I slow down, I put the auto trim in and I try it again. While the boat accelerates, electronics is one second faster than me but, by chance, at top speed, we're even: my proud is safe.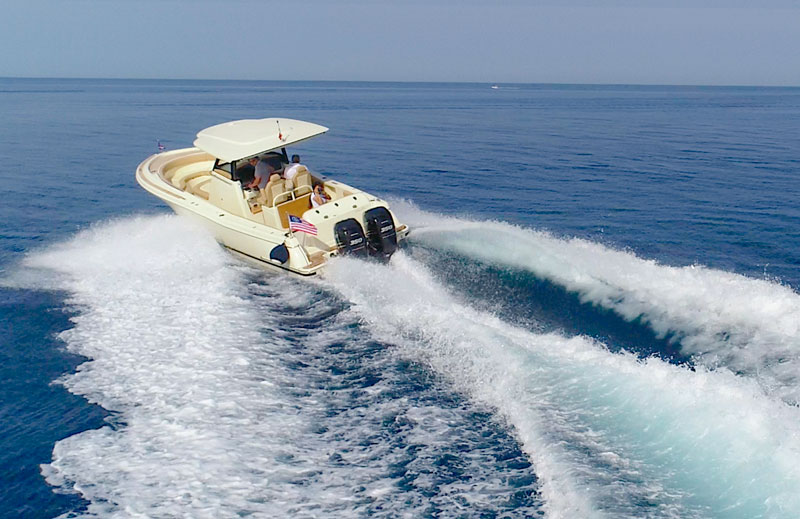 I slow down up to 35 knots and I start to turn. The hull is stable and the steering angle is great, even when my turns get tighter and tighter. I suddenly accelerate but the stern remains perfectly stable and the only result I achieve is an increase in both speed and heeling angle.
I turn and counter-turn repeatedly; behind me, passengers are all hanging onto the handrails ( Chris Craft boats always have handrails) but this is not necessary since the boat is perfectly stable and well-balanced. However, adrenaline makes passengers hold hands and their knuckles get white when, at almost 40 knots, I turn with an extraordinary heeling angle while the Catalina, stable and happy, seems to look at us and say: " That's all?".
A couple of big yachts are planing and crossing our route and the waves they raise seem to be perfect to see what happens. We intercept the first wale at 27/28 knots and our Catalina 30 goes thought it like it was butter, the bow raises and touches down by provoking a reassuring low sound.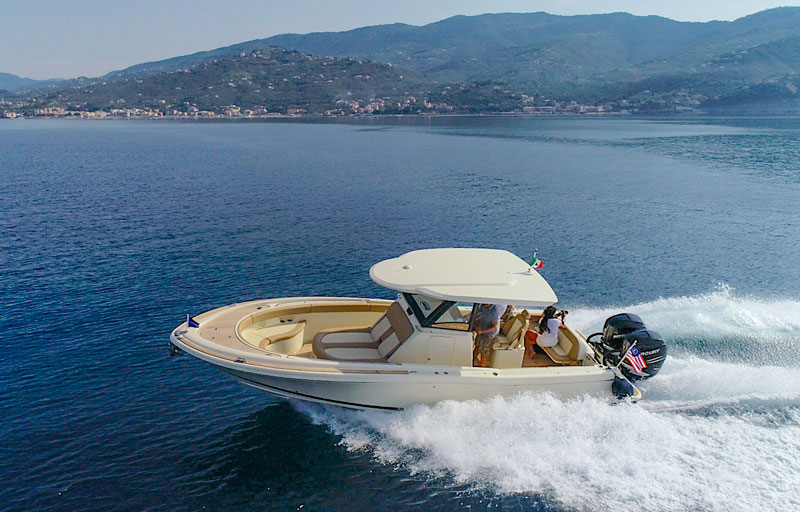 The second wake is quite high, waves are maybe one meter high, I invite the other passengers to hang on, so I speed up and I take it at over 40 knots. The boat jumps and goes almost completely out of the water but, then, she touches down with no route variations. When the second wave arrives, it crashes on the right side, offering a less steep climb; we jump it without slowing down and, again, we touch down with no problem.
I turn and see the crew; everyone is there and smiles at me, an undeniable sign that this Catalina 30 is really good and offers the most exciting experiences in total safety. After all, she's a Chris Craft boat and I would have been surprised if it wasn't so.
Conclusions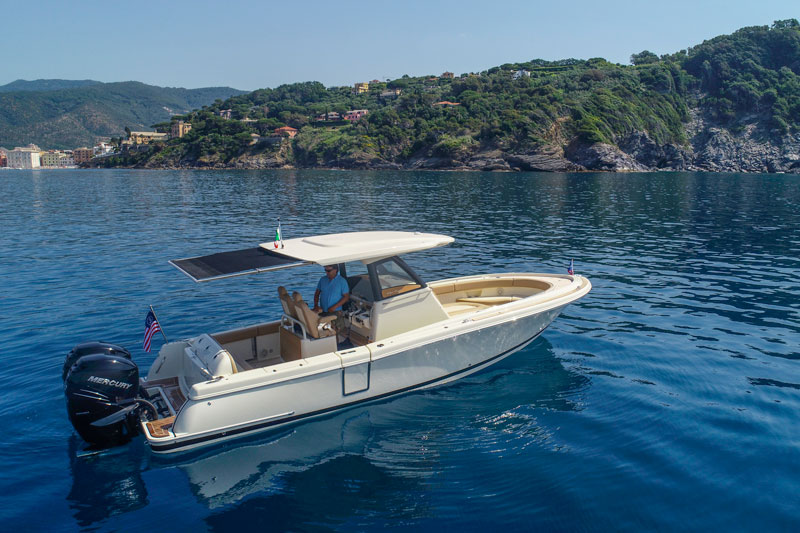 The Chris Craft Catalina 30 is a highly versatile boat that, even though she is apparently designed for a specific end use, is instead perfect for many other purposes. She is a perfect fun machine you can use to have a bath in a far cove or to enjoy a whole week-end at sea.
This boat is also perfect for fishing trips; you only need to lift seats to enjoy a totally unencumbered perimeter.
In both cases, awnings offer wide shadowed sunbathing and relaxation areas, like, for example, the two inviting chaises longues positioned ahead of the console.
You only have to look around to realize that you're on board a Chris Craft boat: elegance and beauty are everywhere, evenly distributed on board one among the best center console models currently available on the market.
What about price? If you think that a Chris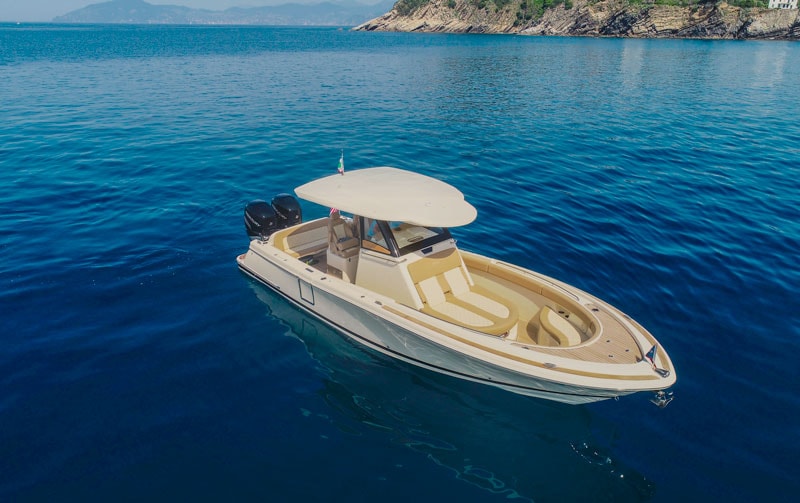 Craft is an affordable product, you've got the wrong shipyard. These boats are not for everyone and the price of our test boat is about 300,000 dollars.
However, if we consider the overall quality of this boat and, above all, its value over time, price does not seem to be so expensive; instead, the Catalina 30 risks to be even more affordable than other boats if, as often happens, you decide to change boats after some years.
Chris Craft Catalina 30 – Performances
| | | | |
| --- | --- | --- | --- |
| rpm | speed | Acceleration | Time in seconds |
| 600 | 2.2 | 0 – Planing | 3.9 |
| 1,000 | 4.6 | 0 – 20 knots | 7.8 |
| 1,500 | 6.7 | 0 – 30 knots | 10.1 |
| 2,000 | 8.1 | 0 – 40 knots | 14.7 |
| 2,500 | 11.2 | | |
| 3,000 | 13.8 | | |
| 3,500 | 19.5 | | |
| 4,000 | 28.4 | | |
| 4,500 | 33.9 | | |
| 5,000 | 37.6 | | |
| 5,500 | 42.2 | | |
| 6,000 | 48.3 | | |
Test Conditions: slightly rough sea; no wind; 3 passengers on board; 80% fuel capacity; 10% water capacity
Technical Specs
| | | |
| --- | --- | --- |
| LOA | 9.3 m | 30'6″ |
| Max Beam | 3.1 m | 10'2″ |
| Dry Weight | 3,946 kg | 8,700 lbs |
| Fuel Tank Capacity | 749,5 l | 198 gal |
| Water Tank Capacity | 117 l | 31 gal |
| Deadrise | 21° | 21° |
| Hull Draft | 61 cm | 21″ |
| | 3.02 m | 9'11" |
| | 12 | |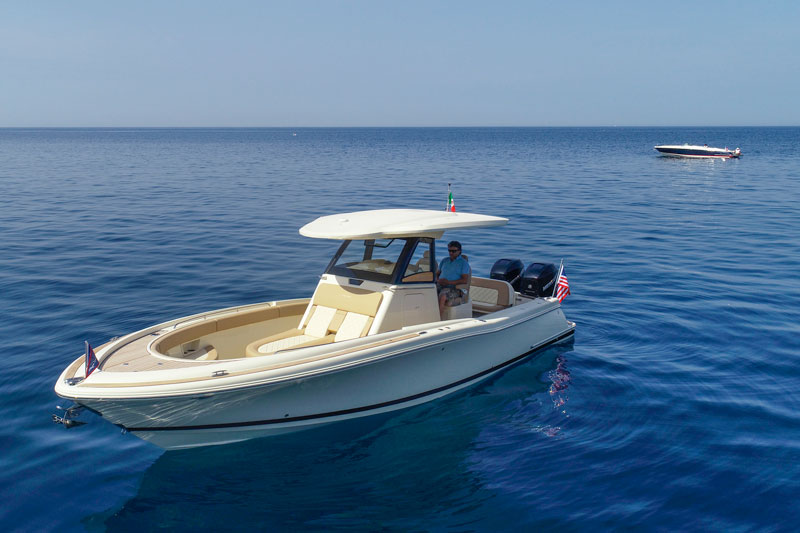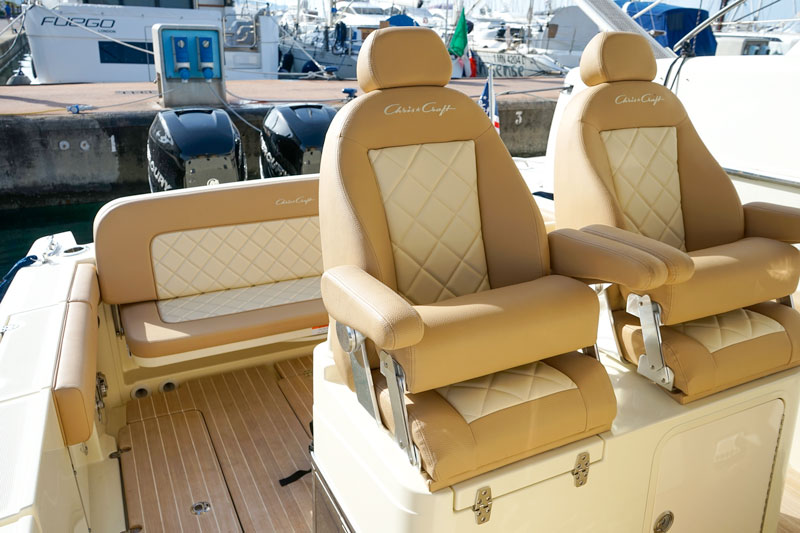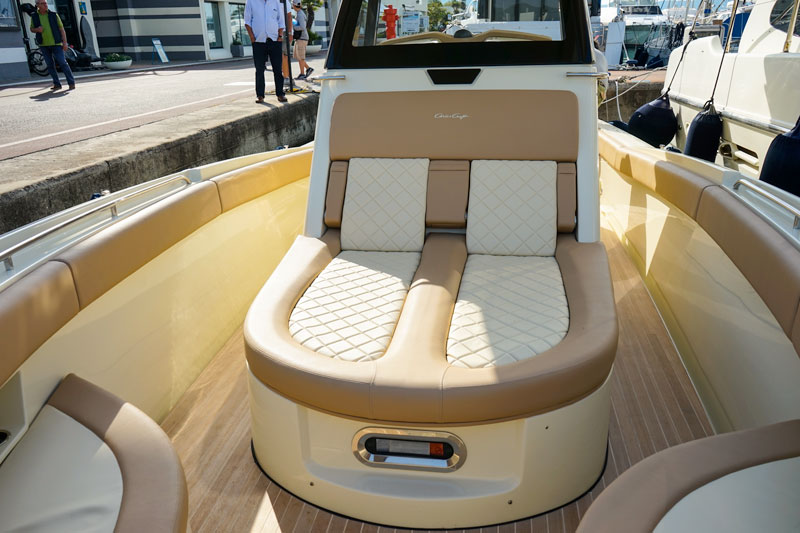 Importer for Italy :
Sunrise Marine S.r.l. – Calata Porto Turistico, 45 – Lavagna (GE)
+39 0185 044781