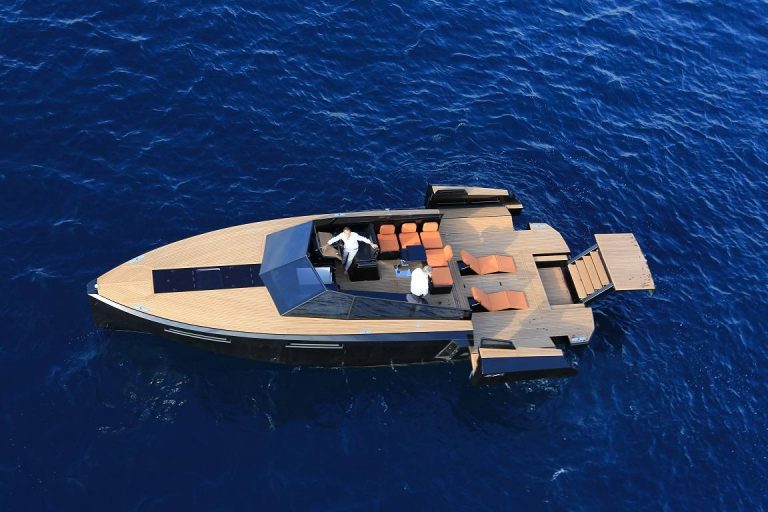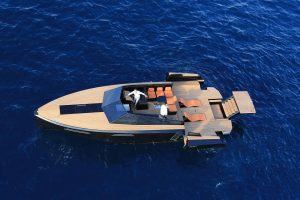 If there's one boat which has animated the world of boating over the last two seasons, it's Evo 43. Everyone talks about her, everyone wants to see, touch and test her.
Why? First of all, because she's astonishing. Then, because she's innovative and attractive. In a word, a "sexy" boat.
We have followed her story since her birth, the first model touched the water on 1 September 2015 and it immediately provoked a great interest among international boating media. 
Why is she so successful? Is it a marketing and communication matter? Is she a real good boat or just a heap of special effects? There was only one way to discover it: to test her!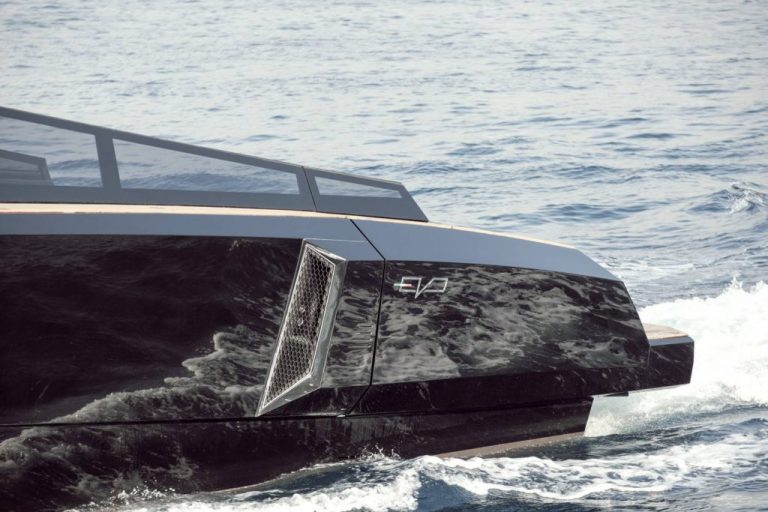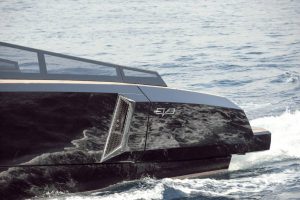 First of all, we have to say that Evo 43 was born from a solid company seated in Naples, which worked in collaboration with the innovative designer Valerio Rivellini. So, a perfect mixture between industrial skill and creative imagination.
Alfredo and Rosario Mercuri (Evo Yachts) describe the essence of the project very well: "From the very beginning, our aim was to create a really innovative boat.
Boating has to restart but there're still few news, which is not good for either yards, which have to sell the product, or for customers, who must enjoy it.
This is why we decided to launch Evo 43: a new boat with very innovative spaces. We worked hard and we poured our whole heart and soul into this project and now, we know it was worth it. Evo 43 is a new exciting versatile boat and she's totally "Made in Italy".
The deck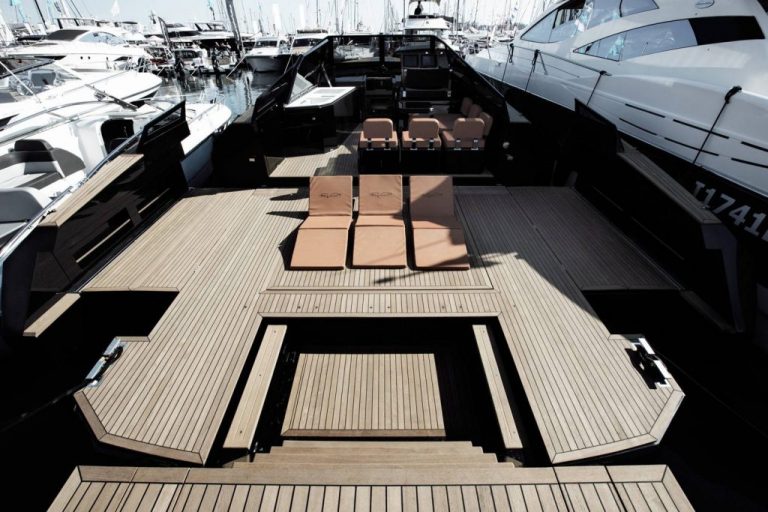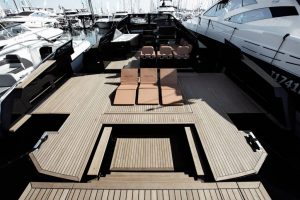 The power to astonish starts from here. Convertible decks and retractable sides are common to many big and small boats. But we like Evo 43 for her coherent and functional details.
First of all, wings. Bulwarks open laterally, increasing the maximum beam (from 4.52 to 6.32 metres) and transforming the cockpit into a 28-square-metre walkable terrace. So, a lot of room on a vessel which can easily convert from party-boat into a fast Mediterranean open one.
Moreover, the astern platform can extend through a mechanical system which rotates by almost 270°. A modular platform which can be used as gangboard, a ladder or diving platform(adjustable for height).
All power-assisted systems are also available in a manual version. Consequently, wings will never block and remain open.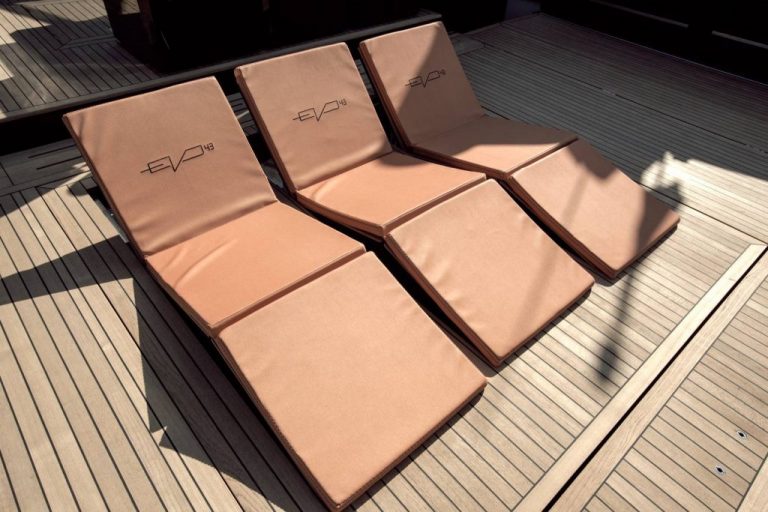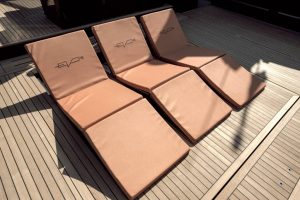 An advanced system allows to adjust furniture arrangement in the cockpit according to the different situations and crew's tastes. So, bean bag chairs and chaises longues can be moved fast through a practical system of pilot holes.
Other things we liked are the system which hides the awning under the deck, in front of the windscreen, through a mechanism inspired by cars, together with the solution which allows to place and remove fenders, the lifting anchor nose inspired by sailing boats and the long linear kitchen running along the whole left bulwark.
Interiors
Many of the concepts seen "upstairs" continue in the sleeping quarters. You can immediately understand it by walking down the crystal led-illuminated ladder from which you can't notice the refined leather finishes of wardrobes. 
An advanced systems of hidden lights creates a welcoming atmosphere, while the large windows along the bulwark flood interiors with natural light. There are no steps to enter the bathroom in order to replicate the concept, already seen upstairs, to have everything on the same level.
The large fore V-shaped dinette hosts a storable table which converts into a second double bed. The first one, in a separated cabin, is located aft. Here, heights are lower but good anyway. The living zone is dominated by a 42′ Bang & Olufsen tv. The choice of a single outdoor kitchen is not coherent with the Mediterranean soul of Evo 43 but it allows to have a larger and more comfortable space on the lower bridge.
Evo 43 Sea Trial
The model we tested was pushed by two Volvo Penta IPS 600 engines (2 x 435 hp) but a less popular version provided with two Volvo Penta 500 hp engines ( 2 x 370 hp) is also available.
The first strength of Evo 43 is her soft bottom which translates into a great comfort. The boat is never nervous and the tilting angle is always small. This means that, while sailing in good weather, the whole area behind the cockpit is comfortable, too.
The boat surfs gradually and with a small nose-up angle.
The pilot house is equipped with a large windscreen and a comfortable pilot's seat. The console has a very contemporary design, like the whole boat, but without compromising functionality. We reached a maximum speed of 33 knots in a windy day.
Cruising speed is 30 knots, with a consumption of 125 l/h. All this with neither noise nor vibrations.
Evo 43 – Technical Details
Overall length 13.12 m
Waterline Length 11.35 m
Maximum beam  4.52 – 6.32 m
Maximum draught  1.10 m
Unladen displacement 11.300 t
Laden Displacement 12.500 t
Engines 2 x Volvo Penta IPS 600 – 435 HP
Transmission system IPS
Fuel litri 1.000
Water  400 l
Cabins 2
Manufacturer Evo Yachts
Interior and Exterior Design  Valerio Rivellini
Hull and engineering Studio Tecnico Rivellini
Design Category A – 12 people
Manufacturer www.evoyachts.com
Material: fiberglass, infusion technology
Basic Price in Europe: € 557.480 (2 x Volvo Penta D5), 566.720 (2 x Volvo Penta D6), Vat excluded
Evo 43 – Performances
| | | | |
| --- | --- | --- | --- |
| Revolutions/min | Speed (kn)  | Consumption (l/h) | Consumption(l/mile) |
| 1.000 | 7.1 | 6.5 | 0.9 |
| 1.500 | 9.0 | 24 | 2.8 |
| 2.000 | 11.6 | 67 | 5.9 |
| 2.500 | 18.4 | 100 | 5.4 |
| 3.000 | 28.0 |  126 | 4.6 |
| 3.500 | 33.1 | 163 | 4.9 |
Sea Trial Conditions : little rough sea, 6 passengers, 50% fuel tank,  50% water tank. Trim: Volvo Penta self-regulation. Maximum surfing speed: 12 knots (70 l/h).
The fore dinette converts in a second double bed