The new Jeanneau DB/43 OB makes no compromises: luxury and sportiness come together to create a perfect combination, to experience the sea like never before!
The grit and luxurious design of this boat have already won over owners around the world. Heir to the legendary DB line conceived in the 1980s, this model now represents the ultimate example of the "Premium Day Boat", the boat that elegantly combines functionality, ample volumes, and both eclectic and sophisticated design that satisfies today's taste as well as tomorrow's.
But let's see together what it looks like and its performance….
Sea trial
It is a beautiful day in Cannes this morning, although the temperatures are not mild for early April, it is sunny, and this encourages us to climb aboard the new Jeanneau DB/43 OB.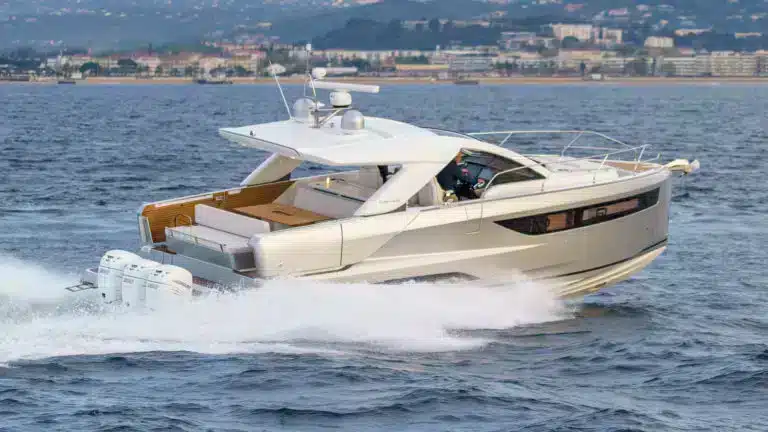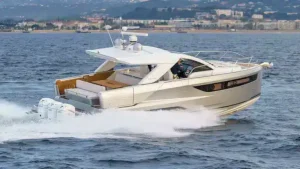 Already from the outside, this boat is capable of making owners dream: aerodynamic volumes, dark glass, eye-catching lines, and a beautiful dark gray hull. On board, the feeling is the same: the finishes are elegant, the furnishings are minimal and luxurious, and there is plenty of space, so much so that you can easily move around the entire deck.
The helm station is well protected by the windshield, which provides 360-degree visibility. We leave the harbor at a slow speed, but it is as soon as we reach the open sea that the real fun begins: I put the throttles down and the power of the three Mercury Verado 350hp outboards comes on full blast.
In no time the boat gets up on plane at 14 knots and then, as we continue to accelerate, it reaches 23 knots effortlessly.
The impact with the waves is smooth, which means that the hull's water lines and fluodynamics have been studied in great detail, giving the boat safety and stability even when cruising at high speeds.
As soon as I accelerate with more grit, the sportiness of Jeanneau DB/43 OB is unleashed: in a few moments, at 6450 rpm we come hurtling across the water at 38 knots… impressive!
The sensation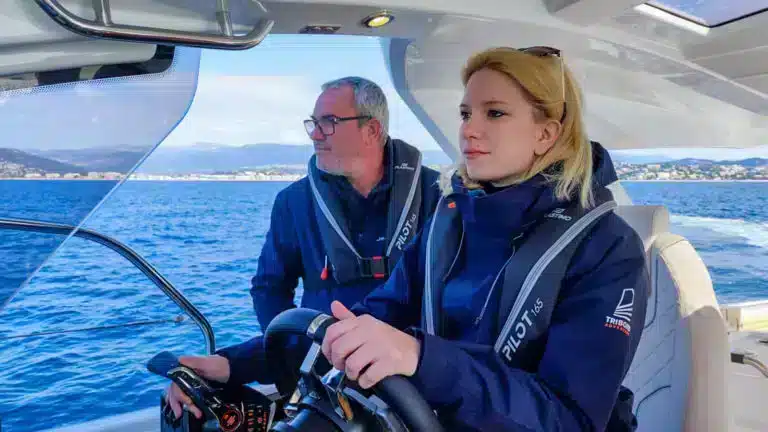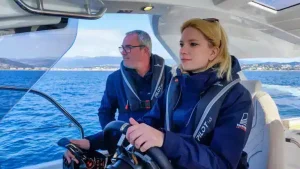 was unique, a really high speed for a boat of this size. Although it may look very heavy from the outside, it actually felt very easy to handle when driving.
I lower the speed a bit and at 26 knots make a few turns: the boat remained stable and very responsive. At 23 knots against the sea then I make a few tighter turns and the feeling still remained positive, even managing to pass the 45-degree wave impact test brilliantly.
Although it is a day boat intended for cruising with family or friends, this boat is much more: it is power, elegance, and a lot of fun!
Performance Chart
| | | | |
| --- | --- | --- | --- |
| RPM | Speed in kn | L/h | L/Nm |
| 600 | 2.5 | 6.9 | 2.76 |
| 1000 | 5.0 | 15.5 | 3.50 |
| 1500 | 6.6 | 20.7 | 3.29 |
| 2000 | 8.2 | 31.8 | 3.88 |
| 2500 | 9.4 | 51.3 | 5.58 |
| 3000 | 9.7 | 79.2 | 8.21 |
| 3500 | 11.4 | 112.5 | 9.87 |
| 4000 | 14.3 | 137.1 | 9.62 |
| 4500 | 18.6 | 159.9 | 8.60 |
| 5000 | 28.3 | 182.7 | 6.47 |
| 5500 | 32.8 | 201.0 | 6.13 |
| 6000 | 36.1 | 258.0 | 7.15 |
| 6400 | 38.7 | 290 | 8.91 |
The DB/43 OB in detail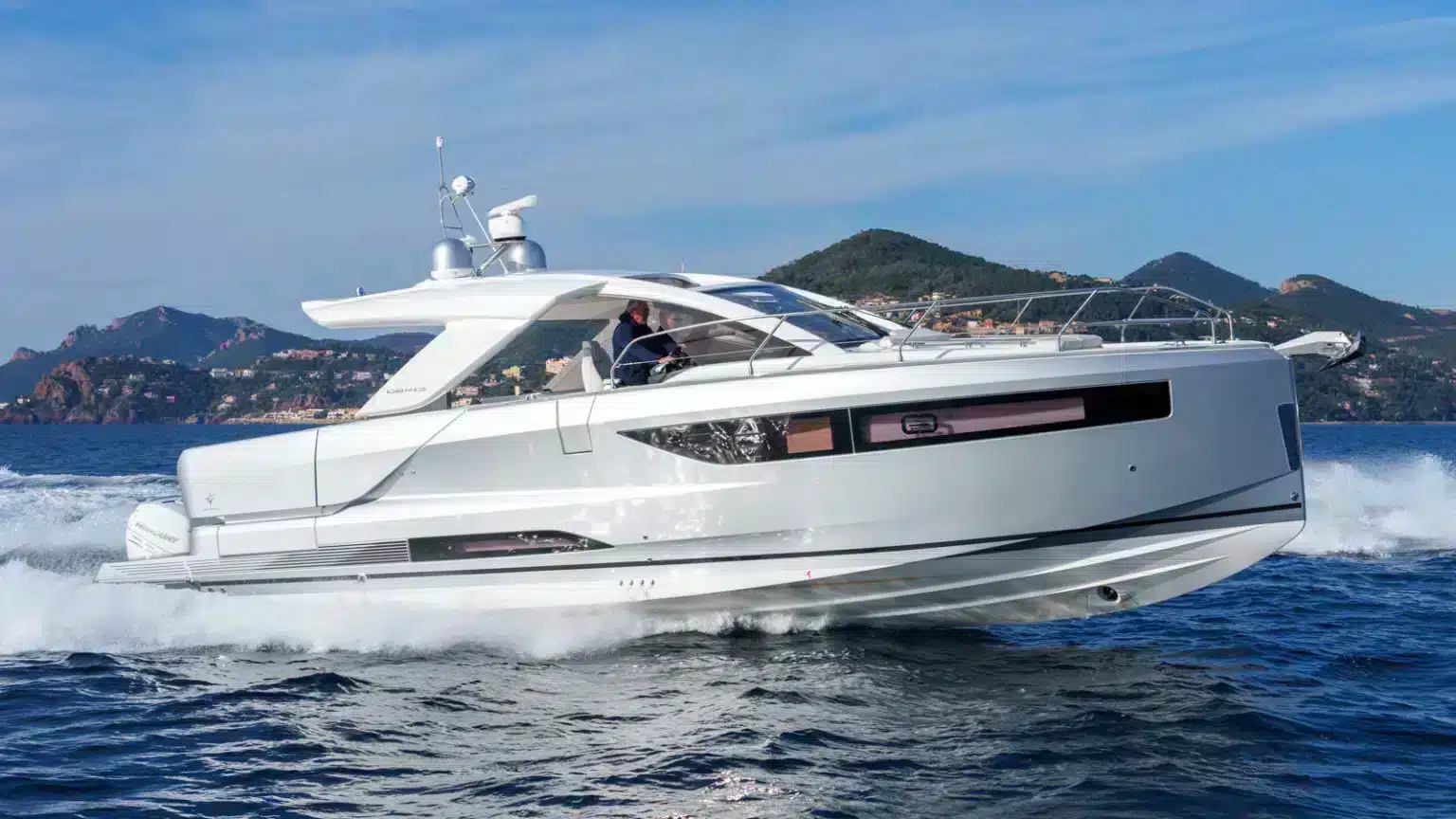 Exterior Design
A magnificent V-shaped hull designed by Michael Peters and a sporty design by Camillo Garroni of Garroni Design make this DB/43 OB a new style benchmark in the powerboat segment.
Nominated in the "Best for Families" category of the "Best Boats of 2022" award and nominated in the "over 14 meters" category of the "European Powerboat of the Year 2023″ this model has already been successful worldwide for its design and livability.
Seeing it from the outside DB/43 OB already communicates something to us: sportiness, luxury and lots of excitement to be experienced. The open deck design offers a feeling of connection with the surroundings, unusual to find in such a powerful powerboat.
In the center of an airy cockpit Jeanneau DB/43 OB has a modular table with built-in drink holders, capable of seating up to 8 guests. As the backrest lowers, it transforms the living area into an immense aft sundeck, allowing guests to enjoy even the sunniest days in comfort.
To further open up the area, this model has two large fold-down terraces which greatly expand the area and create two convenient accesses to the water for guests. The galley, with a central island, is perfect for preparing meals with friends, and being super-equipped (sink, refrigerator, stove or grill) will allow cooking anything with family or friends.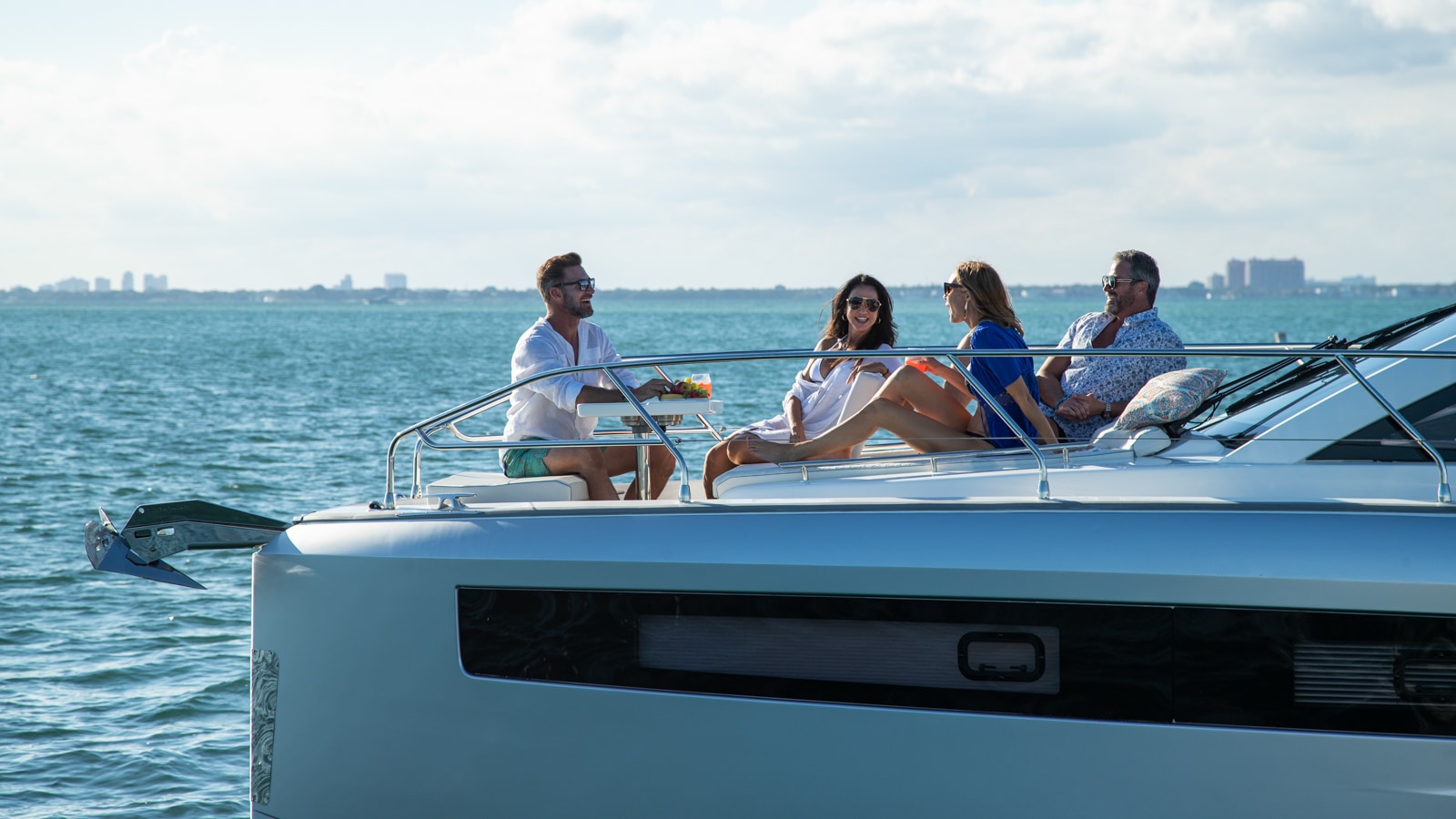 The large windshield, which abundantly covers the area and the helm station, positioned on the right, gives a sense of protection and safety, without obstructing the view, which remains unobstructed 360 degrees.
Three steps up lead to the bow, where a very large sundeck stands out on the deckhouse, which, if desired, can be transformed into a second comfortable living area simply by raising the cushions.
DB/43 OB: Interior
Descending below deck we immediately find the master cabin in front of us: large, bright and very airy. A large central bed with closet and a large mirror offer a touch of class and functionality, which is then the leitmotif that characterizes the whole boat.
The head, with separate toilet and shower, is embellished with elegant finishes and plenty of light, is accessible by a 45-degree door positioned on the right (in this configuration) is shared with the other VIP cabin, consisting of a large bed on the broadside and an opposing sofa.
On the port side broadside, just down the steps, there is also a fully equipped mini-galley that allows guests to prepare a quick meal without always having to go up on deck-which for me is very convenient indeed.
Technical Specs
| | |
| --- | --- |
| LOA | 13.94 m |
| Max Beam | 3.82 m |
| Draft | 0.94 m |
| Cabins | 2 |
| Berths | 5 |
| Designer | Garroni Design |
| Architect | Michael Peters |
| Engines | 3 X Mercury Verado 350 HP |
| Fresh Water | 250 l |
| Black Water | 45 l |
This article is also available in:

German

Portuguese (Brazil)