The new MAR-CO E-MOTION 36 marks – unequivocally and rightfully –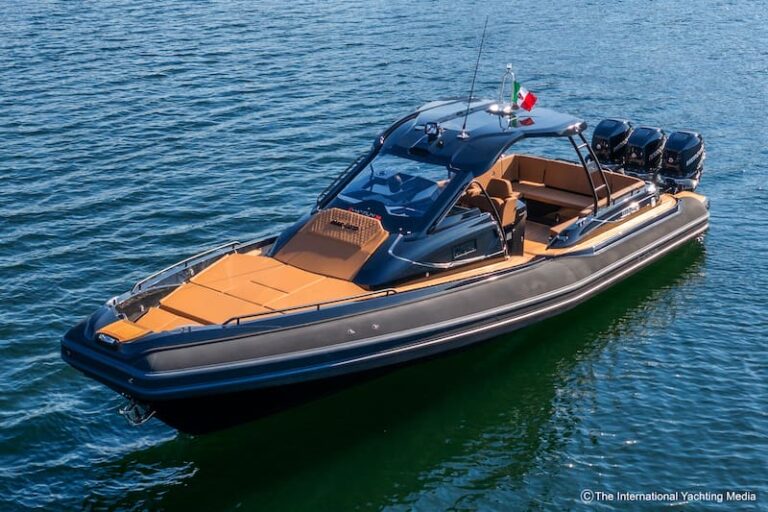 the entry of MAR.CO MARINE COSTRUZIONI into the segment of high-end cruising Maxi Ribs. In fact, these are boats that, exclusively custom-made, are built to meet any needs of their lucky owners, with definitively above-average construction standards.
The unit we're about to test today is certainly no exception. Featuring an all-black livery made with a double layer of gelcoat (first coat, firing, second coat, second firing), it shows, beyond reasonable doubt, how the shipyard's over 45 years of experience have been spent in the search of a quality that, beyond claims, is definitively tangible here.
It will be therefore easy for you to understand how eager we were to "put our hands" on this very special Maxi Rib which, for the occasion, was awaiting for you in the placid waters of Lake Garlate, traditional gate to the legendary Lecco arm of Lake Como.
About the MAR-CO E-MOTION 36
Climbing on board the new MAR-CO E-MOTION 36, one cannot help but immediately perceive her building quality. And this is not only for the chromatic combination that, let's face it, is drop-dead gorgeous but it is precisely because, whenever you look, you cannot find a single defect. The surfaces come together flawlessly, the essences are sophisticated and the components are all of the highest quality.
The gelcoat that covers the fiberglass layer – just to give you an example of the attention the shipyard devotes to construction – is double coated and fired after every single coat. The same goes for the T-Top which, another masterpiece of building technology, originates from the bow, winking at a clearly automotive-inspired design, and extends to the stern supported by two stainless steel matt black-painted poles, for which the adjective "beautiful" would be an understatement.
Even the dinette sofas, as well as the cockpit seating, denote an unparalleled attention to the detail. Made on a closed cell padding, they are covered with a high quality fabric that is quilted by hand. All the dinette benches have openable backrests which, in addition to increasing the stowage space available, house the carbon poles of the blackout fabric that allows to completely shade the cockpit, an accessory that reaffirms the elegance of this Maxi-Rib.
Not surprisingly, the cockpit houses an electric folding table, a solution Mar-Co introduced for the first time many years ago. This mechanism allows to raise the table which, in its intermediate position, extends the dinette sofa until it becomes another huge sundeck.
The stern platform is definitively oversized and hides, in a 10 mm teak surface, both a folding bathing ladder and the fluid boarding plugs that, here, find their "safest" location.
The cockpit of the MAR-CO E-MOTION 36 guarantees plenty of space for two people who can thus take advantage of a large navigation display and all space they need to store their electronic equipment. Particularly noteworthy is the control panel which, like almost the rest of the boat, is custom-made according to the owners' requests. Behind the cockpit, a wet bar is equipped with burners, sink and a 70L drawer refrigerator.
The port side gives access to the lower deck which hides (this is not perceivable from the outside) a definitively large-sized master suite. Below deck, a toilet with separate shower (an unprecedented solution for a RIB of this size) is on the starboard side while a wall system with furniture, cabinets and a shelf is on the port side.
This space accommodates the utility panel, a safe, a coffee machine and creates and additional storage compartment. Forward, a king-sized bed is surrounded by some storage niches and gets the bow still wide enough to accommodate, wisely concealed, a large compartment dedicated to travel bags (a touch of genius).
Also in this environment, quality reigns supreme; the feeling of luxury is perceivable everywhere. This MAR-CO E-MOTION 36 is really a boat for refined palates.
MAR-CO E-MOTION 36 Sea Trial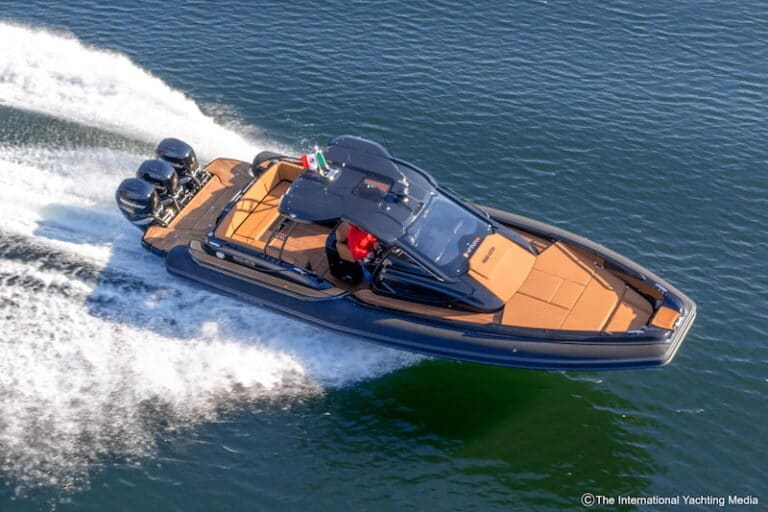 The livery of this MAR-CO E-MOTION 36 already speaks volumes about what we can expect today but, if it were still not clear enough, the three Mercury Verado 400 on the stern immediately dispel any residual doubts about the aims of this project.
The 1,200hp output of this infusion-made hull, which brings the overall dry displacement to just 3,200 kg, suggests definitively interesting performance, for which Mar-Co has even made a custom bracket, specially designed to optimize the balance of these waterlines.
We leave the berth with a few simple touches on the Mercury Joystick Piloting system and enter the forward gear. While idling, the Maxi Rib goes at almost 5 knots without any signs of roll. The 3.60 meter width gives the boat an excellent shape stability. Marco Zamuner puts the throttles in lever 1 and starts to accelerate slowly.
The MAR-CO E-MOTION 36 gets up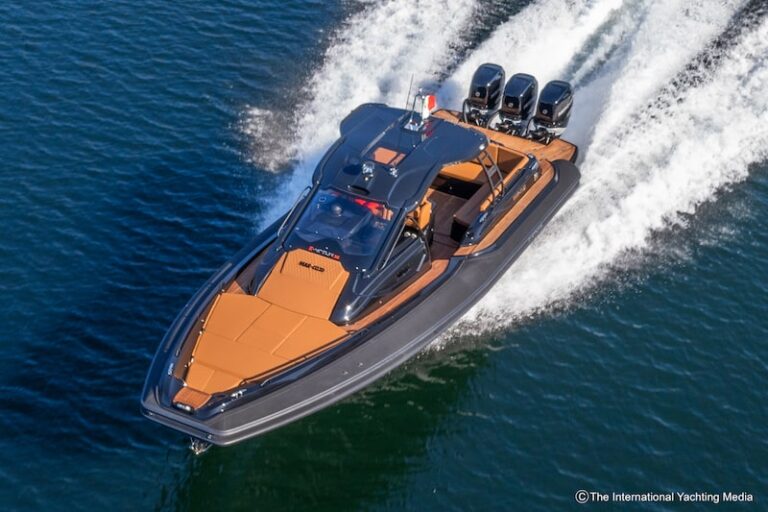 on plane almost immediately, just after 2,000 rpm and without raising the bow, an irrefutable sign of an excellent trim. By progressively putting the throttles forward, the boat reaches 3,500 rpm and, at little less than 30 knots, we travel in an almost total comfort with a consumption of just a little more than 3 l/nm, a performance which would allow us to sail from La Specia to Capraia in around 2 hours with a decidedly negligible consumption …
We continue to measure the performance by increasing the revs to 500 at a time while the GPS marks increasingly important speeds and while I am more and more amazed by the fact that it can continue to write safely on my notebook without smudging. At 5,000 rpm, the speed reaches 45 knots and it seems to be stationary, I accelerate again and we go over 50 knots; then, at 6,500 rpm, we find a maximum of 56.8 knots which, incredibly, I still manage to write down without problems.
Once my annotation tasks are completed, I can finally take the helm. I sit down and instinctively find a perfect position, with my feet on the footrest, the back resting on the backrest and perfect forward visibility. It is clear that this boat is made by true seafarers.
Wearing the turn-off device, I warn the crew to hold on and I put the throttles all ahead. The MAR-CO E-MOTION 36 takes off like a rocket and crushes me on the seat, the acceleration is impressive, the log seems to get crazy. In less than 20 seconds, we are back at maximum speed and, this time with the steering wheel in my hand, I feel an absurd feeling of stability and safety. This Maxi Rib sails with an extraordinary trim.
Still incredulous, I start a wide turn at maximum speed that the boat performs flawlessly. Then, I slow down around 36-37 knots and try a tighter turn. This time, the G force begins to be felt but the boat does not move, it shows no sign of widening while I, wrapped in my driving seat, enjoy the spectacle of a perfect circle made at this speed.
The adrenaline rises and drives me to dare even more. At 30 knots, I turn tight and take the E-MOTION 36 in an absurd turning radius. They will not be more than 20 meters in diameter and, here, I make two or three complete laps. I accelerate to put the dinghy in trouble but it remains indifferent, it seems to be on the tracks, with no signs of drifting.
I suddenly counter-tun before the amused eyes of the crew that, just like me, is enjoying this extreme turning session with the same same level of apprehension that one would experience walking along a seafront. The feeling of safety that this boat conveys is second only to the level of fun it allows. It's a simply crazy RIB!
Conclusions
The MAR-CO E-MOTION 36 is not a Maxi Rib for everyone. To appreciate it, you should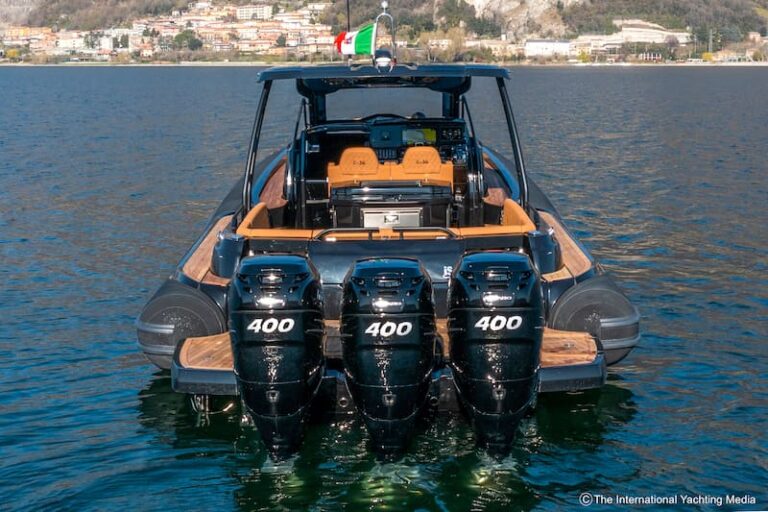 fully understand how different it is from other models which, I mean no offence to them, are light years away from this level of building perfection and from this concept of absolute quality that permeates every single part of the boat.
Of course, due to its hull features, this Maxi Rib is also very easy-to-steer and thus suitable for family cruising (or cruising with friends). However, buying it without recognizing its real features, it would be like buying an AMG and then use it to go shopping…
There is much more in this MAR-CO E-MOTION 36. Much, much more.
Performance detected
| | | | |
| --- | --- | --- | --- |
| Rpm | Knots | l/h | l/nm |
| 600 | 4.5 | 7.1 |             1.58 |
| 1,000 | 6.8 | 15.5 |             2.28 |
| 1,500 | 8.6 | 23.5 |             2.73 |
| 2,000 | 10.7 | 34.8 |             3.25 |
| 2,500 | 16.1 | 52.3 |             3.25 |
| 3,000 | 23.2 | 73.9 |             3.19 |
| 3,500 | 29.4 | 93.9 |             3.19 |
| 4,000 | 34.7 | 120 |             3.46 |
| 4,500 | 37.9 | 143 |             3.77 |
| 5,000 | 44.7 | 204 |             4.56 |
| 5,500 | 48.4 | 302 |             6.24 |
| 6,000 | 52.4 | 368 |             7.02 |
| 6,500 | 56.8 | 416 |             7.32 |
| | | | |
| Min Planing Speed | 11.8 | | |
| | |
| --- | --- |
| Acceleration |     Time in seconds |
| 0-20 Knots | 4.1 |
| 0-30 Knots | 5.6 |
| 0-40 Knots | 9.8 |
| 0-50 Knots | 14.4 |
| 0-Max Speed | 17.9 |
Technical Specs
| | |
| --- | --- |
| Max Length | 10.70 m |
| Homologation length | 9.98 m |
| Internal Length | 9.49 m |
| Max Beam | 3.60 m |
| Tube Diameter | 50-64 cm |
| Chambers | 7 |
| Shaft length | 2 XXL + 1 XL engine |
| Dry Weight (Infusion System) | 3,200 kg |
| Max Persons | 16 |
| Fuel Tank Capacity | 830 l |
| Water Tank Capacity | 277 l |
| Max Power | 1,200 HP |
| Design Category | EC – B |