Naumatec E-tender 460 : Sea Trial at Venice Boat Show

What about opting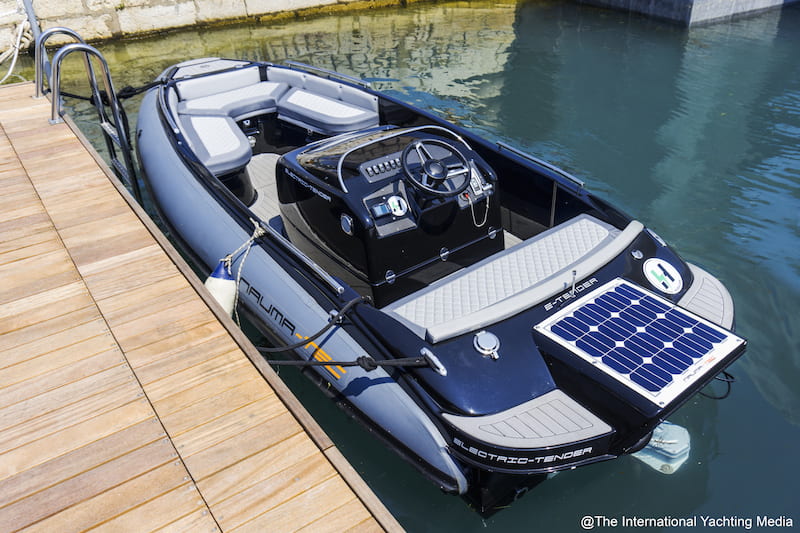 for an electrically-powered tender today? This is a question boat owners are starting to ask themselves, which suggests how this technology is perceived as mature and is quickly making inroads.
At Venice Boat Show, we decided to test the Naumatec E-tender 460, a luxury tender offered in an electrically-powered version. We found out that, in addition to the clear advantages related to the green aspect of this technology, such as the possibility to have access to protected marine areas where it is forbidden to sail with a traditional thermal engine, this boat offers many other positive implications.
The Naumatec E-Tender 460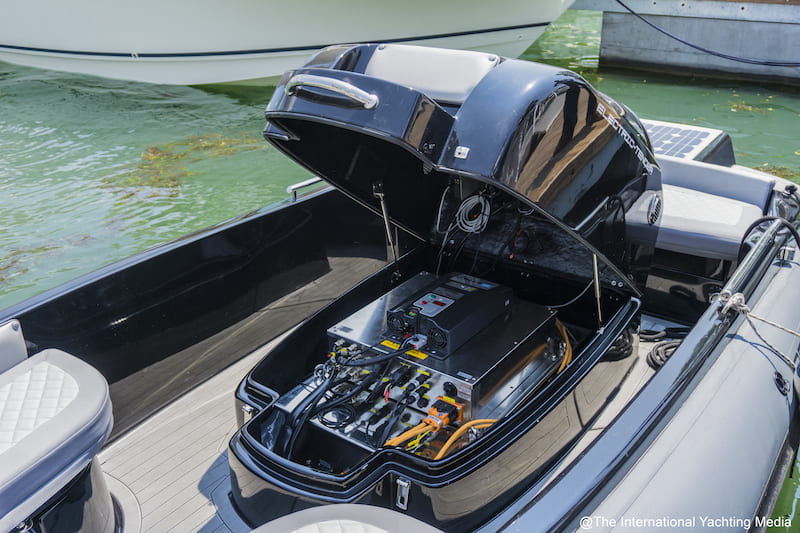 The Naumatec E-Tender is a luxury tender with central steering console. She is fitted with a teak deck, high-quality finishes and sophisticated design. She can accommodate two passengers behind the console and four guests in the fore deck, divided between the horsehoe-shaped seat and the one next to the central structure.
As for the distribution of spaces, we immediately notice a first advantage that emphasizes the link between electric propulsion and luxury tenders: the outboard engine. On this tender, electric propulsion makes things easier, encumbrance is minimal because, unlike a petrol engine, it does not require any combustion chamber or transmission system.
The Huracan 30 kw engine of the E-Tender, in fact, is small-sized and positioned directly in the lower unit of the motor.
This solution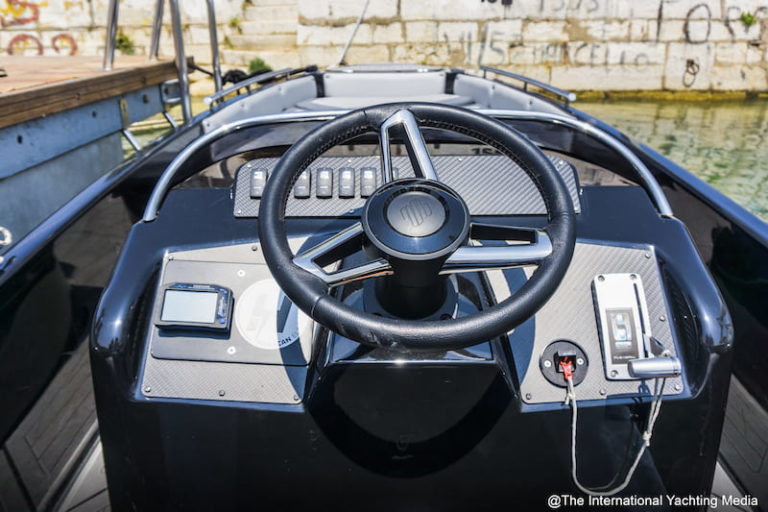 results into many advantages. First of all, the engine is completely hidden and does not require any special compartment, which contributes to keep boat lines clean and free space in the aft locker. Moreover, the small size of the motor doesn't encumber the aft section of the tender.
Another aspect not to be underestimated is that, when embarking this tender, no combustible material, such as petrol, is taken on board boats that are generally diesel-propelled.
The engine battery (from 13.8 Kw to 230 V) has a lifetime of 3,000 charges and is positioned under the steering console. It benefits from two charging systems: a single-phase 3 Kw one and a three-phase 13 Kw one. This means that the battery can be charged even in little more than an hour.
Sea Trial
We test the Naumatec E-Tender during the Venice Boat Show in a public test day for which the boat has been deliberately limited by the manufactured with an ad hoc engine mapping. The reasons for this choice are to be found in the strict speed limits in the lagoon and the need to get the hang of a propulsion that delivers instant power without making noise.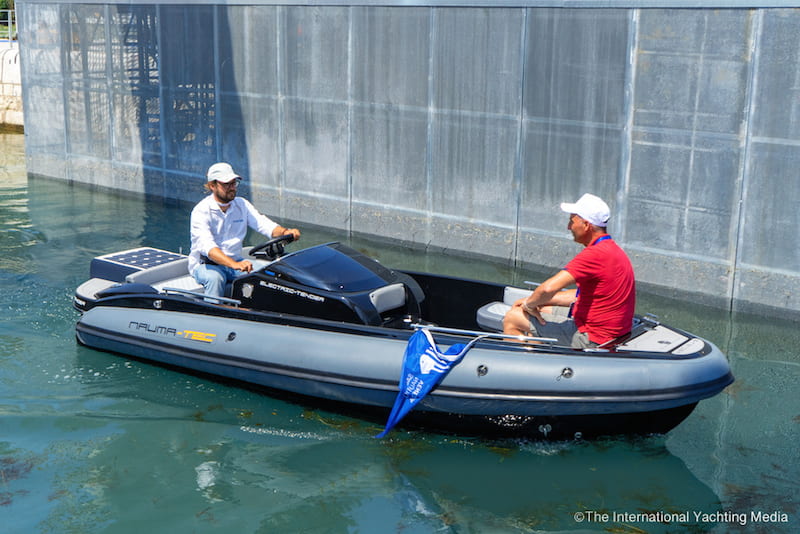 However, what we need to test today is not the top speed – 22 knots, according to the manufacturer – but the maneuverability, noise and fluidity of the propulsion system as well as comfort on board.
Accustomed to many sea trials with conventional motors, the first thing I try to do as soon as I climb on board is to start the engine. But the engine is already ON and is making no noise. Always in absolute silence, I maneuver in a limited space easily, I turn 180 degrees and go out of the channel.
The accelerator level is fluid and power, although limited in this case, is progressive. I have to get used to the sensation of acceleration in total silence, the only noise I hear is produced by a progressive increasing speed of the propeller that, in this case, is a four-bladed 14-inch one.
We sail until we reach a top speed of about 6.5 knots, as imposed by this special version and this navigation area. I realize that the fuel consumption marked by the instrument at this speed is equal to 2.5 kw/h. At this speed, however, we can go on sailing without charging batteries for 5.5 hours.
I'm sailing with another passenger on board, Franco Moro of Huracan. While he explains that, if we sailed at full power, consumption would be equal to 35 kw/h, I realize that we don't need to raise our voice to talk to each other.
Thanks to the central arrangement of weights and the stability of the boat, comfort is excellent even if the annoying waves of the lagoon are hitting us from every direction.
Under these harsh navigation conditions, the Naumatec E-Tender is always stable and dry, which is very important for a tender like this.
Conclusions
After having tested the Naumatec E-tender, we have understood that, today, an electrically-powered tender is a good, if not a better alternative.
Sure, this is not true for everyone since the costs of this technology are still high. Maybe for this reason, this boat could be a must have for all those who have a luxury boat and want to stand out with a desired, innovative and green object.