When the SACS Rebel 47 was launched in 2016, everyone tried to put a label on it as a superyacht tender, a walk-around maxi-RIB, a runabout, an open sport hybrid, a crossover, and so on. Seven years later, the latest iteration of the design which was on display at the 2023 Fort Lauderdale International Boat Show, still defies simplistic classification. In fact, the newest Rebel 47 by Sacs Marine can be any of the above but perhaps most importantly, it's a stand-alone primary yacht which will steal the show anywhere she ventures.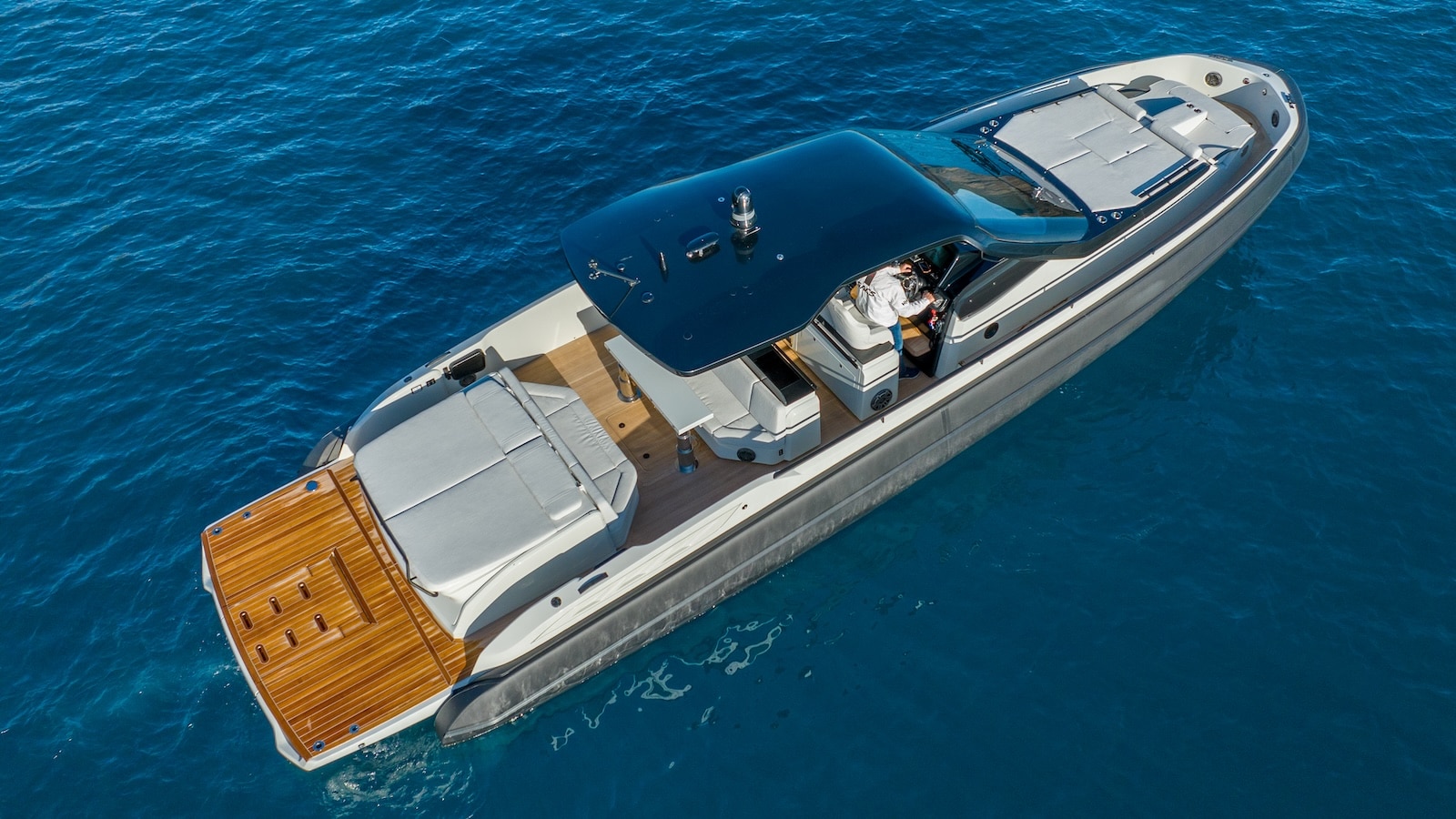 SACS Rebel 47: Sensuous Transformation
The original Rebel was designed by Christian Grande so who better to take on the refresh? There's much that's familiar about the new model but two elements immediately stand out as differentiators. First are the anti-shock tubes, which are made of closed cell foam, sheathed in a watertight plastic, and then covered with durable Hypalon. These have been slimmed down and better integrated into the GRP hull and gunnels giving the boat a narrower beam as well as a more slender and elegant profile.
My eye immediately landed on the second major change and that's the hardtop which used to have twin inner stainless steel supports and an opening soft sunroof. The new Rebel sports a solid carbon fiber top with a single central support jutting up amidships. It's reminiscent of a whale tail surfacing from the ocean as it gracefully supports the one-piece top which swoops back from the curved windshield. Ours was a glossy black color that invited a lingering inspection.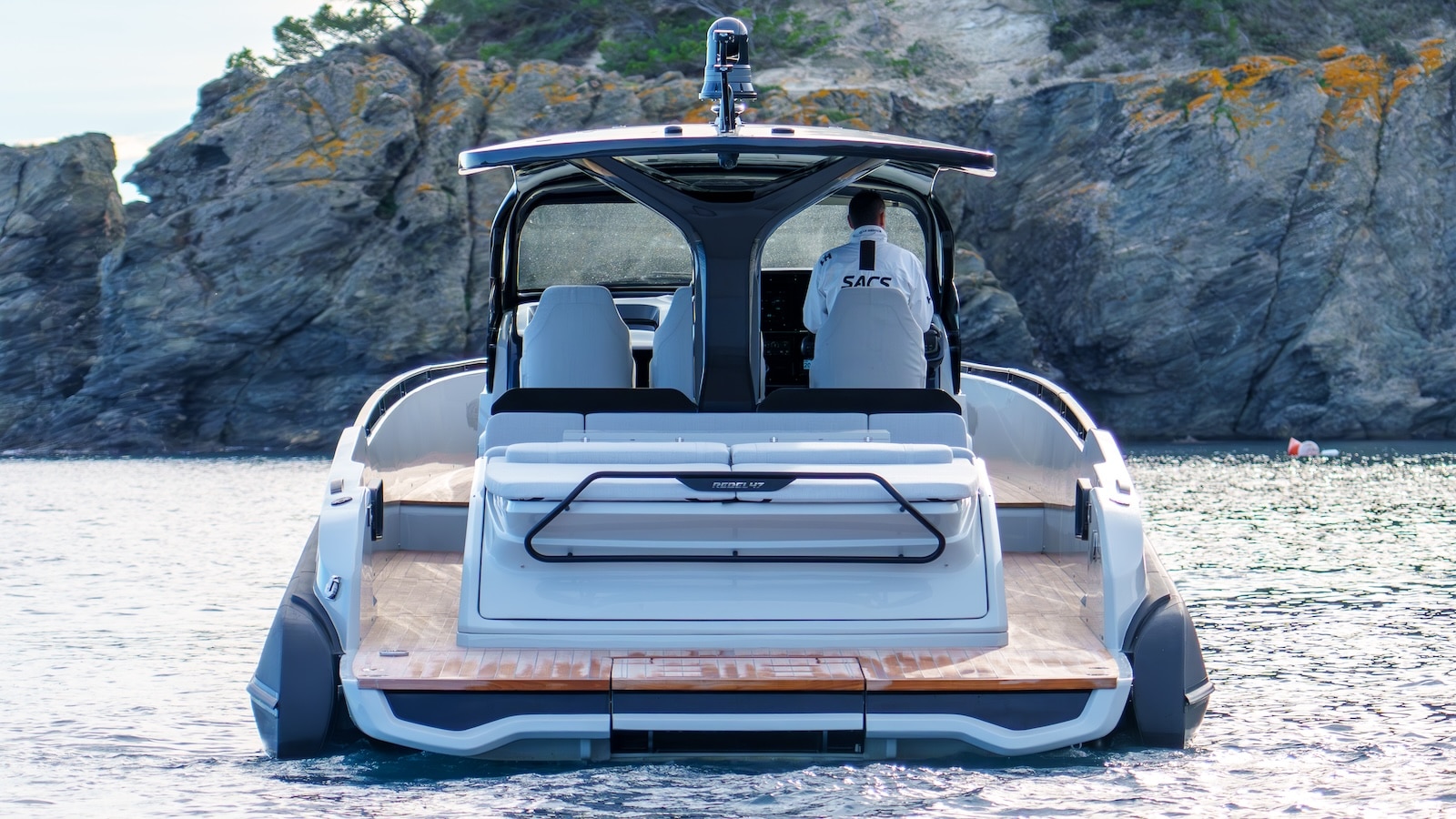 Single Level Living
When I pried my eyes off the above piece of art, I found myself at the helm. Triple seats are snugged up near the console with the helm all the way to starboard. Here you'll also find the throttles and joystick, twin 16-inch Garmin MFDs, and an array of gauges and switches. Digital switching isn't offered which eliminates a level of technical complexity.
Behind the front row of seating is a galley module with a Kenyon electric grill or cooktop, two Vitrifrigo refrigerators and a wet bar with a sink. Just aft is a dinette with facing benches flanking a hi-lo folding table that can be made into a sunbed. The cockpit sole raises electrically here to reveal a generator and an optional Seakeeper gyrostabilizer.
Aft is an exceptionally wide sunbed with a toy garage below where to keep the SeaBobs, dive gear, extra line, fenders and so forth. You can access the platform form either side since this is a full walk-around design. The thing to notice is that from bow to stern, there's only one small level change along the whole deck and that's not only easier to travers, it's also safer for kids, pets and anyone challenged by balance.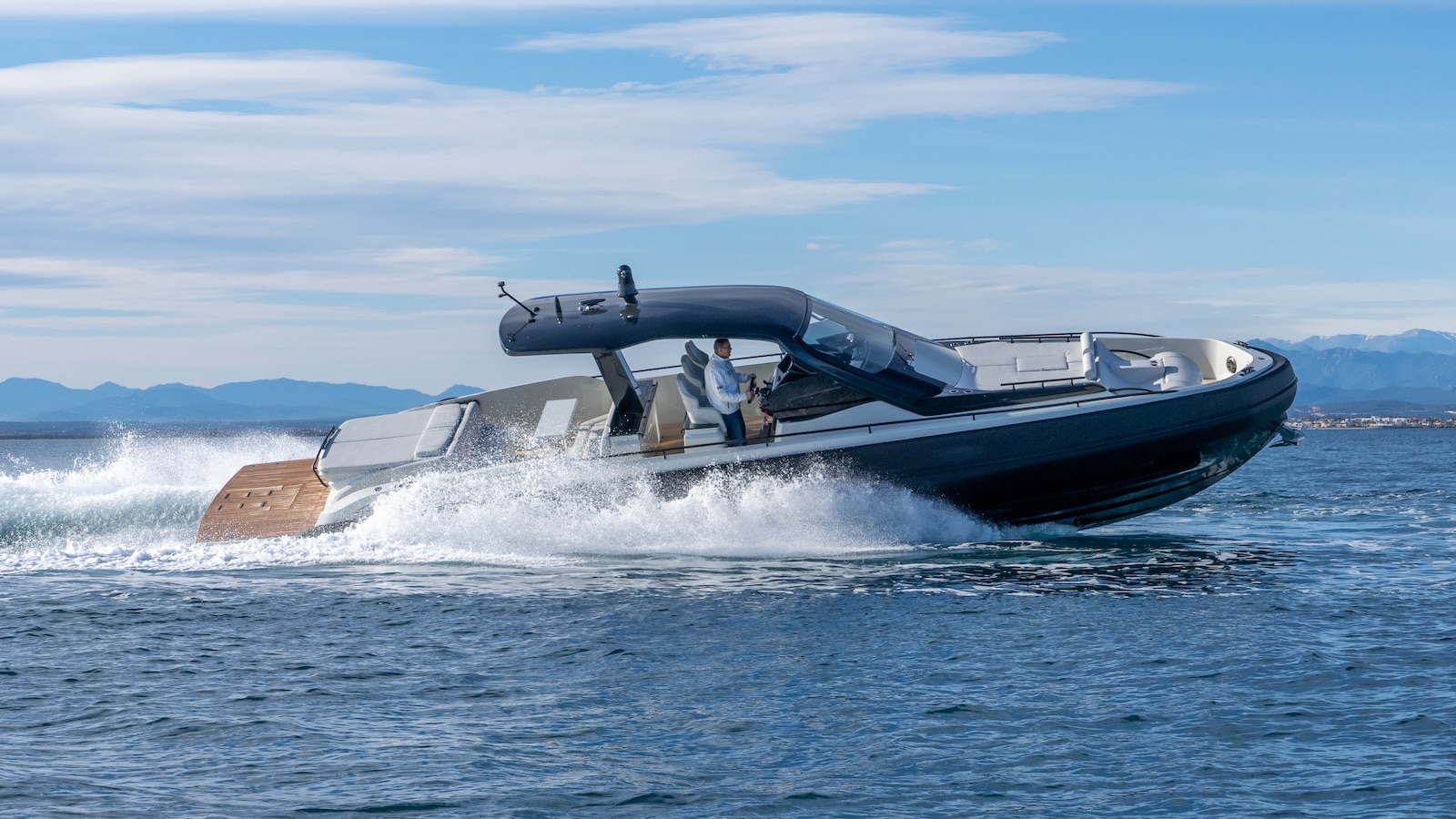 Standout Features Fore and Aft
The SACS Rebel 47 bow is massive and has two distinct relaxation spaces. First, is the broad sunbed that's large enough for three sunworshippers. Second and just ahead, are twin swoopy side-by-side chaise longues separated by a soft divider with integrated cupholders. These S-shaped loungers are sure to become a coveted place where to relax, stargaze, or tuck into a good book.
Aft is a hydraulic platform that's worth the price of admission. The deck here is wide and uninterrupted until an electrically activated central section levitates up and back. Three steps emerge and depending on where you stop, the platform becomes either a type of passarelle for boarding from the dock, or it continues out and lowers down below the waterline.
This platform is an ideal place to don your dive or snorkel gear, or to play with small kids. For older knees, the platform eliminates the need to climb an often treacherous ladder up from the water. Just swim up, sit on the submerged platform, rise a bit, and then use the stairs to walk up gently. This little bit of heaven is not only practical, it's also the first element that your guests interact with when they come aboard and it's bound to start a conversation.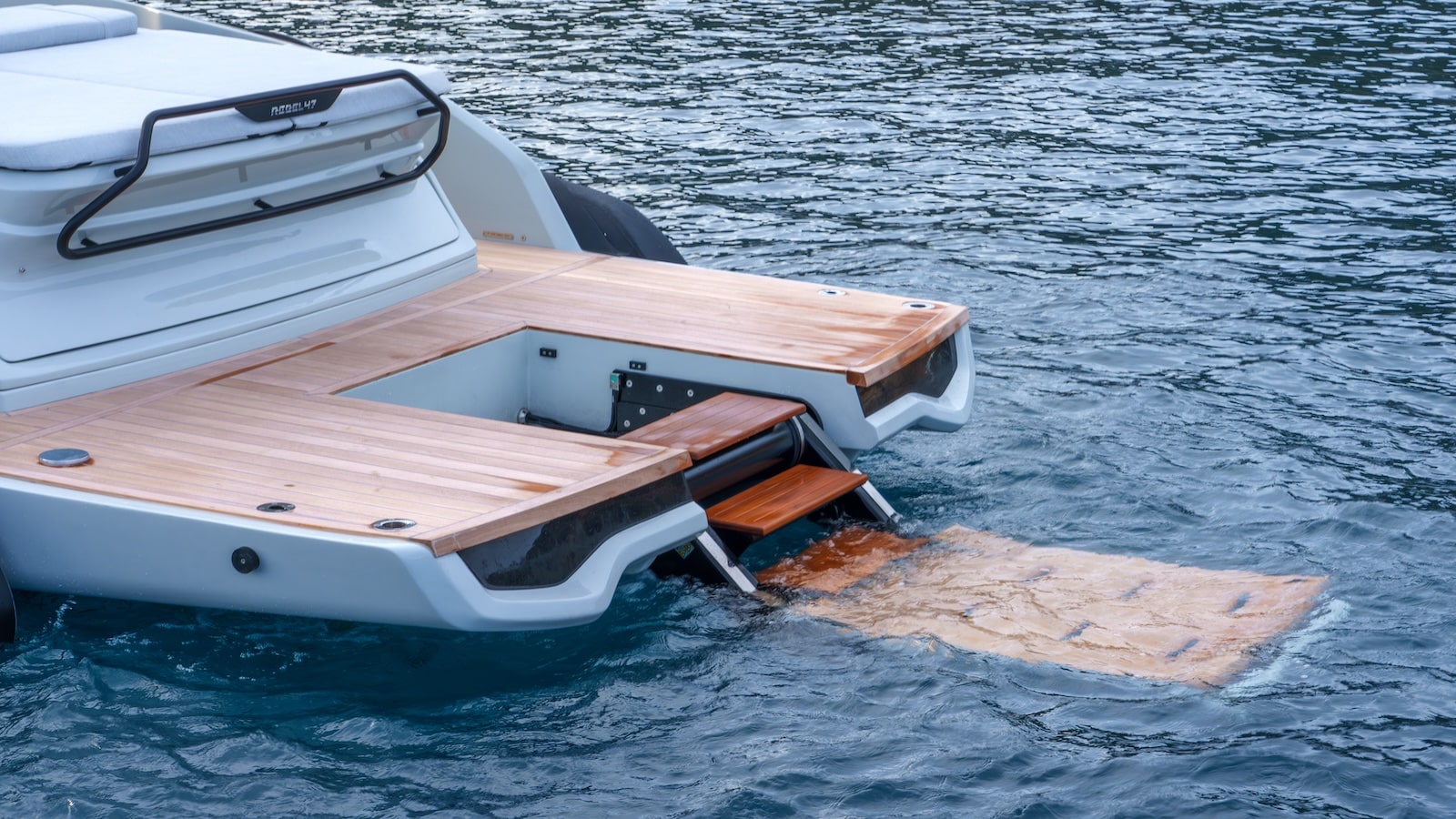 SACS Rebel 47 Propulsion Options
The SACS Rebel 47 is available with one of two propulsion packages. First are twin or triple outboards, including the latest V12 Mercury 600-hp models. Our boat was equipped with twin Volvo Penta D6 440-hp inboards with stern drives. There are a few pros and cons to each choice. The outboards provide more stowage space in the boat, are easier to repower down the line, and can reach 50 knots at wide-open-throttle. The inboards on the other hand are quieter and have a 38-knot top speed so they're more economical. The cruising speeds of both choices differ by only a few knots (both in the 26-32-knot range).
I've found very few conditions which make 50 knots comfortable, much less practical. Although Americans love their outboards and stern drives are rare on US shores, the inboards provide a range which is 100 nautical miles greater than the outboards (390 nm vs 280 nm). However, the strongest argument for the inboards is the ability to spec that fantastic swim platform. Ordering the Rebel without this phenomenal feature would be a shame – no, more like a crime.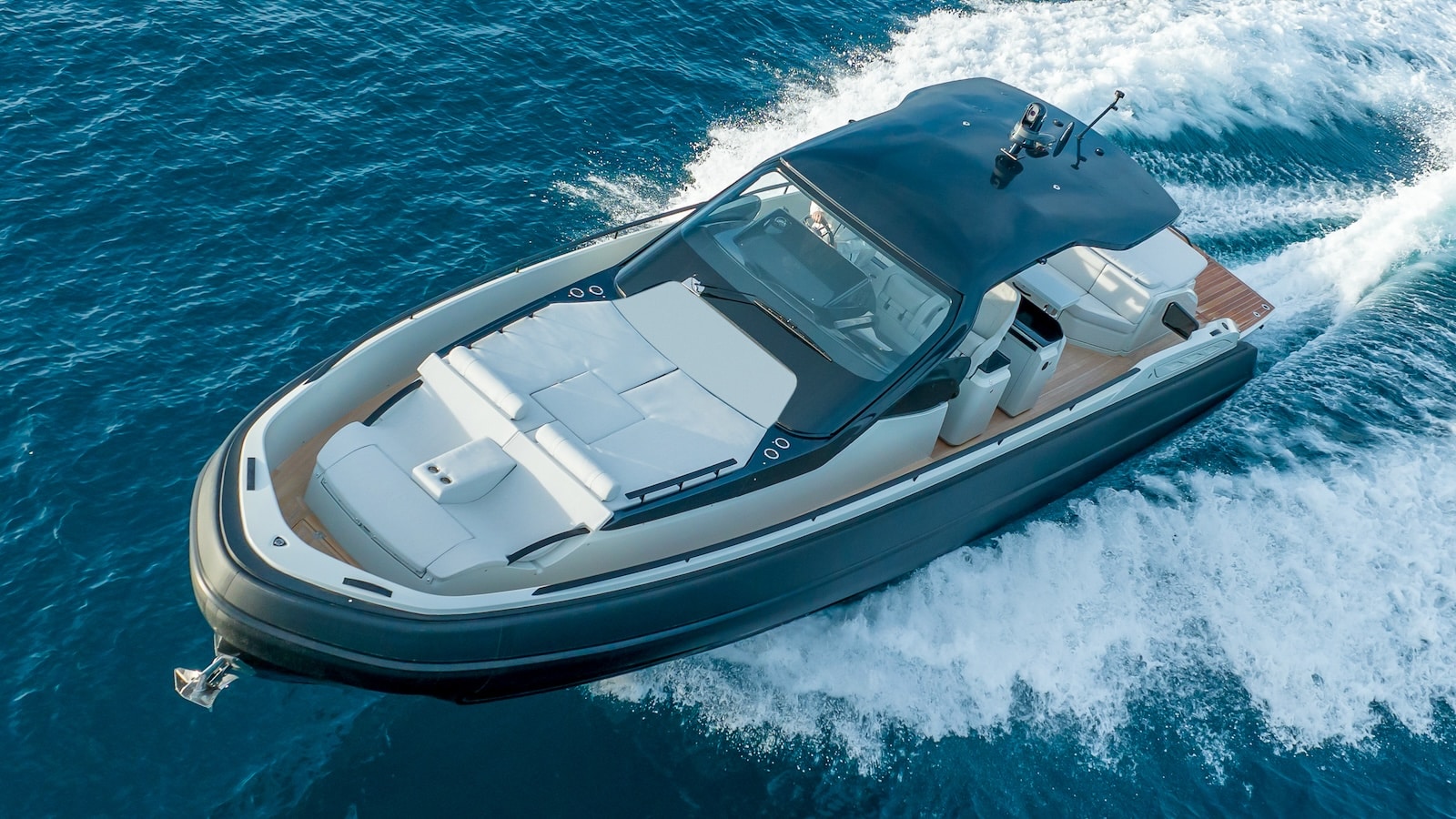 Accommodations
The SACS Rebel 47 can be cruised fairly extensively – out to the Bahamas, around the Great Lakes, up and down the Chesapeake, or over to Santa Catalina Island on the West Coast. What makes this possible are the interior accommodations that include two cabins and a full head below.
The master berth is in the bow with a queen-sized bed, his and hers reading lights, an overhead hatch, and plenty of storage options. Aft is a double berth under the cockpit. It's roomy but low and can accommodate guests in a pinch or hold provisions, extra clothes, and just about anything you'd need on a weeklong cruise. An enclosed head in the middle has standup headroom and a shower.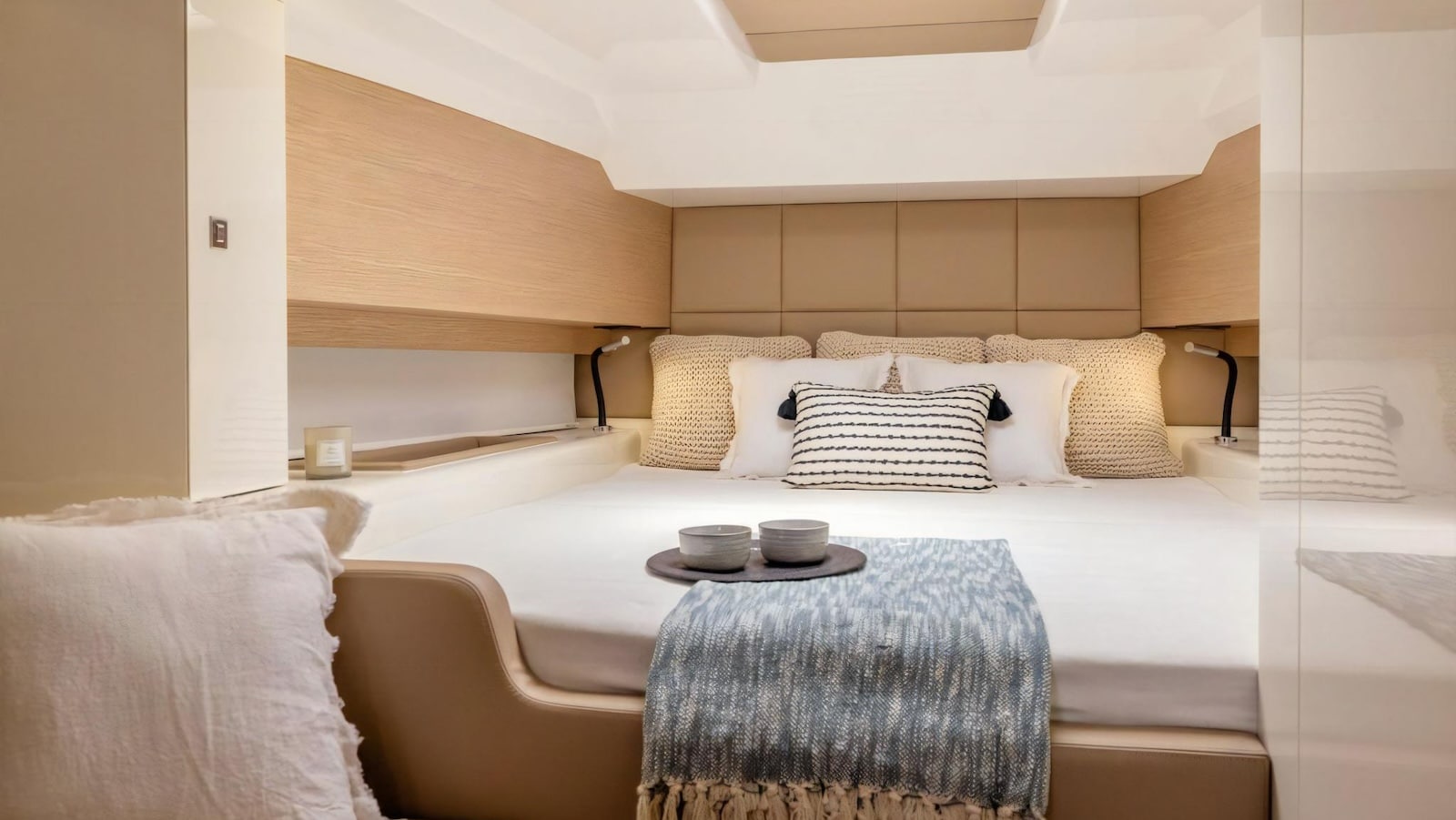 SACS Rebel, An Evolving Line
The Sacs Rebel range now includes four models, 40-55 feet. Each of these luxurious yachts can wear many hats but they're all drivers of the trend toward RIBs, especially maxi-RIBs, becoming enticing and realistic options as primary boats. A fully loaded Rebel 47 comes in around $1.6 million.
With its soft ride and oodles of power, the elegant SACS Rebel 47 can entertain 18, dine six, sleep four, and cruise with two. It's just about the most perfect party, cruising, sports platform out there and it doesn't hurt that you and 17 of your closest friends will draw looks of admiration anywhere you choose to take her.
Specs for SACS Rebel 47
| | | |
| --- | --- | --- |
| TECHNICAL SPECIFICATIONS | OUTBOARD | INBOARD |
| LOA | 14,50 M 47'7 | 14,06 M 46′ 2 |
| BEAM | 4,03 M 13'3 | 4,03 M 13'3 |
| DRAFT | 0,70 M (1,00 M) 2'4 (3'3) | 0,70 M (1,00 M) 2'4 (3'3) |
| TUBES | D SHAPE (FOAM FILLED ANTISCHOCK) | D SHAPE (FOAM FILLED ANTISCHOCK) |
| HULL | V HULL | V HULL |
| DEAD RISE | 19,2° | 19,2° |
| WEIGHT | 11,5 T | 12,0 T |
| FUEL | 2500 L –  660 GAL | 1500 L – 396 GAL |
| WATER | 220 L – 58 GAL | 220 L – 58 GAL |
| WASTE | 52 L – 14 GAL | 52 L – 14 GAL |
| CATEGORY | CE – B | CE – B |
| PERSONS CAPACITY | 18 | 18 |
| BEDS | 4 | 4 |
| MAX POWER | 1324 KW – 1,800 HP | 648 KW – 880 HP |
| TRANSMISSION | OUTBOARDS | STERN DRIVE |
| MAX SPEED | 50 KN | 38 KN |
| CRUISING SPEED | 28 – 32 KN | 26 – 30 KN |
| CONSUPTION AT CRUISING SPEED | 150 L/H (28 KN) 40 GAL/H | 100 L/H (26 KN) 26 GAL/H |
| RANGE AT CRUISING SPEED | 280 NM | 390 NM |