Not only beautiful, Scanner Envy 1200 TT Inboard is also high-performance, adrenaline-pumping, and incredibly stable.
While at first the most striking thing is her clean and sporty design, once on board, you will be surprised to find that this maxi-rib is also very spacious and capable of great performance, enough to leave you speechless…
Scanner Envy 1200 TT Inboard Sea Trial
Today at Lake Maggiore, our test location, is a beautiful day…particularly cold for being early April, but pleasantly sunny.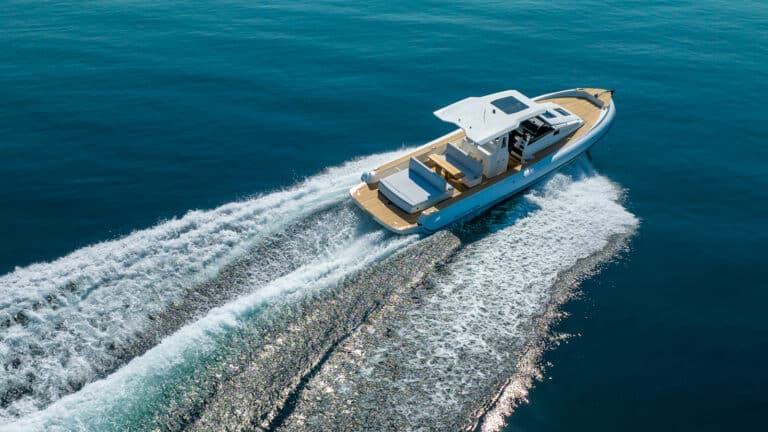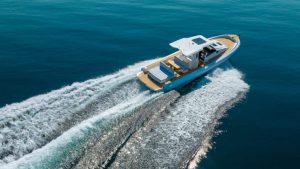 We climb aboard the Scanner Envy 1200 T-Top Inboard and one thing immediately jumps out at us: the teak-covered railheads extend all the way to the stern covering the entire tubular (at the customer's request) with the result being exceptional. This small customization makes, if possible, Scanner Envy 1200 even more elegant and reminiscent of the deck plan of old-fashioned speedboats…I must say a beautiful plus in my opinion.
As soon as we are out of the harbor, already at a few knots some cold air starts to rise, but the sun is on our side, so, we do not despair too much. The sensations are clear: from low speeds Scanner Envy 1200 TT Inboard proves to be stable, silent and incredibly smooth.
The T-Top of this version creates a shaded area that will surely be greatly appreciated in the summertime, where guests can find shelter on scorching days.
As soon as I take the helm I speed up and the responsiveness of this rib strikes me, the knots go up dramatically but the smoothness remains the same…unbelievable!
I speed up more and more and in a moment we are cruising at 45 knots, the sensations are very positive: Scanner Envy 1200 TT Inboard remains stable and safe even at this speed.
I bring back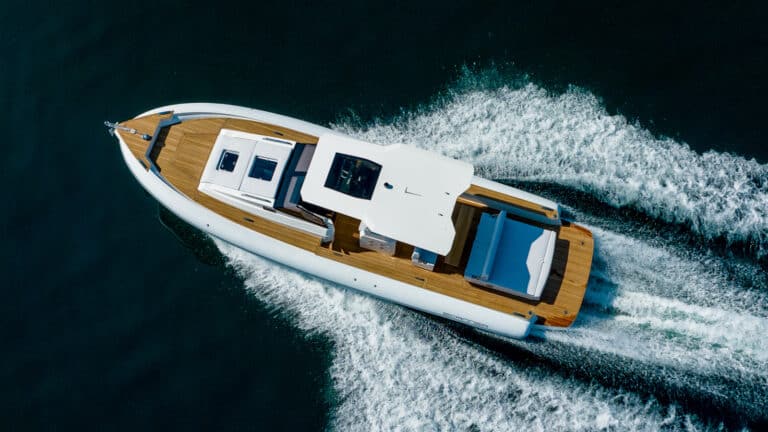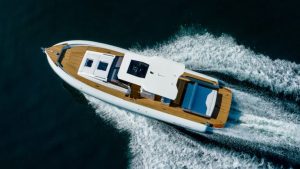 the throttles on the two Volvo Penta V8 430HP engines and at 27 knots I perform some turns, first wide and then very tight to test the stability of this rib to the limit, but once again, it does not get caught unprepared and passes all the tests with flying colors.
I also crossed the waves in our 45-degree wake and the behavior of Scanner Envy 1200 TT Inboard was exemplary, she proved to be smooth and sharp even in slicing through the waves.
Navigation with Scanner Envy 1200 TT Inboard amazed me: I can say fearlessly that she glides over water so smoothly that she reminds me of silk, and at the same time, she is so precise and safe in navigation that she seems to be gliding on rails, even under stressful conditions.
Really SUPER!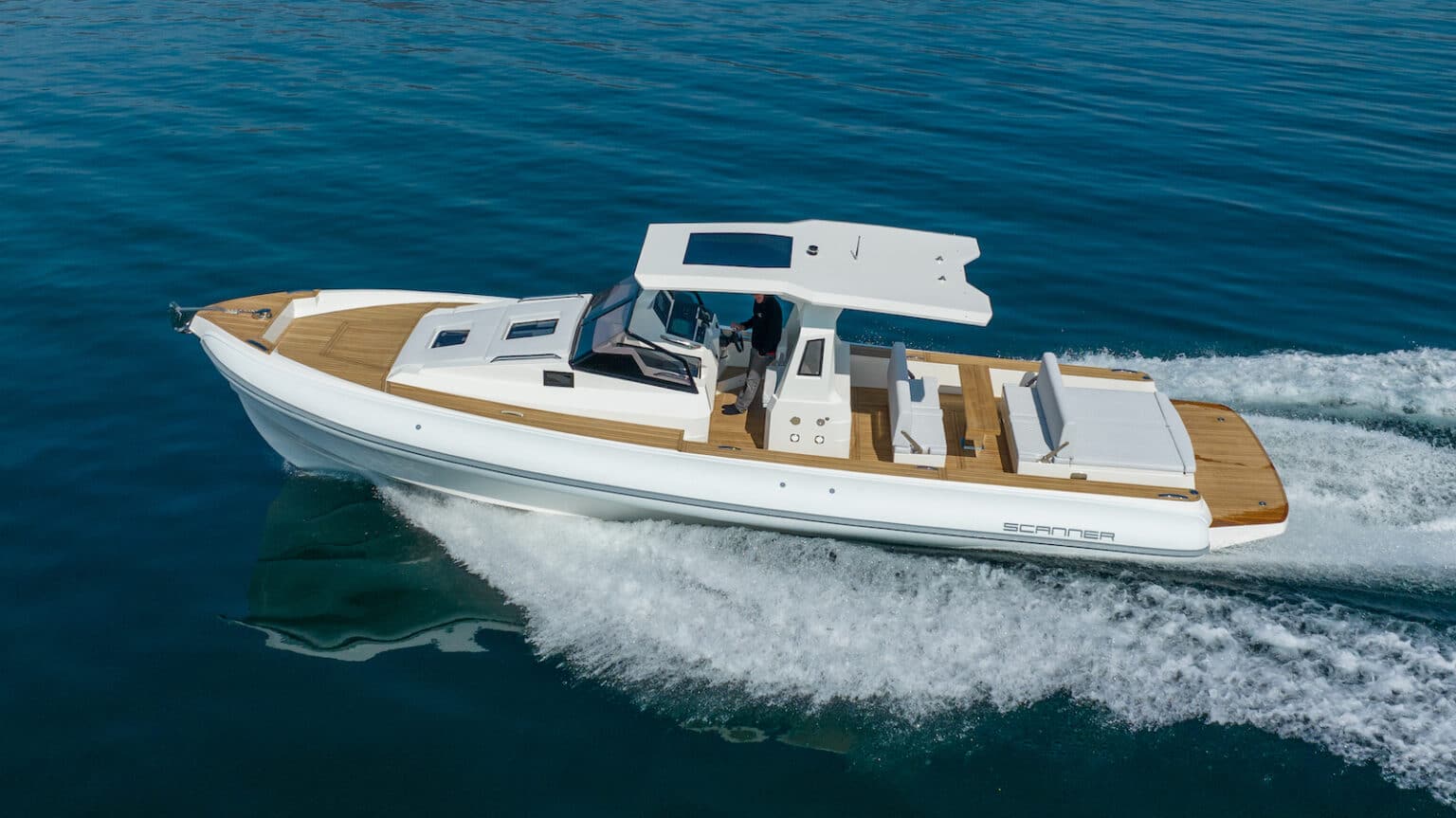 | | | |
| --- | --- | --- |
| RPM | Speed in kn | L/h |
| 660 (min) | 3.53 | 7.9 |
| 1000 | 5.46 | 12 |
| 1500 | 7.57 | 17 |
| 2000 | 9.44 | 28 |
| 2500 | 13.8 | 44 |
| 3000 | 18.4 | 59 |
| 3500 | 23.3 | 77 |
| 4000 | 27.7 | 95 |
| 4500 | 32.9 | 121 |
| 5000 | 37.7 | 156 |
| 5500 | 41.9 | 214 |
| 6000 | 45.4 | 243 |
The Scanner Envy 1200 TT Inboard in detail
Exterior
The hull design speaks for itself, and as I have already mentioned, it is really beautiful. The curvy lines of the tubulars meet the edges of the T- Top, which covers the helm station, but everything remains aerodynamic and very eye-catching.
The deck, however, is also striking: a large aft platform welcomes you aboard and lends itself to giving easy access to the water for all guests. Moving forward to the bow we find a huge sunbed cushion where two people can lie comfortably. The headrest cushion of the sundeck folds down and becomes the backrest of the center table, with opposing seats.
Toward the bow, the galley cabinet on one side features the burners, sink and refrigerator, while the other houses two comfortable pilot seats in front of the helm station and dashboard.
Via two steps, the side-decks emerge in height, combining the convenience of the walkaround with the pointed deckhouse, which gives more interior space. In fact, on the coachroof, a large forward sunbathing area takes its place under the windshield.
Interior
A ladder to the left of the helm station gives access to the interior spaces, which are far from what we might expect on a 12-meter maxi-rib.
Just down, a broadside settee takes its place on the left, the large bathroom opens to the right, with even a shower separate from the toilet.
The entire bow houses a large king-size bed, with storage lockers and courtesy lights, making the guests' nighttime experience extraordinarily comfortable.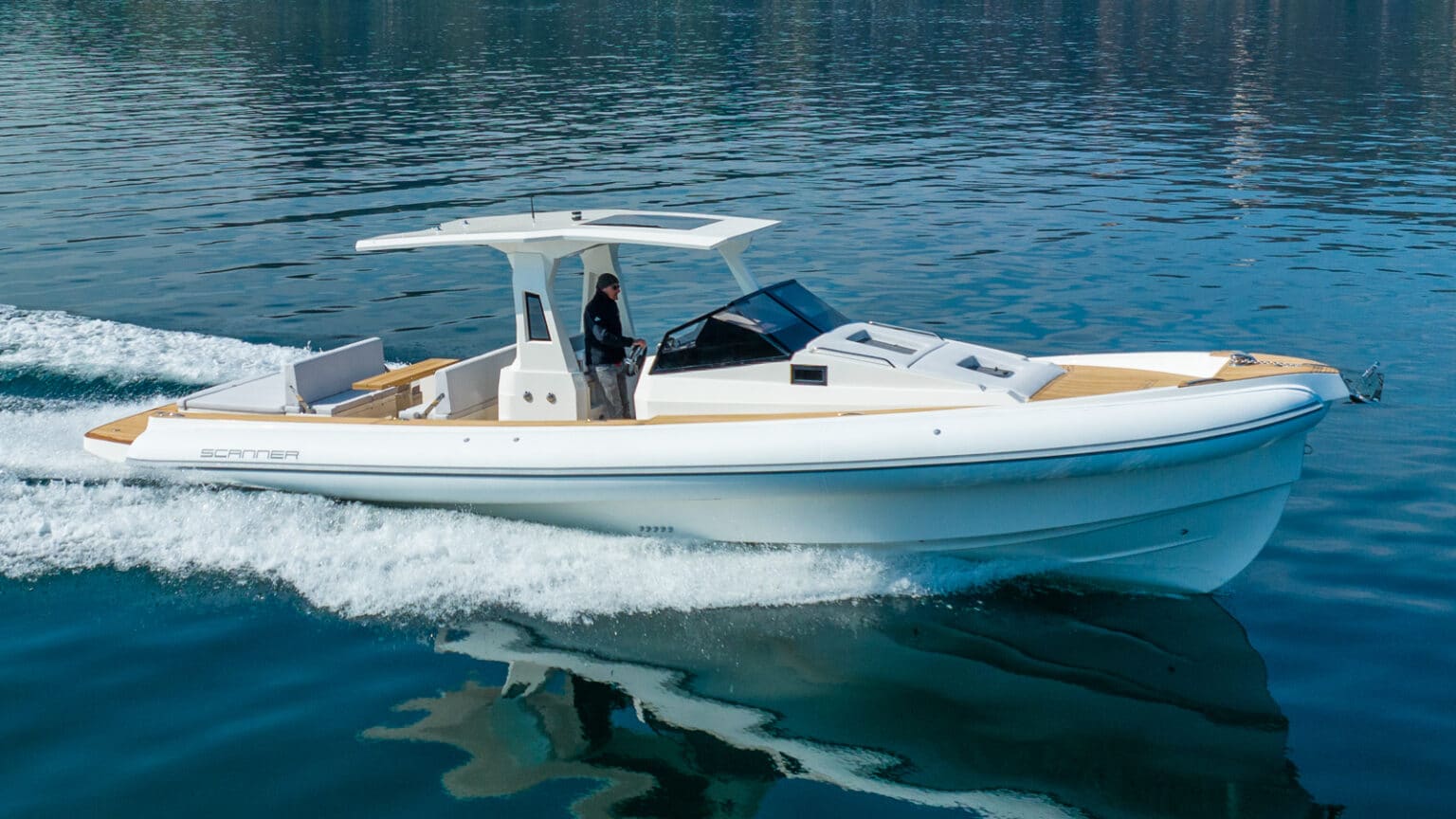 Conclusions
That Scanner 1200 TT Inboard is a real gem I think you have guessed, what I haven't told you yet is that the finishes on this maxi-rib are of the highest quality, rare to find on boats of this size.
Everything is studied, cared for and optimized to be just perfect, useful and beautiful. And the result of this modus operandi speaks for itself….
Scanner Envy 1200 TT Inboard is what an owner eager to have a high-performance, high-quality, attractively designed boat is looking for. This maxi-rib is capable of delivering adrenaline-fueled performance, stability and safety under way, comfort and luxury on board, and…a design that never gets tired of being looked at.

Technical Specs
| | |
| --- | --- |
| LOA | 12.00 m |
| Max Beam | 3.80 m |
| Passengers Capacity | 18 |
| Tubular Diameter | 60-65 cm |
| Max Power | 1200 HP |
| Design & Project | D.Montemitro Design |
| CE category | B |
| Tubular Material | Hypalon neoprene 1.670 dtex |