Scanner Envy 860 and Cox 300, a very interesting duo
Scanner Marine has always stood out for its design. A unique and unmistakable style that has led the boatyard to manufacture boats that are fundamentally different from market standards. The Scanner Envy 860 is no exception. We have tested her, powered by a Cox CXO300, the first diesel outboard produced in the world.
A duo that, on the one hand, clearly underlines the fact that innovation is an ever-present ingredient in Scanner Marine's "recipes" and, on the other, makes for a very interesting boat in terms of seaworthiness, torque and economy.
A boat that we had to test at all costs.
Scanner Envy 860 Sea Trial
The Scanner Envy 860 is a pure open. Featuring an intriguing deck plan, it manages, in less than nine meters and thanks to its 3.10-meter beam, to create spaces worthy of a Rib of a higher category. Starting from the stern, we find a large sundeck that marks the boundaries of a 4-person U-shaped sofa. Further forward is the helm station which, as well as incorporating the controls, also has a forward facing seat. The forward area, on the other hand, houses another convertible sofa that can be used either for a four-person meal or, by removing the table and inserting a cushion, as an additional large sundeck.
In short, a boat that can accommodate ten people seated and two lying on the sundeck at the same time in total comfort, a small masterpiece of space management!


Today, however, there are "only" four of us as we leave the port of Cannes to carry out our test. A residual long wave, about a metre high, makes the sea rough. It's going to be an eventful test…
The Cox CXO300 idles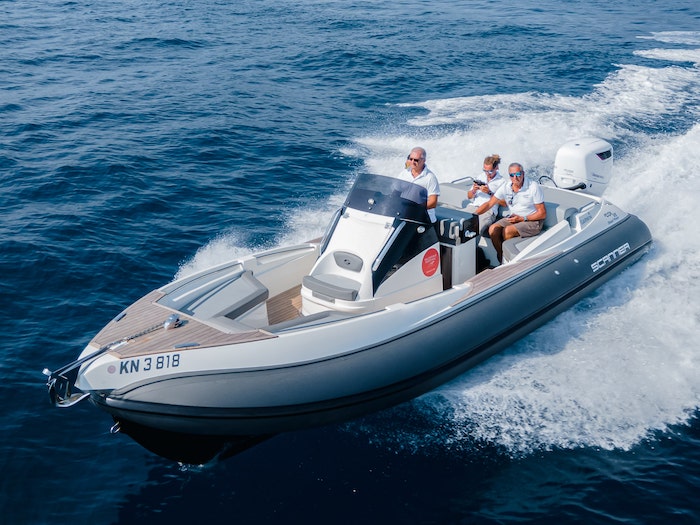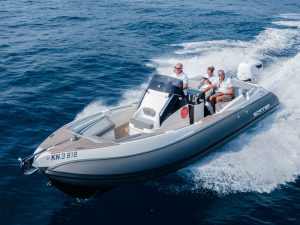 almost silently, at this speed you wouldn't think it was a diesel. While idling, the sea makes us roll noticeably, so I put my hand on the throttle and start pushing the gas. The low sound of the Cox 300 rises a tone as the Scanner Envy 860 comes to life and is out of the water in no time.
The 4.4-litre, twin-turbo, common-rail V8 has a powerful torque and brings the boat to plan in just under 4 seconds, while the sea seems to open up spontaneously in front of the bow of our Scanner Envy 860. Scanner Marine's hulls are known for their proverbial seaworthiness, but that of this Rib is really special.
At just under 20 knots we are cruising in unthinkable comfort for these sea conditions.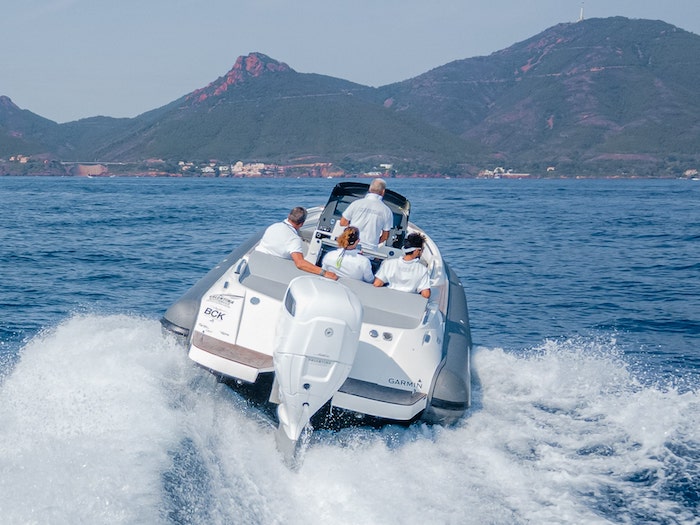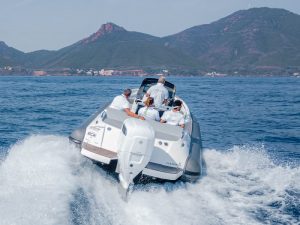 But we're here to test the Rib, so we have to get on with it.
I push the throttles hard and the acceleration crushes me on the seat, the Envy speeds up and, in the blink of an eye, we are already at more than 35 knots, the maximum speed which, considering that we only have 300 of the 500 HP that could propel this boat, is really a lot…
I slow down to around 26/27 knots, ask the crew to hold on tight and then start a series of tight turns.
As the G-force increases dramatically the hull of the Scanner Envy 860 holds the turning angle like we're on rails, there's no way to get it out of its radius, not even by suddenly accelerating.
I quickly counter-turn just as we are on the crest of the wave, but even then I can't get this Rib into trouble. I accelerate again putting the bow in the direction of the wave, we are at 30/32 knots but, even jumping from one wave to another, the hull absorbs every impact without ever crashing.
What a hull, guys, what a hull…


Conclusions
The Scanner Envy 860 is a Rib with an intriguing design and a truly outstanding hull. With a relatively low price and the new Cox CXO300, you get a truly all-around boat.
It is a versatile open boat that can be used for both day trips and summer cruises where, thanks to its simply unrivalled economy, it is able to "approach" even the most distant destinations.
Noteworthy is the range between 20 and 30 knots, where the boat cruises with incredible comfort, consuming just over 1.5 liters per mile.
With these parameters, the Envy 860 lends herself not only to yachting but also to fishing and professional use. This engine also makes her suitable for use as a superyacht tender where increasingly stringent regulations are pushing towards the adoption of diesel due to the lower risk of this type of fuel.
Test Data
| | | | | | |
| --- | --- | --- | --- | --- | --- |
| RPM | Speed in Kn | Gal/h | Nm/gal | l/h | l/nm |
|            750 | 3.96 | 0.60 | 6.52 | 2.27 | 0.57 |
|         1,000 | 5.46 | 1.20 | 4.98 | 4.54 | 0.83 |
|         1,500 | 7.62 | 3.70 | 2.07 | 14.01 | 1.84 |
|         2,000 | 10.60 | 5.90 | 1.81 | 22.33 | 2.11 |
|         2,400 | 19.00 | 7.70 | 2.47 | 29.15 | 1.53 |
|         2,500 | 21.00 | 9.40 | 2.23 | 35.58 | 1.69 |
|         3,000 | 23.80 | 10.50 | 2.27 | 39.75 | 1.67 |
|         3,500 | 32.50 | 16.10 | 2.02 | 60.95 | 1.88 |
|         3,750 | 34.10 | 17.60 | 1.84 | 66.62 | 1.95 |
|         4,000 | 35.40 | 18.50 | 2.01 | 70.03 | 1.98 |
Scanner Envy 860: technical specs
| | |
| --- | --- |
| LOA | 860 cm |
| Beam | 300 cm |
| Tubular Diameter | 60-65 cm |
| Compartments | 5 |
| Tubular Material | Hypalon neoprene 1.670 dtex |
| Passengers Capacity | 18 |
| Propulsion | inboard, sterndrive |
| Max Power | 500 HP |
Cox CXO300: technical specs
| | |
| --- | --- |
| Price | $55,000 |
| Horsepower | 300 |
| Displacement | 4.4 lt |
| Weight | 400 Kg |
| No. of cylinders | V-8 |
| Compression Ratio | 16:01 |
| Torque | 650 Nm |
| Aspiration | Twin turbochargers with common-rail EFI |
| Gear Ratio | 1.46:1 or 1.23:1 |
| Emission Compliance: | EPA Tier III |