Selva Guppy 2,5 and Karnic 702 : small, comfortable and practical !
Here we are at Selva Marine's booth of Genoa International Boat Show. It is impossible not to see it because it is situated just at the entrance ( or better, inside and out of the entrance) of pavilion B, that one dedicated to engines and accessories.
Guppy 2,5: small and lightweight
The smallest novelty is maybe also one of the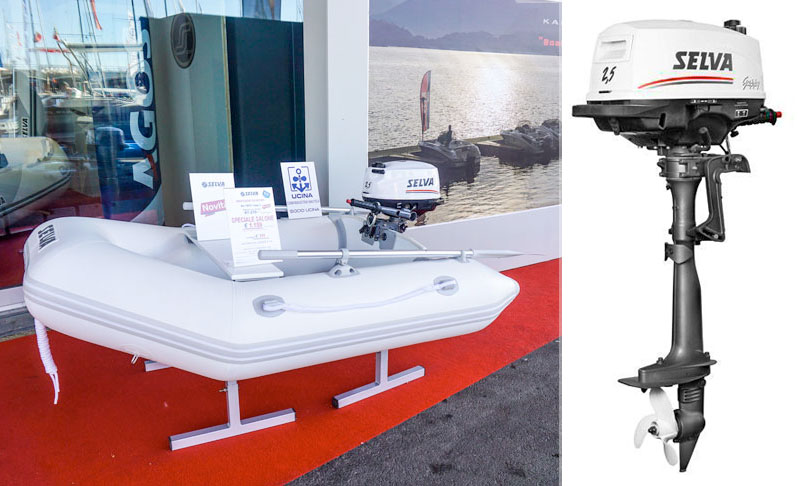 most useful ones: Guppy 2.5 is the latest four-stroke single-cylinder outboard presented by Selva Marine this year, fitted with wet sump system and forced lubrication.
Water-cooled, it's very comfortable: it features a built-in 0.9-liter fuel tank and weights just 13.5 kg. Perfect for tenders, it can be lifted with a single hand by an averagely trained person.
It is always a pleasure to interview the staff of Selva Marine because their answers are always very concrete, without any marketing or communication embellishments. Selva focuses on small sizes for a very simple reason: his previous supplier has closed and, in order to replace it, the best alternative was…. Selva itself.
Karnic 702 by Selva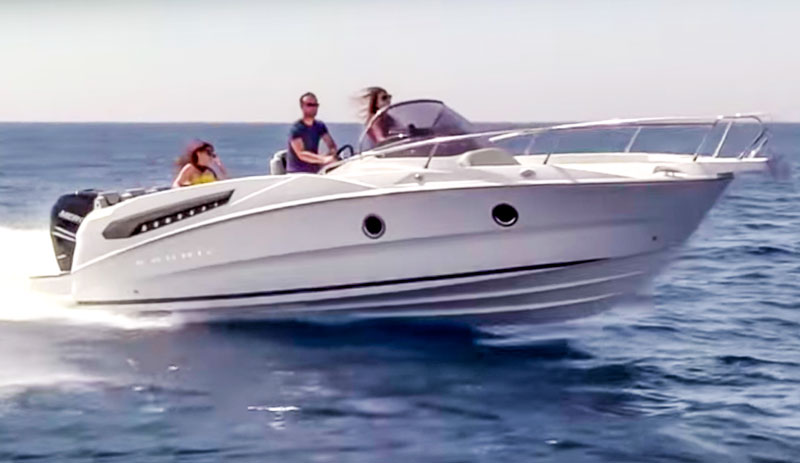 Another result of the collaboration between Selva Marine and the Cypriot shipyard Karnic,very attentive to both details and practicality, proposes a fast versatile boat, whose front part is modular in order to better suit different needs.
Indeed, it can take a U-configuration with a coffee table in the middle or turn into a passenger seat in the stern or into a comfortable platform where to sunbathe and relax.
The interior cabin, comfortable enough despite its compact size, offers a bathroom with chemical toilet and a dinette that can turn into an additional berth. Moreover, standard equipment includes a sink and a small burner.
The Karnic 702 is supplied in different power options: Selva Fin Whale 225hp or Blue Whale 250hp engines, both V6 and fitted with the exclusive EFI fuel injection system.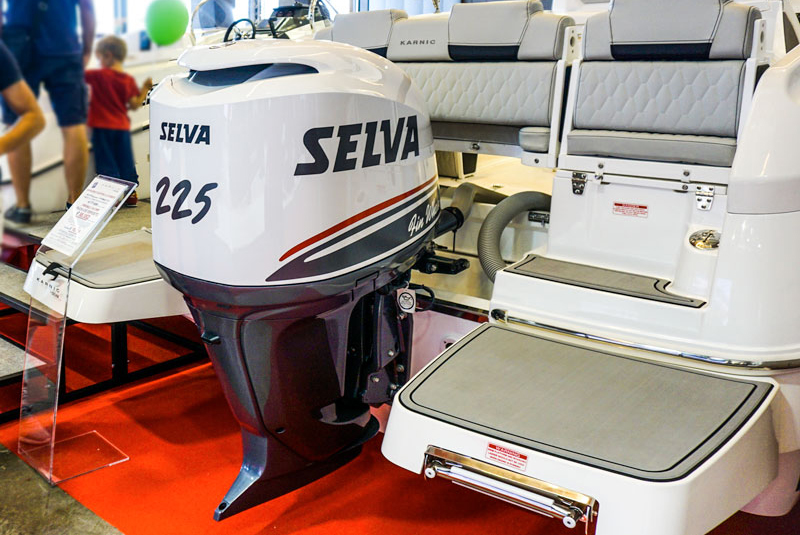 Concreteness, above all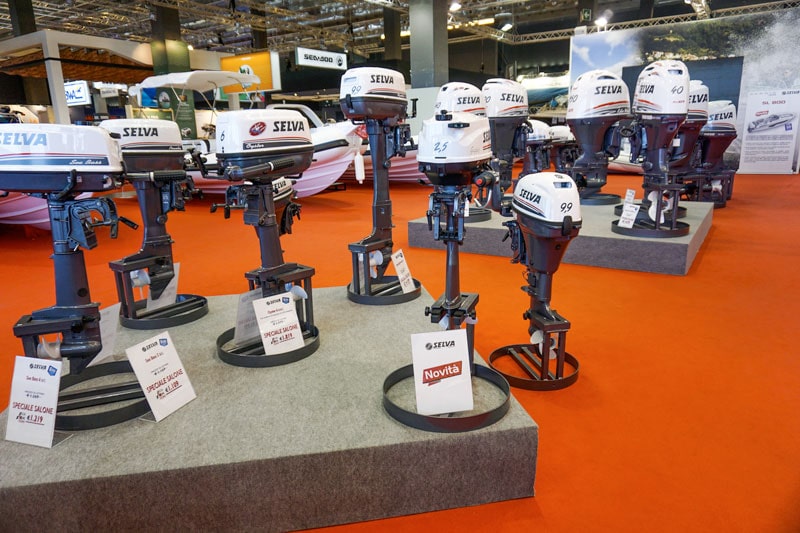 These are the novelties proposed by Selva Marine at the Genoa International Boat Show. We have asked Carlo Selva, one among the most cheerful and the most smiling exhibitors of the Boat Show, tireless and always on the move ( while he shows us the Karnic, he answers two clients, he goes and gets the price list, directs an agent and avoids a kid with frisbee and balloon, without never giving the impression not to care about us) which other novelties the company of Tirano has proposed at the event.
His reply, that we translate from his dialect, was: " Novelties are launched only by those who don't sell. If you sell your products well, you don't need novelties".
He couldn't be clearer than that.
Guppy 2.5 – Technical Specs
| | |
| --- | --- |
| Bore and Stroke (mm) | 54 x 38 |
| Number of cylinders | 1 |
| Power supply | 1 carburetor |
| Starter | manual |
| Fuel | Petrol (see the user manual for further specs) |
| Fuel Tank (L) | Built-in, 0.9 L |
| Lubrication | Forced |
| Ignition | C.D.I. Digital |
| Ignition Advance | Electronic |
| Starter | Manual |
| Generator | not available |
| Cooling system | water-cooled with forced circulation through pump |
| Exhaust Pipe | underwater |
| Drive system | bar with knob accelerator and steering wheel and clutch adjustment |
| Trim adjustment | Manual(4 pos) |
| Gear Inverter | Mechanic A-F + 360-degree shaft rotation |
| Gear ratio | 13/28 |
| Shat Type | C. |
| Propeller Type (standard) | 3-bladed |
| Dry weight (standard versions) | 13.5 Kg |
Karnic 702 – Technical Specs
| | |
| --- | --- |
| Length Overall | 7.80 m |
| Hull Length | 6.80 m |
| Beam | 2.45 m |
| Draft | 0.37 m |
| Approximate Weight | 1450 Kg |
| Fuel Capacity | 200 L |
| Water Capacity | 45 L |
| Waste tank Capacity | 35 L |
| Certification Persons | 8 |
| Design Category | C |
| Engine Type | Single OB, 25″ |
| Maximum Power | 250 hp |
| Sleeping Adults | 2 |
| Cockpit Depth | 0.82 m |
| Freeboard Aft | 1.02 m |
| Freeboard Forward | 1.20 m |