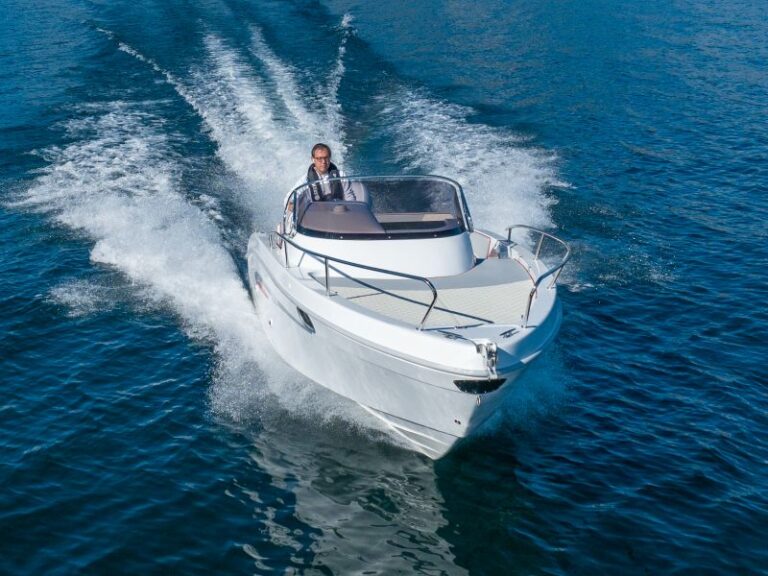 The Selva SD 6.7 Cabin is part of the Sun Deck Classic Line that includes, in addition to this intermediate model, also a 5.7 and a 7-metre, all with a clean and very solid line.
White dominates with the classic red and grey inserts that distinguish Selva Marine, which can be found on the sides and on the finish of the sofas and bow cushions that, combined with the steel of the handrails and steering wheel, give the whole a modern and sporty look.
I tested it on a sunny day on the lake, propelled by a Selva Killer Whale 150 XSR, the maximum power for this model, so I could exploit it at full performance, but we'll get to the test in a moment: first I'll tell you how it's made.
The Selva SD 6.7 Cabin in detail
At 6.65 metres long and 2.50 metres wide, the Selva SD 6.7 Cabin has everything it takes to spend a day with a few guests, as it can accommodate up to 7 people, but is also perfect for nautical camping, thanks to a cabin equipped with a double bed and the possibility of installing a chemical toilet.
Freedom of movement and modular space is what lies behind the cockpit, which accommodates an L-shaped sofa. This space can be used as a sunbathing area, transformed into an outdoor lounge, or even freed from everything in open-plan mode, ensuring maximum space.
Access to the cabin is through a modern sliding door with tinted glass that makes it impossible to see what is going on inside from the outside, but offers maximum visibility of the cockpit from the inside. The cabin features a double bed complete with mattresses that can be converted into two single beds if required, a perimeter storage compartment, spotlights, portholes and a compartment into which the chemical toilet can be optionally integrated: essential, but everything is there.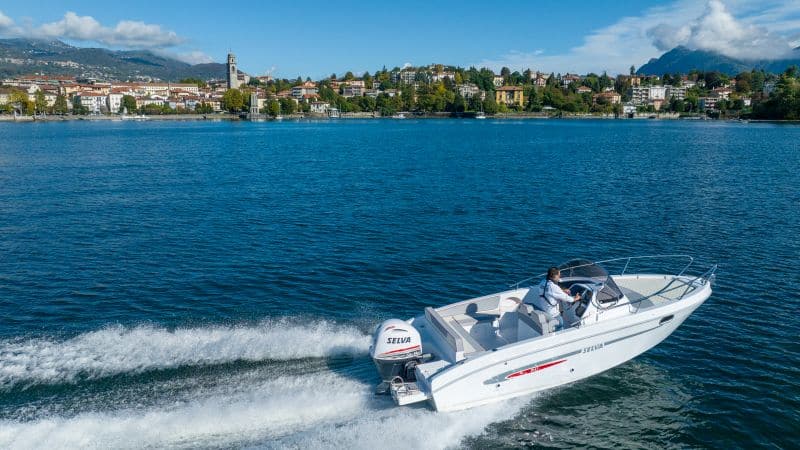 Lastly, the helm station, with its splendid steel steering and all the on-board instrumentation above. The driver's seat can be tilted to allow driving while seated or in a semi-upright position and is very comfortable, especially on slightly longer journeys, combined with a wraparound windscreen.
This versatile driver's bench, as well as the complete shower system, the central turret with sink and above all the hydraulic steering system are all included as standard, but not the stainless steel roll bar with front and rear awning, which is, however, optional as an addition.
In short, nothing is really missing on board the Selva SD 6.7 Cabin, all that remains is to answer one question. How will it perform at sea?
Sea trial
It's a lovely day. We're on Lake Maggiore, the sun is shining and the water is flat,. The conditions to enjoy high speed are all there, also because behind me there's a Selva Killer Whale 150 XSR that really wants to unleash all its horsepower, and I'm fine with that.
I lower the throttle and off we go for the acceleration test from a standstill: from 0 to 30 knots in 11.8 seconds after 3.8 seconds: the hull lifts up brilliantly, it's an aggressive and fun acceleration.
I then proceed to the test of engine revs, knots and consumption. The idle is at 700 rpm, at a speed of 2 knots with a consumption of 1.7 l/h, but the boat quickly gets up on plane at 2900 rpm at a speed of 12.5 knots and with a consumption of 12.9 l/h. The cruising speed, on the other hand, is reached at 4100 rpm and 22 knots, with a consumption of 29.5 l/h.
Under these conditions I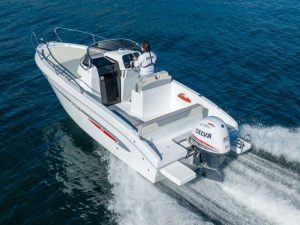 could easily decide to sail around the whole of Lake Maggiore in a day like this. Navigation is very pleasant, sharp, with the hull responding perfectly to my commands by drawing perfect wakes to my turns, and since I'm having a lot of fun I decide it's time to put that XSR sign on the engine to the test.
At 5000 rpm the boat goes at 29 knots that become 32.5 at 5500 rpm, with a consumption of 51 l/h. I push the throttle all the way to 6000 rpm where I stop the test with my top speed of today's test: the Selva SD 6.7 Cabin touches 43.5 knots with a consumption of 54.4 l/h.
As always Selva Marine leaves me pleasantly impressed by that ability to put me immediately at ease with boats or inflatables that are extremely pleasant to drive and with sporty lines. While I'm thinking about all this I'm getting ready to go down, amused and satisfied, which is all I expect after such a day.
Technical Specs
| | |
| --- | --- |
| Length | 6.65 m |
| Width | 2.50 m |
| Weight | 950 Kg |
| Engine Shaft | XL |
| Fuel Capacity | 120 L |
| Water Capacity | 50 L |
| Passengers Capacity | 7 |
| Category | C |
| Max Power | 1 x 150 HP |
| Berths | 2 |
Test Data
| | | |
| --- | --- | --- |
| RPM | Kn | l/h |
|  (Min) 700 | 2 | 1.7 |
| 1000 | 3 | 2.8 |
| 1500 | 4 | 4.7 |
| 2000 | 5.5 | 7.1 |
| 2500 | 7 | 11.3 |
| 3000 | 9 | 15.3 |
| 3500 | 15.5 | 22.8 |
| 4000 | 22 | 25 |
| 4500 | 25 | 33.8 |
| 5000 | 29 | 42 |
| 5500 | 32.5 | 51 |
| 6000 | 43.5 | 54.4 |
This article is also available in:

German