VMV Yacht Design, expertise and design for boat owners and a new catamaran that will be launched next autumn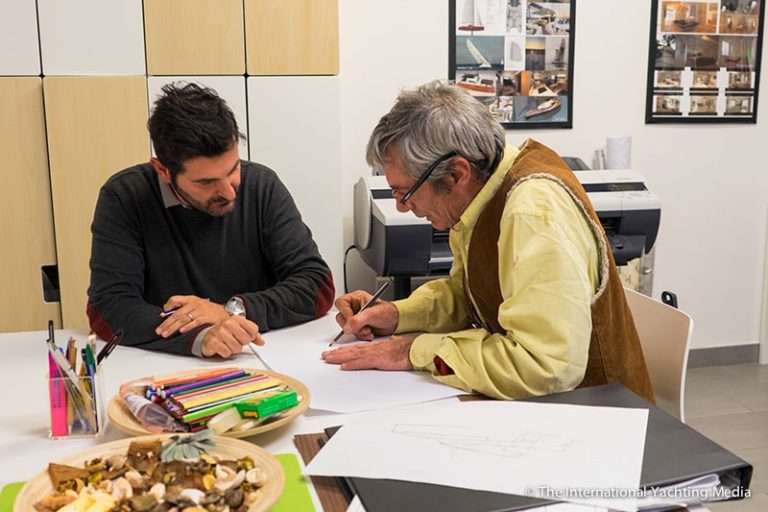 The couple behind the birth of VMV Yacht Design couldn't be better matched. Vittorio Malingri and Marco Veglia: decades spend at sea and over 130 boats built on one hand, and the ability to transform any idea into a project on the other. Now combined together to meet the needs of anyone looking for something more than a simple standard model.
We met them in their office of Senigallia, after having been informed of the upcoming launch of their first multihull, the VMV 53, a performing cruising catamaran, designed for long cruising and made for the Italian brand Unlimited Yacht which has asked for some special characteristics, including a very particular transom. We saw the boat, still under construction, at the shipyard but, for the launch, we have to wait until next autumn.
The sailor and the architect: the two faces of VMV Yacht Design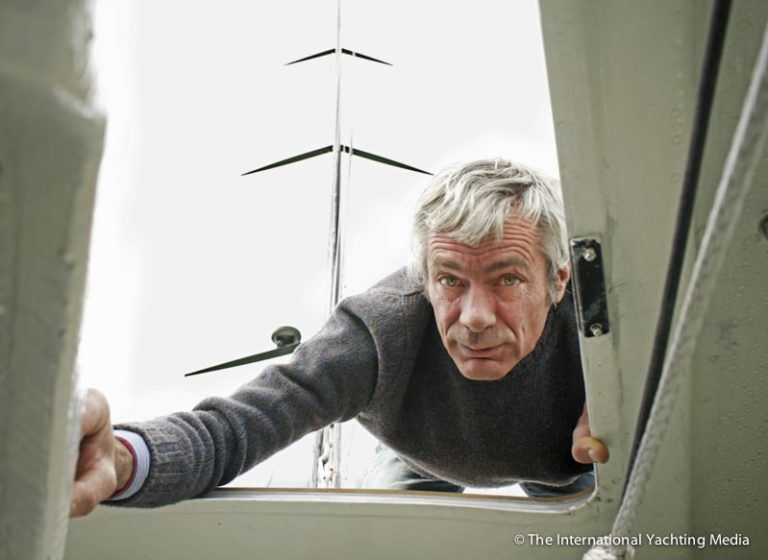 We could write a book about Vittorio Malingri. He certainly needs no introduction. His record-breaking achievements between oceans, races ( Vendée Globe and Jacques Vabres just to mention a few) and crossings are famous. A sailor who has experienced any kind of "joy and pain" at sea, he is also a talented designer who talks about his new projects with extreme sincerity.
He perfectly knows what it takes to sail; technique has no secrets for him and he has a deep knowledge of all the tricks that can make the difference at sea, both in terms of performance and safety.
He always speaks frankly, with clear ideas in mind and, when talking about his new multi-hull concepts, he specifies that " there is a fire line between a catamaran and a catafalque". I immediately realize that the VMV 5 will be an extraordinarily seaworthy boat which, far from being a mere house boat, is not designed to stay moored long.
Vittorio is extremely competent and draws his expertise from his long experience as a designer and builder of the famous Moana series and many other offshore and ocean racing boats as well as from his long sailing experience on board the most performing boats of the world. Now, his know-how, over 500,000 miles long, is at the service of VMV Yacht Design, both for the design and the practical construction phase of the shipyard's creations.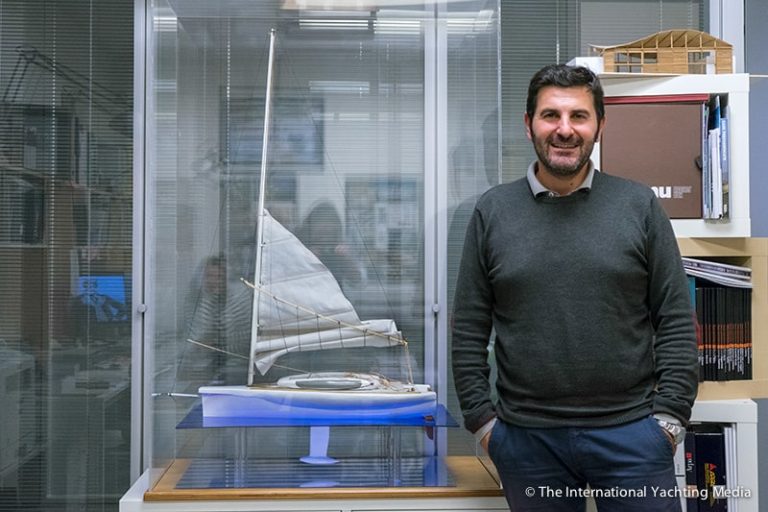 Marco Veglia, instead, is the one who transfers competence on "paper". His training as an architect and designer comes from his study, passion and experience in the field.
He is a civil architect with experience in different fields. Among his nautical projects, we can mention the Slyder Catamarans Slyfer 47 and the Slyder 57, his collaboration with Sylent Yacht and the design of the VG62, the first power catamaran built in Italy. For some time, he has been working on optimizing the construction of the boats made by Eleva Yachts.
When Marco speaks, he is always calm and precise. When he shows me his previous projects, I realize that he has a very elastic mind. He is always ready to understand the needs and wishes of his clients and he is able to combine them with the structural and technical aspects of a boat, without never distorting the very soul of the project. With Vittorio, who was his sailing master, he has a perfect feeling and, as a designer, he has also followed him in some of his records.
A very interesting thing that I perceive is that Marco, in addition to having spent hours with a pencil in his hand, spent almost as many at the shipyard and at sea. This experience allows him to better understand the real potential of his projects as well as the real needs of those who spend a lot of time at sea.
VMV Yacht Design: design, consulting and project management
Interior and exterior design, naval architecture, systems and solutions for shipyards and boat owners, customer support, consulting and project management for the construction of new boats: these are some of the services offered by VMV Yacht Design.
" VMV Yacht Design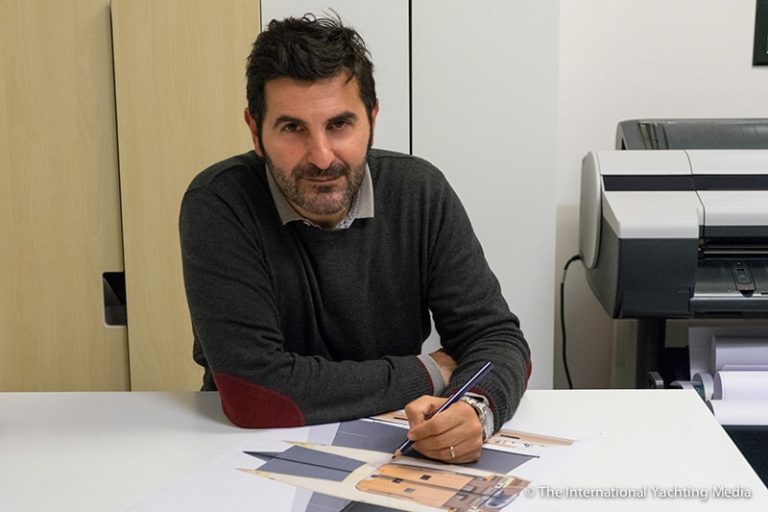 deals with the design of sailing and motor-powered monohulls and multihulls, offering the consultancy necessary for the realization of the project. We work with shipyards, designers and boat owners, offering innovative custom solutions with special attention to the environment. We want to be concrete, practical and offer affordable solutions for everyone", Vittorio says.
" We do not just design new boats. We also create concepts and specific parts, such as deck layouts, sail plans and appendages. Based in Fano, our studio is immersed in an industrial fabric where boating is a well-established reality. This contributes to improve and expand our experience day by day. Ours is a direct experience because it is really gained on the field, namely at sea and at the shipyard. Now, it is at the service of both shipyards and boat owners", Marco adds.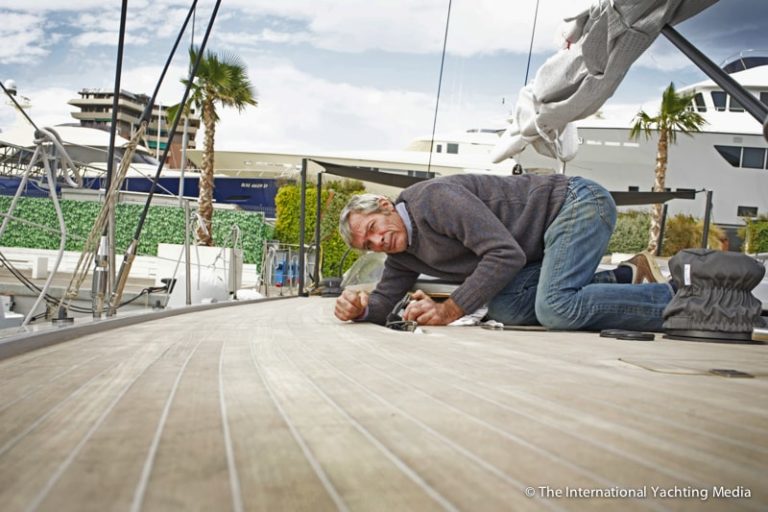 Moreover, Marco tells us about "Storm Prepared by VMV", a quality certification offered by VMV Yacht Design which, in line with their vision of navigation, is attentive to the needs of all the sailors who want to broaden their own knowledge by sailing at any latitude and in every season.
" Storm Prepared by VMV Yacht Design is a consultancy service designed for all those who want to equip their boat in a professional way and improve the reliability, handling, safety and comfort of their boat both in the Mediterrean and the ocean. The service is primarily aimed at the designers and manufacturers that want to offer a plus with a truly professional and not recreational means. We offer our experience to deal with all the technical and practical aspects of a boat, thus simplifying daily life on board and allowing boaters to handle all weather conditions".
The new catamarans by VMV Yacht Design : the VMV 53 and the VMV 63
The concept that VMV Yacht Design introduces with its new project is very clear on paper. To build fast, comfortable, easy- and funny-to handle catamarans designed for long-range cruises and relaxing boat holidays, with a special attention to all the details that guarantee extreme safety and excellent seaworthiness on board.
Still under construction and designed in collaboration with Balance Arquitectura Naval for the superstructures, CFD and appendages, their latest project is, as we mentioned above, a 53-footer. Another model, the VMV 63, is ready on paper and is currently waiting for a buyer to be built. 10 feet longer than the VMV 53, the 63 is a high-performance cruising catamaran which, in terms of luxury and performance, has nothing to envy to the most prominent boats of the moment.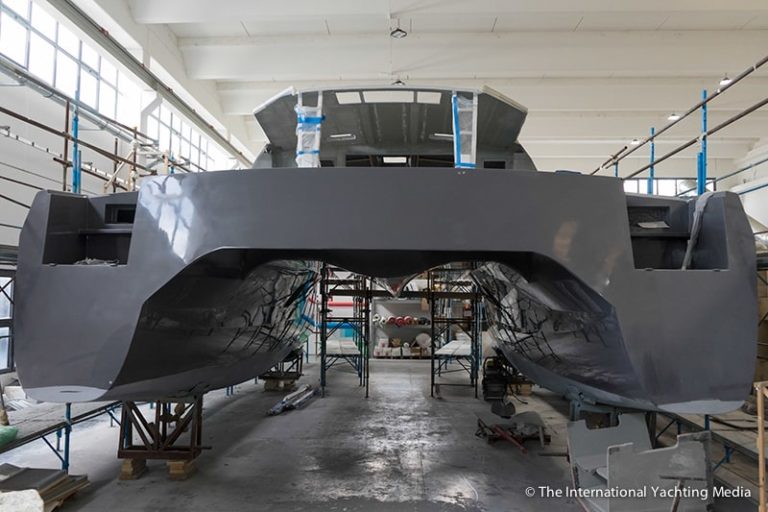 The VMV 53 is a modern and fast catamaran characterized by a small wetted surface, an optimal distribution of the weights on board and a herringbone structure that connects the bowsprit, the mast and the mainsail traveler. After Mattia 52 ( of which he took care of the interior and exterior design as well as a part of the project, with the exception of waterlines and structures), Marco started to develop a new concept for a brand which wanted to build a semi custom series with special features, including a monohull-inspired closed stern and the possibility to accommodate a tender inside.
Marco illustrates some of the main technical strengths of the new boat:
" VMV 53 has many interesting technical aspects. She features a very high platform on the water so as not to hit the waves, 1.30m; the hulls have clean lines, they are thin and deeper than many other contemporary boats. This contributes to reduce the wetted surface while offering a soft navigation on the water with a significant energy saving".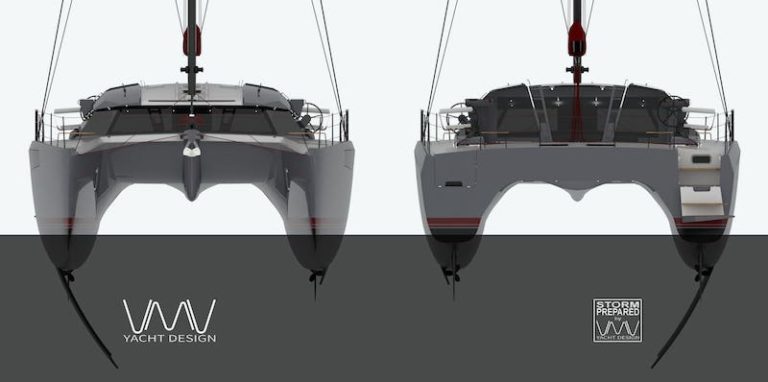 VMV Yacht Design has opted for curved symmetrical fins and optional curved asymmetric foils which do not come out the deck level. The goal is to increase the anti-leeway attitude of the boat while releasing much of the pressure from the leeward hull. This way, the latter will remain less immersed, further reducing the wetted area and keeping the bows high on the water and discharged from too much pressure. The engines, like the other important masses, are placed at the longitudinal center of the boat, like on ocean multihulls, and are housed under the floor with 360-degree access. The large weights at the center of the boat allow a good passage on the wave and greater side stability. We have developed these characteristics in order to make the VMV 53 a performing and comfortable boat, little inclined to pitch".
" It's a performing yet cruising boat – Marco continues – VMV Yacht Design has created an optimized project that reduces high average speed without developing exaggerated acceleration peaks which, actually, can only be reached in optimal conditions. Despite being a performing catamaran, VMV 53 does not require you to exasperate the concept of perfect trimming or careful and irreproachable drive since she must be a boat for everyone".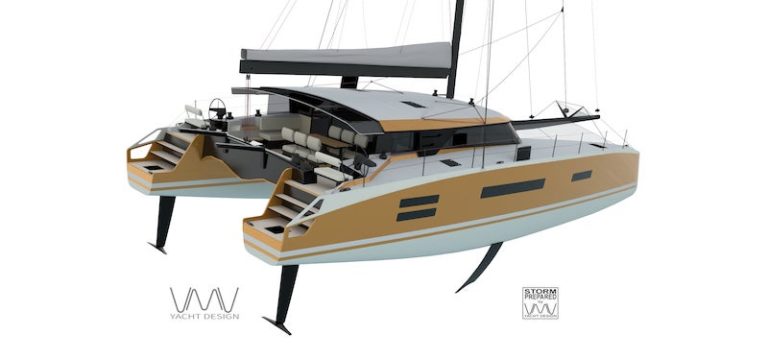 The VMV 63, instead, is something completely different. The concept of seaworthiness, safety and easy handling are the same but Mr. Malingri, given complete freedom, has created a boat as if it were for him and his family. The hulls are even thinner, the bow is more voluminous and the spaces even more comfortable thanks to the adoption of a hull step that expands the livable section of the boat.
The VMV 63 has nothing to envy to the most coveted boats of the moment. On the contrary, it's an important step forward which introduces many interesting innovations on the market. After all, Vittorio Malingri not only has a deep knowledge of his competitors, he is also a great connoisseur of family needs, with an unparalleled love for luxury and comfort.
" When you buy a boat, you want everything. You would like to have two, three boats but you can't. I want to compete with Gunboat and HH in the most important prizes, in long Mediterranean and ocean races, during Caribbean events and to have a boat capable of load supplies, spare parts and everything a family or group of friends wants to take on vacation. I spend many months at sea and my family needs a very comfortable boat. My sons Lele and Nico have taken their own way but my wife and my 3 daughters have their specific needs in terms of comfort, space and stowage…. as well as lots of boyfriends that follow them around and to whom I say I don't have any electric winches on board to see them "squash" in maneuver. However, a boat shouldn't be too expensive. It should offer all you need but with the minimum effort in terms of maintenance and repairs. I think this is a problem common to almost all the families who go boating. Moreover, I like the beautiful things that last over time, not the flashy ones that remain fashionable for a while and then become horrible forever".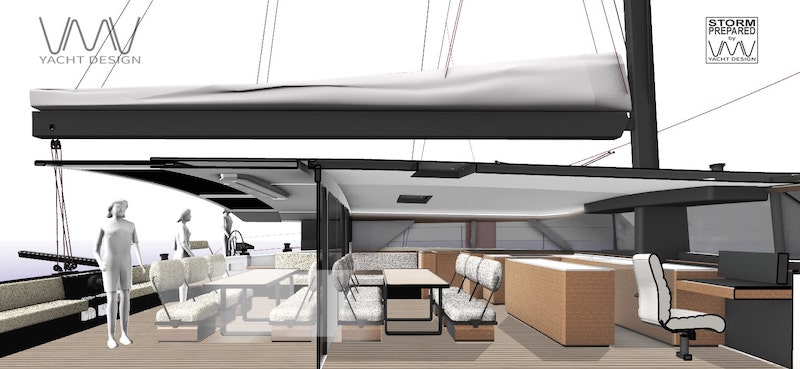 The result is a comfortable, luxury, stable and safe 63-footer offered for sale for just a little more than the best standard boats of the moment. Performance and luxury are even optimized in the Race version.
The possibility of customization is total, as well as the position of the wheelhouses that can be positioned in the cockpit, on the aft section of the hulls or (and here Mr. Malingri shajes his head) inside, forward of the deck house.
" I don't design boats for theorists or lovers of fake design, but for sailors and wealthy levelheaded smart businessmen. It would be completely insane to open the upwind door on a 3/4 million boat, flooding a luxurious dinette with an incredible amount of water. Better to walk some meters more and enjoy more comfort".
The innovations introduced by VMV Yacht Design are countless. Inspired by the traditional IMOCA style, the sliding top situated over the rear part of the cockpit, for example, guarantees excellent visibility and easy circulation, making it easier for the crew to trim sails and perform maneuvers. Even the table and the seating are sliding, moving from the cockpit to the salon and vice versa with just one click. Modularity is the key word for the galley island, the bar, the BBQ and entertainment areas.
The front section of the cockpit is protected by additional sliding retractable rails and various sun pads on the sides and aft, with the dinette indoors.
The dinette of the VMV 63 is characterized by a fully-equipped galley, a chart table and many storage solutions, all positioned in the longitudinal center of the boat for an excellent ease of movement between the cockpit and the hulls.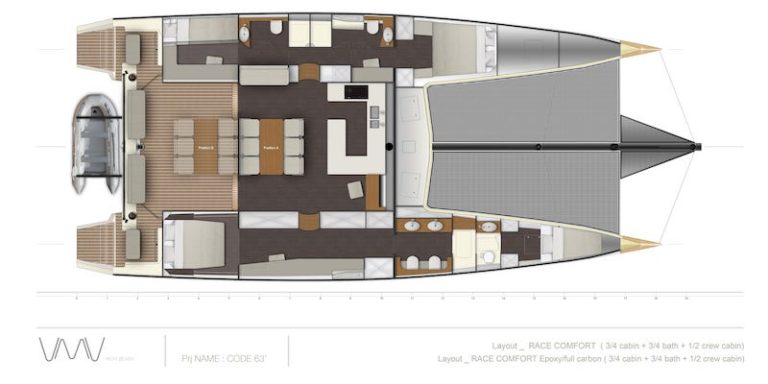 As for the hull layout, this can include two cabins and one bathroom if you want to enjoy a light boat with much space in the cabins or two cabins, two bathrooms and a crew cabin if you sail with more people on board. Double beds can be positioned longitudinally or sideways but you can also opt for two single berths, side by side or bunk. VMV Yacht Design has decided to develop an abundant headroom in each cabin because the average height is higher and higher, especially in the Anglo-Saxon or northern European countries which are the main buyers of this type of boat.

For these and other projects, VMV Yacht Design is currently looking for clients to market and build its unique creations. VMV YD has solutions for all budgets and more than one shipyard where to make them. Project management is, of course, by Mr. Malingri and is a unique opportunity in the Italian offer.
" Instead of a new Vendée or another sailing adventure, which are both part of a field where I have already experienced many joys and achievements – Vittorio says  – I have chosen to deal with my old passion in the next few years: the design and construction of "good", innovative, smart and practical boats. I returned to Italy after 42 years spent between voyages, projects, regattas, sailing school, charter services and explorations, after designing and building over 130 boats and drinking rum in several of the worst bars in the world.
I immediately involved Marco, with whom I have already worked over the years and who, in the meantime, has established himself in the local nautical fabric with many prestigious and elegant projects. I think we are a perfect duo because we are good friends and complement each other with our experiences and skills".

In addition to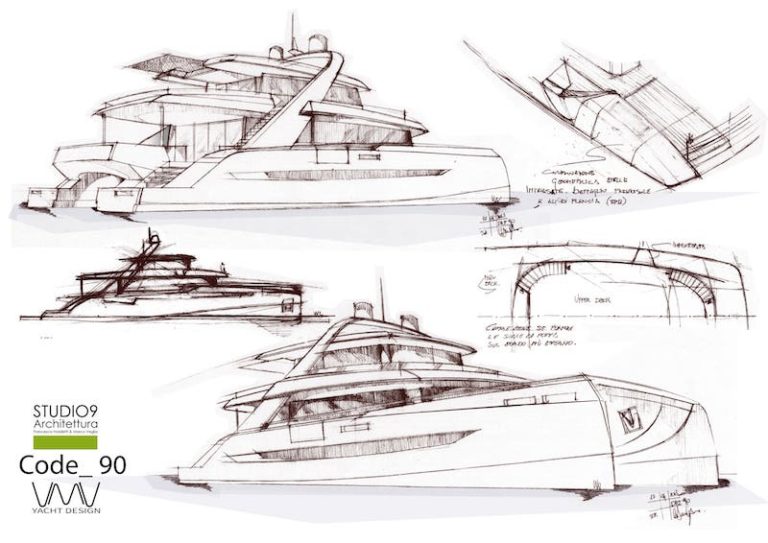 high-performance catamarans, Vittorio and Marco will also design motor-powered monohulls and catamarans, equally designed for long-range cruising and equipped with low-impact eco-friendly hulls.
Vittorio announces the upcoming launch of a long-range cruiser. " It's something almost unprecedented which will become very popular thanks to its low purchase price and operating costs, its seaworthiness and the ability to sail everywhere in the world or go on holiday without having to be a true sea wolf".  We can say no more. If you want to find out more about this new project, you can the VMV YD office in Senigallia.
VMV 53 Technical Specs

| | |
| --- | --- |
| Naval architect | VMV YD |
| Interior design | Studio9 Architettura or selected by Owner |
| Structures | Structures : Balance Arquitectura Naval |
| L.O.A. : 17,45 m | 17,45 m |
| L.W.L. : 15,87 m | 15,87 m |
| B max. : 7,80 m | 7,80 m |
| Draft | 1,20 /2,65 m |
| Light displ | 9.500/14.500 kg |
| T.sail area upwind | 155.0 m² |
| T- sail area downwind | 215.0 m² |
| Main Sail | 85.0 m² |
| Genoa | 70.0 m² |
| Fresh water tanks | 2 x 1,000 l |
| Fuel tanks | 2 x 600 l |
| Grey water tanks | 2 x 130 l |
| Black water tanks | 2 x 60 l |
| Engines | 2 Yanmar 4JH, 40 or 57 hp |
| Generator | |
| Watermaker | ZP 220 l/h |
VMV 63 Technical Specs

| | |
| --- | --- |
| Naval architect | VMV YD |
| Interior design | VMV YD or selected by Owner |
| Structures | VMV YD |
| Hull lengt | 9.20 m |
| L.W.L | 18.87 m |
| Bmax | 8.89 m |
| Draft | 1,30/3.30m |
| Displ | 14,000/19,000 kg. |
| T.sail area upwind (main- genoa) | 266 m² |
| T- sail area downwind (main- code0) | 276 m² |
| Main Sail | 125 m² |
| Code 0 | 154 m² |
| Genoa | 112 m² |
| Staysail | 49 m² |
| Storm Jib | 20 m² |
| Fresh water tanks | 2 x 1,000 l |
| Fuel tanks | 2 x 1,000 l |
| Grey water tanks | 2 x 250 l |
| Black water tanks | 2 x 80 l |
| Engines | 2 Yanmar 4JH, 80 or 110 hp |
| Generator | |
| Watermaker | ZP 320 l/h |
VMV Yachts Design

Via Verdi,n.158
60019 SENIGALLIA (AN)