Dufour 34 
Practicality, performance, easy handling and exciting performance. Forged by the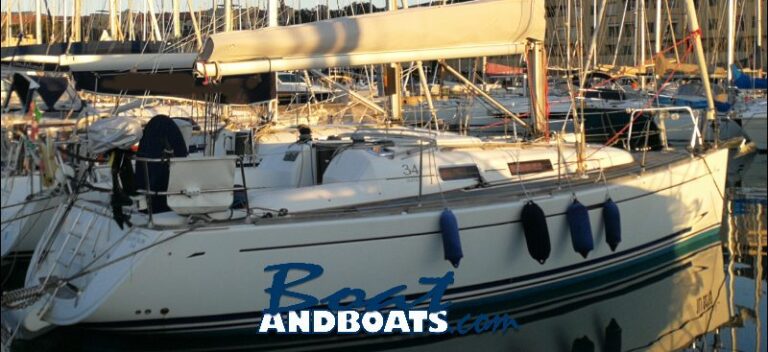 skilful pencil of Umberto Felci in 2003, the Dufour 34 combines different tastes within just a little more than 10 meters in length. That's why she is still very popular today, particularly appreciated by those looking for a sailboat capable of combining cruising comfort and good performance at sea.
Since her very first version, indeed, the Dufour 34 has known a good diffusion in the Mediterranean thanks to her good versatility that makes her suitable for both single-handed crusing and racing competitions with crew.
The Dufour 34 is therefore a fast and responsive registration-free boat, with the same easy handling than a smaller model. Furthermore, she is definitively spacious and comfortable. If you're looking for a compact and fully-equipped cruiser, she therefore can be right option for you.
Exteriors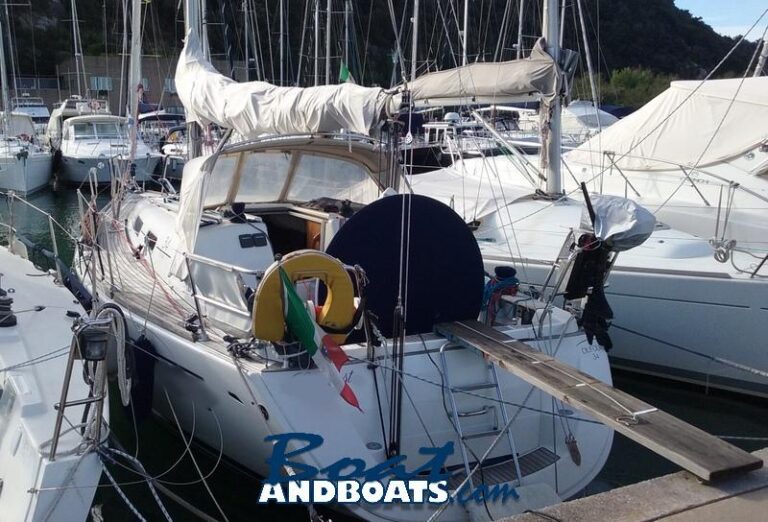 The Dufour 34 was originally offered in two versions, with distinct deck arrangement and a slightly more powerful sail plan in the performance mode.
An outstanding feature is the displacement of 4.7 tons, which inevitably increases when the boat is heavily furnished.
The stern houses a cozy and well-protected cockpit. The deck is entirely covered with teak and therefore very elegant, with large side-decks and lots of space forward.
The lines are soft and sleek. The beam of almost 3.48 meters expands amidships, offering great comfort on the lower deck.
The Dufour is a definitively beautiful boat: apparently small at first sight, she unveils unsuspected spaces inside.
Interiors
The dinette, covered with bright Moabi mahogany, exudes a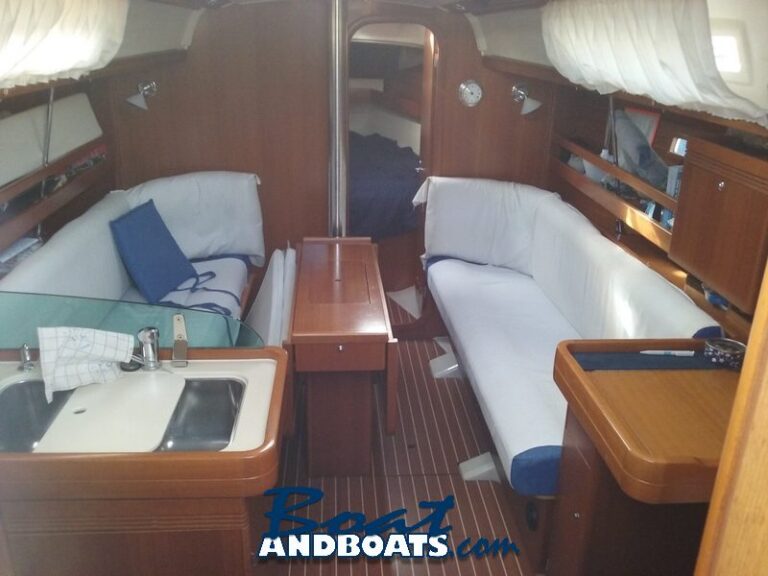 warm and inviting atmosphere. Brightness is good, thanks to the presence of numerous windows on the deckhouse.
The two aft cabins are spacious enough to sleep in total comfort while the master cabin, positioned forward, is surprisingly vast. In short, both spaces and headroom are abundant.
All cabins feature good storage capacity and comfortable berths, perfect to enjoy coastal cruising.
Dufour 34: propulsion
The propulsion option commonly installed on the Dufour 34 is a Volvo Penta Diesel 30HP engine. Obviously, the overall value of the boat depends on its engine hours.

Dufour 34: market valuations
Built from 2003 to 2008 by Dufour Yachts, the Dufour 34 is currently offered for sale for a price ranging between € 57,000.00, for the models requiring heavy refitting interventions, and € 83,000.00, for the best maintained, updated and equipped ones.
Moreover, the presence or absence of several sets of sails and their state of conservation determine the overall value of the boat. The following quotes can be found on the current market:
| | | |
| --- | --- | --- |
| | Year | Price (euros) |
| YachtAll | 2004 | 56,900 |
| TuttoBarche | 2004 | 59,000 |
| iNautia | 2006 | 76,500 |
| Barche24 | 2007 | 80,000 |
| Brokermania | 2008 | 83,000 |
Dufour 34: Technical Specs
| | |
| --- | --- |
| LOA | 10.3 m |
| Waterline Length | 10 m |
| Max Beam | 3.48 m |
| Draft | 1.7 m |
| Displacement | 5,944 kg |
| Ballast | 1,750 kg |
| Top Speed | 9 n |
| Cruising Speed | 6 n |
| Sail Plan | 80 m2 |
| Genoa | 45 m2 |
| Mainsail | 35 m2 |
| Spinnaker | 65 m2 |
| Fuel Tank Capacity | 90 l |
| Water Tank Capacity | 295 l |
| Year of construction | 2004 |
| Year of Registration | 2004 |
| Shipyard | Dufour Yachts |
Visit the "used boats under the lens" section of The International Yachting Media