In Venice, Selva Marine fuelled the "electric revolution" with new ePropulsion products
For Selva Marine, the 2nd Venice Boat Show was an opportunity to officially present the ePropulsion range, a brand specialized in marine electric propulsion systems and services for which Commerciale
Selva is the distributor for the Italian market. The eco-friendly engines distributed by the Italian boatyard made their debut last autumn during the Genoa International Boat Show but what took place in the Venetian Lagoon was a real electric revolution which was inaugurated by the great 2021 innovation, Evo, the range of thrusters with hydrogenation capability.
This absolutely innovative self-charging feature allows the engine battery to recharge while sailing at speeds between 4 and 10 knots.
The all-new Spirit 1.0 Evo, Navy 3.0 Evo and Navy 6.0 Evo models therefore expand the ePropulsion offering, which can already boast the success of the 1 kW Spirit 1.0 Plus, equivalent to 3 horsepower on a normal petrol engine and the workhorse of the entire range, suitable for boats up to 12 feet such as tenders or small-sized lightweight boats and capable of reaching around 5 knots with very low noise levels.
Power comes from a 1.276 Wh Li-Po battery weighing 8.7 kg. Being removable, not only does it make it easy to transport and store the entire engine, but it can also be replaced at the end of its life cycle. It is also buoyant, so there is no risk of losing it if it falls overboard.
Selva Marine, the electric revolution
For owners of boats up to 3 tons, instead, ePropulsion offers Navy outboards, available in 3 and 6 kW, corresponding to 6 and 9.9 horsepower respectively, with no built-in battery: they must be connected to one or two external 3,042 W power supplies, with a maximum autonomy of 4 hours. The ePropulsion and Selva Marine's electric revolution is set to continue.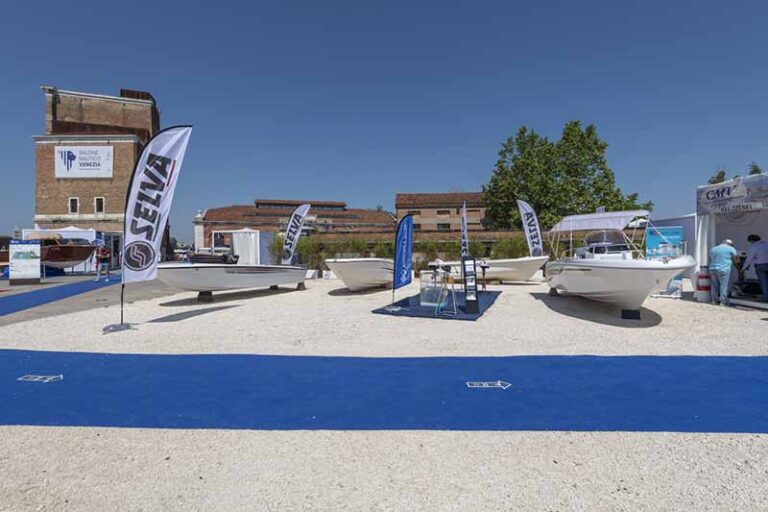 But in the Venetian Arsenal, Selva also exhibited some of its traditional endothermic engines that have made the Valtellina brand famous all over the world: the four-stroke E.F.I. Right Whale 250 hp, Swordfish 115XSR, Murena Best 40XSR, Amberjack 25 and Wahoo 15, plus some single-cylinder models.
Also present were the brand-new Selva propellers, in steel and aluminium, developed directly in the Tirano-based headquarters; they cover the entire range from 40 hp upwards but, as revealed by the staff, those for smaller boats are also on the way.
Representing the fibreglass boats belonging to the Open Classic series was the D.5.6, a highly successful model which Selva has given a touch of restyling, embellishing it with new cushions and new Selva-branded awnings and fitted with steel structures.
As for the Tiller range, Selva Marine exhibited the T.4.8, a boat particularly appreciated in the lagoon for its easy handling and practicality of use, suitable for short-range family cruises and fishing activities. The Karnic family, instead, was represented by the Smart One 48, one of the Selva's most popular sundecks: it is super modular, thanks to the possibility of customizing the console and seats (which can be transformed into a single large sundeck), and is designed for fishermen, who, on board the 48, can make use of large, deep lockers where they can conveniently store their equipment.
The next Genoa Boat Show will be the occasion to unveil the NL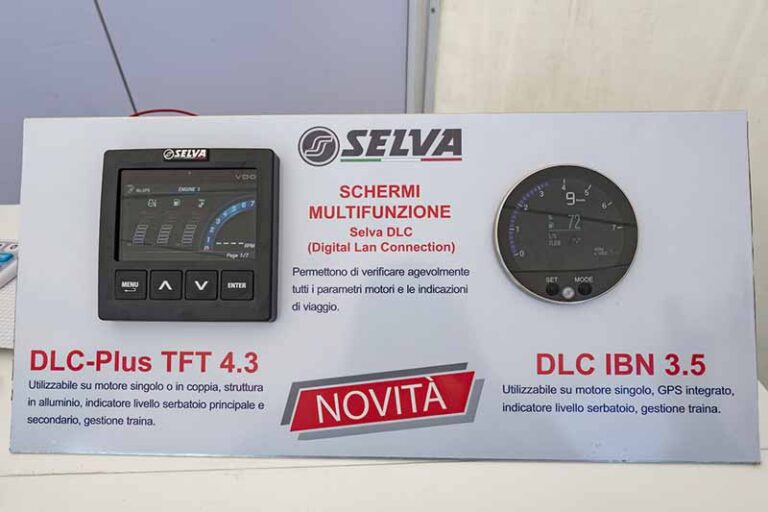 570, available with both indoor and outdoor drive, powered by a 20HP engine (for a top speed of around 18 knots) or a 40HP one (for a top speed of 30). It's a high-performance stable boat with accommodation up to 6 people. In Genoa, the model will be probably coupled with a Navy 6. Among the marine equipment,        the Multifunction Digital Lan Conenction – Plus TFT 4.3 Screen, already presented at the last Genoa Noat Show, was equally put on display in Venice.
Also suitable for engines with electronic injection, it is tool to be installed in the steering console that allows all engine parameters and cruise indications to be checked quickly and easily.
Last but not least, the Digital Lan Collection – Ibn 3.5 – the compact version with a rounded layout for low-displacement engines – made its official debut.