The ultimate adrenaline entry by Selva Marine, the Selva D.900 Special, will be presented in world premiere at Paris Boat Show. We can call her an adrenaline boat because, before the official public presentation, we have had the opportunity to test this new exciting inflatable boat in Las Londes Les Maures in France.
With a length of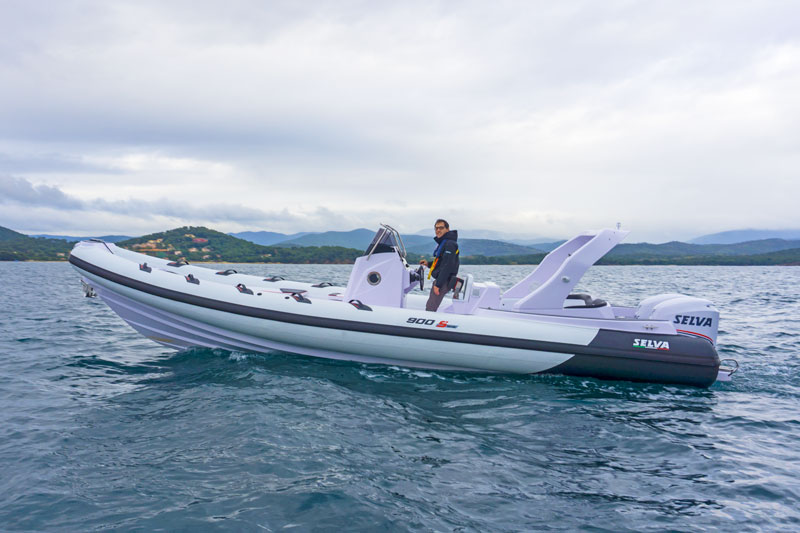 9.60 meters and a dry weight of 1,900 kg, the Selva D.900 Special is the new flagship in the range of inflatable boats offered by the Italian shipyard. Her V-hull is the result of a completely new study and is made of double-molded fiberglass; sleek, sturdy and robust, it guarantees extraordinary performance at high speed, without sacrificing comfort when used for purely recreational purposes.
As expected from a model of this size, this inflatable boat is, indeed, well-equipped for cruising. She has all the equipment required to enjoy nice day outings: shower, sun pad, table and refrigerator.
The model we tested was fitted with exuberant propulsion. Installed astern, two Selva Fin Whale 225HP engines with 19-inch propeller let us have a lot of fun. Let's find out together how it went.
Selva D.900 Special Sea Trial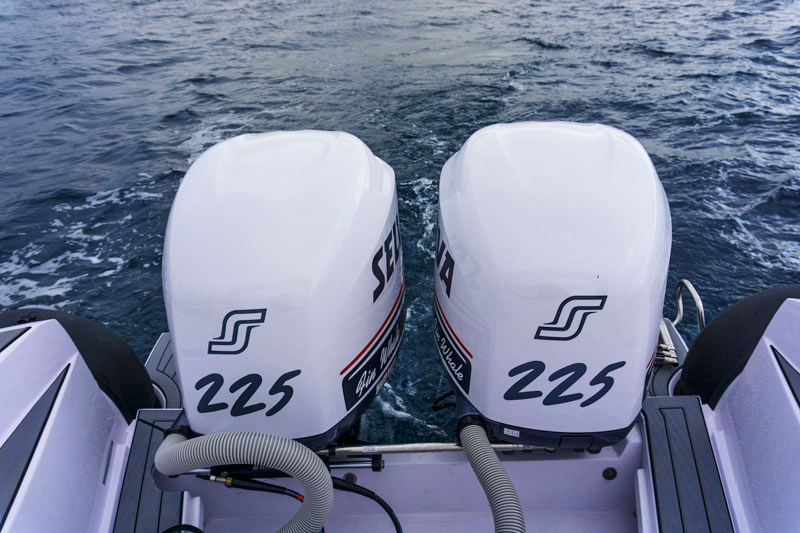 When thinking about testing this type of inflatable boats, namely sporty and fast, there is a tendency to imagine that tests can be performed under the ideal conditions. The hope is to collect all the data useful to the sea trial and give, if it deserves that, a good  picture of the product. However, since the factor "weather" cannot be controlled, sometimes things go differently.
On my way to Las Londes Les Maures, where I was expected for the sea trial, I immediately realize that it is going to be a really dark and stormy day. Storms, rain, gusts of wind and residual east waves, observed from the car, predict a possible cancellation of our test.
Doubts may be legitimate but, as we will see later, the Selva D.900 Special will remove all of them, acting brilliantly.
As soon as I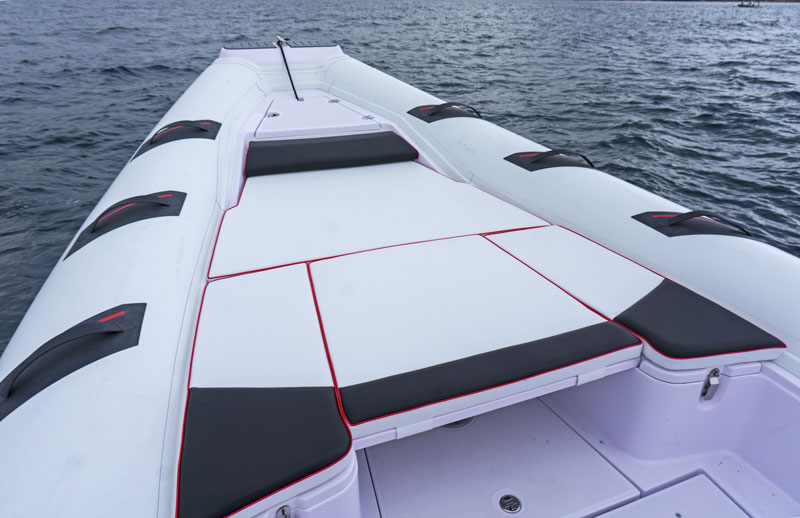 get the port of Las Londes Les Maures, it is raining slightly and the sky is completely darkened by threatening clouds. Just the time to put on our warm clothes and sailing jacket that rain gets thicker. We decide to wait a little.
We're lucky because, after about an hour, a good weather window seems to come and let us carry out our test. We don't waste time, start engines and enter the exit channel. With me, two other passengers are on board. At low rpm, engine noise is in itself truly exciting and I immediately notice that the passage around the console is functional while the forward sun pad is large enough to accommodate 2 people in total comfort.
The list of standard equipment is long and allows to enjoy a fully-equipped boat without having to burden the overall captivating image of the boat.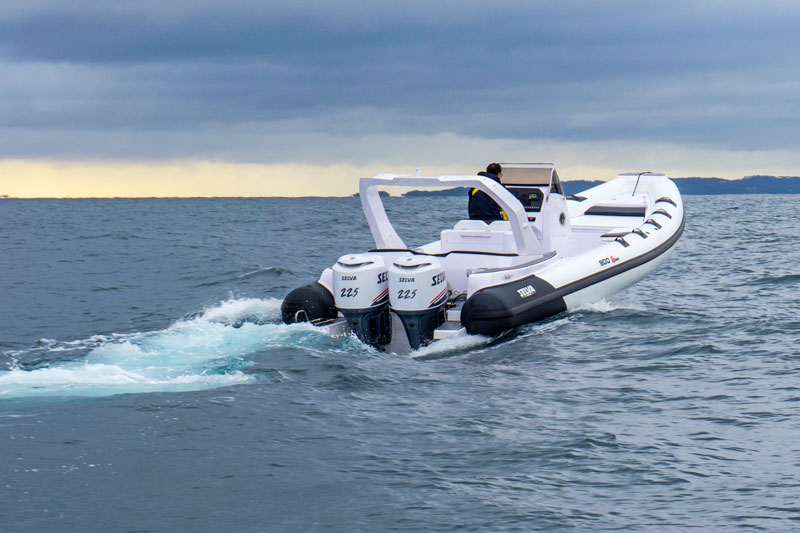 Out of the harbour wall, the sea is just as I expected, with a strong residual east wave that increases as we exit the bay. Under these conditions, I wonder how much we can really push engines to their limits.
Carlo Selva, the son and skillful right-hand man of the owner of the shipyard, is on board with us and says: " at max rpm and under optimal conditions, this boat is expected to reach 60 knots; today, it will be tough but we'll try it". I am in two minds about whether to be worried or to be glad to hear his statement. I'm not sure but I trust him; meanwhile, I look for a handhold.
Said and done. We grab the convenient handrails positioned on the console, we push the throttle forward and start flying. Within just 4 seconds, we sail at 20 knots; within 9 seconds, speed reaches 40 knots: this boat is a missile. Detecting speeds, while jumping from a wave to another, is really difficult.
Electronic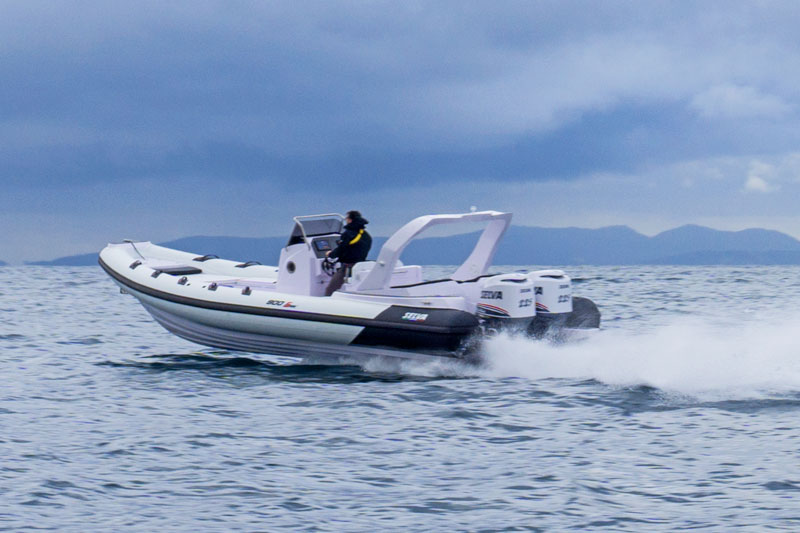 throttles are soft and have a minimum latency but, pushing them down, trust is strong and acceleration is worthy of a custom-built car.
Despite speed and rough waves, the D.900 Special planes and the feeling she gives us is of total control. In order to make our measurements, we try to hug the coast, which allows us to handle with fewer waves.
We summon our courage and reach 53 knots at 5,500 rpm. We "jump" many times, trimming is not easy and the acceleration/deceleration play is essential in waves. The D. 900 is, however, agile and all this is very funny!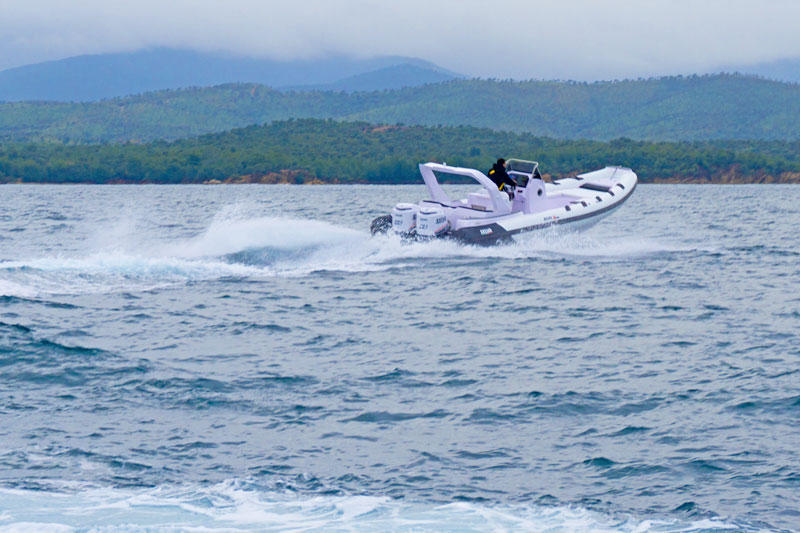 We can't push engines beyond (they could reach 6,000 rpm), the sheltered stretch in the bay is short, we had better to head for open sea but, there, sea is cross, waves are steeper and therefore really dangerous.
So, we all agree that that's enough. Safety comes first.
We stop for a while. Just the time to realize that we have sailed very fast under really harsh conditions. This inflatable boat is appropriate and, if some of us had been brave enough to stand on the bow, it would have been even better.
We test some turns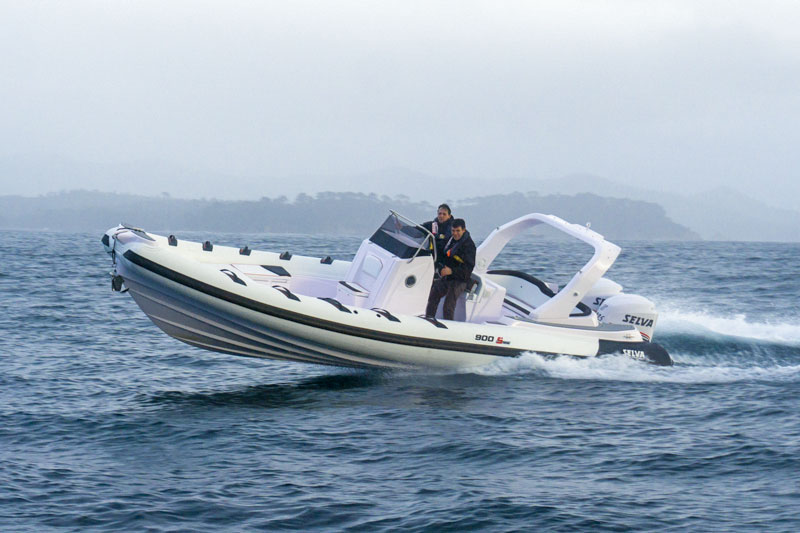 and sudden changes of course. In this case, too, the Selva D.900 Special confirms her positive sensations, she reacts promptly and, when necessary, gently leans on external floats, squashing the water surface. As a result, turns are are tight and precise, the D.900 S doesn't tend to cavitate. To make the most of her qualities, a proper use of trim is essential. Control is excellent and the stern is firmly planted on the water.
Twin Selva Finn Whale 225HP engines are particularly worthy of mention. They are powerful and, inexplicably, highly fuel-efficient. Thrust is powerful and sound is inebriating. It's like benefiting from more horsepower than that indicated on the outboards' hood.
Conclusions
The D.900 Special is a reliable adrenaline inflatable boat. A "pure" boat, I'd say. Perfect for both speed enthusiasts and families, that particularly appreciate her spaces, she can't hide her sporty soul and inclination for strong emotions.
Even when fitted with less powerful propulsion, such as 300 or 350 horsepower in total, the D.900 S could be more than adequate for all those who sail normally and are not interested into "running" at over 50 knots.
Data collected

Sea Trial Conditions: 3 passengers on board, fuel tank (550 l) at  50%, highly rough sea with long wave, variable wind, storm.
RPM
Speed  (kn)
Fuel Consumption (l/h)
600
3
4,5
1.5
1,000
5
8.7
1.7
1,500
6
15
2.5
2,000
8
24,5
3.1
2,500
16
27
1.7
3,000
24
39
1.6
3,500
30
47
1.6
4,000
36
72
2.0
4,500
43
90
2.1
5,000
47
128
2.7
5,500
53
147
2.8
6,000
np
np
np
Acceleration
Time in seconds
0-14 knots   planing speed
3.95
0-20 knots
4.36
0-30 knots
6
0-40 knots
9
Selva Marine D.900 Special – Description
The steering console is centrally positioned, with wide walk-around passages. Inside it, there is a large vertical storage compartment, accessible from the bow side through a convenient door. The pilot's seat is double and adjustable in two different positions to sit or simply lean against when standing up. Behind the seat, the central cabinet is equipped with a practical refrigerator with drawer opening.
The astern seat can accommodate three people in total comfort. Beyond it, you can get the bathing platforms that frame engines while offering an instant access to the water through a convenient folding bathing ladder. Forward, instead, the U-shaped seat can turn, according to the position of the table plan (as you can see in the pictures), into a sun pad or a living zone. All forward seating is opening and gives instant access to peaks underneath ( 7 in total), useful to store materials not indispensable during navigation.
| | |
| --- | --- |
| Max Length (cm) | 960 |
| Interior Length (cm) | 900 |
| Max Width (cm) | 343 |
| Interior Width (cm) | 209 |
| Accommodation | 18 |
| Max Kw Power (HP) | 441 (600) |
| Recommend HP Power ( Min/Max ) | 1 x 350 – 2 x 250 |
| Fabric | NEOPRENE – HYPALON, 1500 g/m2 |
| CE Design Category | B |
Viale dell'industria 13
Tirano
23037 , (SO)
Tel. +39.0342.705361
selvamarine@selvamarine.com
Article also available in:

English