Surfaces Group offers the most advanced solutions for glass and ceramics treatments on board yachts and superyachts

Surfaces Groups debuts in the boating world with its wealth of experience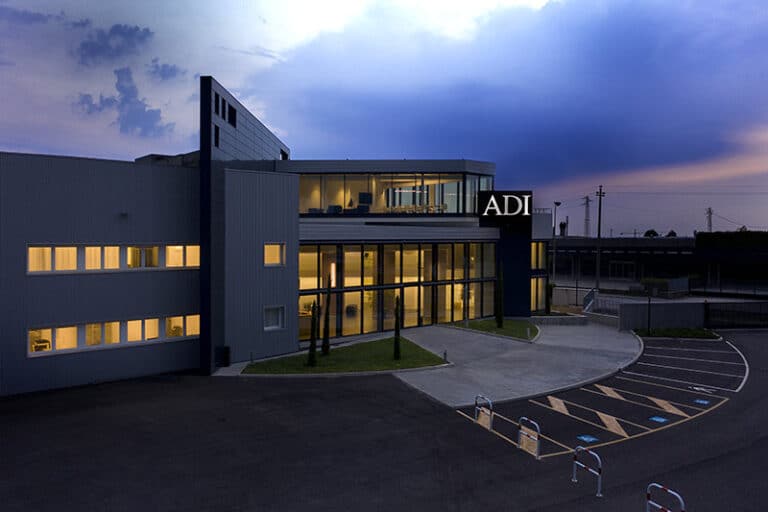 and skills. The well-known Italian group, specialized in the production of consumable abrasive tools for ceramics, glass and mechanical engineering represents the answer that shipyards, boat owners and crews have been looking for for a long time.
Materials such as glass and ceramics are widely used on board yachts and superyachts. Just think of the interior layouts of these large-sized boats, especially those exceeding 24 meters in length, and of the luxury furniture that embellishes the lounges, dinettes, galleys, cabins and heads below deck.
Ceramics, in particular, is widely used in superyacht interiors because it is lighter than natural materials such as marble and stone and, therefore, does not further overload the boat as a whole. Its rather low weight, in fact, does not compromise the hull performance, nor does it subject thrusters to excessive strain.
Furthermore, high-quality ceramics does not suffer the corrosive effects of the salt contained in sea water and, from an aesthetic point of view, adds a touch of unique elegance to the furniture: in other words, it creates a definitively impressive design effect. A luxury which, as such, must nevertheless be treated with extreme attention and caution.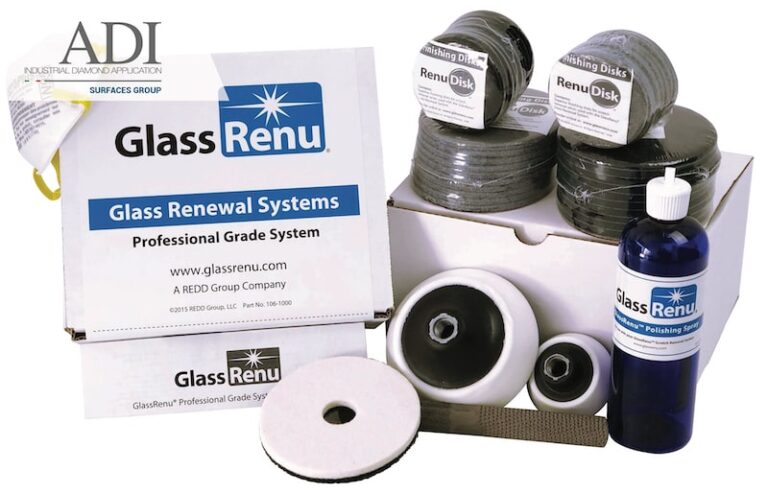 In fact, it is not easy to treat glass and ceramics properly. While it is difficult to keep them in perfect conditions, it is equally frequent to damage them when performing inappropriate and incorrect maintenance operations, often irreparably. It follows the need to turn to "expert hands".
Although not full-blown, this market need is increasingly important in the boating sector. And this is where Surfaces Group comes into play, offering, through its ADI, RBM Italia and NoCoat brands, innovative solutions for glass processing, maintenance and cleaning and ceramics treatment.
Surfaces Group guarantees completely custom products, specially designed around the customer's needs. This is one of the reasons why its production fits perfectly with a sector of global dimensions like recreational boating.
The international vocation of Surfaces Group is represented by a few highly significant figures: more than 55% of Group turnover is generated by export sales. This parameter must be considered in conjunction with the fact that 80% of the sales made by the Italian customers of Surfaces are destined for export: one of the flagships of made in Italy products in the world.
Surfaces Group operates directly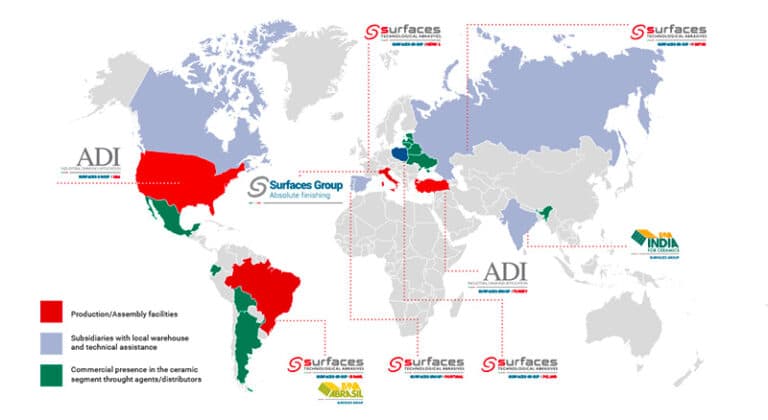 through its branches in Italy, Spain, Portugal, Turkey, Russia, USA, Brazil and India. While America and Europe are the most important markets,  the group is present in other countries through a close-knit network of agents and distributors.
The globalizing character of Surfaces Group also lies in the all-round assistance that the group companies headquartered in Bergamo, Sassuolo and Vicenza guarantee to their customers. Through the expertise and professionalism of its specialized technicians, Surfaces Group offers technical assistance all over the world, even in this time of anti-Covid restrictions thanks to a special online assistance application that allows the technicians to be present on production lines and interface with the customer remotely.
From a technological point of view, Surfaces Group is a constantly evolving reality supported by its Surfaces Lab, a plant staffed by engineers, chemists and senior technical specialists working together with the aim of developing and testing new integrated solutions and product combinations.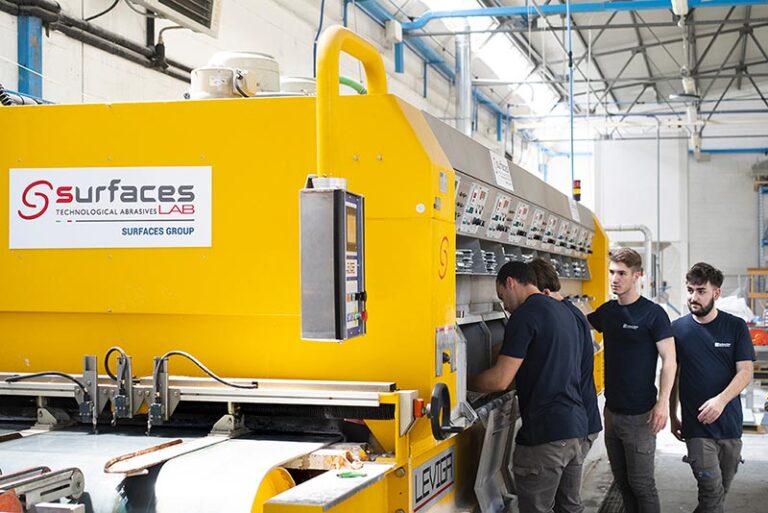 The lab's experimental vocation and flexible structure are a precious resource for customer companies which, by entrusting the production of their samples of new ceramic products to Surfaces Group, support the production departments in this delicate role, avoiding costly downtimes in series production operations.
Furthermore, Surfaces Group pays particular attention to the protection of the environment. This is why, thanks to its constant commitment in the research and development of new solutions and processes, some product lines are made in the name of sustainability, reducing processing waste and maximizing recycling. Surfaces research and development departments, in fact, are constantly looking for eco-sustainable raw materials. 
If we wanted to find a proverb to summarize the global success of Surfaces Group, the most appropriate would be " unity is strength": Surfaces Group is, in fact, a society that, built up through a complex process of acquisitions, gathers the top leaders of the Italian market and today represents the absolute point of reference for the production of consumable abrasive tools for ceramics, glass and mechanical engineering in Italy and in the world.
Surfaces Group consolidates its leadership through a widespread presence distributed among the seven production sites in Italy, in the ceramic district of Sassuolo and in the provinces of Bergamo, Vicenza, Asti, Verbania and La Spezia, and the seven international offices in the most important reference markets: United States, Brazil, India, Russia, Spain, Turkey and Portugal. 
An increasingly consolidated and constantly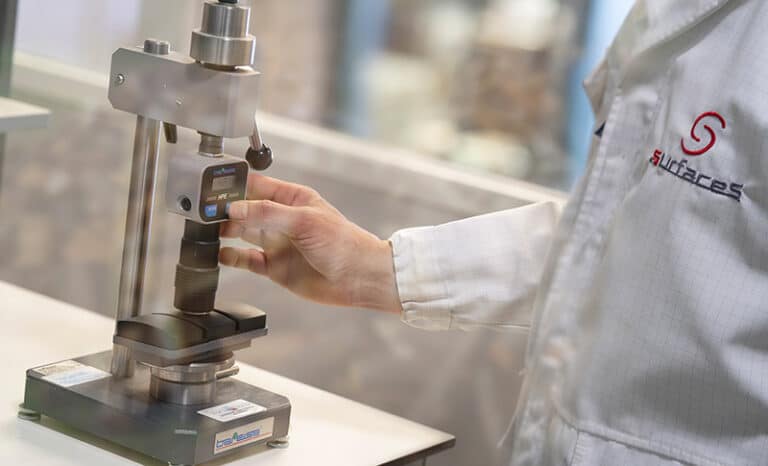 growing group, where prestige, know-how and assets are undoubtedly greater than the sum of the pedigrees of each company, thanks to the precious synergies between the different brands of this winning team. Companies with over 30 years of history that have contributed and continue to increase the authority of Surfaces Group (founded in 1986 under the name of Gloxi and officially become Surfaces Group in 2014) and to raise its production quality to the highest levels, offering 100% customized solutions. 
The companies of the group are: ADI (the first company acquired in 2016), which designs and manufactures diamond tools for grinding, cutting, squaring, edge processing and finishing of ceramic, stone and glass slabs; No Coat, specialized in chemical surface protection and polishing treatments and the production of related tools for their application (including the famous Supergloss); Luna Abrasivi, which produces tools and chemical products for working and finishing ceramic, marble, granite and agglomerate; International Chips, specialized in high-performance abrasive plastics, resin diamond tools, grinding wheels for surface finishing of ceramics, glass, alloys; and RBM Italia, which supplies polishing wheels for flat glass and low-emissivity glass.
Surfaces Group offers the widest range of consumable abrasive tools of the market and represents an important referece for both machinery manufacturers, manufacturing industries and boat manufacturers, which have finally found the answer they were looking for.