The etymology of the term yacht comes from the Dutch word 'jacht', which was used in the past to define the fast sailing vessels used to hunt down pirates along the coasts of northern Europe.
Today, the term 'yacht' is used to describe all recreational vessels, whether sailing or motor-powered, with at least one cabin that allows the crew to sleep on board.
There is no established definition for the length of this family of boats, but common usage tends to define a yacht as a vessel longer than 33 feet, or about 10 meters.
As mentioned above, a yacht may be equipped with sailing, motor or mixed propulsion. It can have more than one hull, and if it exceeds 25 meters it also deserves the definition of superyacht. When a yacht is over 50 meters it is called a megayacht and, more and more frequently, when it exceeds 100 meters it becomes a gigayacht.
A yacht normally flies a flag that corresponds to the country where the vessel is registered, not least because, if it does not, it may be captured and taken to the nearest port for 'flag survey'. As far as international maritime law is concerned, the yacht is considered in all respects to be the territory of the country of the flag it flies, to whose sovereignty the crew is subject.
A yacht flying the flag of a country, unless there is well-founded suspicion of illegal activity, can only be stopped for inspection by the military vessels of that country. When a yacht enters the territorial waters of a country other than that of its flag, it is obliged to fly a courtesy flag.
This is tantamount to a declaration of submission to the navigational laws of the country in which it is sailing.
Sailing and motor-powered yachts
The first major distinction is between sailing yachts and motoryachts. The current worldwide spread of these two families has shifted decisively towards motor yachts, which make up about 75% of the total sailing fleet.
Progress and design have produced many different categories of motor yachts, so let's discover them together.
Motoryachts
Flybridge
Seen from the stern, a flybridge yacht is often equipped with a "beach club", a platform that facilitates access to the sea and on which water toys are placed or simply used for diving. A staircase, or even two symmetrical staircases, leads from this platform to the main deck. Sometimes there is a "garage" between these two staircases to house the engine room, a tender and other on-board equipment.
The main deck is characterized by the presence of a helm station, inside of which a large open-space salon houses settees and a galley. The helm station often leads below deck, also known as the lower deck, where the sleeping quarters, or cabins, are normally located.


The foredeck often has a large sundeck bordered by a "bowplate" for hauling anchor. The bow is often "fenced in" by the handrails, which are vital grips for safety at sea.
Let's get to why a yacht is called a flybridge. The flybridge is an upper deck, open 360 degrees and often covered by a hard-top, a roof usually made of fibreglass. The flybridge usually has an additional helm station to steer from a more panoramic position. An additional galley is often located on the flybridge, as well as additional lounge seating and sun decks.
Open Yachts
An open yacht has no flybridge and its main deck is commonly all open. The helm station can frequently be sheltered by a T-Top. Below deck, depending on the length of the yacht, there are living spaces for the crew which may include dinette, cabins and facilities. Open yachts can be walk-around, i.e. with the possibility for passengers of walking freely around the perimeter of the boat, or they can have an enclosed bow and thus have a raised deck.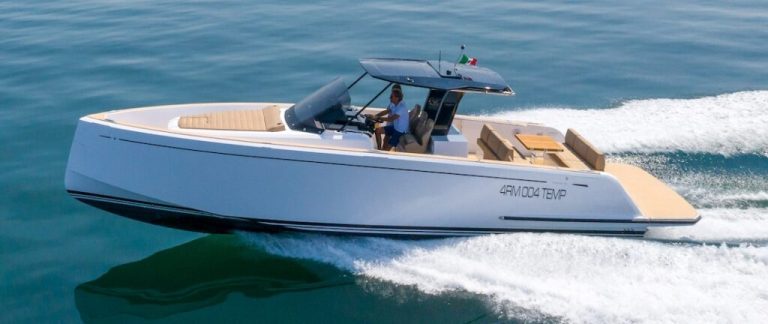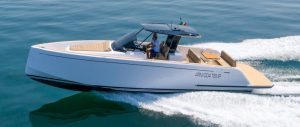 Coupe
A coupe yacht is a yacht without a flybridge, characterized by a sporty design, with the main deck open aft. Very often it has a sunroof and is always equipped with side-decks connecting the stern to the bow. It is a vessel that, depending on its size, is suitable for medium to long-distance cruising.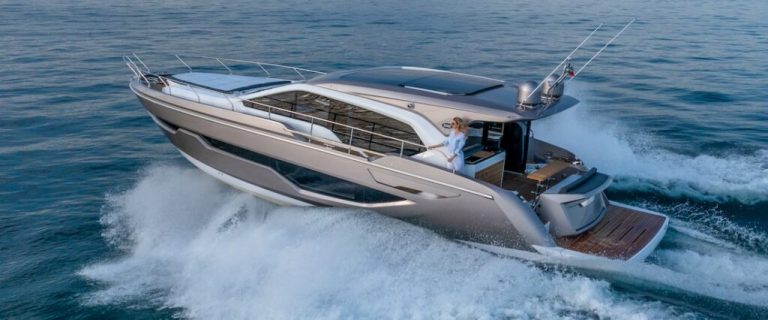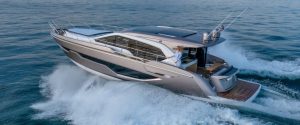 Lobster
This is an important type of yacht, which has its origins on the American East Coast where it was used to catch lobsters. It has a romantic, sometimes vintage aesthetic, and is endowed with sinuous lines that, for some, are evocative of the 1950s. Very suitable for cruising and conviviality, thanks also to a large sofa in the cockpit, the lobster is an iconic boat that offers plenty of comfort and space below deck for at least one cabin and one head.
Trawler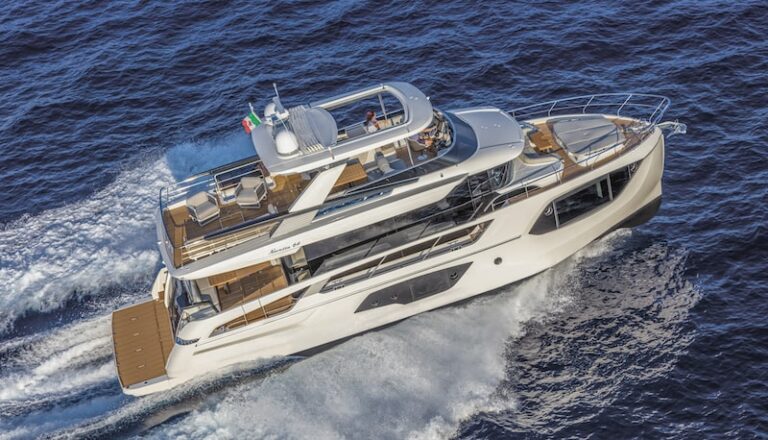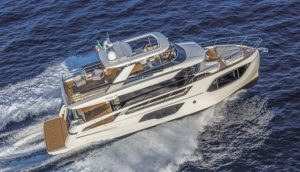 A trawler is a prestigious cruising yacht with a displacement or, increasingly common in modern yachts, semi-planing hull. Its design has its origins in ancient times in deep-sea fishing boats, famous for their seaworthiness.
The trawler is essentially a yacht for owners who want to spend a lot of time on board. This is why interior volumes are maximized and the upper deck is always present. Also part of the trawler family are the famous Menorcan boats, inspired by the llaüts of the Menorca island..
Multihull
Increasingly popular among motor yachts, too, is the multihull, due to its inherent features of stability and capacity. In most cases it is a catamaran designed for long stays at sea.
Sailing yacht
Sailing yachts are vessels where propulsion should mainly rely on the power transmitted by the wind. In the past, sailing yacht engines were low-powered and mainly used for entering and leaving ports, but today, for obvious reasons of practicality and ease of use, they have enough power to make the sailing yacht cruise at a speed at least equal to its theoretical hull speed. This means that sailing yachts can be used efficiently even in the total absence of wind.
A sailing yacht can be rigged in many different ways, these being the most common in modern times:
Sloop: this is the most common rigging on modern boats, characterized by the presence of a single mast with a mainsail and a jib or genoa. Sloop rigging has become popular over the years because it is the easiest to handle with a small crew and also offers the best ease of use/sailing performance ratio.
Cutter: Widely used for long distance sailing, it is characterized by the presence of a mainsail and two jibs rigged on a single mast. Normally the two jibs are a genoa and foresail that are used individually, depending on the weather conditions.
Ketch: this is the most commonly used rig on two-masted sailing yachts, with a mainmast, rigged with a mainsail and genoa, and a mizzenmast, forward of the rudder shaft, rigged with a single mainsail. The splitting of the sails makes this type of yacht suitable for sailing in bad weather.
Yawl: exactly the same as a ketch but with the mizzen mast located aft of the rudder shaft.
Sailing yachts can be monohulls or multihulls, i.e. catamarans or trimarans, but in all cases they can be divided into these categories:
Cruiser
This is the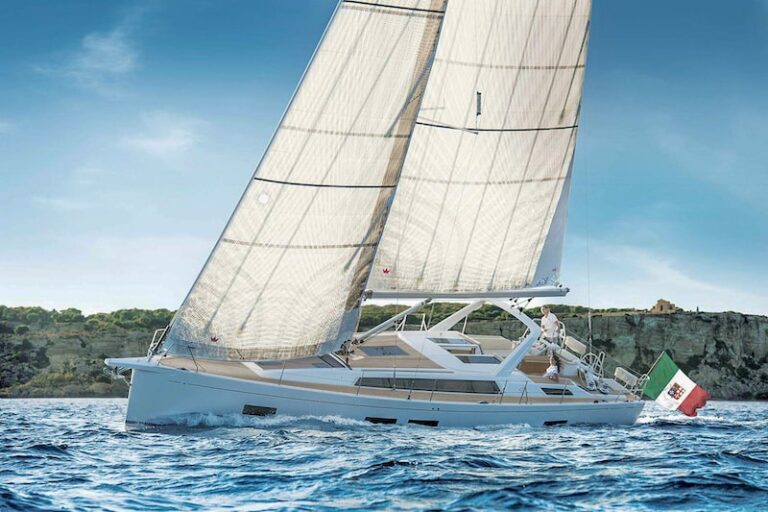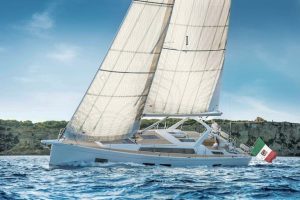 most popular sailing yacht and is obviously dedicated to comfort and long stays at sea.
Easy to handle and with plenty of space above and below deck, this type of yacht is normally characterized by an unbalanced length/width ratio favouring the latter, a small sail area and more powerful than average engines.
The interiors are fully equipped and sophisticated, with each cabin often having its own en-suite head.
The deck plan and sailing equipment are simplified, often electrified and minimal.
Cruiser-Racer
This is the favourite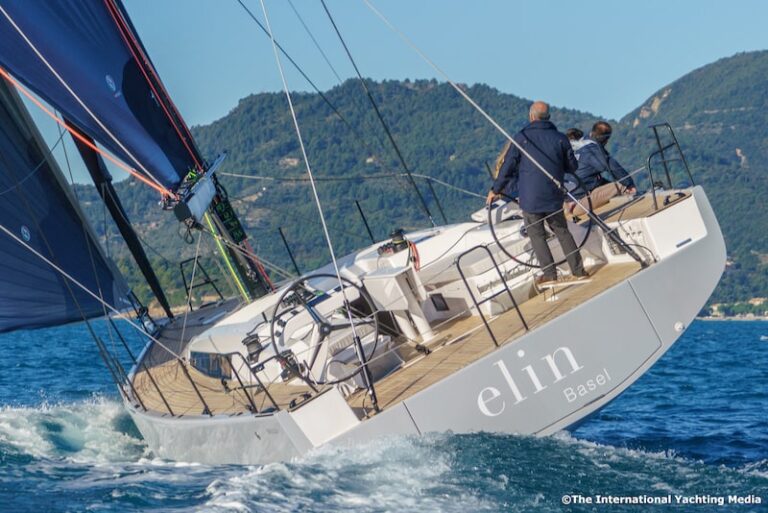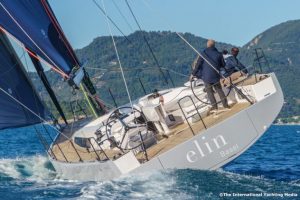 yacht of those who like sailing and/or participate in club races.
This yacht, while still featuring a luxurious and complete interior, also has all the equipment needed for sail fine-tuning and a generous sail area.
This is a category where special attention is paid to both the overall weight of the boat and the hull shape.
The hull lines are in fact designed to enhance performance and, inevitably, this results in a slightly smaller interior than that of pure cruising yachts of the same length.
Racer-Cruiser
This yacht has fully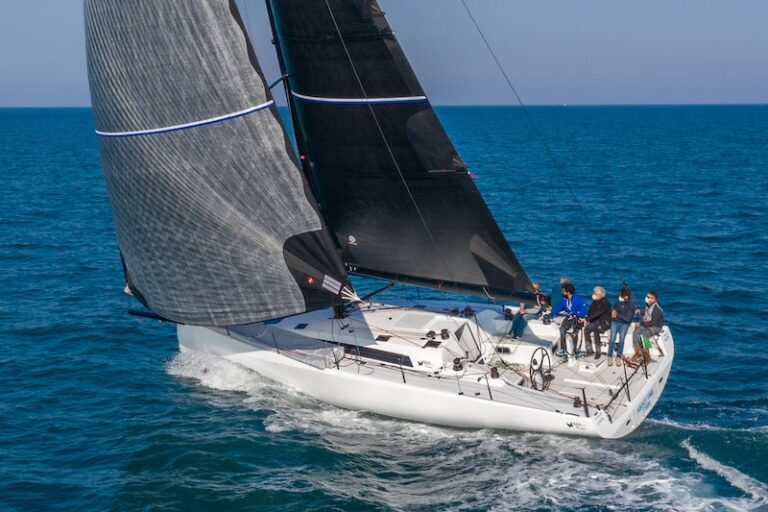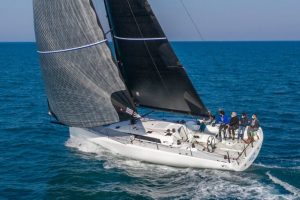 equipped yet extremely light furnishings. In this segment, weight plays a very important role, as is a good racing rating.
The owner who buys this type of yacht has already competed in club competitions and now wants to engage in higher level racing. The hulls are light and can sometimes be made of carbon, and all the sail adjustments are fine-tuned to achieve maximum performance.
The deck plan is definitely designed for crewed racing and the sail area/displacement ratio is unbalanced in favour of the former, making this yacht more difficult to handle with a smaller crew but, conversely, capable of performance similar to a pure racing yacht.
Racer
A pure racing yacht is a sailing yacht built exclusively for racing. Free from any commercial constraints, it is built according to the type of race to be competed in and, above all, the rating to be obtained. The interiors of this boat are minimal. This yacht is capable of planing and sailing upwind at very low wind angles, but is almost never used for recreational purposes.


This article is also available in:

German