A 45-metre yacht at the mercy of the waves, inexorably taking on water with seven frightened people on board awaiting rescue. They are rather dramatic images of the shipwreck of the Benetti yacht 'Domani', which last Saturday 7th May at seven o'clock in the morning local time ran into serious trouble while about 25 miles off Grays Harbor, along the Washington coast. The video, shot by US Coast Guard men and posted on Twitter, shows the distressed condition of the luxury motorboat as it is being rescued. Fortunately, there are no injuries among the seven people on board at the time of the shipwreck.
According to reports from the US Coast Guard, due to a technical problem the crew was unable to close the stern door; as a result, water flooded into the beach club, i.e. the lower part of the yacht. Shortly afterwards, the yacht's crew also found smoke and activated the engine room fire extinguishing system, causing a blackout and loss of propulsion. To maintain communication with the coast guard, the crew used the yacht's emergency batteries.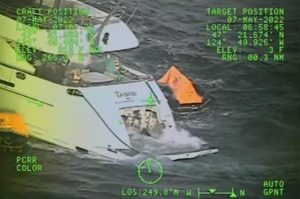 Following the distress call from the Domani's on-board radio, the US Coast Guard ship Cutter Active, several Jayhawk helicopters from Air Station Astoria, and a group of motor lifeboats from nearby Grays Harbor and Quillayute River stations arrived on the scene within minutes. After the seven people on board the 'Domani' were rescued, the Cutter Active vessel towed the stricken yacht for ten hours to the entrance of the Strait of Juan de Fuca, where it was handed over to a commercial agency specializing in towing boats. However, the precise reasons for the failure of the stern door are still to be clarified and will be investigated in the coming days at a shipyard in Port Angeles, where the tug brought the yacht to be repaired.
The yacht 'Domani' was delivered in 2004 and is part of the Benetti Vision series. The exterior design was by Stefano Righini, while the interior is by Zuretti