Felci Yacht Design presents its new project, the Felci 63 Scuderia, another breath-taking yacht that impresses from the very first sketches. The yacht, a large blue water cruiser with an aggressive and eye-catching design, is scheduled to be launched by summer 2023 and will undoubtedly stand out for the high level of innovation that Felci Yacht Design has incorporated in its design, which has been meticulously studied in every detail as always, as well as for the great comfort on board that makes it perfect for long cruises.
Studied with meticulous attention, the hull of the Felci 63 Scuderia guarantees a low level of heel without compromising the boat's performance, in order to offer efficient and comfortable cruising. This is due above all to the development of the volumes in the longitudinal direction, which makes it possible both to improve course stability and to make the whole boat balanced and easy to handle. The appendages, too, have been optimized with the same prerogatives, limiting draft without disadvantaging either righting moment or lift.
In general, Felci Yacht Design has paid great attention to the dialogue between the interior and exterior spaces, arranging them in full continuity and enriching them with a meticulous choice of colours and furnishing essences, which create spaces that are relaxing and modern, as well as absolutely comfortable. The large cabins, wide beds, high headroom, functional lockers, and generous size of the galley and toilets make the Felci 63 Scuderia a truly innovative, as well as elegant, sailboat.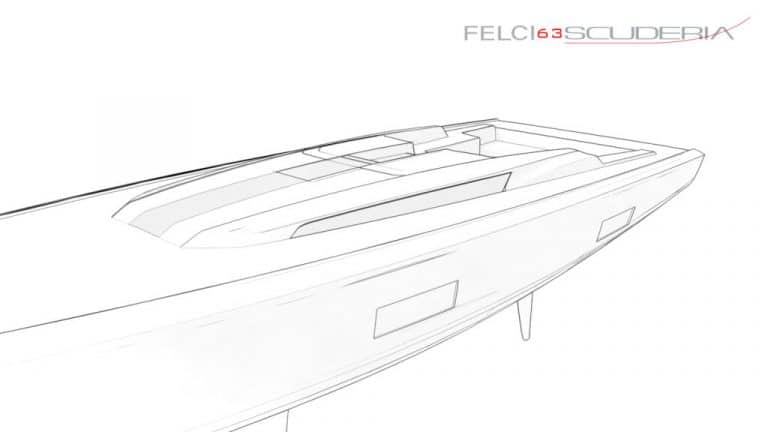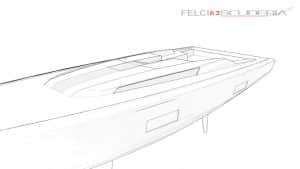 "Although years of experience are always a key factor in every project – designer Umberto Felci says – every element has been reanalysed and rethought through intense formal and functional research. A complex work, generated by the desire to 'say' something new and make our yachts more and more efficient. A very transversal work on the whole project that is only concluded each time when the form and its aesthetic value also accurately reflect the function to be performed".
The construction of the Felci 63 Scuderia has been entrusted to the Italian shipyard Adria Sail, with which Felci Yacht Design has been collaborating for many years and with which it has also created the Scuderia brand, building the famous and multi-award winning fast cruiser Scuderia 50. The hull and deck will be made of carbon fibre sandwich, laminated in infusion with epoxy resins, inside a kit of numerically controlled female moulds: this is an extremely complex process that will make it possible to create a very sturdy and lightweight artefact, in which the structures are laminated and infused directly on site and also used to a large extent as elements to subdivide the interior spaces.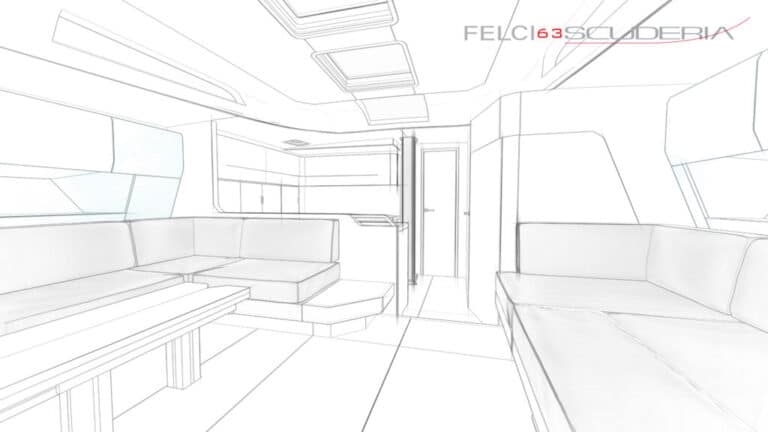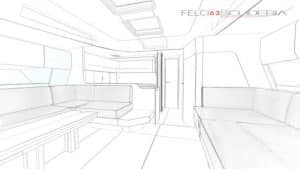 Lastly, the sail plan and deck equipment are designed to make the yacht steerable by just two people. This way, the owner will not be forced to rely on a captain on board at all times, but will be able to have just one person on board from time to time to help manage on-board needs. This is why Felci has limited the sail plan to four sails, namely a full battens mainsail, mounted on an electrically furling boom, and three headsails (a J3, a J1 and a Code 0) mounted on as many electrified furlers, so that the right sail can easily always be used in the right conditions and at the right pace.
Find out more at: www.felciyachtdesign.com