Massimo Guardigli is one of those men who have dedicated his life to boating, achieving great success and satisfaction. As a young designer, Massimo Guardigli won several national and international competitions in the eighties and nineties, which allowed him and his wife Flavia to buy a historic and appreciated brand like Comar Yachts, giving it a new course. First with the small Comets and then by diving into the world of catamarans, Guardigli has renewed the Forlì shipyard's nautical production, taking it to an extraordinary evolution that has won the public's approval. This is why an interview with Massimo Guardigli could not be missing from our series "The protagonists of yachting".
Massimo Guardigli, how did your passion for the sea and interest in boating begin?
"My relationship with boating began by chance, attending a sailing school as a child at the Eur lake in Rome, which today has become a sort of puddle in the capital, but in my day it was a top-notch federal school with very well-prepared instructors. At the age of nine I took my first licence and started to do my first dinghy and 470 regattas, and at thirteen I moved on to bigger, more professional sailing boats. While I was attending university at Luiss, I started my first work experiences in the surfing business and at the age of twenty-one I found myself with seven shops; at the same time, I started making my first prototype boats with which I won various Italian championships starting in 1982. Thanks to these successes, I was able to buy the Comar brand and start building boats to create a new era for this brand, thanks above all to our designers of reference, Vallicelli and Sergio Lupoli, who made the biggest and smallest boats respectively, but always maintaining a certain sporting spirit that allowed us to achieve other goals".
Is there one that you remember with particular satisfaction?
"In 2008, at the Italian championship in Punta Ala, on the two podiums in the regatta and cruising class, five out of six boats were mine: it was a magical and exciting moment. But we never let it go to our heads; on the contrary, we always tried to maintain a direct and familiar relationship with the public".
Why did you decide to enter the world of catamarans?
"With the economic crisis of 2008,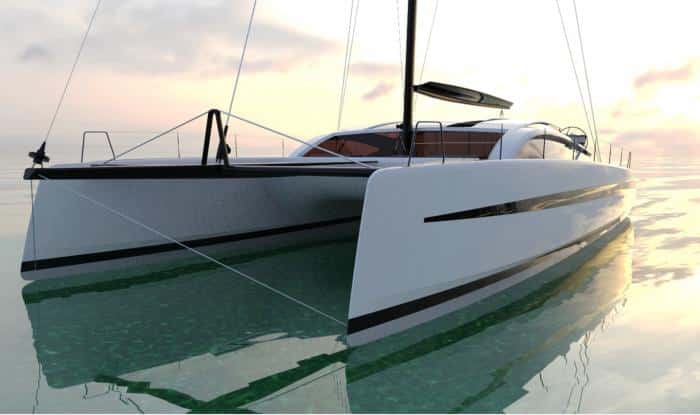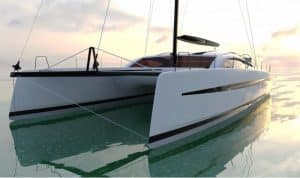 which put the boating world in difficulty, it seemed that the sector could not recover. Many small boatyards closed down for good, while other larger, more structured ones were able to play defence and managed to hold on, but it was a very difficult ten years for everyone. My reaction, then, was to throw myself into something new: after some analysis I noticed that the only sector of the boating industry that had not suffered any reduction in turnover due to the crisis was the catamaran sector, so with the support of my wife, who continued to run the Comar yard, I started working on the study of catamaran prototypes and their marketing. It was a successful choice, since the catamaran has now become our core business, although we continue to produce Comets, albeit to a lesser extent. Basically, we created a sort of catamaran cruiser, that is, a comfortable and safe boat that did not make the monohull regret too much, but rather surpassed it: aboard our first model, the 37-footer, you could eat fish in the middle of a gale without anything falling off the table, and we are still talking about fairly small dimensions. That experiment, in short, went well and we later threw ourselves into regattas as well, with the same success".
What are the differences in designing catamarans compared to monohulls?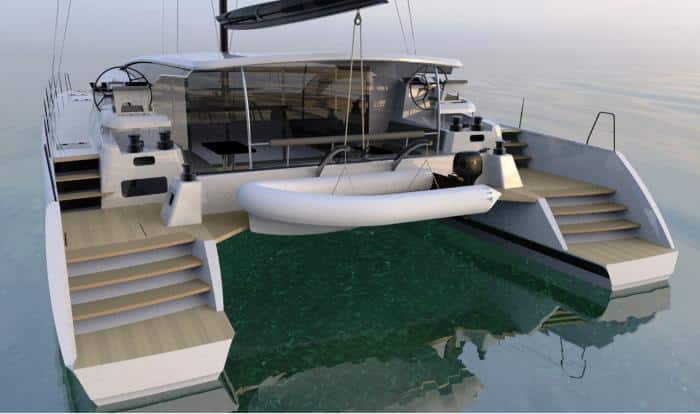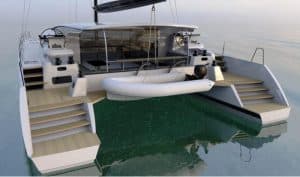 "The catamaran is a much more demanding activity than the monohull, which is a more evolved product used by the masses. The catamaran, on the other hand, still has a lot of room to evolve and there is still a long way to go. Our choice has been to make light, well-made boats without overdoing it, i.e. without going for hyperbolic costs, otherwise everyone can do it! But the key to success is to find the right mix between reasonable costs and crazy performance; and to do that, since I had a lot of uncertainties at the beginning, I had the intuition to rely on Marc Lombard, the guru of catamarans. Thanks to working with him, I started to gain more confidence on the design and engineering part, until I was able to do everything on site, including the interiors".
Looking to the future, what should we expect from the boating world and especially from catamarans, given that in general boat sizes tend to increase?
"The trend of increasing size is irreversible, especially in Italy, where luxury and comfort are popular. The market is going in this direction – including us, who are producing a 62ft catamaran – but I think this is a mistake. The small boat, in fact, is a very enjoyable object with which to have fun and wonderful holidays. However, the problem in our country is that we have no real industrial production, especially for sailboats: instead, we have excellent shipyards that produce a few boats, and larger and larger ones such as super yachts. If, however, we look at France, we can see that yards are reopening their series of smaller boats, and this is a warning that in my opinion should not be underestimated: I imagine that our cousins have information and market research that suggests that the market for small boats will explode in the next few years, and I hope that this is the case. The small boat, in fact, acts as a bridge to the big boat, and it is not only luxury, but also sport and fun".