Mercury V8 and V6 : power and (electronic) control
It's a historic moment for Mercury Marine. The sum of the two latest novelties, the launch of the new V6 3.4-liter outboard in Miami last February and the official presentation of the new V8 4.6-liter engines these days, certainly changes the face of the market.
The step forward that Mercury Marine has taken with the introduction of these new outboards is simply momentous. The one-billion-dollar investment put in place by the American giant that is also the only one engine manufacturer in the world which is entirely focused on yachting, has led to a result that, as we will see, maximizes and further improve all those features which had already made the star-spangled outboards well-known all around the world.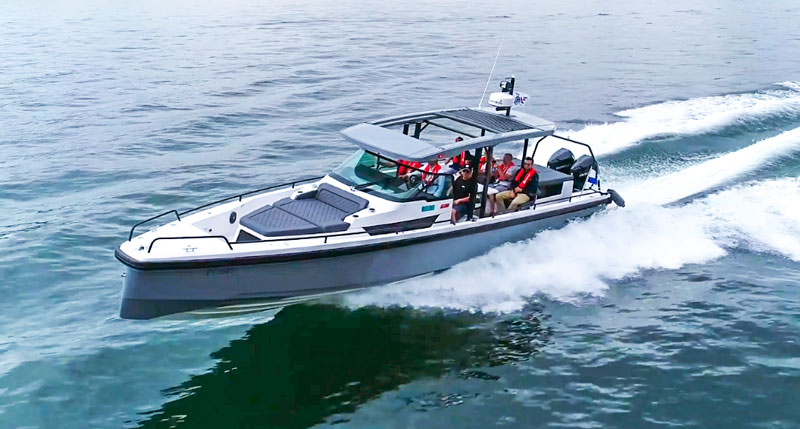 In short, we could define the new Mercury engines as the celebration, in all respects, of the previous series. More torque and more acceleration are combined with a significant weight reduction and extraordinary fuel efficiency as well as – and that's the real miracle – a considerably greater displacement which sets out the preconditions for some reliability standards that are even better than the already good ones of the previous models.
Moreover, Mercury has another feature I like very much: when it launches a new engine, it immediately makes it available for tests.
This is a sign of deep professionalism and, above all, this makes the novelty immediately tangible.
The following is the report of a full day of sea trials where we had the possibility to test the new outboards with no time restrictions and within their natural element.
New Mercury V8 and V6 outboards: the Test
A large deployment of means and outboards was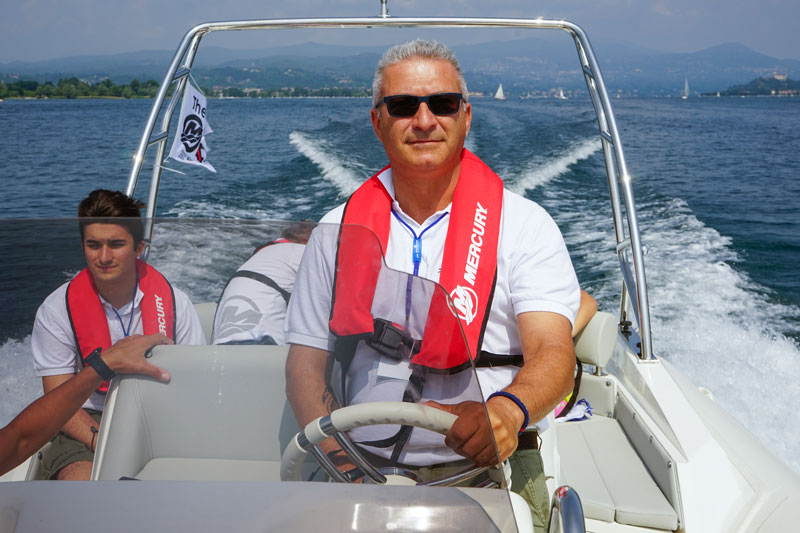 waiting for us in the city of Baveno, the location chosen for this test that, even only for a dimensional reason, was really unprecedented. The test involved 20 boats in water, all fitted with the new range of outboard engines. Indeed, Mercury uses its new thermal groups where the operational features of every single line make them suitable for the purpose and it is sufficient to take a look at the following table to figure it out.
Moreover, engines are custom and personalized according to the specific features of the line; so, for example, the V8 4.6L 300hp engine of the FourStroke models is completely different, in both electronic and mechanical terms, from its equivalent installed on board a Verado 300.
Line
Power
175
200
225
250
300
FourStroke
V6 – 3.4 l
V6 – 3.4 l
V6 – 3.4 l
V8 – 4.6 l
V8 – 4.6 l
SeaPro
V6 – 3.4 l
V8 – 4.6 l
V8 – 4.6 l
V8 – 4.6 l
Pro XS
V6 – 3.4 l
V8 – 4.6 l
V8 – 4.6 l
V8 – 4.6 l
V8 – 4.6 l
Verado
V8 – 4.6 l
V8 – 4.6 l
Racing
V8 – 4.6 l
V8 – 4.6 l
Having made this important remark, let's see the performance of the engines we tested.
Mercury Verado 300 – V8 4.6 L on a Nuova Jolly Prince 30
A couple of Verado 300 engines, in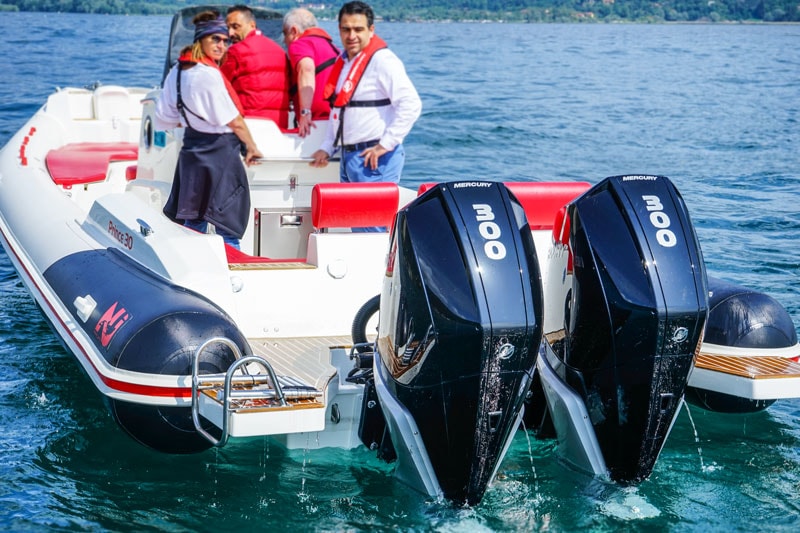 black livery, was waiting for us on the dock. They were installed on the stern of a Nuova Jolly Prince 30  and their rumbling was quite imperceptible. We climbed on board and we left slowly, with six passengers on board and a displacement of 2 tons in running order. The pilot steered the boat out of the port while illustrating the on-board electronic systems. The RIB was indeed equipped with both the Joystick Piloting System and the Active Trim systems, the more reason to whip everything on.
With my usual dose of skepticism, I asked if I could carry out a classic speed/rpm/fuel consumption test and, as the boat speed up, I realized that we were traveling at a really unbelievable speed. Already at 4,500 rpm, the boat was more than 40 knots fast and, considering that this engine could achieve 6,000 rpm, I grabbed at the handrail and I went on taking note while the GPS log continued to go up.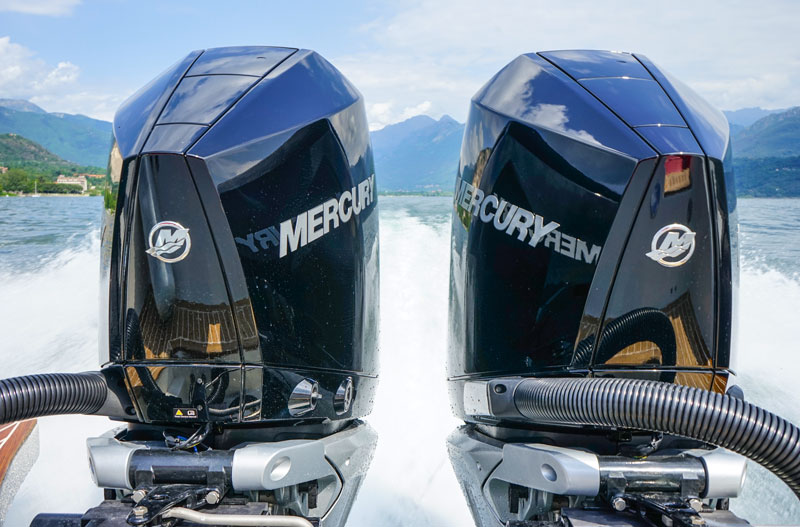 At 5,500 rpm, we ran at over 50 knots, I asked to pull throttles all down and, at 6,000 rpm, speed touched 56.7 knots while the Active Trim, always in automatic mode, was doing its work very well, enabling the driver to focus on all what that, considering that speed, gravitated around us.
Then, it was time to carry out our acceleration tests and the pilot recommended us to brace ourselves. I was about to tell him that I test about 50/60 boats a year and that I had already tested this boat but, fortunately, I kept quiet and I doubled my grasp on the handrail just in time because only one hand would not be enough. Acceleration to which I was subjected was simply crazy! I turned, I looked at my colleagues and I realized that, like me, they, too, hadn't managed to measure times.
It took three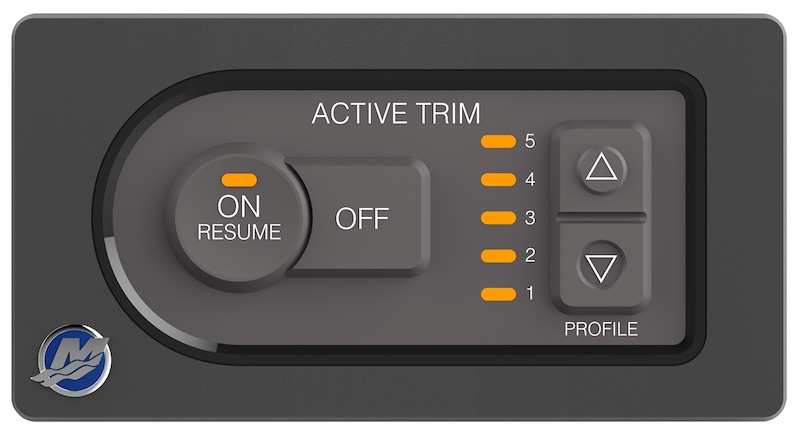 passages for us to correctly record accelerations times, it was like we were running on a road rather than on a boat, considering the "grip" (let me us this term) that the new Verado, the Enertia 21-inch propellers and the Active Trim system were able to perform in water.  We went from 0 to 50 knots within just 9.06 seconds and, as far as I'm concerned, this is an absolute record for this type of boat.
Given the acceleration, we had no choice but test the outboard-propellers-active trim combination; a series of tight turns, performed at a speed between 25 and 30 knots with no cavitation, confirmed us how advanced and indispensable the Active Trim system is.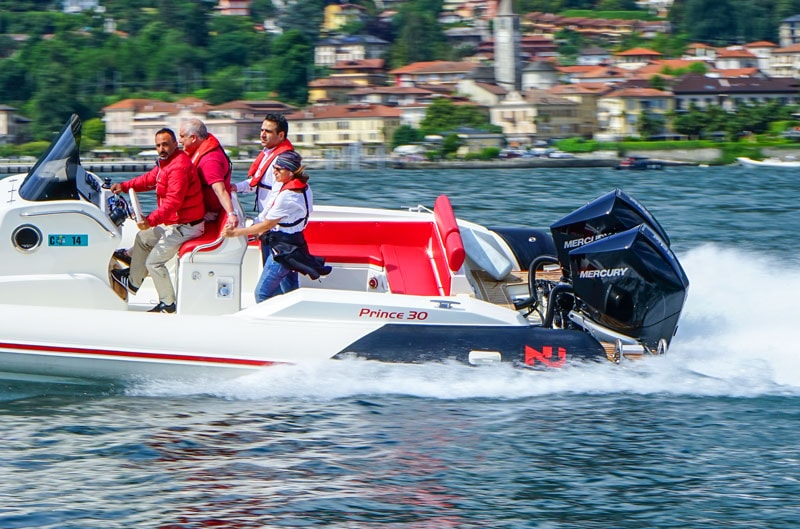 After all, the observation of the movement of our stern drives during our series of turns was sufficient for us to realize how fast the Active Trim was performing its trim changes. Even a bionic thumb could not do better in such conditions, so we decided to leave electronics work for us while we focused only on steering the boat, accelerating and decelerating with the electronic throttle set in single mode.
After a new speed test, I noticed that, at 32 knots, these engines delivered their best performances: just 1.67 liters of fuel to cover one nautical mile. Just to be clear, every engine, at this speed, uses less than 27 l/h.
At 40 knots, performance was even more striking: at a really high cruising speed, indeed, the two Verado 300 engines used just 2.23 liters of fuel per mile. In other words, we could sail from La Spezia to the island of Elba in 2 hours, with a very low fuel consumption.
Coming back to the port,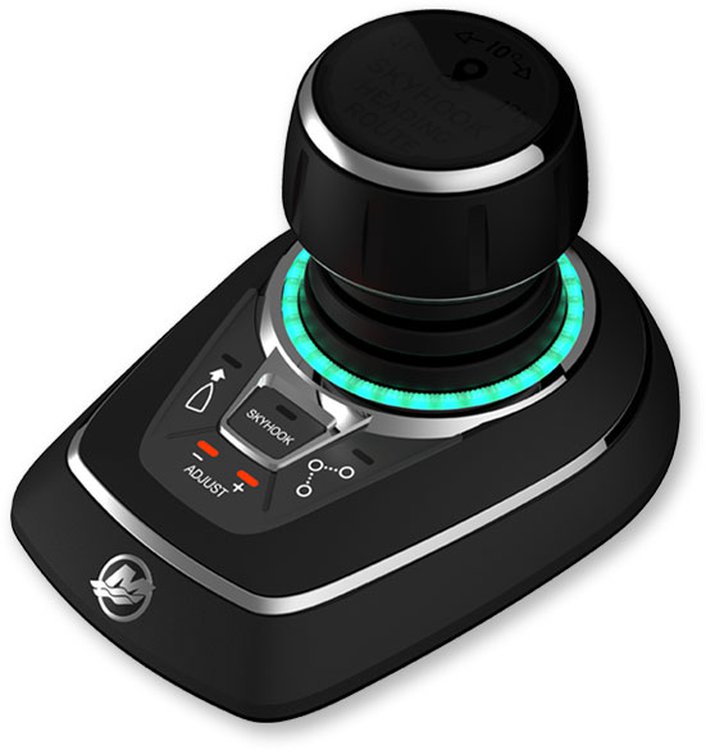 we tested the Joystick Piloting System. The knob has two functions: if you move it, it makes the boat moves in the direction desired; if, instead, you spin it around, it creates a rotational motion around the boat's axis.
Very simple and user-friendly, this systems guarantees extraordinary manoeuvrability. The movements of the boat are no longer limited to four directions since the joystick enables diagonal movements, too.
Moreover, thanks to the Joystick Piloting System, two highly expensive options are no longer needed: the autopilot and the bow thruster. Installing the Joystick could even represent a saving, when compared with the separate purchase of these two options.
https://www.facebook.com/tuttobarche/videos/1932518816767136/
Mercury Verado 300 – V8 4.6L engines on an Axopar 37 Sun Top
It was on boat an Axopar 37 Sun Top that we carried out our second test. Powered by twin Verado 300hp outboards, she offered us the possibility to test the performance of the Mercury V8 engines installed on the stern of a heavier boat. With an unladen displacement of about 3.600 kg, a fuel tank at 70% and 8 passengers on board, this sporty yacht hosted the hardest test of the day, carrying an overall weight of about 5 tons around.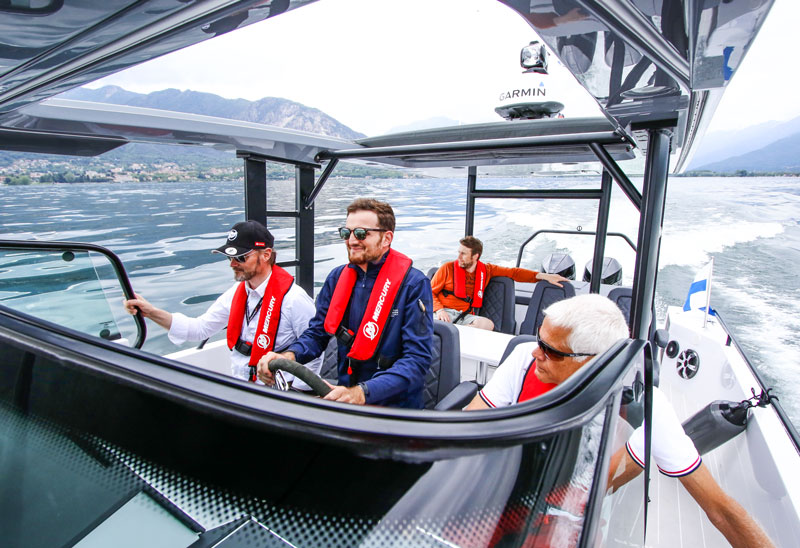 Yet, strain didn't seem to be a problem for the new Verado V8 4,6000 cc engines which made the boat touch a top speed of over 46 knots very quickly. Of course, fuel consumption was a little higher in this case but, after all, we were on board a cabin-equipped yacht which, installing outboards instead of inboard engines, leaves enough space to accommodate an additional cabin in the stern, bringing the total number of berths to 4.
Mounted on the Axopar 37, Verado engines delivered the best performance/consumption ratio at 23-30 knots, with a fuel consumption of about 2.5/2.6 l/nm between 3,500 and 4,000 rpm. Compared with any other cabin-equipped yacht of this size, that's a significantly lower fuel consumption. In this case, too, acceleration was considerable. Despite displacement, indeed, we reached 30 knots within just 9.7 seconds.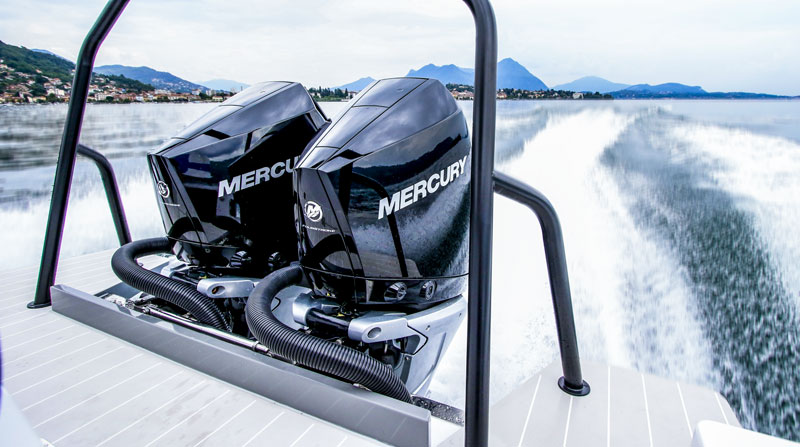 Conclusions and comparative table of new Verado 300 V8 engines' performance
As you have certainly understood, it's really hard not to assert that what we tested was one among the best outboards never built. Fast, gutsy, lightweight and surprisingly fuel efficient.  Equally noteworthy is the increasing integration with on-board electronics that, I mean no offense purists, is increasingly more indispensable. The gap of performance, consumption and safety resulting from the adoption of this tools cannot be filled, not even with the expertise of the most experienced captain.
It's not a simple step forward but a real quantum leap to another dimension.
Nuova Jolly Prince 30
Axopar 37 Sun Top
Overall weight during the test

about 2.2 tons
about 4.8 tons
rpm
speed (kn)
Fuel Consumption (l/h)
L/nm
speed (kn)
Fuel Consumption (l/h)
L/nm
600
3.5
5.5
1.57
3
6.4
2.13
1,000
5
10.6
2.12
4.9
10,6
2.16
1,500
8
18.8
2.35
7.2
17.0
2.36
2,000
11.4
27.5
2.41
8.9
27.7
3.11
2,500
15.1
34.2
2.26
11.5
35.5
3.09
3,000
23.9
46.7
1.95
15
48.1
3.21
3,500
32
53.5
1.67
23.9
61.6
2.58
4,000
37.6
74.4
1.98
30
79.0
2.63
4,500
40.5
90.5
2.23
34.4
96,1
2.79
5,000
46.5
129.1
2.78
38.1
116.5
3.06
5,500
50.6
160.3
3.17
41.9
148.5
3.54
5,950
56.7
189.0
3.33
46.5
181.0
3.89
Acceleration
Speed
Seconds
Speed
Seconds
0 – 20 knots
3.3
0 – 20 knots
7.6
0 – 30 knots
4.8
0 – 30 knots
9.7
0 – 40 knots
6.74
0 – 40 knots
12.8
0 – 50 knots

9.06
Mercury SeaPro 200 – V6 3.4 L outboards on a Nuova Jolly NJ 800 Pro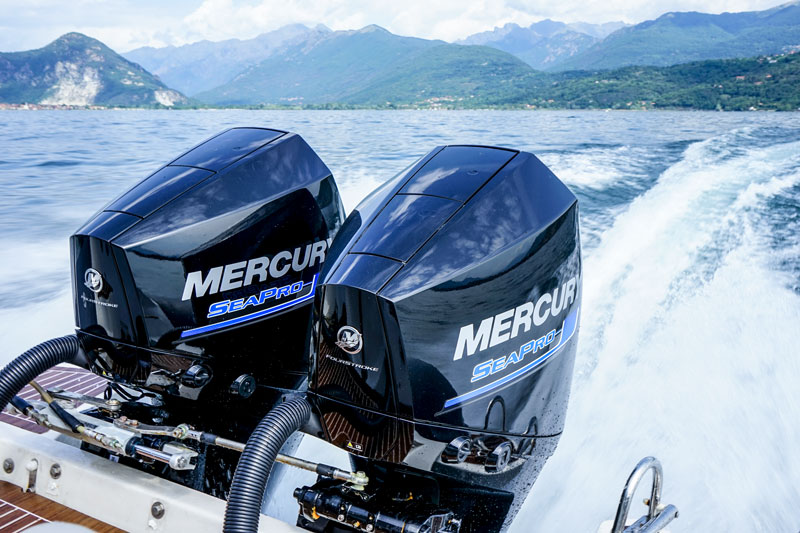 The Mercury Marine SeaPro line is dedicated to professional boaters and anyone used to subject his own boat to extreme use and therefore needs an engine specially designed for this purpose. Characterized by a very low torque, these engines convinced me for their ability to make the NJ 800 Pro (the professional version of the famous NJ 800) "go out of the water" a lot.
Even if they are designed for the purposed mentioned above, these engines are Mercury engines anyway; thus, when I put the throttle down, acceleration was unparalleled. Don't expect a classic "pack mule" which compensates its features with lower performance because fun is a typical feature of Mercury engines.
Indeed, even though I was just finished my Verado 300 test,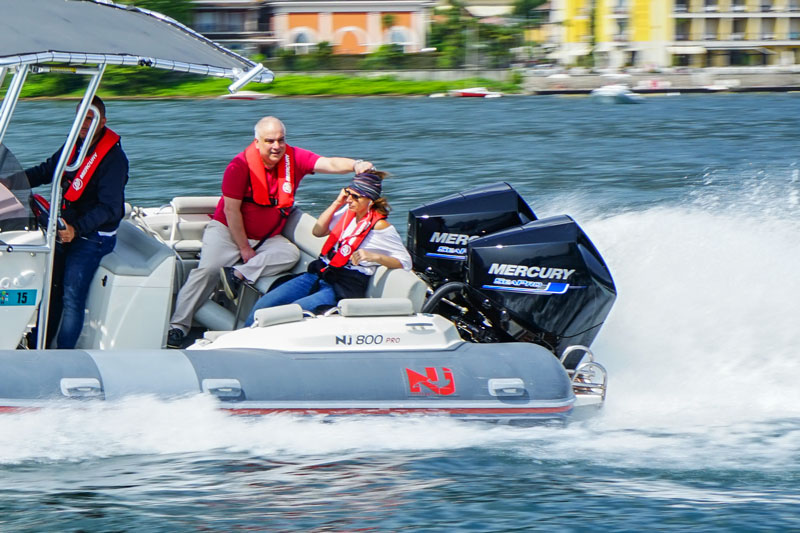 I had a lot of fun with this boat that, reinforced for professional use, weighted 1.5 tons, or better, 2 tons if we consider that there were 6 passengers on board and the fuel tank was almost full. Even under these conditions, the new V6 3.400 cc engine proved to be extremely fuel efficient and silent, despite acceleration and speed we tested.
This couple of engines found its ideal operational condition between 3.000 and 3.500 rpm where, planing between 25 and 30 knots, it used little more than 1.5 liters of fuel per mile. A definitively interesting performance, especially for all those who decide to use it hard.
| | | | |
| --- | --- | --- | --- |
| rpm | speed | Fuel Consumtion (l/h) | l/nm |
| 600 | 3.6 | 5.6 | 1.56 |
| 1,000 | 5.63 | 10.0 | 1.78 |
| 1,500 | 7.73 | 17.0 | 2.20 |
| 2,000 | 11.6 | 25.8 | 2.22 |
| 2,500 | 19.1 | 35.8 | 1.87 |
| 3,000 | 25.1 | 38.2 | 1.52 |
| 3,500 | 28.8 | 48.0 | 1.67 |
| 4,000 | 34.5 | 75.8 | 2.20 |
| 4,500 | 39.5 | 112.0 | 2.84 |
| 5,000 | 44.6 | 128.4 | 2.88 |
| 5,500 | 51 | 148.5 | 2.91 |
| | | | |
| Acceleration | Speed | Seconds | |
| | 0 – 20 knots | 5.2 | |
| | 0 – 30 knots | 8.7 | |
| | 0 – 40 knots | 12.8 | |
| | 0 – 50 knots | 18.3 | |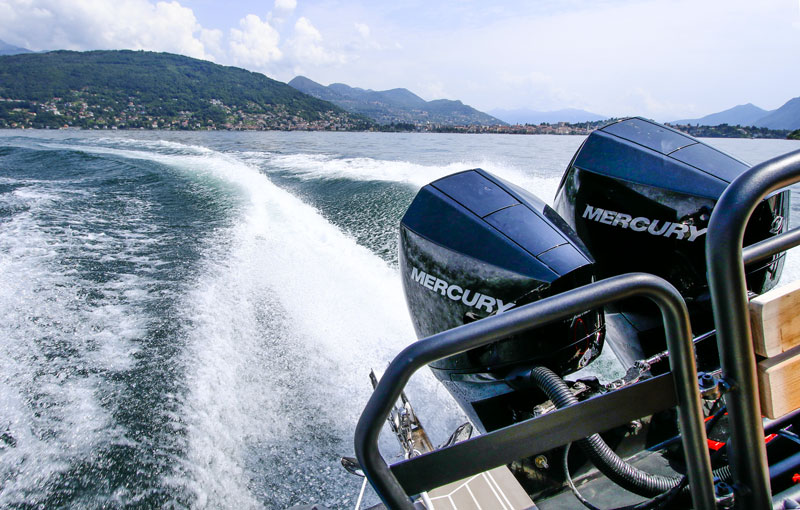 Mercury FourStroke 225 V6 3.4L on a XO Boats XO 270 Cabin
We has already had the possibility to test, in world premiere in Miami, the new Mercury 225 V6 3,400 cc engines and, even though we hadn't liked the boat we used for our test, they had left us speechless.
This time, we tested them on a definitively better boat, a X0 270 Cabin, where they confirmed to be really great. Acceleration, torque and extraordinary fuel consumption raise the bar of expectations for anyone being lucky enough to test them.
As you can see in the comparative table below, which brings together the data recorded on the Boston Whaler in Miami and those one on board the X0 270 Cabin, these new Mercury V6 outboards deliver unparalleled performance and fuel efficiency.
XO 270 Cabin
Boston Whaler 250 Outrage
rpm
Speed (kn)
Fuel Consumption ( l/h)
L/nm
Speed (kn)
Fuel Consumption ( l/h)
L/nm
1,000
4.2
3.8
0.90
3.91
7.19
1.84
1,500
7.7
18.8
2.44
5.13
12.83
2.5
2,000
9.5
27.,5
2.89
7.13
21.12
2.96
2,500
14.8
34.2
2.31
8.78
29.82
3.4
3,000
20.5
46.7
2.28
16.68
37.24
2.23
3,500
25.8
53.5
2.07
23.2
41.76
1.8
4,000
33
74.4
2.25
27.98
54.81
1.96
4,500
37
90.5
2.45
32.07
69.52
2.17
5,000
39.1
119.3
3.05
35.63
92.28
2.59
5,500
43.1
139.0
3.23
39.28
120.5
3.07
42.15
140.65
3.34
Acceleration
Speed
Seconds
Speed
Seconds
0 – 25 knots
5.9
0 -25 knots
6.7 seconds
0 -top speed
14.4
0 -top speed
11.4 seconds