Sunset is probably the moment when night sailing really starts. On the emotional level, first of all. I think it doesn't matter how many nights you have spent at sea throughout your life. With experience, of course, small fears disappear, preparation gestures become more precise, on-board organization has no uncertainties. But I think that, when night approaches, sailing suspends its rhythm for some moments, anybody feels that something is changing and, within the microcosm of the boat, night changes attitudes and even spaces.
Preparing for Night Sailing
Every night is different but each one provokes a series of identical actions you can learn over time.
The night told in these pictures is the third one of a long crossing (about 1000 miles) between Turkey and Italy. For two of the three members of our crew it is the third time ever but it is clear that the two previous ones have already created a sort of habit with the preparation gestures started before it got dark.
In fact, it's before sunset that a boat crew starts to check that everything is ok. Starting from way lines, of course, whose perfect working has already been checked before sailing off but that requires another check before sunset in order to have enough time to replace a lamp.
And it is always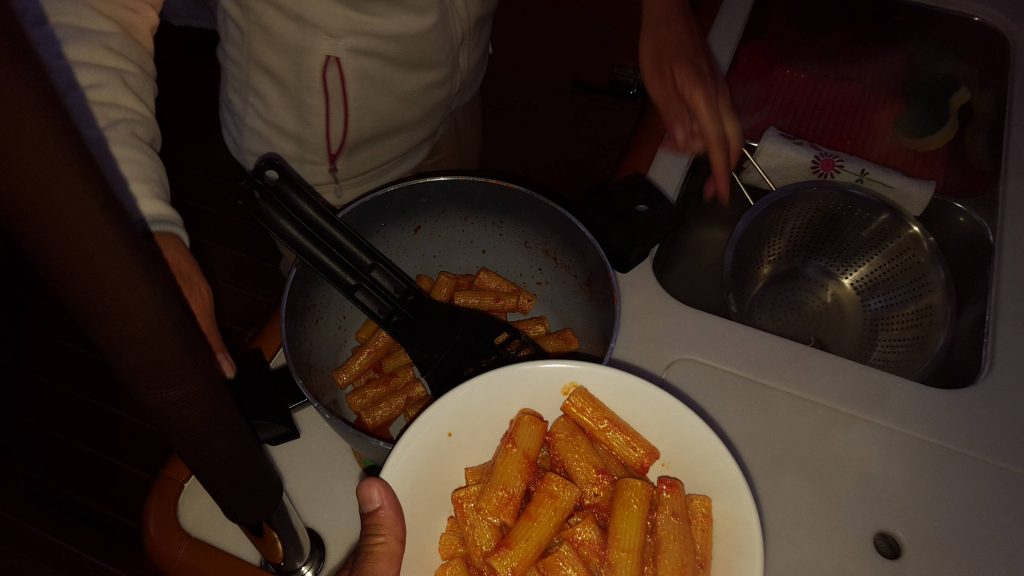 before night that we prepare our dinner. Sea conditions are good: a weak south-east wave gives us a roll we are used to. So, we don't miss the occasion to have a good dish of pasta all together. Unlike what happened two nights before in the Ionian Sea, where rough sea and strong wind (over 18 knots) reduced our dinner to two sandwiches. This night, on the contrary, we have a good dinner just in time to put all in order and have the dinette in order for when it will get dark and shifts will start and, above all, with no lights which would disturb the guard in the cockpit.
We are sailing in a not particularly congested area, between Stromboli and Capri Island: about 130 miles with no dangers. Our equipment is complete and our radar makes us feel safe.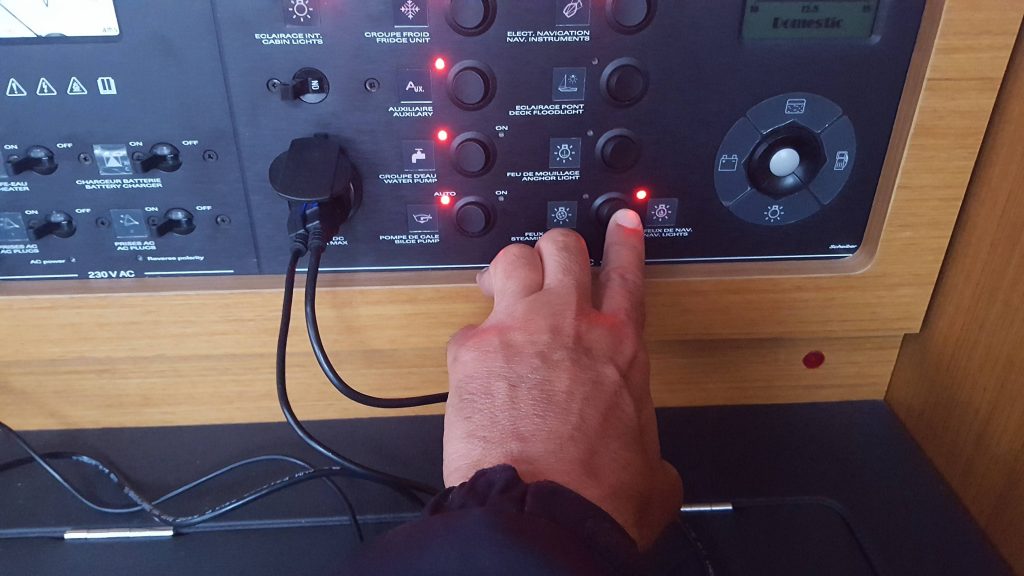 It's at sunset that we set lights. We turn the way lights on and we set the instruments'ones in the cockpit by reducing them gradually so that they will not disturb the guard.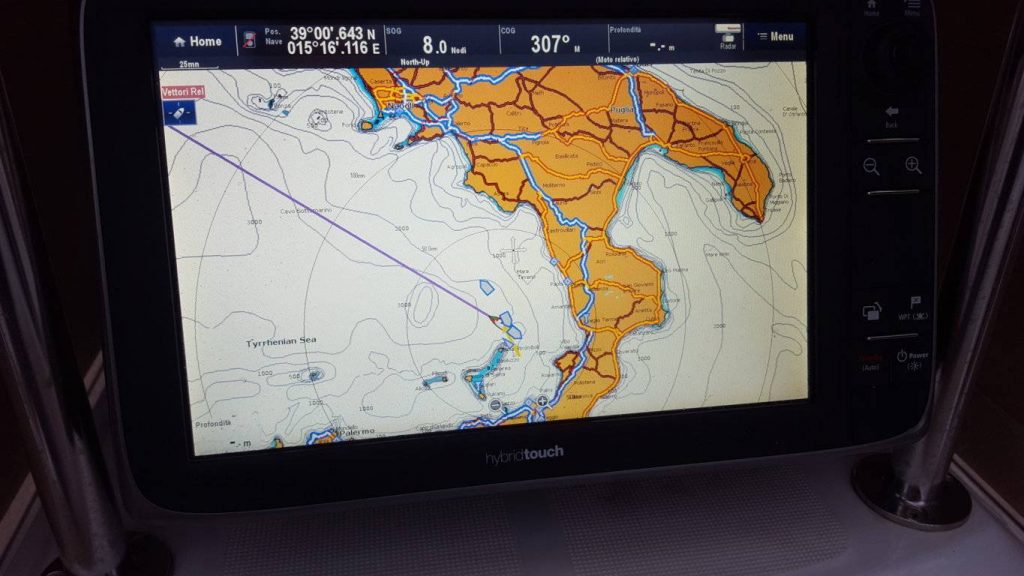 Below deck, everything is put in order. On the chart table there is only the nautical chart, where we mark the ship point (which is also noted on the log book) every two hours. The aim is to have an updated position and a reference point in the case Gps abandons us.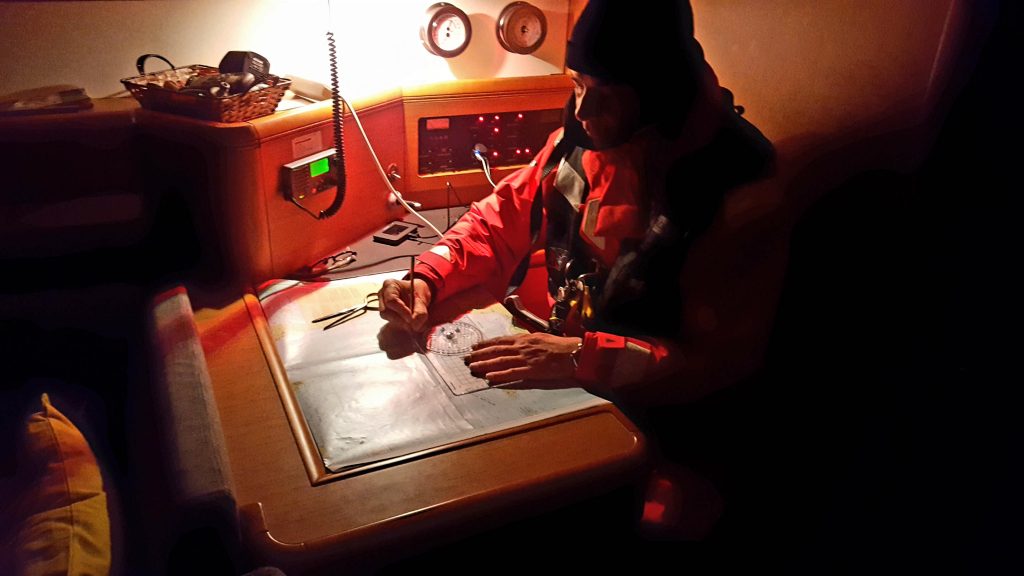 For safety reasons, we close the hatch and porthole and all sea skin fittings, even those ones usually let open during the day.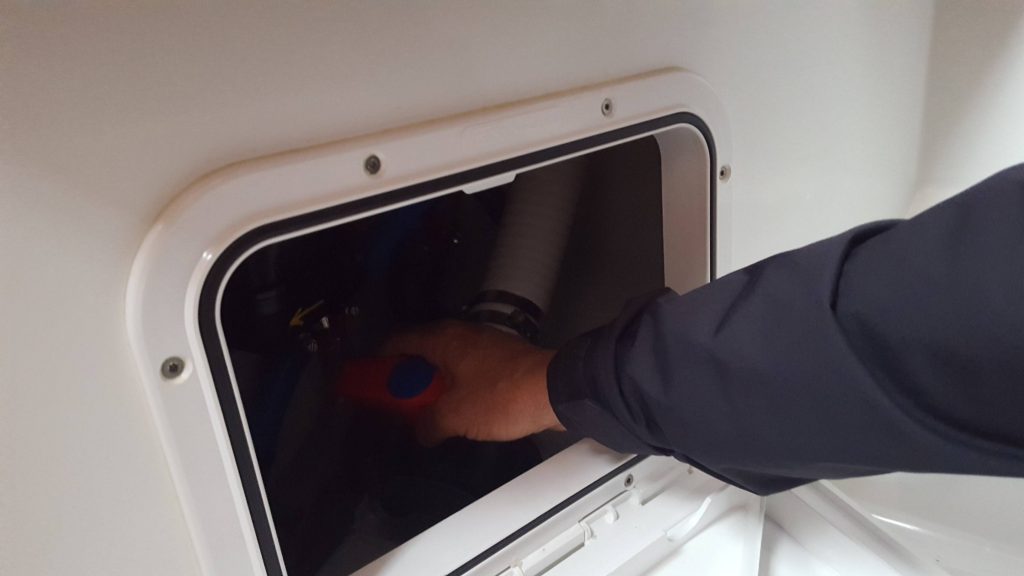 Night Sailing
We bring what is necessary for the night in the cockpit. The auto-inflating life jacket, that each of us wears with the life line. It is categorical at night. Regardless weather conditions, we must stay fastened to clevis in the cockpit, even in calm sea. If we want to move to the bow, we always have to hook the life line to the jack line. Just a wave generated by a ship sailing in the distance and that we don't see might make our boat roll or make us fall overboard.
In addition to the jacket, we need a torch, a portable VHF system, some water and chocolate, something to eat and a thermos with some hot coffee. The aim is to have everything handy, so that nobody will be obliged to go to the dinette and turn lights on. The only light on is the red one on the chart table.
Wind becalms almost completely. So, we roll genoa and mainsail and we sail under power. In normal conditions, I prefer reefing, regardless wind's strength. In this case, we close everything because the roll makes the mainsail slam.
We start our shifts. The two less-experienced people share a two-hour-and-half shift. Theoretically, one in the cockpit and the other one as free guard, below deck or in the cockpit. In practice, considering the particular bond between the two members, they sit on the stern and they enjoy their shift while a third person sleeps before his one.
The rhythm is always the same and it has suffered very few changes over time. The going-off guard communicates to the new one compass course and eventual notes as well as the presence of some ships or eventual changes in weather conditions; he notes the boat position on the nautical chart and, if necessary, he puts some coffee in the thermos. Another two-hour-shift starts.
Sometimes, a night encounter is cheered by a chat on Vhf. Like two nights ago in the Ionian Sea, this night, too, we have been called on channel 16 from a boat sailing on a course opposite and parallel to ours. They find us on AIS and they call us: "Marinella from Freedom….we'll transmit on channel 9".
Only a few words yet sufficient to communicate that we have seen them, where we are going and wish good night.
The night passes fast. Imperceptibly, something changes in the sky. Then, star light gets weaker, night disappears, while the sun is raising to a new day.