Two seasons have passed since Selva provided our editorial staff's Daydreamer with a new engine for the tender: it's the Selva Guppy 2.5, an outboard that has proven to be a valuable ally on our long summer cruises. Today, we draw the conclusions halfway through the third season of testing.
The long test of the Selva Guppy 2.5 ends in Naples, where we meet the very kind Marco Esposito, from Nautic Morot SRL in Naples Mergellina, Selva dealer in the area. Marco is a serious and helpful professional who promptly supports us in solving a tedious problem: inexplicably, in fact, the screws of the Selva Guppy 2.5 are stuck on the engine mount of the guardrail. Due to the strong humidity, the wood has swollen and we can no longer unlock them. Marco gets to work immediately and solves this little problem with skill. On the pier, we give him back the Selva Guppy 2.5 and we take delivery of the brand-new electric outboard EPropulsion Spirit 1.0 Evo, which we will test during the rest of the cruise. Marco, always very kind, explains us the basics about the use of this electric outboard.
Selva Guppy 2.5: let's draw the conclusions of the test 
The engine has been used instensively and, after two summer campaigns, it has not been deliberately made any cutting, nor has been maintained in any way so as to simulate an intensive use, as it was at least 4 or 5 years of work at sea. Our "1,000-mile cruise in the Tyrrhenian Sea" set sail in mid-July, we used the Selva Guppy 2.5 during the first part of our trip, then we replace it with the new electric Epropulsion.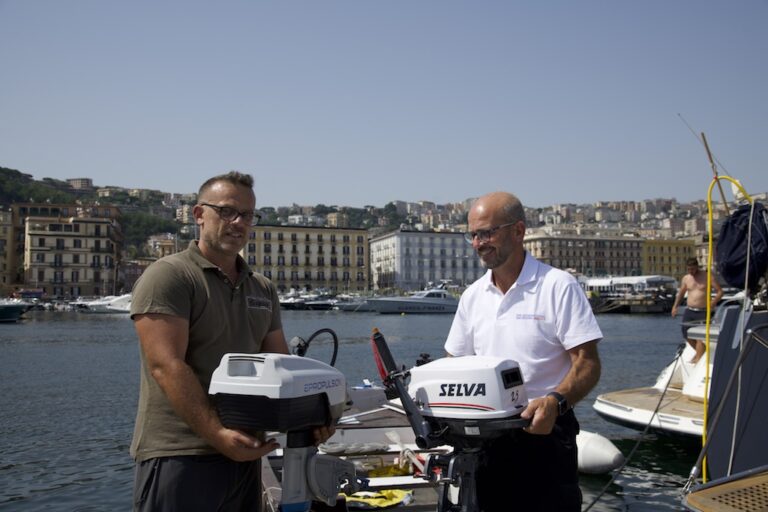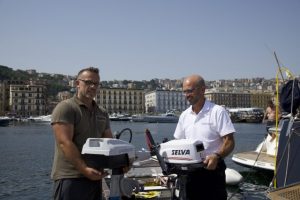 The first start this year has seen some difficulties due to the residual gasoline in the tank, now old, and the spark plug: we opened the grille (a closing hook), replaced the spark plug in the blink of an eye and the engine was back like new, roaring as ever. A trickle of air, throttle at idle, two pulls of ignition and the Selva Guppy 2.5 was in motion.
The outboard was able to adequately propel the Selva 320 VIB tender we have on our Daydreamer, and proved extremely easy and light to move from boat to dinghy and vice versa, its particular characteristics being perfect even on boats without an outboard davit. Its ability to plan up to 10 knots the rib Selva 320 VIB of 3 meters and 20 continues to amaze me (my 2.5 of other house can not do it with a tender of 2 meters and 60), and still a speed of over 5 knots, even when there are four people, is not at all to be underestimated.
The fuel consumption of the Selva Guppy 2.5 is so low that you forget when you fillet it up the previous time, and a 5-liter fuel tank is enough to cover the needs of the whole summer.
Characteristics
The Selva Guppy 2.5 is a miracle of engineering: many are the peculiar characteristics enclosed in a very compact and ultra-light body (just 13.5 kg, the lightest of the market). The displacement is remarkable, much higher than competitors; its 87 cubic centimeters guarantee an operation always at low speed and never under stress, a high torque, very low consumption (the tank of only 0.9 liters says a lot about consumption) and a very low noise.
Small does not mean simple: the engine, in fact, is based on a 4-stroke cycle with OHV technology and overhead valves, carburetor feeding and digital C.D.I electronic ignition. Selva has chosen to equip this small engine, in spite of its size, with a water cooling system with forced circulation pump, a slightly more complicated system than the air cooling system but which guarantees better performance. Therefore, when a motor works at low speed, with little effort and is well cooled, it will certainly last longer than one that does not have these intelligent features.
Usually, small-sized outboards have only forward gear or even direct drive; this Selva Guppy 2,5, instead, is equipped with a very comfortable and practical forward – neutral – reverse gear change, and it is also possible to rotate it of 360°, to the advantage of the simple and safe conduction of the tender on which it is mounted. Always with a view to safety on board, the outboard is equipped with a switch-off button and an emergency switch-off lanyard, positioned directly on the steering bar so as to be always at hand.
In conclusion, thank you Selva, the Selva Guppy 2.5 has been a valuable and reliable travel companion, we will miss it.
Selva Guppy 2.5 Technical Specs

| | |
| --- | --- |
| Displacement | 87 cc |
| Power | 2.5 HP / 1,84 Kw |
| No. cylinders | 1 |
| Bore x Stroke (mm) | 54X38 |
| Rotation Speed | 4500/5500 rpm |
| Engine Type | 4-stroke OHV |
| Feeding | carburetor |
| Starter | manual |
| Fuel | Petrol |
| Tank (L) | Embedded 0.9 |
| Lubrication | Forced |
| Ignition | C.D.I. Digital |
| Advance ignition | Electronic |
| Start | Manual |
| Cooling | Water with forced circulation |
| Exhaust | Underwater |
| Guidance System | bar with knob accelerator |
| Trim adjustment | Manual (4 pos) |
| Reverse gear | Mechanical A-F + 360° Shank Rotation |
| Transmission ratio | 13/28 |
| Propeller | 3 blades |
| Dry Weight (Kg) | 13.5 |
Selva Marine
Viale dell'industria 13 – 23037 Tirano (SONDRIO)
Toll-free number : 800 357 935
Previous articles published

July 2019: SELVA 320 VIB AND SELVA GUPPY 2.5: A REVOLUTIONARY TENDER-OUTBOARD DUO. THE TEST BEGINS
August 2019: ON TEST. SELVA GUPPY 2.5: THE NEW OUTBOARD THAT WILL REVOLUTIONIZE THE MARKET