At Genoa Boat Show, Selva Marine introduced many 2021 novelties in world premiere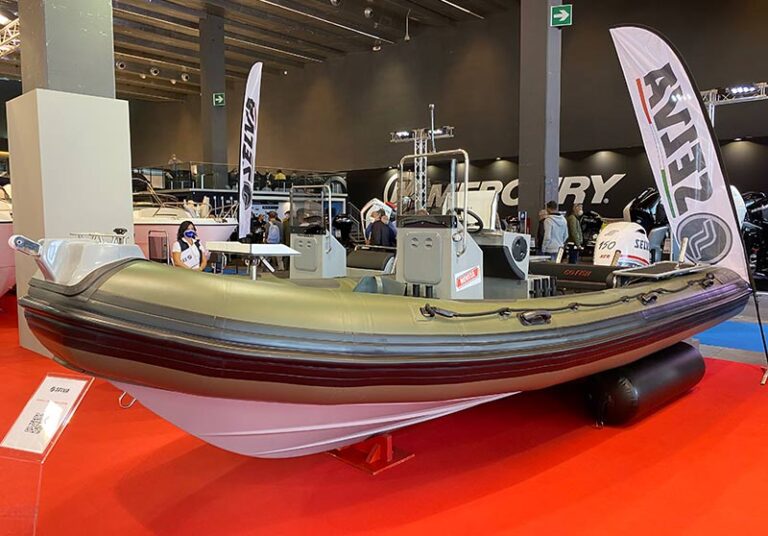 With its collection of outboards and its fleet of registration-free boats, Selva Marine, once again, conquered the public of the Genoa Boat Show. The Italian brand, in fact, has been synonymous with reliability, quality and innovation for over 60 years and, this year, has not disappointed the expectations of the recreational boaters who flocked to the boat show, showing off a series of great novelties concerning engines, boats and marine equipment.
Carlo Selva was our host among the new 2021 products: let's see together what they are.
Let's start with the inflatable boats and the Pro Fish Line, specially dedicated to passionate fishermen. The 660 Pro Fish, clearly inspired by the military world, is equipped with a high-performance hull, capable of withstanding the most insidious waves.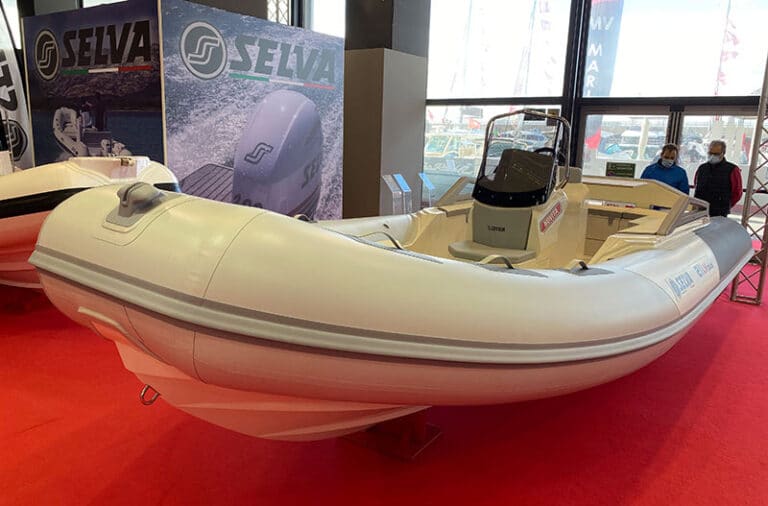 Recommended for professional fishing and diving, the boat is equipped with two work platforms with stainless steel structure, five rod holders, special box for small items, live bait tank with recirculation pump, folding stern bench and much more.
The Pro Work Line maintains its wide range of Ribs, with various sizes and as many tubular colour options, about which Carlo Selva reminds us that they can be made of PVC, hypalon or heat-sealed polyurethane, much more resistant than neoprene, and therefore highly recommended.
Speaking of inflatable boats, the main novelty is represented by the Selva 21 LV Plus, the entry-level of the Living Plus Line collection.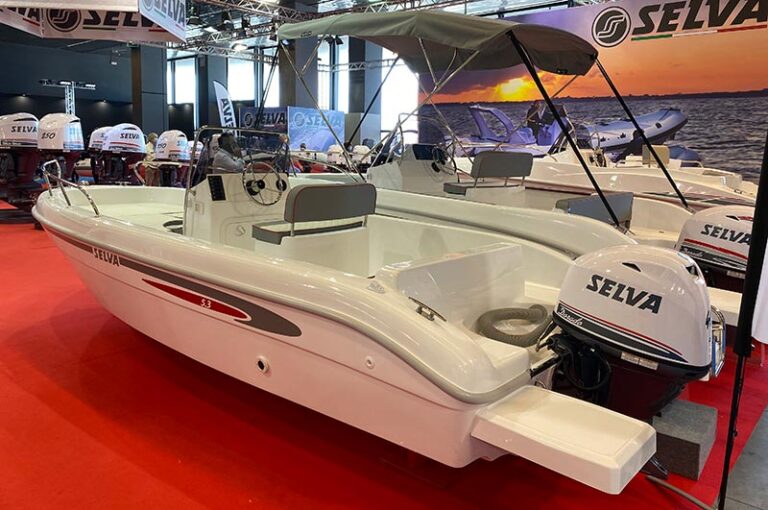 The hull has been carefully engineered to offer 6 meters of living spaces both forward and aft, thanks to two V- and U-shaped lounges which can turn into two sunbathing platforms, according to a solution commonly found on bigger boats.
The steering console and the lumbar seat feature modern and extremely functional lines. The Plus version is distinguished by tricolor tubulars, refined cushions and additional accessories. Fitted with Selva engines, the 21 LV Plus is the ideal boat to combine with the Murena 40 XSR Best, especially for those who don't have a license.
Now, let's talk about the fiberglass boats of the Open Classic range. Selva has given a decisive touch of restyling to D.5.6 and D.5.3, already very successful models, embellishing them with new (Selva-branded) cushions and new awnings equipped with steel structures. In particular, the D.5.3 has two stern platforms equipped with stainless steel bathing ladder.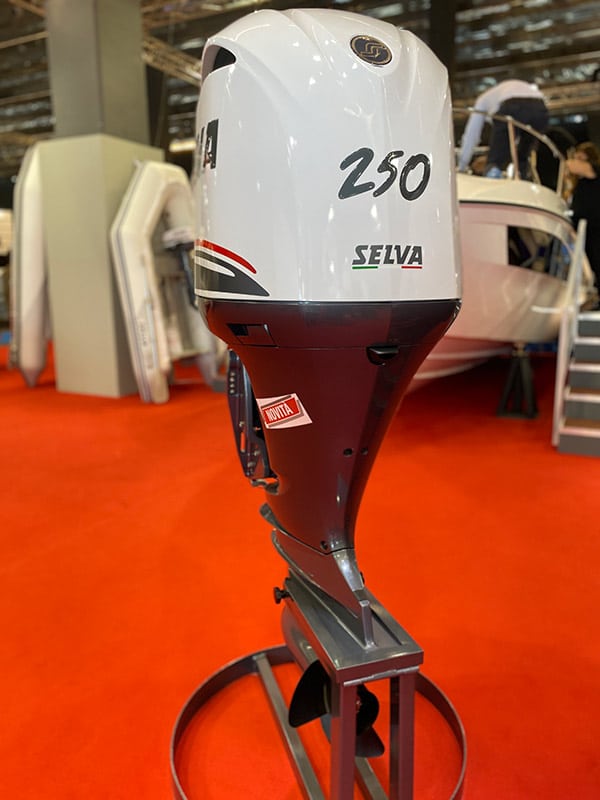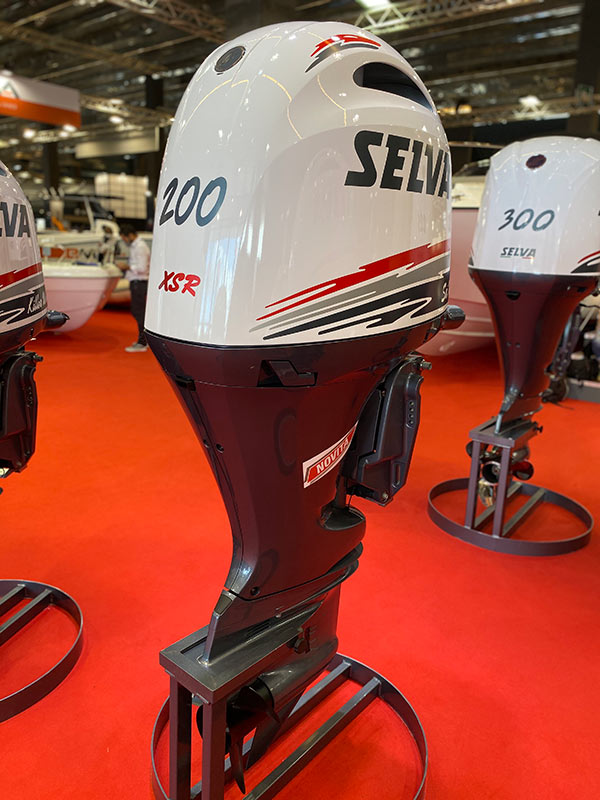 As for the Karnic range, instead, the super novelty is represented by the SL 701 (above left). Built on the same hull of the SL 702, the SL 701 is an elegant 7-meter open boat with great modularity, especially in the stern, and large living spaces, including a wide bow sun pad. A very deep storage compartment is positioned under the cockpit.
The SL 702 is one of the most popular sundecks by Selva. The restyled version features a cabin with bed and separate bathroom (above right), which makes this Karnic an authentic day-cruiser.
The new E.F.I fourstroke outboard range includes Sei Whale XSR (200HP, equally available with counter-rotating torque), Beaked Whale (225 HP) and Right Whale (250 HP). Among the marine accessories, Selva introduced the multi-function Digital Lan Connection – Plus TFT 4.3 screen, compatible with all electronic injection engines. It is a tool to be installed in the console to easily and quickly check all engine parameters and cruise information.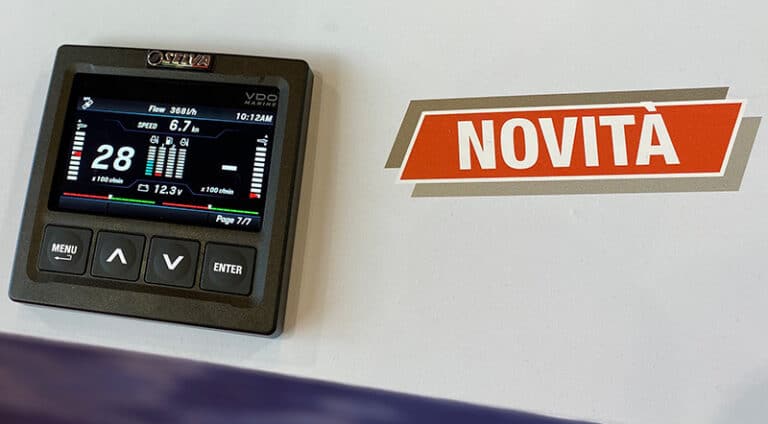 Novelties also include a new partnership between Selva Marine and ePropulsion
Last but not least, the eco-friendly and revolutionary novelty of ePropulsion. To further strengthen its growth in Italy, ePropulsion, a brand specialized in marine electric propulsion systems and services sold in over 50 countries, has appointed Commerciale Selva as a new distributor for the Italian market. This strategic partnership between Selva Marine and Propulsion, officially presented at the 60th Genoa Boat Show, is certainly one of the main novelties of the international boating market.
A workhorse of ePropulsion is the Spirit 1.0 Plus 1 kW engine, equivalent to 3 hp on a normal petrol engine. Suitable for boats up to 12 feet, such as tenders or small light boats, this electric outboard motor provides enough thrust to reach around 5 knots, with very low noise.
Power comes from a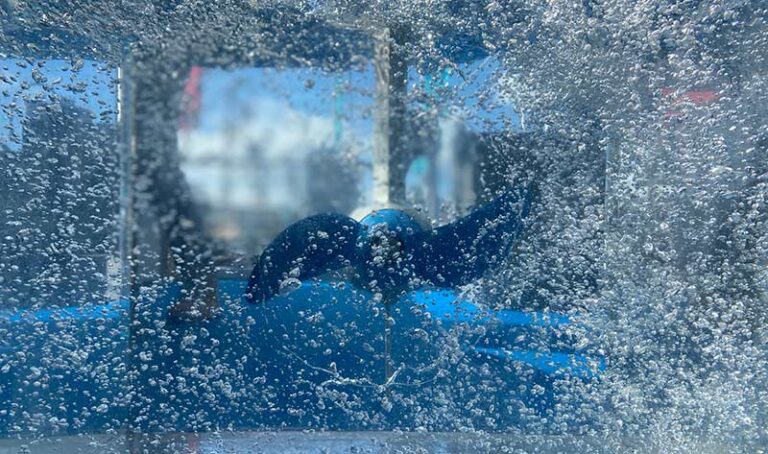 Li-Po 1,276 Wh battery weighing 8,7 kg. Being removable, it not only facilitates the tranport and stowage of the engine, but can also be replaced at the end of its life cycle. Furthermore, it is floating, so there is no risk of losing it if it falls overboard.
For the boats up to 3 tons in weight, instead, ePropulsion offers its Navy outboards, available in 3 and 6 kW versions.
They don't have a built-in battery and need to be connected to one or two 3,042 W external power supplies, with a maximum autonomy of 4 hours.