Visit on board the Contest 57CS
Climbing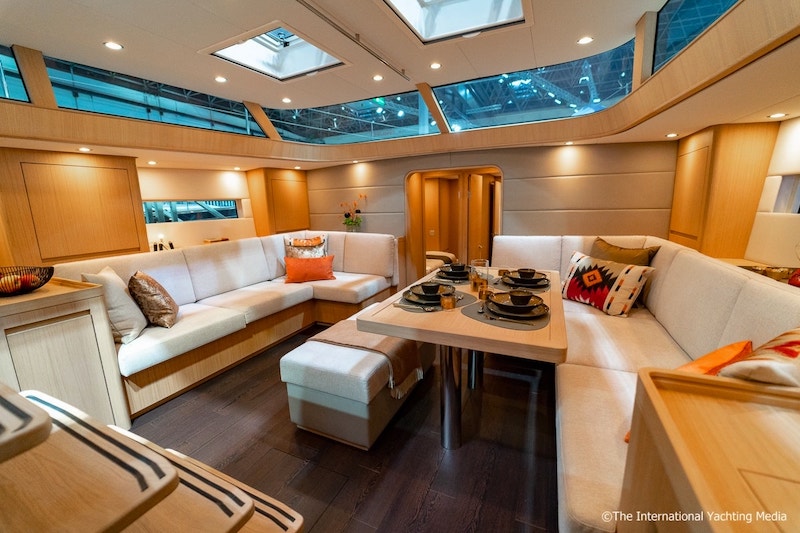 on board and evaluating a Contest yacht requires special expertise, it's not enough to be a journalist. And it's not even enough to have raced and navigated.
In order to evaluate a sailing yacht like this you necessarily must have been a boat owner.
You must have felt that light yet continuous discontent that, though you love your boat, makes you want to analyze her and recognize her small objective flaws. It's a natural process that nearly always leads you, in a continuous pursuit of a perfection that is objectively difficult to find, to change your boat.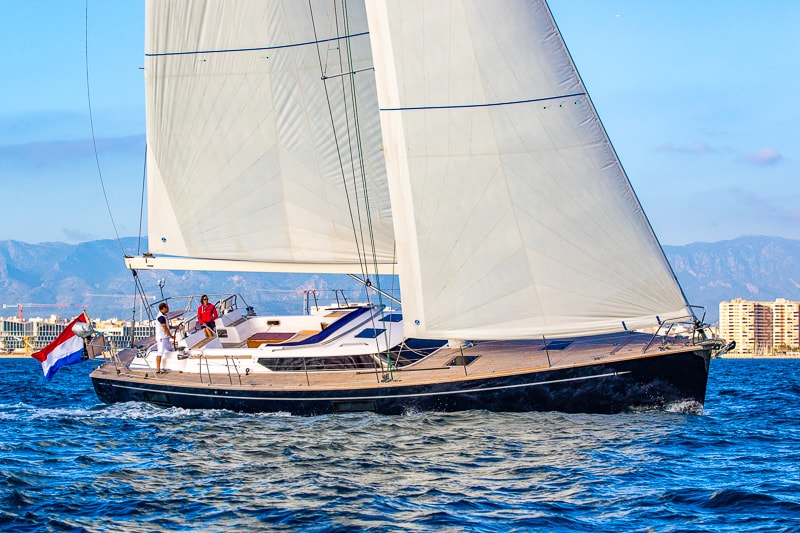 You need such a path because otherwise, it is really difficult to understand how, climbing on board the Contest 57CS, your fearless critical spirit, after an exhausting research, is inevitably destined to be replaced by a total gratification.
On these yachts, nothing is left to chance or pays the price of a compromise. Everything is exactly where it should be. Starting from the fact that there's no two boats that are the same because they are all tailored to the particular needs of their owners.
You only have to climb on board this blue water cruiser to realize that.
You are immediately enveloped by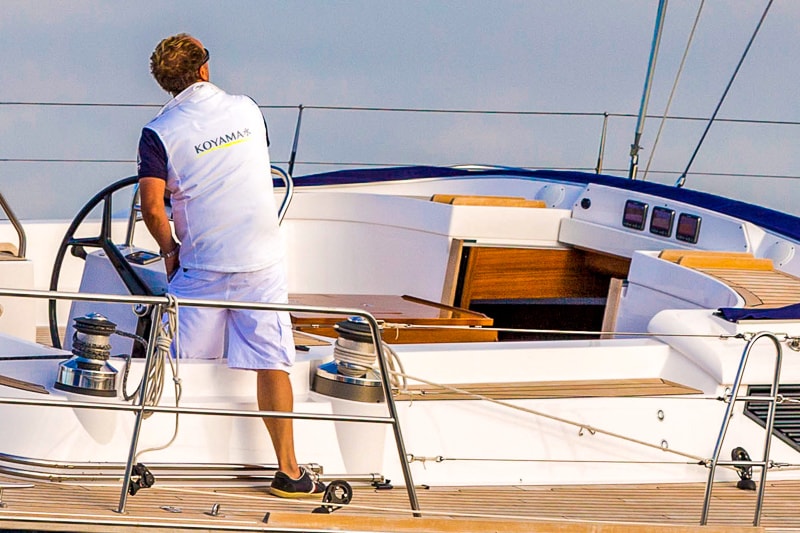 an elegant reality, where the word luxury matches exquisite materials and fine equipment and where overall appearance intercepts a definitively noble beauty, light years away from the rough sensationalism that those who haven't other means use to dazzle unprepared boat owners.
We could tell you about the deck, equipped in the spirit of the most authentic easy sailing, with four winches that, nearly magically, are within the reach of the helmsman and positioned at the right distance.
However, that's not the most striking thing on boats of this level. It would be obvious.
Rather, things like the special care with which the shipyard has designed and created all deck solutions represent the really noteworthy aspects.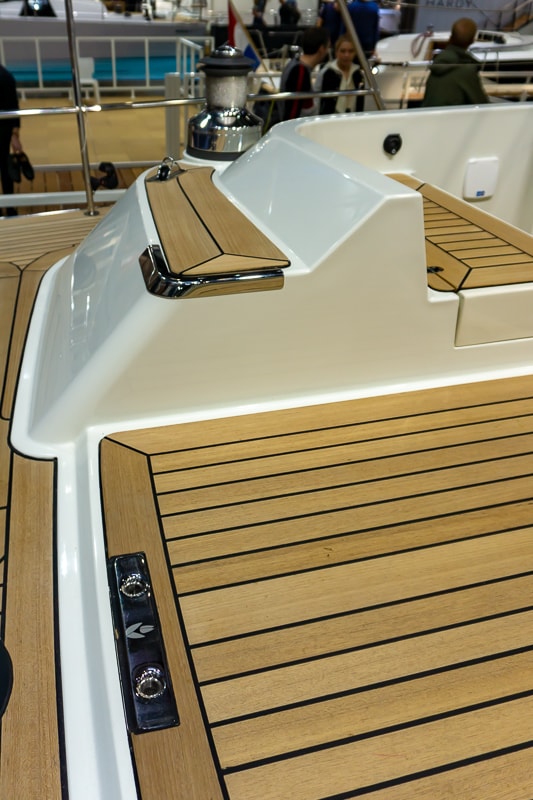 Design and equipment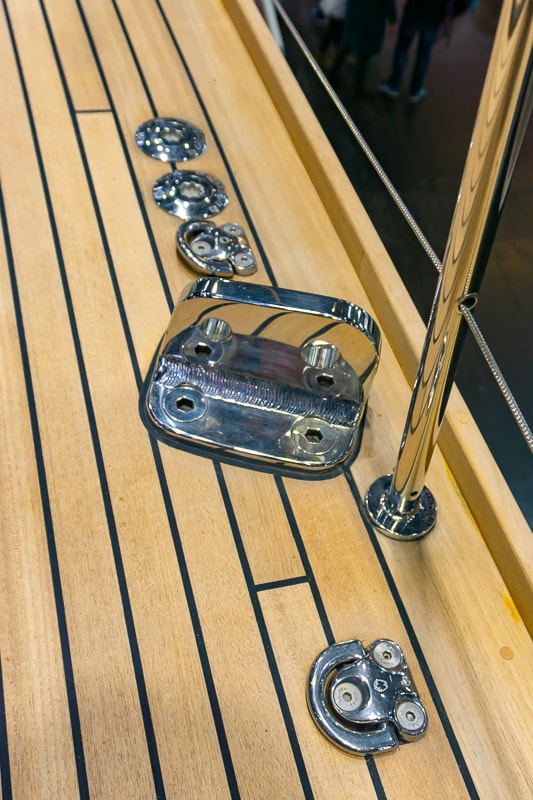 arrangement suggest a constant pursuit of clear lines with the lowest possible impact on circulation on board. This obsessive care is noticeable in elements like the cheek blocks of the main sail that is visible for just 30 centimeters out of the winch while its fixed point is even recessed.
The German mainsheet system emerges from the recess through two holes on a stainless steel plate according to a solution that is elegant, functional and completely new.

The deck of the Contest 57CS is not only beautiful but also comfortable and well-sheltered. Taking a seat in the cockpit or at the wheels gives you a feeling of safety and space at the same time because both environments are the natural extensions of the deck house, designed to be as wide as deep.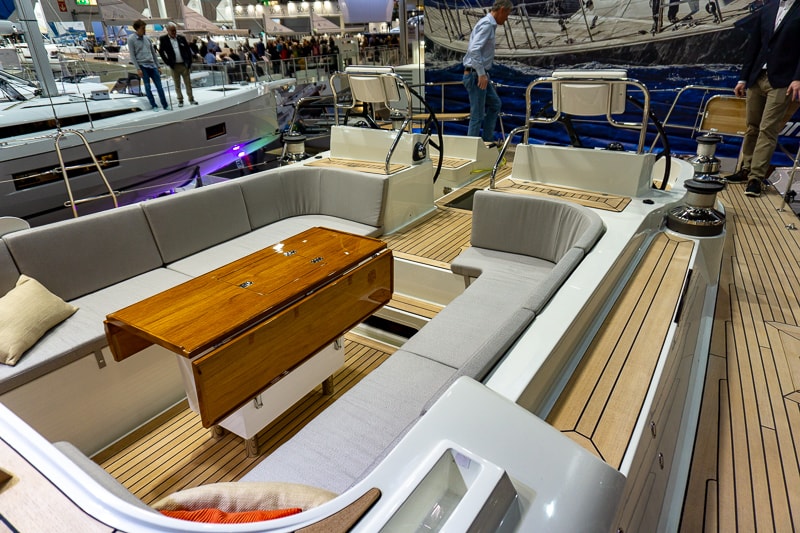 Designed to sail under any condition, this yacht doesn't forget the principles which all sailboats should be based on. A clear example of this is offered by the padeyes for the staysail forestay and its running stays or the junctions for safety belts as well as a double bow fitting to drop an additional anchor.
All these details make the difference, when necessary, and are appreciated only by those who have already had other boats and know what they want when they sail, regardless of the distance whey will cover.
This way of doing things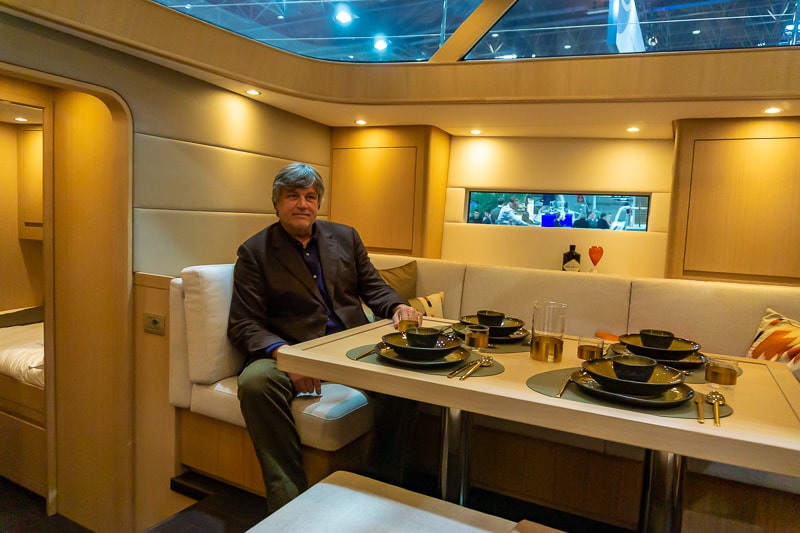 justifies the worlds of Antonio Dalmas of Nautigamma, Contest Yachts' importer for Italy, who accompanies us during our visit. When we ask him who is the typical client of boats like this, he replies:
" The boat owner who chooses a Contest yacht is a demanding experienced person who perfectly knows what he wants and therefore a boat that is not likely to be replaced. Our best clients are boat owners who really want to navigate".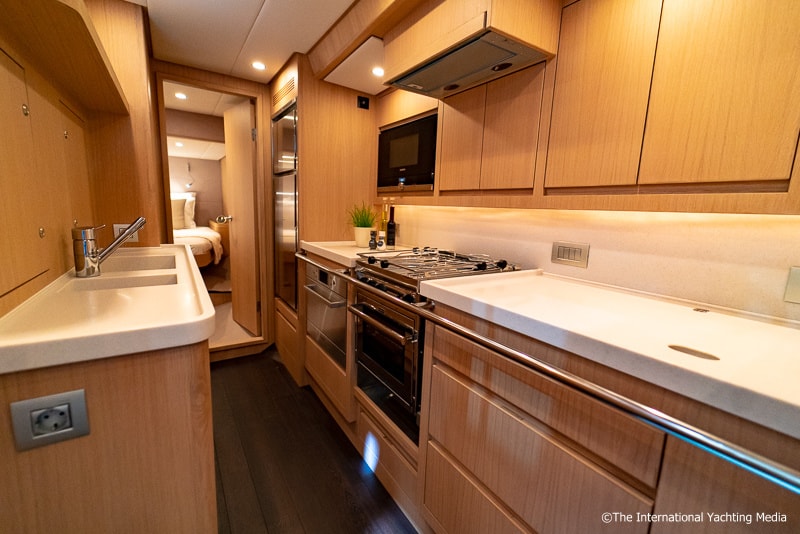 Interiors are another flagship of this boat. Just across the hatchway, you enter an orderly elegant environment with warm reassuring design. Here, too, everything is made of fine materials with obsessive attention to every single building detail and, of course, with the total absence of sharp edges.
Interior design represents the right combination of classic and modern, a gratifying evergreen style. High and bright, the dinette makes you feel like you're in an elegant functional salon, perfect to be enjoyed alone in total comfort or to welcome many guests that, here, can take a seat effortlessly.
Preparing elaborate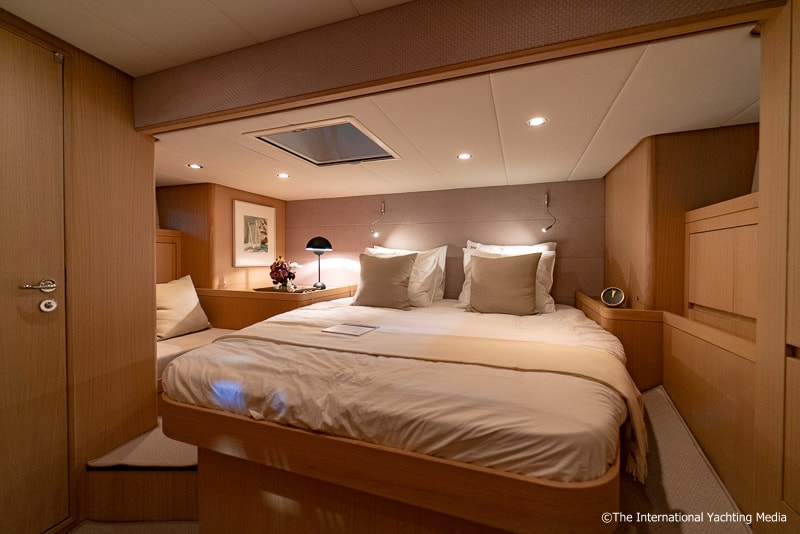 meals will certainly not be a problem thanks to the fully-equipped beautiful galley that runs through the whole port topside. This solution not only doesn't reduce space and privacy in the dinette but also guarantees long comfortable countertops.
The master cabin is positioned aft. It's a wonderful environment that, designed to be large and private, is equipped with a central king-size bed and en-suite bathroom, exclusively accessible from this cabin.
Very interesting is the solution selected by this owner for the two forward cabins. They are large, specular and share one bathroom positioned forward, accessible from both cabins. This way, both cabins benefit from a very large bathroom.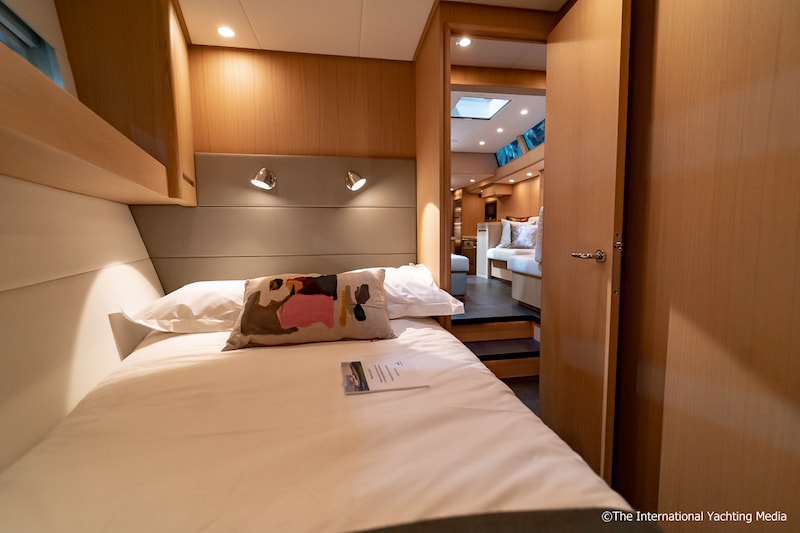 Most of what we've seen so far results from the specific demands of this owner. This is confirmed when, asking Antonio which is the most important characteristic of this boat in his opinion, he, with a sly glance, instead of illustrating one, answers:
" The most important feature of this boat is customization. The shipyard builds unique boats, designed to fully meet its customers' needs and create a really custom-made product. Moreover, Contest Yachts doesn't compromise on quality and this is proved by the great value of our boats, rare actually, in the second-hand market".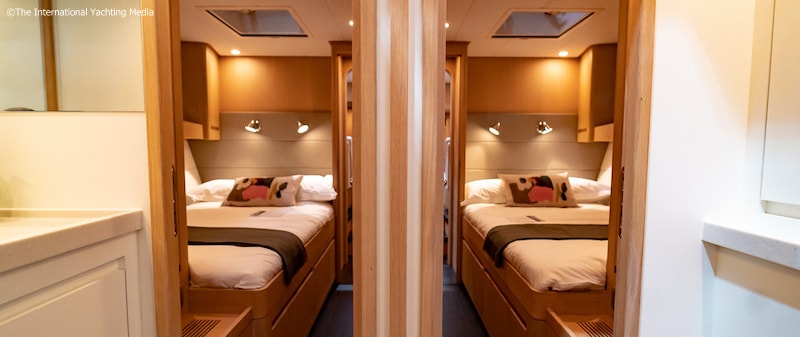 Contest 57CS – Technical Specs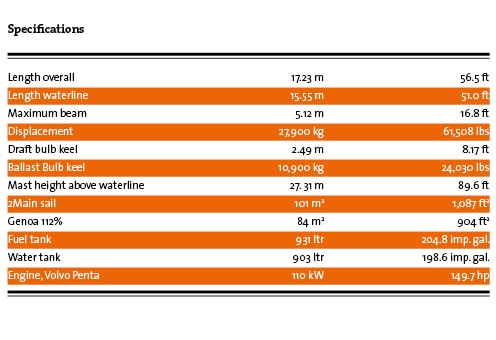 Contest Yachts
Overleek 5
1671 GD Medemblik
The Netherlands
tel +31 227 543 644